10 Best Places Locals Love to Go in Yokohama
Locals' Guide to Must-Visit Sites in Yokohama
Yokohama City is located in the east of Kanagawa Prefecture, facing Tokyo Bay. With a population of more than 3 million, it's 2nd only to Tokyo as Japan's most populous urban area. You can easily get to Yokohama from both inside and outside of Japan – the city is just 25 minutes away by train from Tokyo Station and 22 minutes from Haneda Airport.
The Minato Mirai area around Yokohama Port has many spots that are famous for their magnificent views, including the landmark Ferris wheel Cosmo Clock 21, Osanbashi, and Kishamichi Promenade. This place is full of entertaining places to visit such as Yokohama Zoorasia and Hakkeijima Sea Paradise for animal lovers, as well as the Cup Noodle Museum for noodle lovers! Other fascinating sightseeing spots to check out include Motomachi, the centre of fashion culture, and the beautiful Sankeien Garden.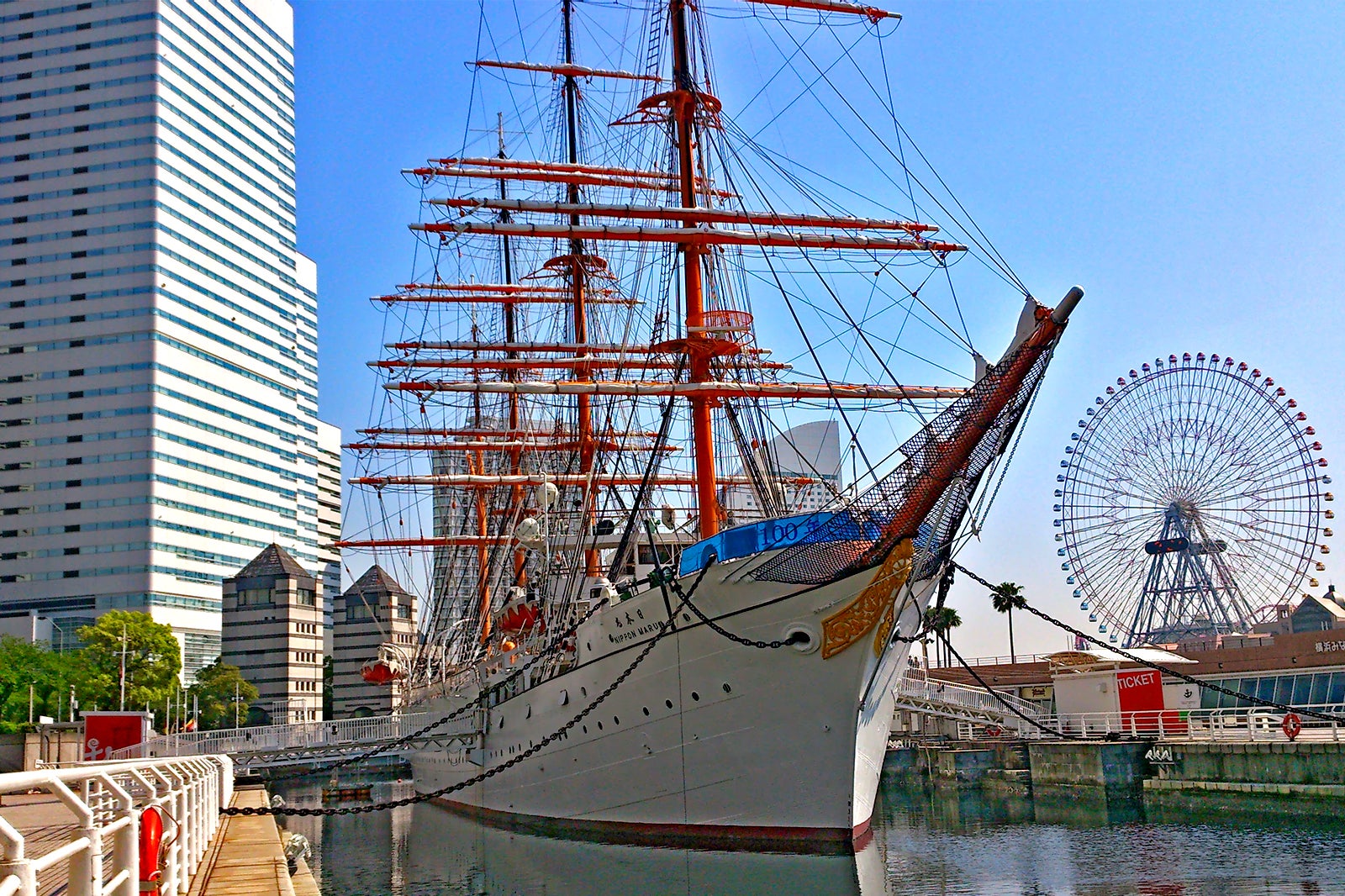 The passenger ship terminal of Ōsanbashi Pier is where cruise ships from Japan and overseas come and go in Yokohama. Its rooftop is popular as a scenic spot that commands a panoramic view of the Yokohama Port area, including the Yokohama Red Brick Warehouse and Yamashita Park.
The terminal's ground floor serves as a carpark, while the first floor is used for immigration control facilities such as customs. There's a large pillar-free open space with a waiting area, cafe and a shop. This open space, which has a rooftop covered with natural grass, is typically packed with people watching ships. Outdoor events occasionally take place here as well.
Location: 1-1-4 Kaigandōri, Naka Ward, Yokohama 231-0002, Japan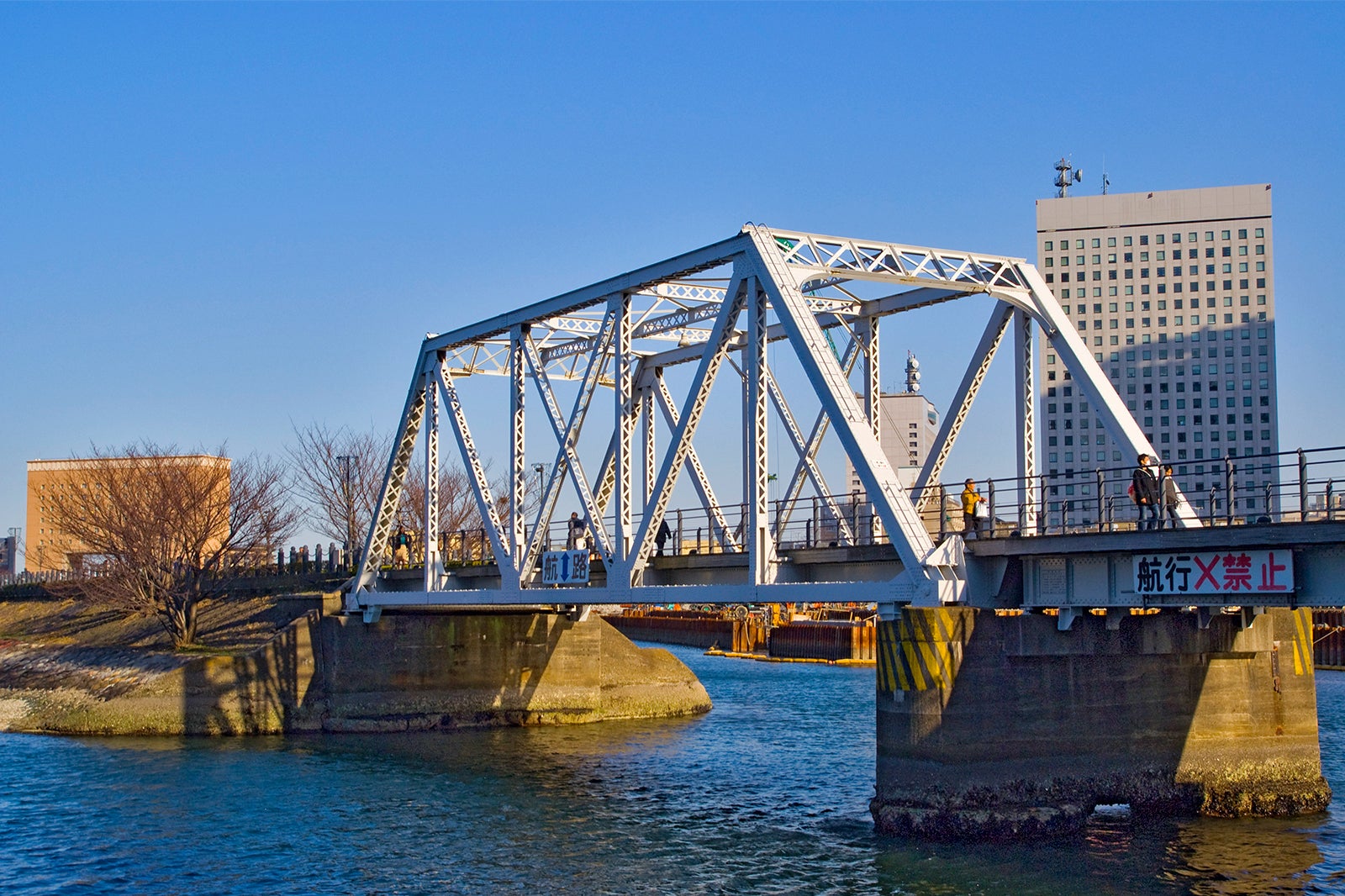 Kishamichi Promenade is about 500 metres long, stretching across the port of Yokohama. It was made by remodelling an old train track that was originally used for freight transport after the port's completion in 1911. You can get off the train at JR Sakuragicho Station and walk along the promenade, which leads to the Yokohama Red Brick Warehouse in the Shinko area.
The old railway track still runs along the pavement, giving a sense of times gone by, while the promenade crosses over 3 historic truss bridges. Sit on a bench and enjoy the scenery around you. Kishamichi Promenade is also a popular spot for enjoying views of Minato Mirai's light shows. Visit during Japan's cherry blossom season to appreciate the blooming cherry trees along the promenade.
Location: 2-chome Shinko and 2-chome Minato Mirai, Naka Ward, Yokohama, Kanagawa 231-0001, Japan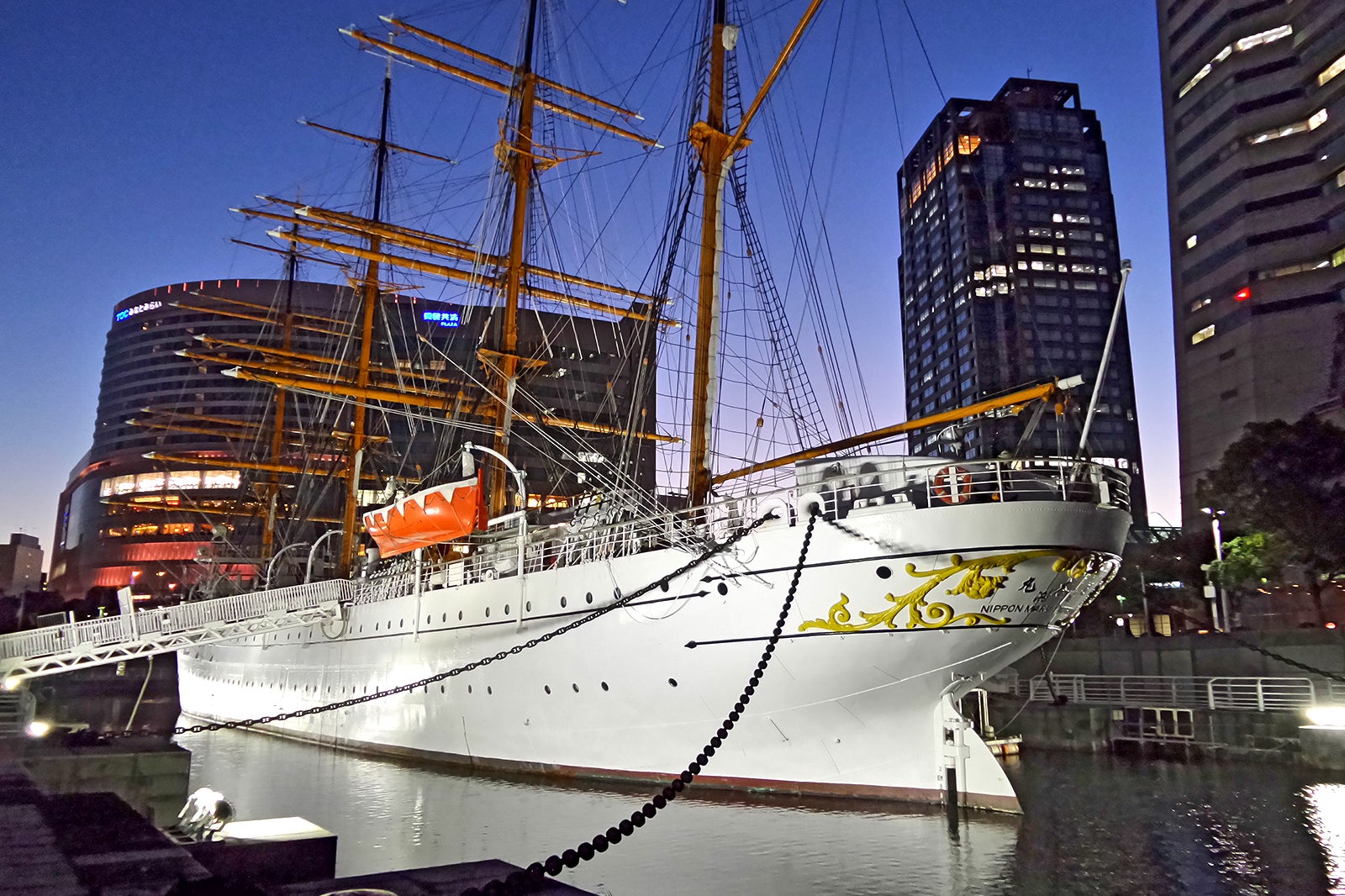 Nippon Maru was called the 'Swan on the Pacific Ocean' for its graceful appearance. Since its completion in 1930, this training ship has carried more than 10,000 cadets for around 50 years. It has been designated as a nationally important cultural asset. For small fee, you can tour the inside of the ship, which has cadets' rooms furnished with bunk beds, the captain's office, and the officers' saloon where officers used to have their meals and meetings.
The 'Marine Class', which lets you experience life on a ship, needs to be booked in advance. Nippon Maru regularly puts on a full-sail exhibit, which sees the ship fully decked in 29 sails. At the same time, why not visit Yokohama Port Museum, located in front of Nippon Maru?
Location: 2 Chome-1-1 Minatomirai, Nishi Ward, Yokohama, Kanagawa 220-0012, Japan
Open: Tuesday–Sunday from 10am to 5pm (opens at 9.30am on full-sail exhibit days)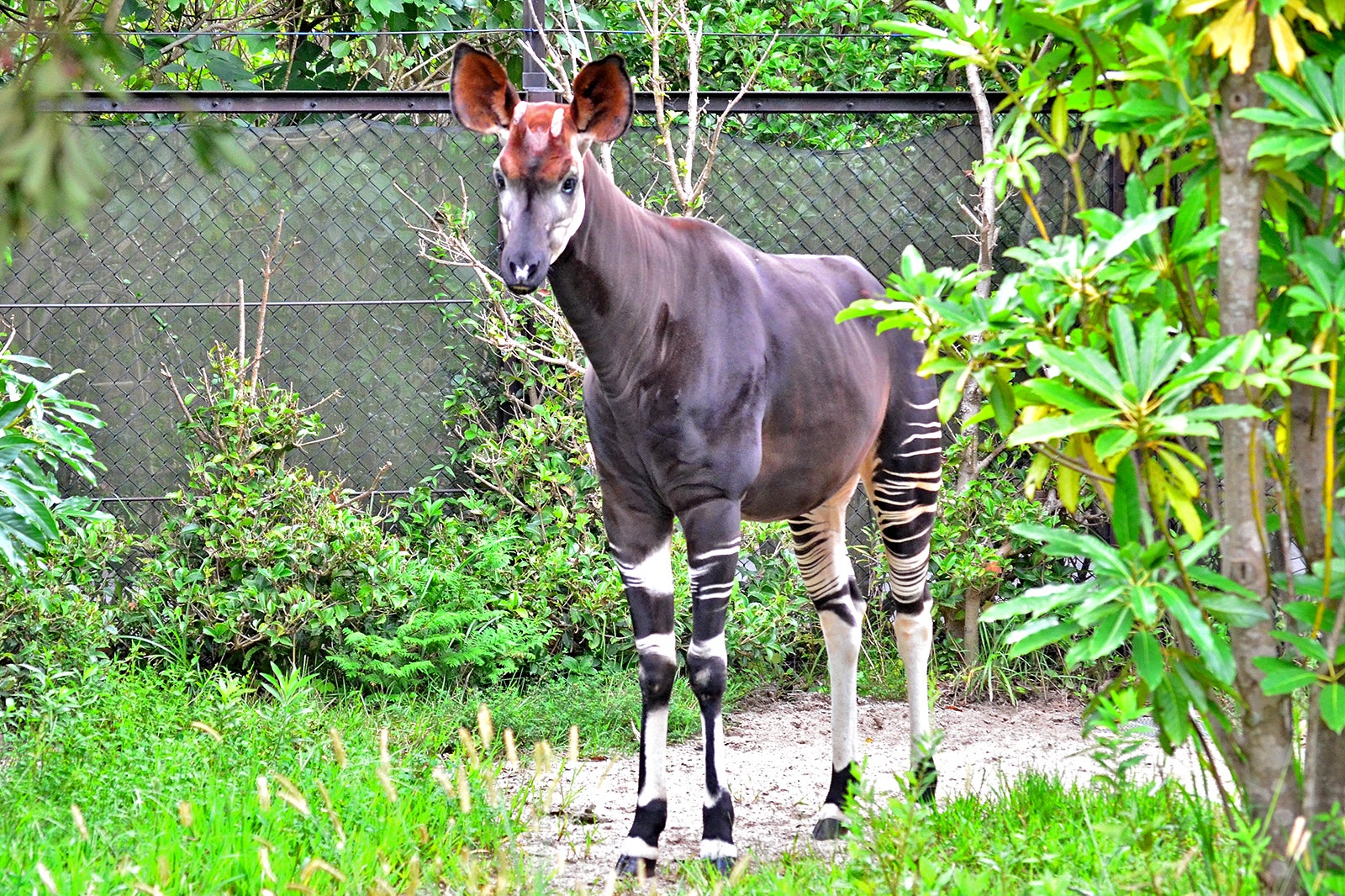 Zoorasia, located in Asahi-ku, is home to over 450 animals across 100 species. Its African Savannah zone is a unique area where zebras, giraffes and bovine elands live together with cheetahs. The most popular animals at Zoorasia are the okapis, which you can see in the African Tropical Rain Forest zone.
The zoo's outdoor bird show hosts colourful parrots and parakeets jumping through loops, and a bateleur eagle gliding towards its keeper. The show takes place twice a day and lasts for around 30 minutes. You can hold guinea pigs and panda mice, as well as feed horses at the onsite Paka Paka Park.
Location: 1175-1 Kamishiranecho, Asahi Ward, Yokohama, Kanagawa 241-0001, Japan
Open: Wednesday–Monday from 9.30am to 4.30pm (closed on Tuesdays)
photo by Toshihiro Gamo (CC BY 2.0) modified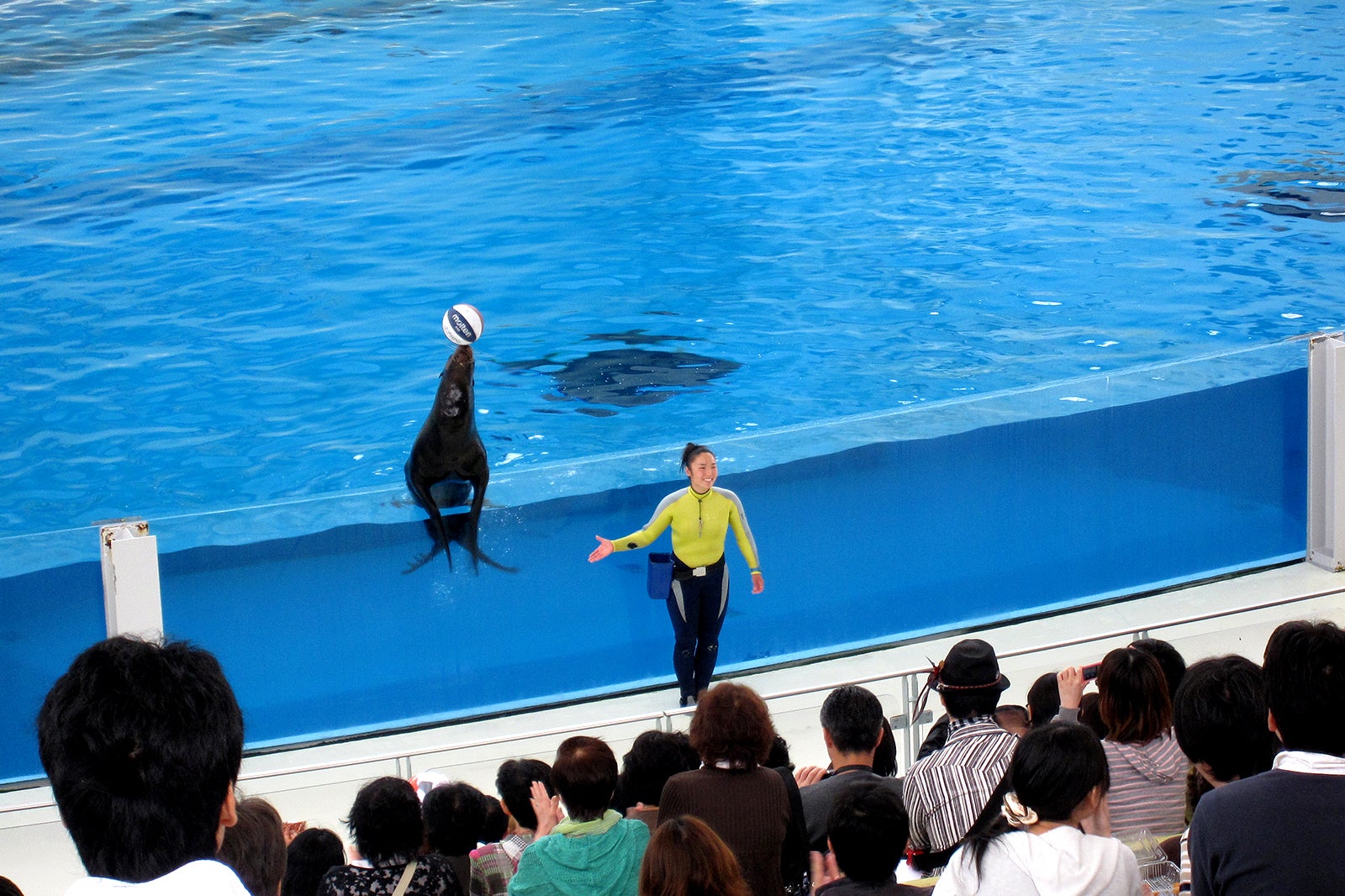 Hakkeijima Sea Paradise is an amusement park with 4 aquariums, along with kid-friendly attractions, restaurants and shops. The Aqua Museum is one of the largest aquariums in Japan. You can meet over 700 kinds of creatures, from the polar bears and walruses of the North Pole to the penguins of the South Pole. There are also many tanks housing colourful fish, sea turtles and coral reefs.
FUREAI Lagoon is an interactive/hands-on facility where you can play with white dolphins and otters. See dolphins swimming in an arched tank at Dolphin Fantasy, and try fishing at Umi Farm. Hakkeijima Sea Paradise also has various rides, including the thrilling Surf Coaster, which runs across the sea, and the Sea Paradise Tower.
Location: Hakkeijima, Kanazawa Ward, Yokohama, Kanagawa 236-0006, Japan
Open: Hours vary by season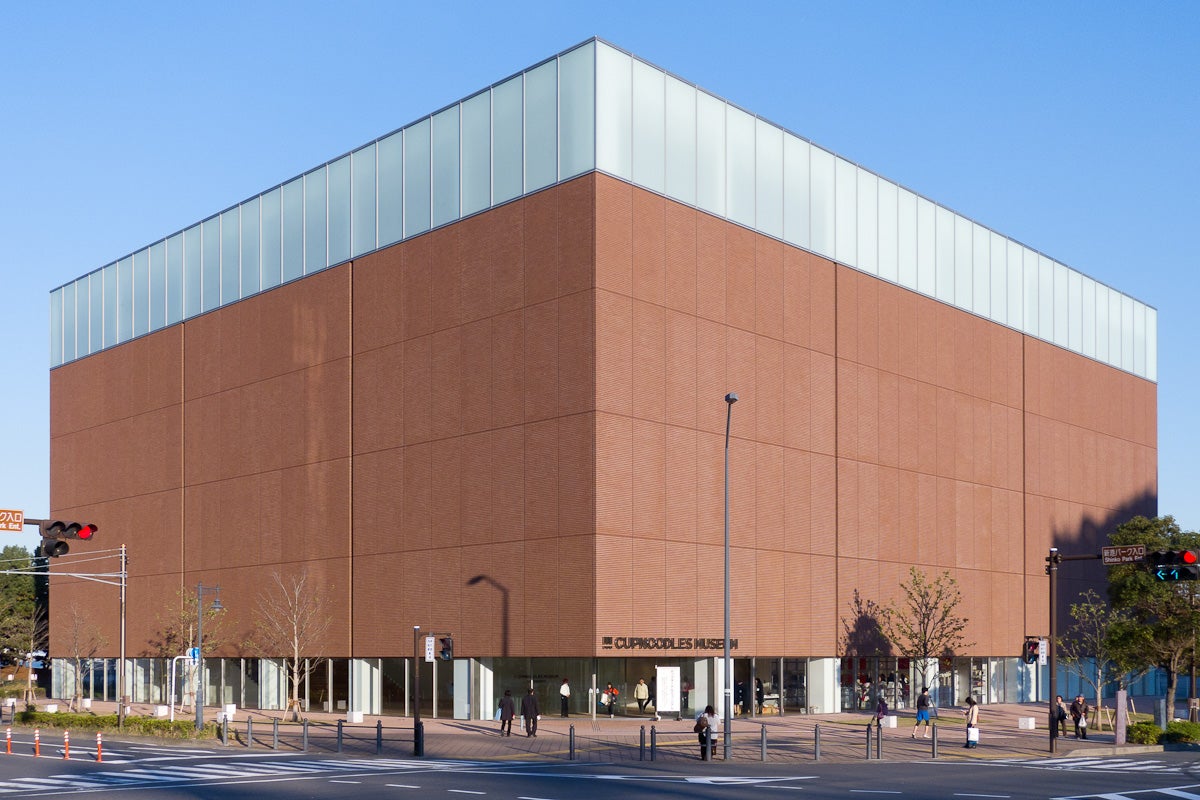 CupNoodles Museum Yokohama
CupNoodles Museum Yokohama displays the creativity of Momofuku Ando, inventor of the world-renowned Chicken Ramen and CUPNOODLES. You can get involved with the process of making noodles, including kneading and seasoning wheat flour. There is also the option of choosing your favourite soup and ingredients to create your very own original CUPNOODLES.
If you fancy something a bit more active, head to the factory-style obstacle course, where you go through the entire manufacturing process like a cup noodle. CupNoodles Museum Yokohama also has cinemas and exhibitions on the life story of Momofuku Ando. The 4th floor has food stalls selling noodles and desserts from all over the world.
Location: 2 Chome-3-4 Shinko, Naka Ward, Yokohama, Kanagawa 231-0001, Japan
Open: Daily from 10am to 6pm
photo by Rs1421 (CC BY-SA 3.0) modified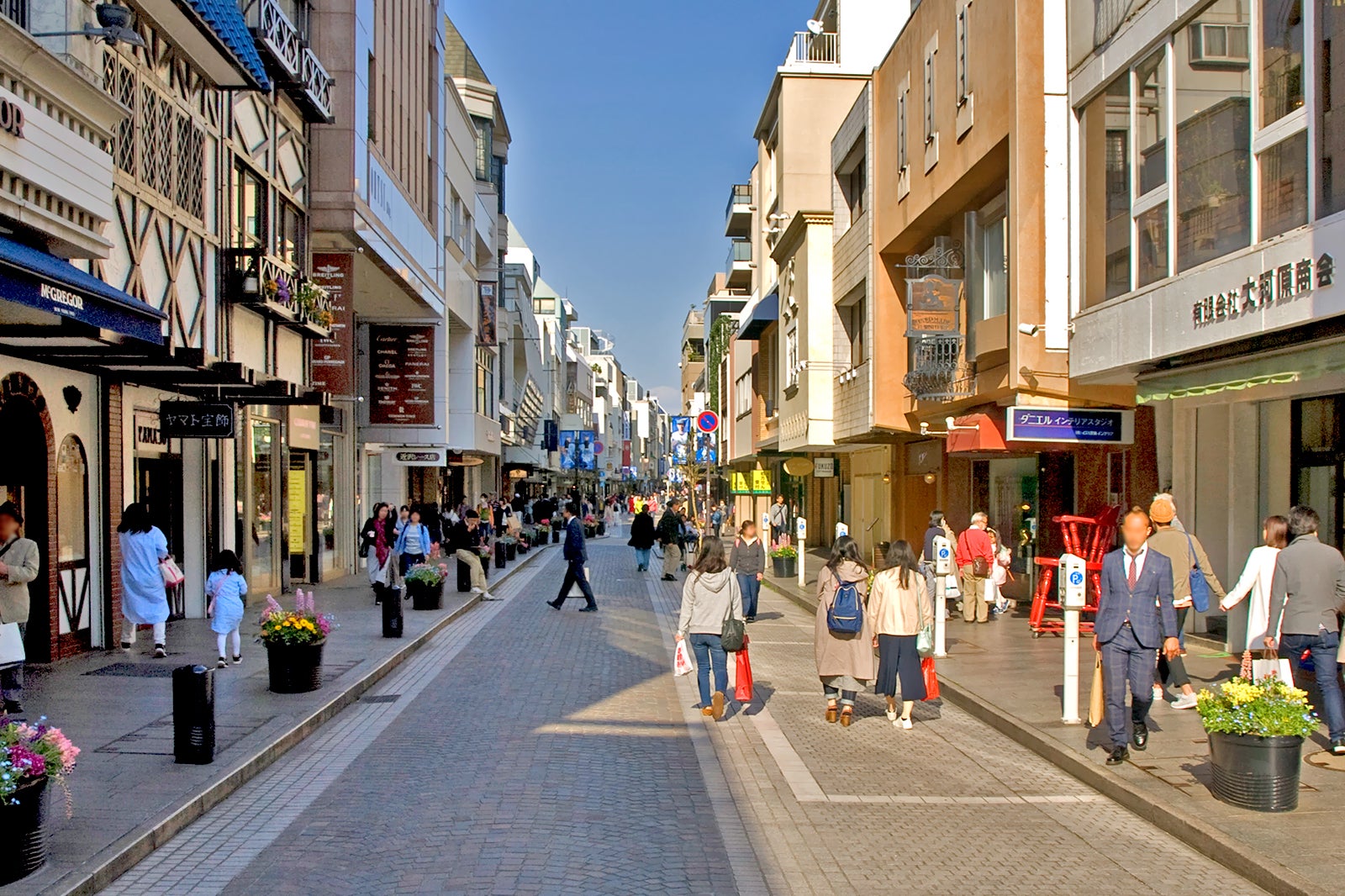 Yokohama Motomachi Shopping Street
Motomachi Shopping Street is at the cutting-edge of fashion culture in Yokohama. Spanning around 1 km towards JR Ishikawacho Station, this street is full of designer boutiques selling shoes, clothes and accessories. Popular brands include Kitamura, a renowned handbag shop originating in Motomachi, and the flagship store of Mihama, a famous shoe shop.
Motomachi Shopping Street is full of people from Yokohama and beyond, especially during events such as the Charming Sale (February and September), the September food fair and Halloween events, as well as during the Christmas celebrations. The streets even have water fountains for pets, making it a popular destination among dog owners.
Location: 1 Chome-8 Motomachi, Naka Ward, Yokohama, Kanagawa 231-0861, Japan
photo by Ymblanter (CC BY-SA 4.0) modified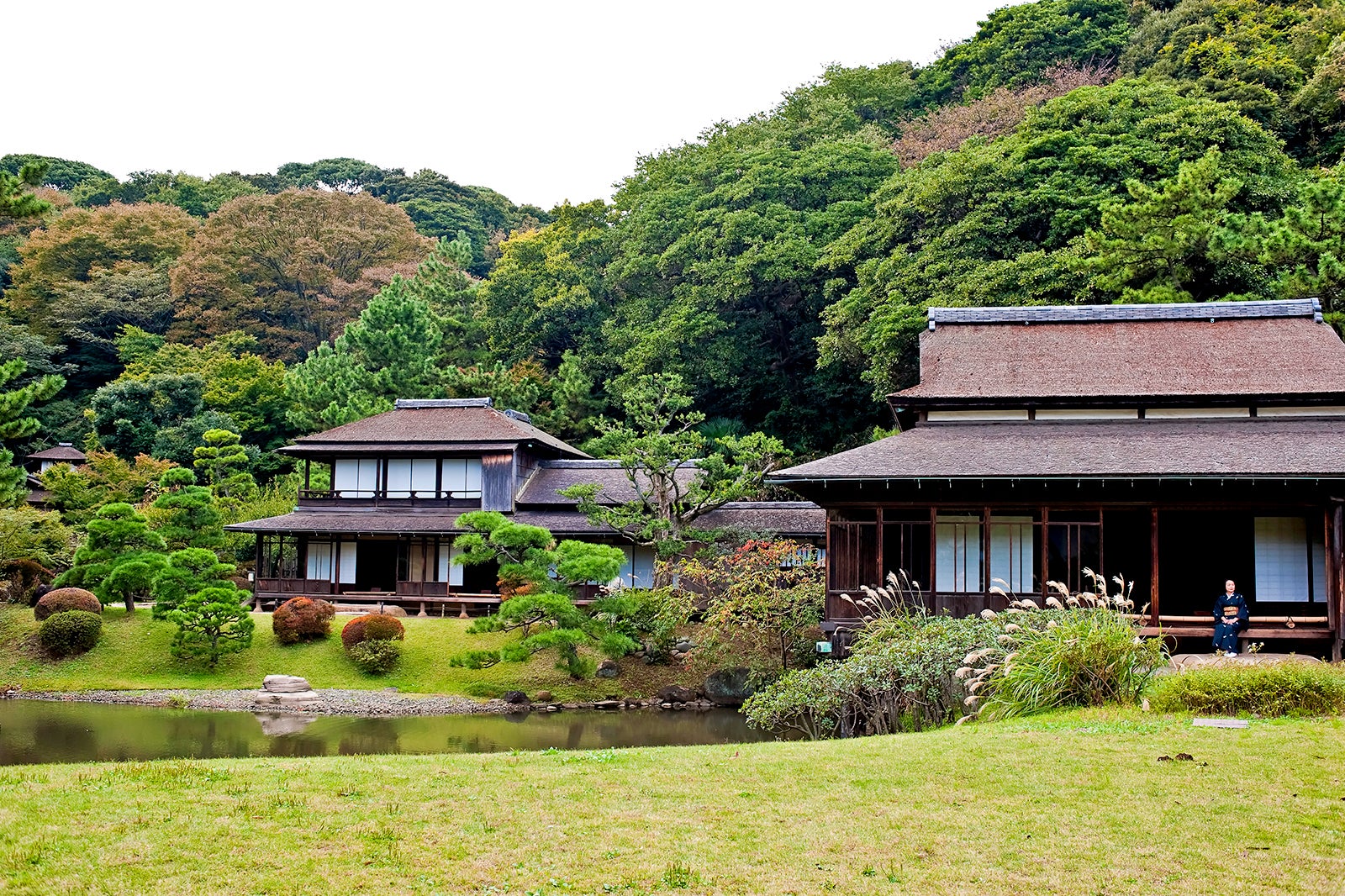 Sankeien is a beautiful Japanese garden with historic buildings relocated from various places such as Kamakura and Kyoto. Sankei Hara, a local businessman, opened this park to the public in 1906. You can take a stroll around the garden and enjoy beautiful flowers in each season, including plum blossoms, cherry blossoms, irises and lotus flowers.
You can see 10 historic sites designated as Japan's Tangible Important Cultural Properties, including Juto Oido of Old Tenzuiji, the Three-Story Pagoda of Old Tomyoji, and the Former Yanohara House, a traditional thatched Japanese house built in the late Edo period. You can also rest your legs and enjoy local snacks (like rice dumplings) at a teahouse located within Sankeien Garden.
Location: 58-1 Honmokusannotani, Naka Ward, Yokohama, Kanagawa 231-0824, Japan
Open: Daily from 9am to 5pm (closed from 29th–31st December)
photo by Fumihiko Ueno (CC BY 3.0) modified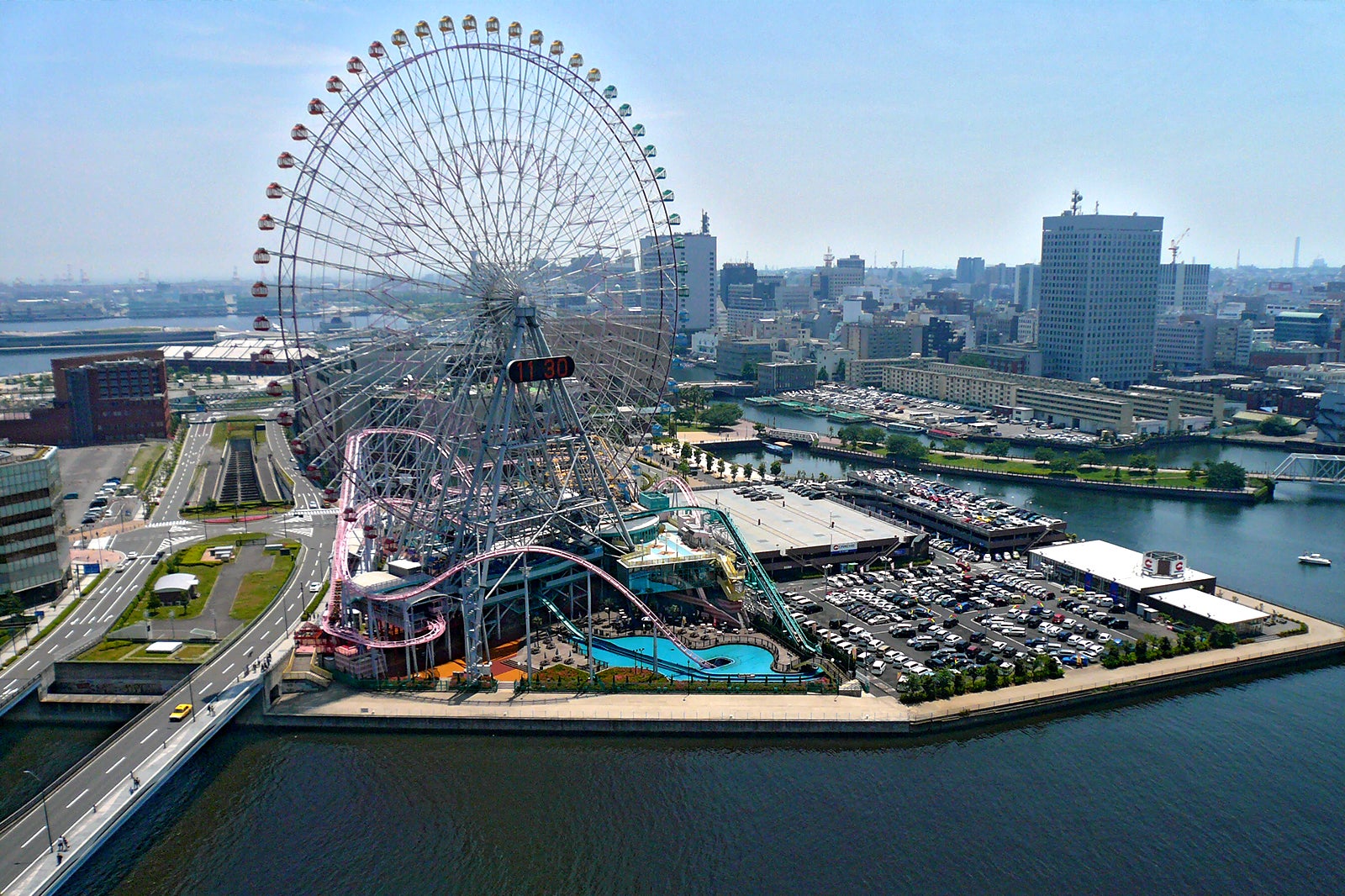 Yokohama Cosmo World is a 3D amusement park in Minato Mirai 21. Its standout attraction is Cosmo Clock 21, one of the world's largest clock-style Ferris wheel. Standing 112.5 metres tall, you can enjoy a panoramic view of Yokohama during a ride that lasts about 15 minutes. 4 of the 60 gondolas have transparent walls and floors that make you feel like you're floating in mid-air.
A must-see at Yokohama Cosmo World is Cosmo Clock 21's impressive illuminations, which are on display from sunset until around midnight. Visit the Wonder Amuse Zone for a variety of scream-inducing attractions, such as the Vanish diving rollercoaster and the Cliff Drop waterslide. Burano Street Zone offers hands-on attractions, while Kids Carnival Zone has rides for small children.
Location: 2 Chome-8-1 Shinko, Naka Ward, Yokohama, Kanagawa 231-0001, Japan
Open: Hours vary by season
photo by Fumihiko Ueno (CC BY 3.0) modified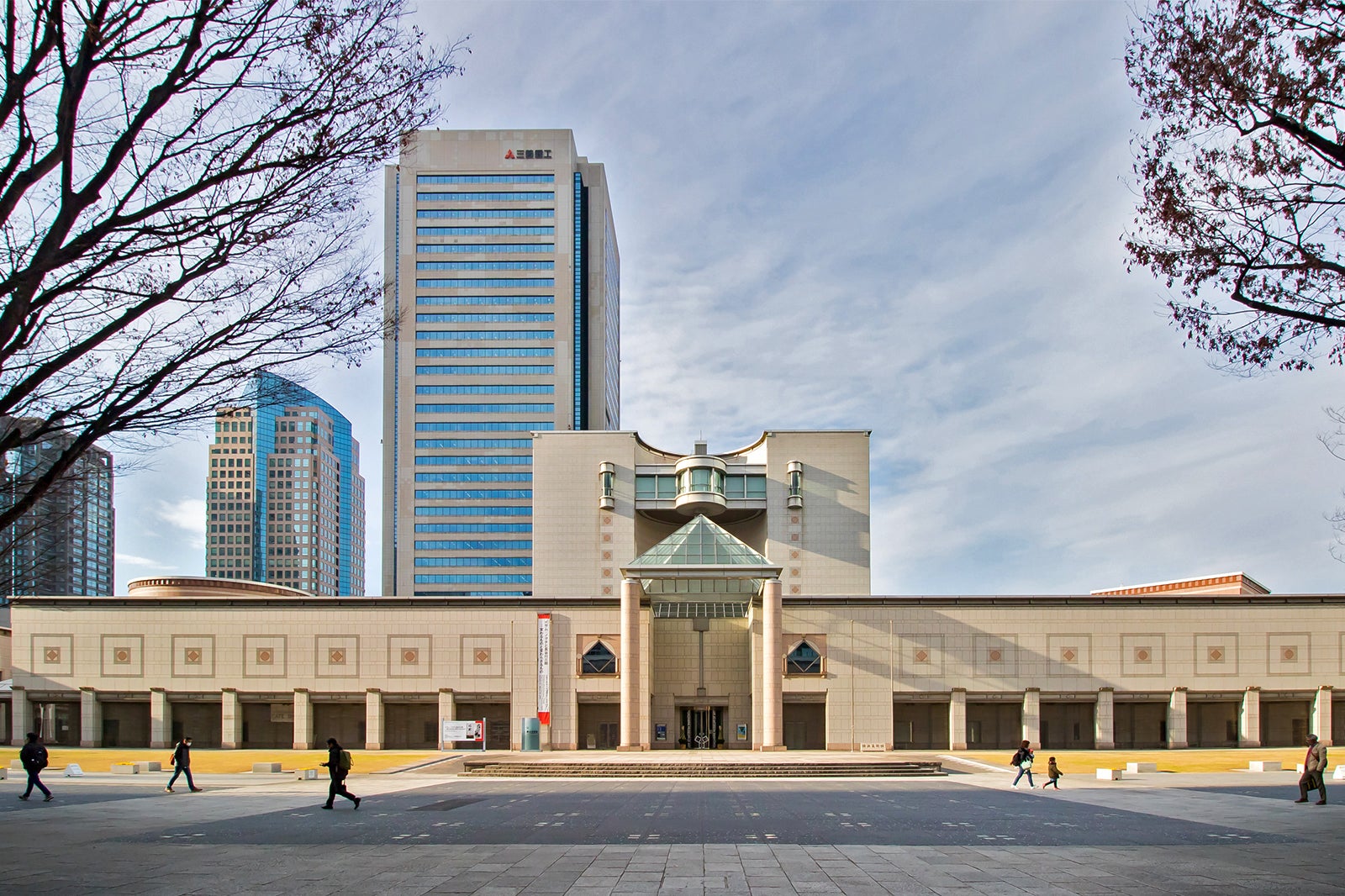 The Yokohama Museum of Art in Minato Mirai 21 displays modern masterpieces by Japanese and international artists. Opened in 1989, the museum's building is something of a landmark, thanks to its symmetrical stonework exterior designed by international architect Kenzo Tange. When you first enter the building, you'll come to the Grand Gallery, which has a 20-metre-high atrium. Take the escalator up to the next floor to find 7 galleries displaying the museum's collection of around 12,000 pieces.
The Art Information and Media Centre has reference materials on art, including over 110,000 books available for free. The Children's Workshop and the Citizens' Workshop are popular sections where you can learn about art through hands-on and creative activities. There is also a cool museum shop and cafe attached to the Yokohama Museum of Art.
Location: 3 Chome-4-1 Minatomirai, Nishi Ward, Yokohama, Kanagawa 220-0012, Japan
Open: Friday–Wednesday from 10am to 6pm (closed on Thursdays)
photo by Kakidai (CC BY-SA 4.0) modified