10 Best Family Things to Do in Tainan
Fun Places in Tainan to Take Your Kids
There are plenty of things to do for families in Tainan, from museums offering interactive exhibits to quaint farms with friendly animals for the kids to pet. Urban parks are plentiful, offering boat cruises, picnic areas, and outdoor fun.
A tour of the 18 different levels of hell in Madou Daitian Temple makes for a unique educational experience. You can also visit the Hu Jia Shanhua House Painted Village, which is decorated with murals of cartoon characters. Check out our guide to fun places in Tainan to take your kids.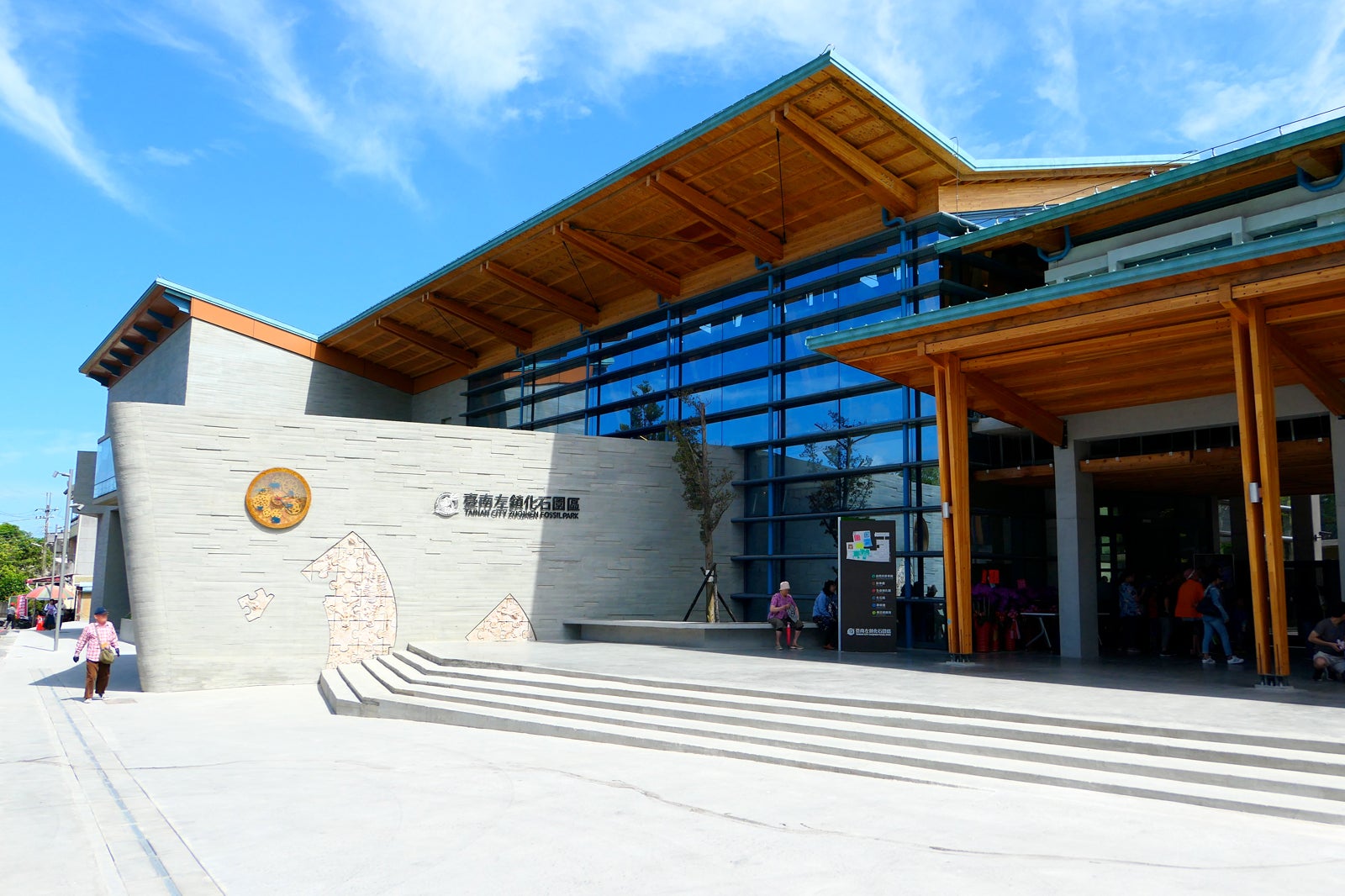 Zuojhen Fossil Park, located in Zuojhen District, is the only fossil park in Taiwan. The park has a uniquely appealing architecture and features many interesting art installations. There are abundant resources in the museum, where you can see models of the gigantic mammoth, Stegodon elephant, and Formosa skia deer in the Natural History Education Hall.
There are virtual reality devices for children to engage in fossil treasure hunts and learn about the formation of fossils. The Evolution Hall has realistic paleontological skeletons suspended in mid-air, along with precious fossil specimens such as trilobites and Archaeopteryx. You can also find a mock excavation area for those looking to experience the duties of an archaeologist. It's a great place to spend time with your children and learn more about archaeology.
Location: No. 61-1, Zuojhen District, Tainan City, Taiwan 71341
Open: Wednesday–Monday from 9 am to 5 pm (closed on Tuesdays)
Phone: +886 (0)6 573 1174
photo by Pbdragonwang (CC BY-SA 4.0) modified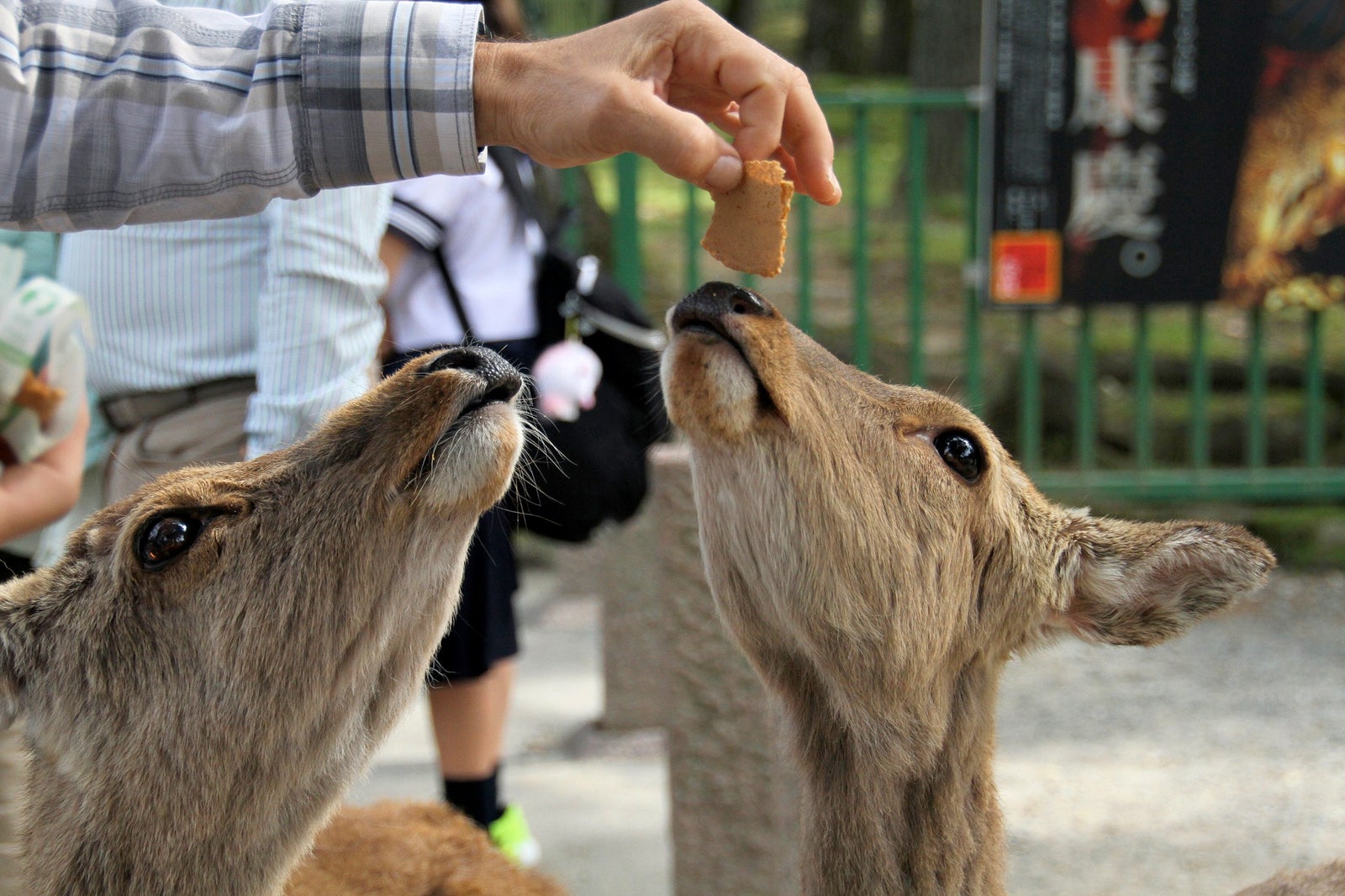 Animal and nature lovers can visit a local farm in Tainan to experience the fun of feeding small animals. Feeding cute animals is therapeutic and fun for all the family. You might find lambs, ostriches and sika deer, as well as a variety of birds. You can also learn about the habits and ecology of these small animals thanks to the signs provided throughout the farms. Horse riding is also available at selected farms in Tainan.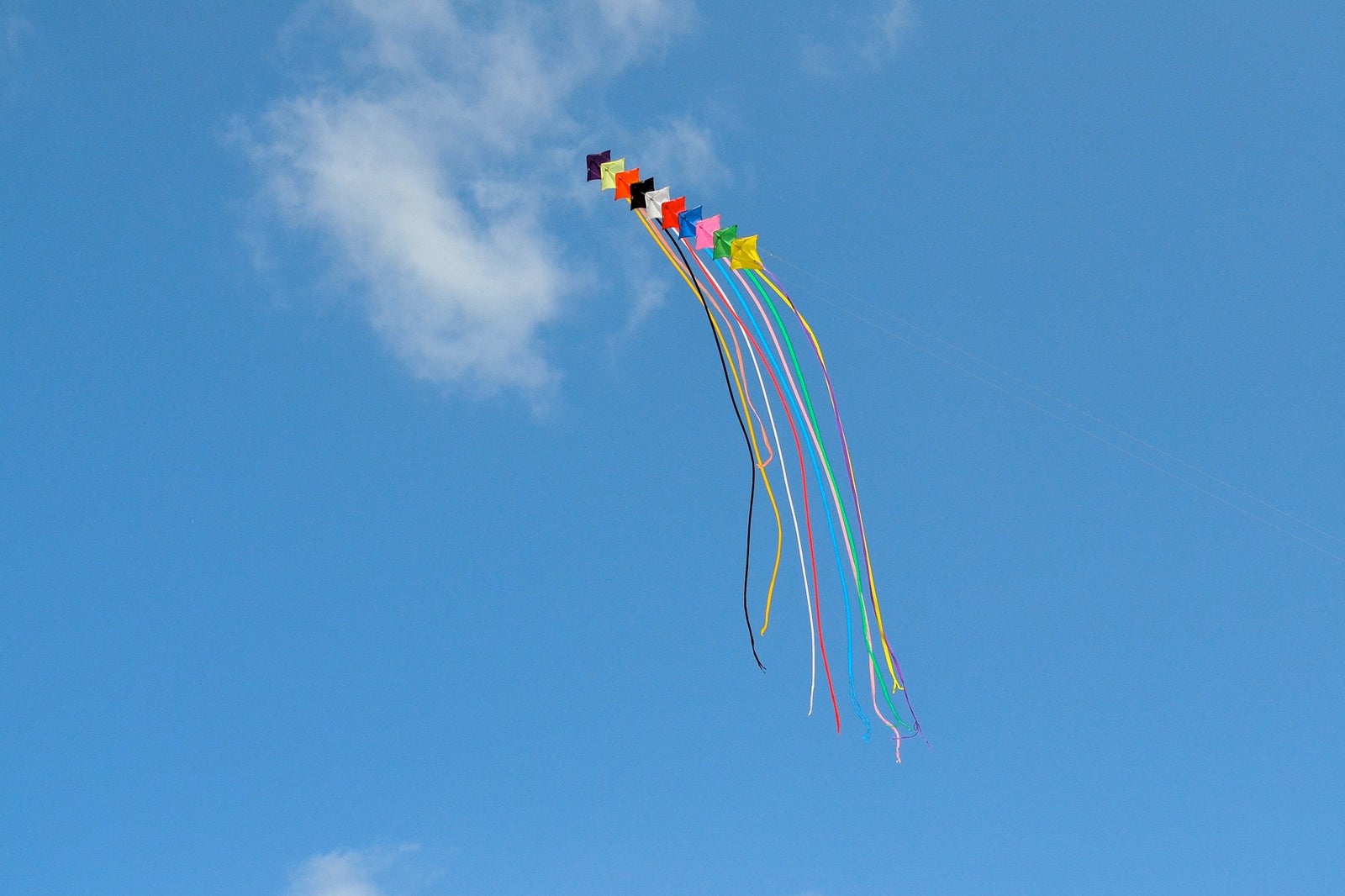 Lin Mo-niang Park is part of the National Anping Harbour Historic Park in Tainan. Its centrepiece is the 16-metre-tall statue of the Goddess Mazu At dusk and on weekends, many parents bring their children here for picnics and outdoor activities. Its proximity to Anping Port means that is exposed to strong winds, which are ideal for kite flying.
All kinds of colourful kites fill the sky, from cartoon characters to local marine life. You can also enjoy a stroll and watch the sunset. It's a good place to temporarily escape the hustle and bustle of the city.
Location: Anyi Road, Anping District, Tainan City, Taiwan 708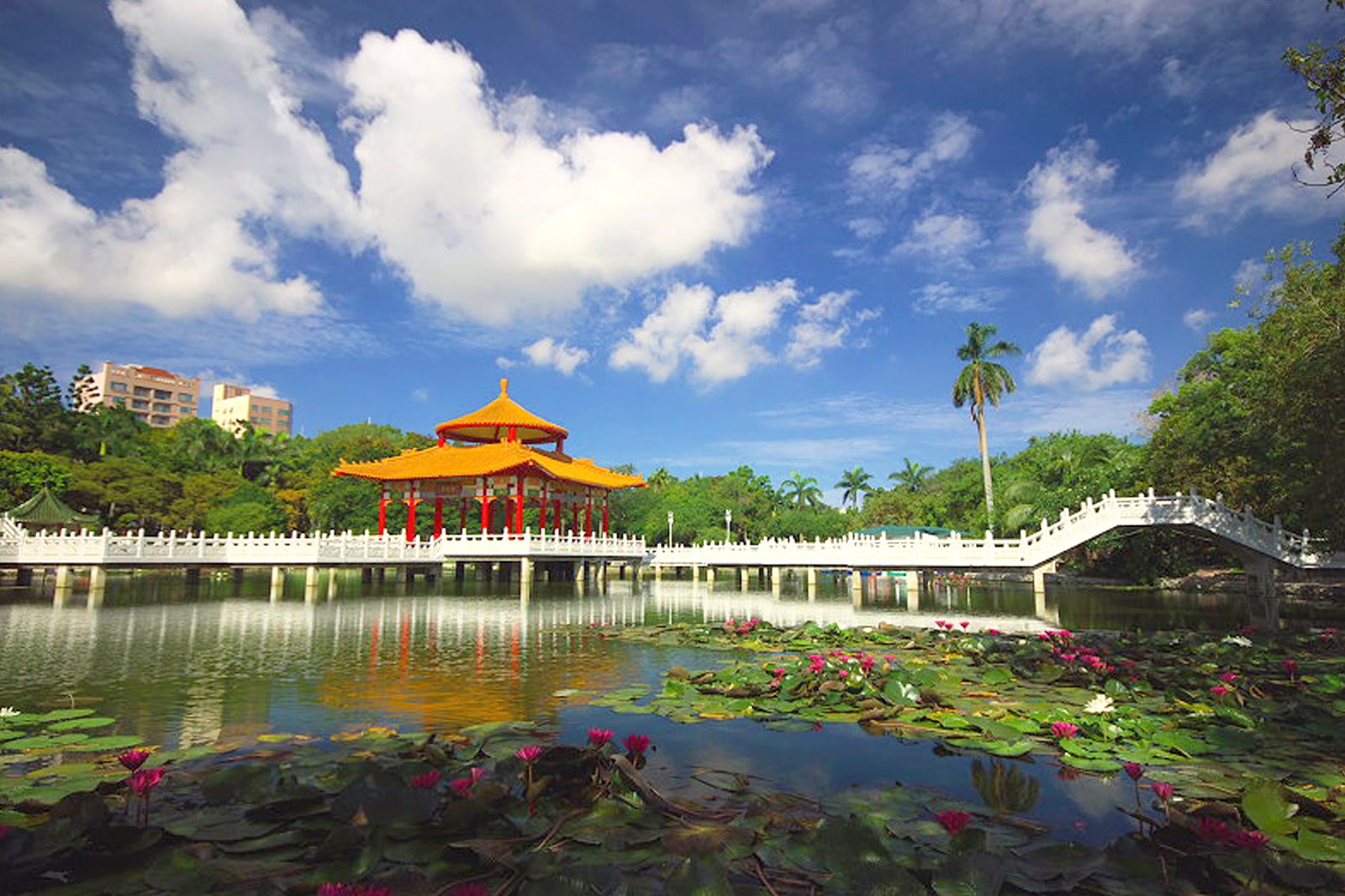 Tainan Park is located in the North District of Tainan City, adjacent to Tainan Railway Station. Inaugurated during the Japanese occupation, it is the oldest and largest park in Tainan. There are many tropical plants, as well as different flora species introduced in recent years. It frequently takes centre stage during the flower-viewing season.
Ride a swan boat on Yan Lake to admire its clear water and the Quqiao Pagoda standing above it, along with the low-hanging willows along the banks. Nearby the park is the Zhongdaosongwen Memorial Arch, a listed Grade III historic site.
Location: No. 89, Gongyuan South Road, North District, Tainan City, Taiwan 70449
photo by Mark Kao (CC BY-SA 2.0) modified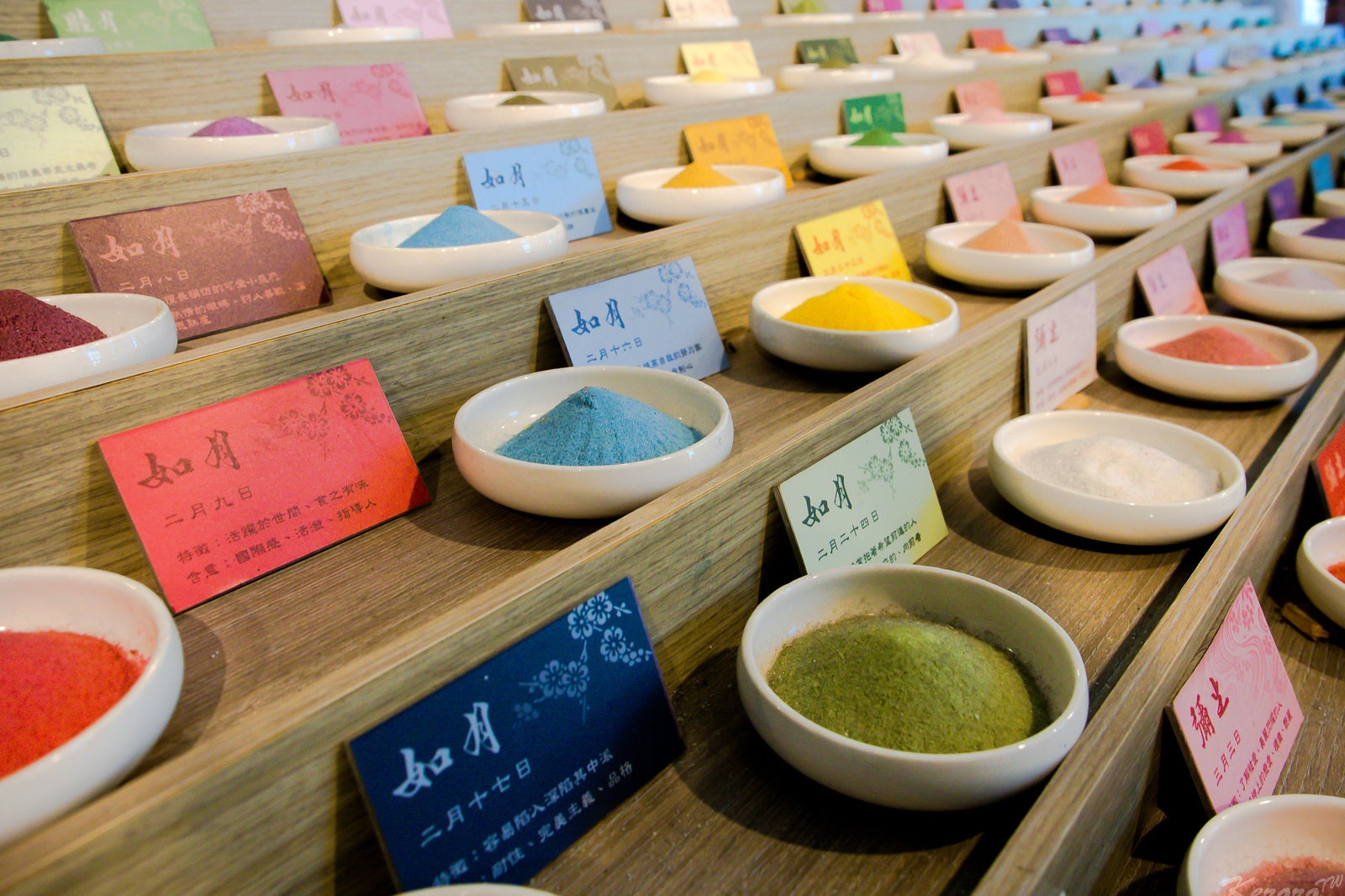 Sio House (Salt Museum) occupies a traditional Japanese-style building, right behind the Yanshen White Beach Park in Anping District. The museum is famous for its 366 coloured birthday salts, which are lined up on a display stand, each with a brief birthday analysis.
You'll also find salt carvings of the 12 signs of the zodiac, along with a miniature version of the Jadeite Cabbage, a famous sculpture in Taiwan. Sio House has the vibe and ambience of a Japanese shrine, as it's decorated with many wind chimes as well as a sculpture of a tanuki (raccoon dog).
Location: No. 196, Gubao Street, Anping District, Tainan City, Taiwan 70842
Open: Saturday from 10 am to 7 pm, Sunday–Friday from 10 am to 6 pm
Phone: +886 (0)6 391 1088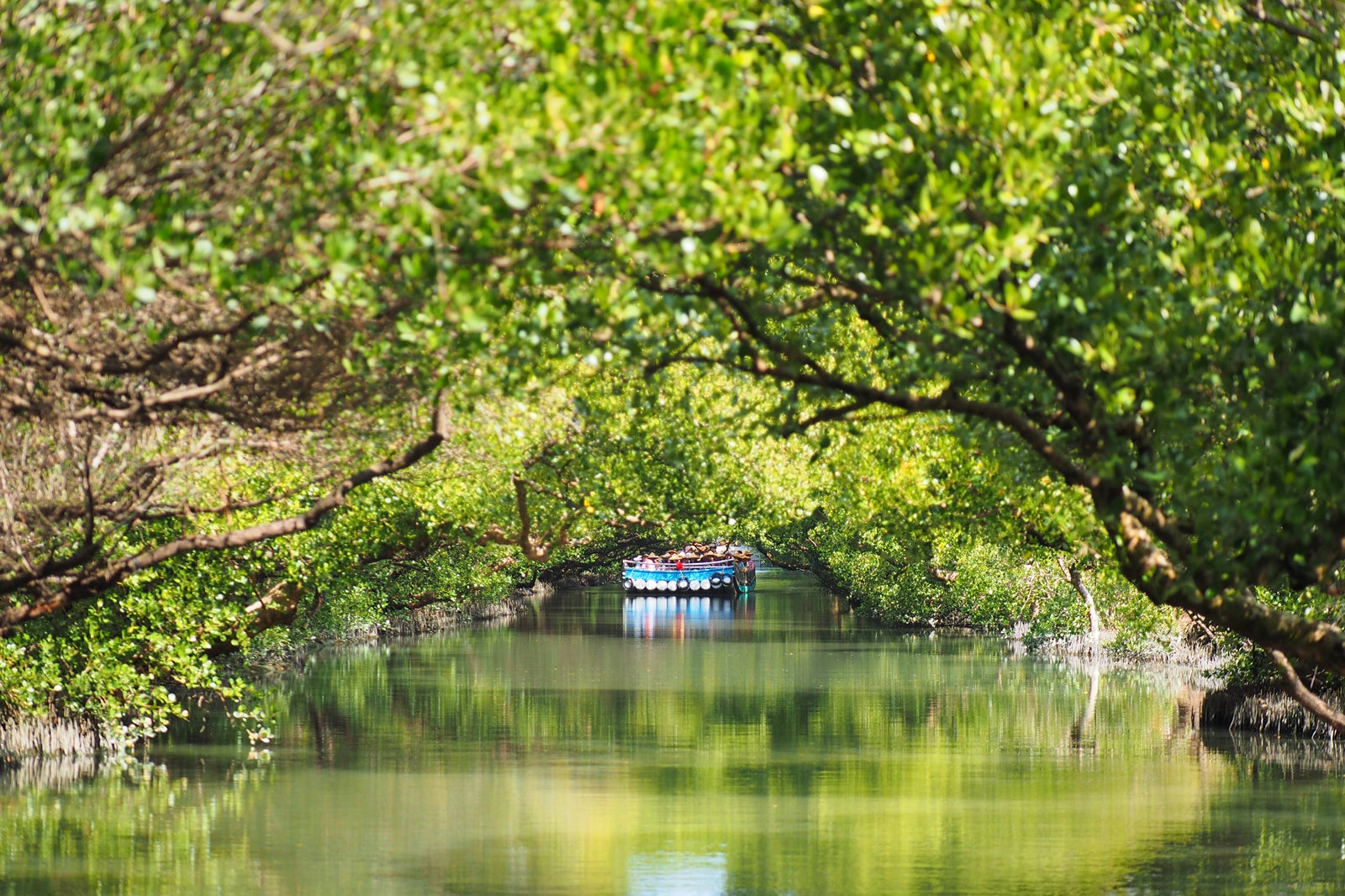 The Sicao Green Tunnel is located in Taijiang National Park, behind Sicao Dazhong Temple in Tainan. Rich in ecological features such as sandbars and wetlands, it enjoys a well-deserved reputation as Taiwan's 'Mini Amazon Rainforest'. Enjoy the amazing views by hopping on a bamboo raft with an expert guide, who can explain the history and significance of the ecosystem.
The most exciting view is known as 'Green Eyes' or 'The Angel's Kiss', which you can see the tunnel framed by green trees on both sides and its reflection on still water.
Location: No. 360, Dazhong Road, Annan District, Tainan City, Taiwan 70975
Open: Daily from 8.30 am to 5 pm
photo by othreeothree (CC BY 2.0) modified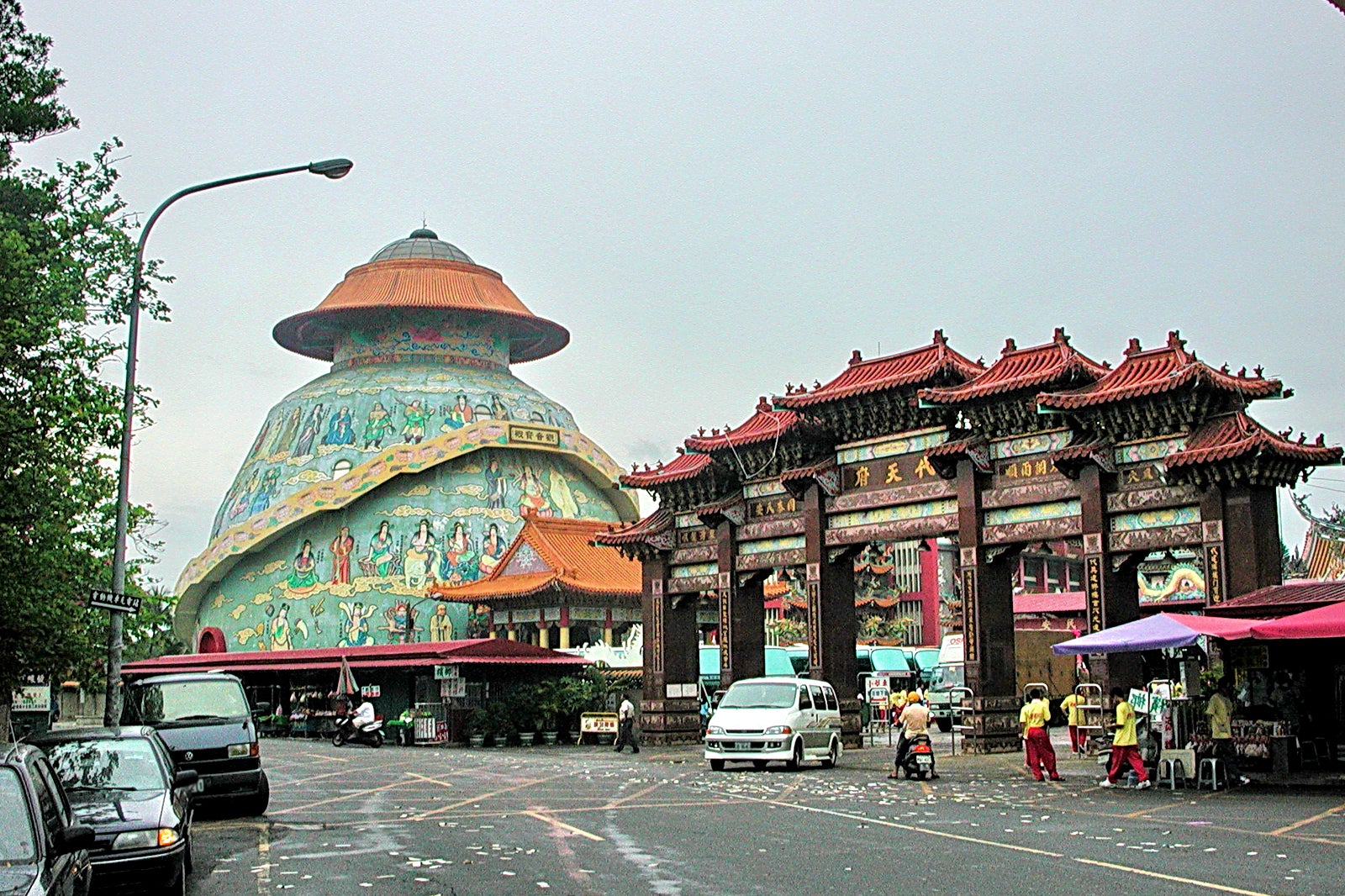 Madou Daitian Temple is dedicated to Wufu Chiensui (5 deities). The magnificent building is full of wonder, especially the 76-metre-long dragon at its rear. You'll find the well-known Heaven, Hell, and Crystal Palace inside the dragon.
If you wonder what Heaven and Hell might look like, this place is worth a visit. The 18 levels of Hell use blue and green lights to create a scary atmosphere. Various cruel and lifelike punishments are on display using animatronics, making this place a very unique, educational and exciting attraction.
Location: No. 60, Guandi Temple, Madou District, Tainan City, Taiwan 72146
Open: Daily from 4 am to 9 pm
Phone: +886 (0)6 572 2133
photo by lienyuan lee (CC BY 3.0) modified
8
Hu Jia Shanhua House Painted Village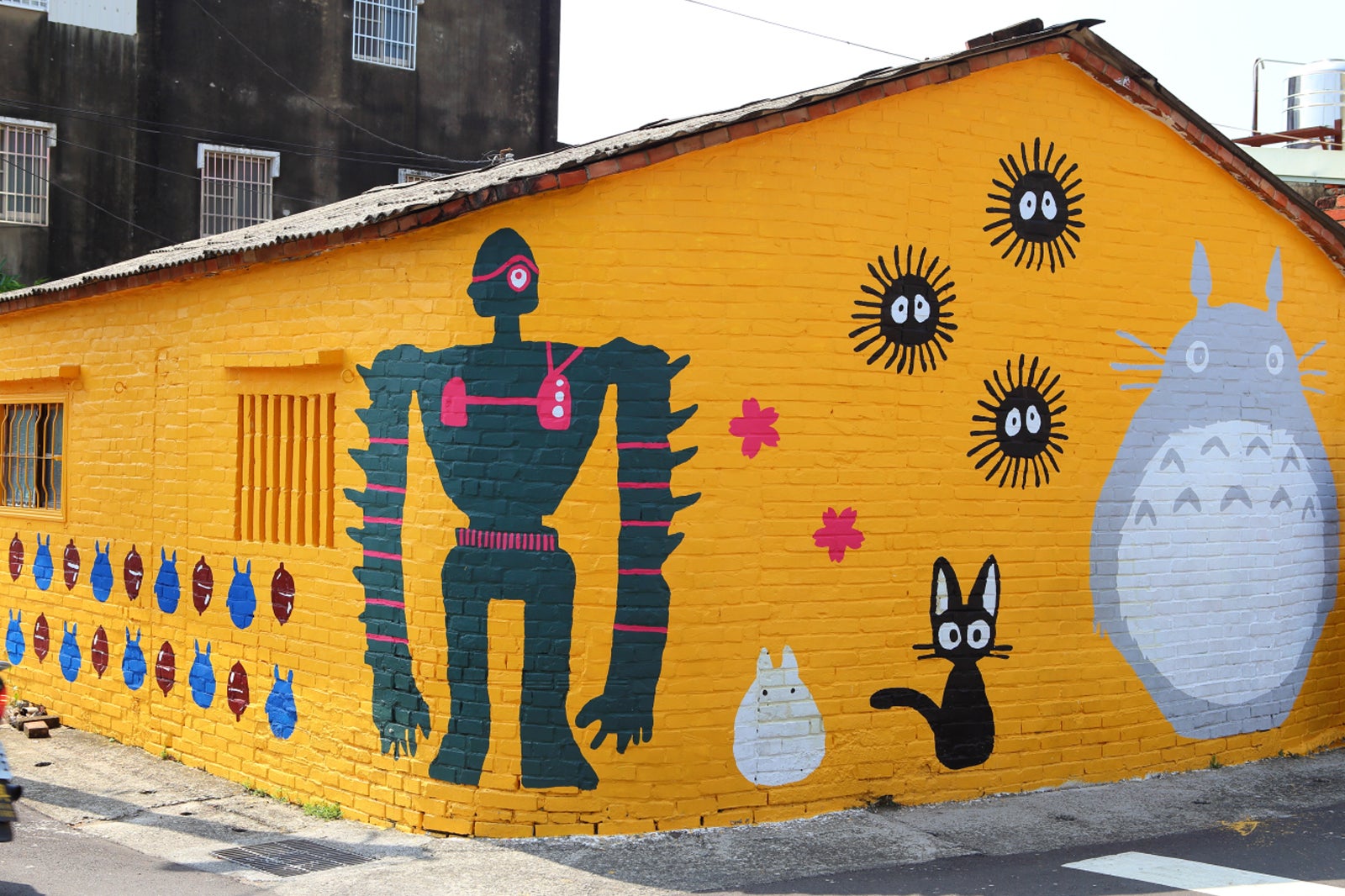 The Hu Jia Shanhua House Painted Village is located in Shanhua District, Tainan. Paintings are mostly cartoon and anime characters, one of which is the classic Japanese character, Totoro. You'll also find the well-known LAIMO character created by a Taiwanese illustrator.
You'll get a sense of childlike wonder while exploring this mural village, as cartoon characters from different eras bring back memories for adults and young people alike. It's one of the biggest mural villages in Taiwan, so it's a good idea to get a map at the entrance, locate your favourite mural, and plan your route accordingly.
Location: No. 300, Hujia, Shanhua District, Tainan City, Taiwan 74161 (Yangming Elementary School)
photo by Bryan Hsieh (CC BY-SA 2.0) modified
9
Ma Sha Gou Beach Recreation Area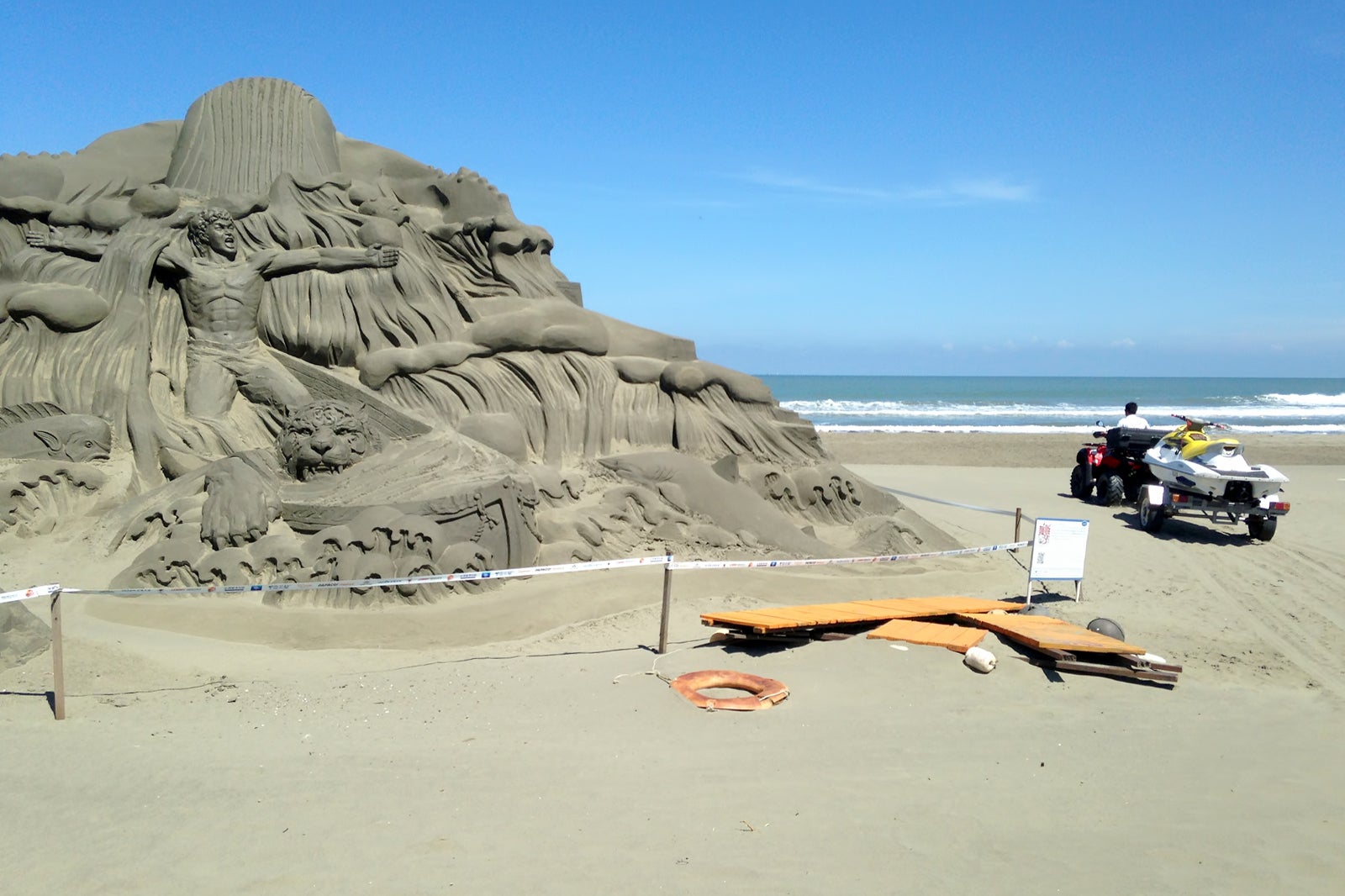 The Ma Sha Gou Beach Recreation Area offers fantastic views and the feeling of staying in a foreign resort. The clean and beautiful beaches have facilities such as well-planned barbecue and camping areas. This is an attractive place for parents to bring their kids for some fun in the water and on the sand.
Location: No. 140, Pingsha, Jiangjun District, Tainan City, Taiwan 72549
photo by Ethan Lee (CC BY-SA 3.0) modified
Jia Fu Temple, located in Jiali District, dates back to the Kangxi period of the Qing Dynasty. While most temples are solemn and serious, this particular shrine comes with a children's amusement park and a well-planned barbecue area. You'll find many sculptures of young monks doing daily practice at the entrance to the temple.
Jia Fu Temple's many playground facilities include slides, swings and rocking horses. The most unique attraction here is the longest roller slide in Taiwan – it has no weight restrictions, so even adults can enjoy a ride. If you book in advance, you can use the barbecue area for free.
Location: No. 102, Yingding, Jiali District, Tainan City, Taiwan 72264
Phone: +886 (0)6 726 3011
Back to top