10 Best Street Food Cities in Asia
Eat Your Way Around Asia on Pocket Change
The street food scene in Asia is rooted in history, with many hawkers preparing dishes using recipes that have been handed down from one generation to another. Whether it's flavourful noodle dishes in Japan, spicy seafood in China, or even ice cream in a bun from the Philippines, there are enough delicious (and affordable) options to choose from.
Many would agree that the best street food comes from Asia, though some cities are better than others for an authentic meal on the streets. Check out our guide on the best street food cities in Asia – we've also included some ideas on what to eat while you're on holiday in these destinations.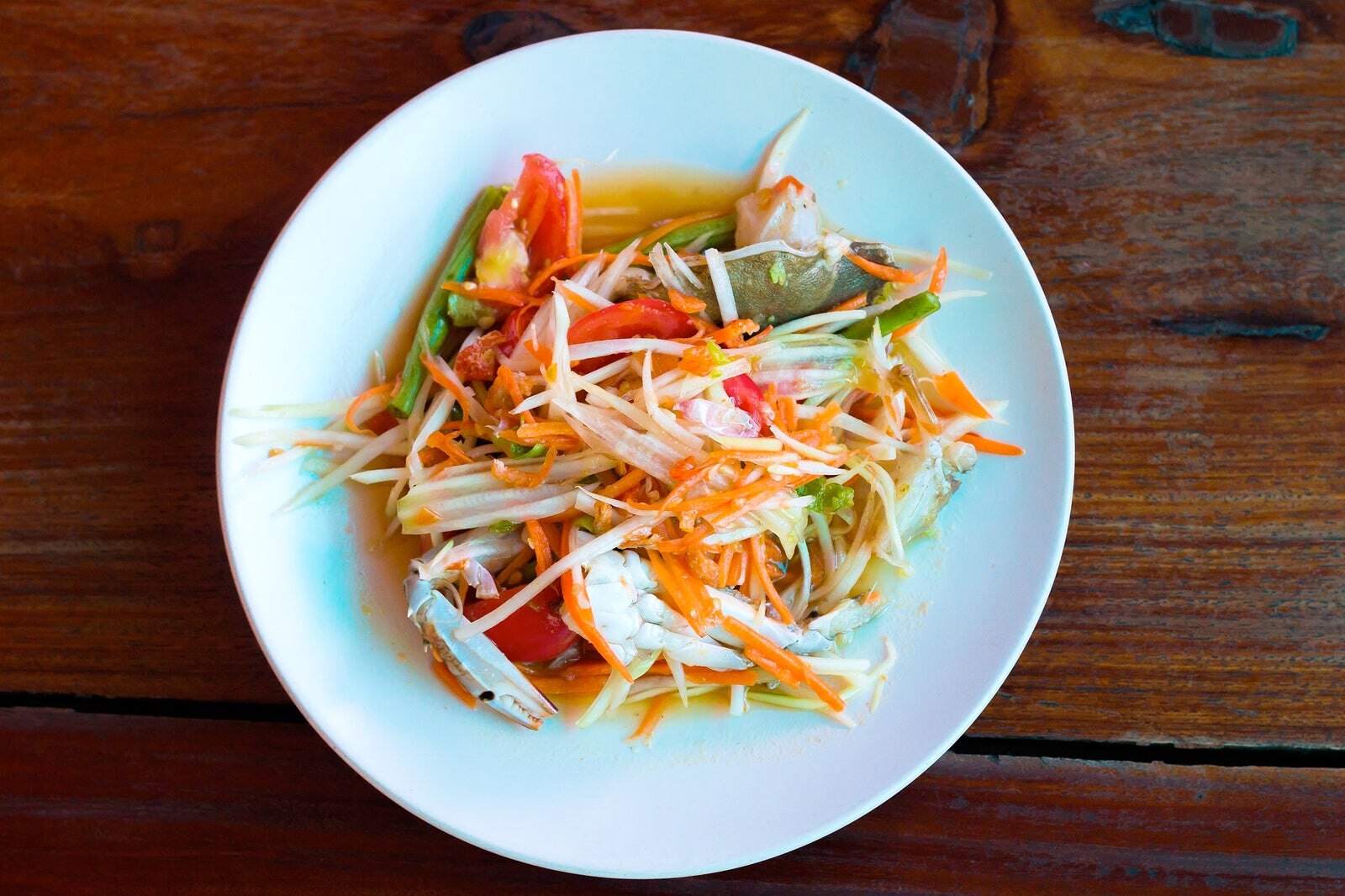 Bangkok has long been recognised as one of the best street food cities in the world. Options range from papaya salad and fried fish to tom yum and grilled bananas. Vendors in Victory Monument, Chinatown, and Rangnam are favoured by locals for their high-quality dishes and affordable prices.
If you're in the mood for something sweet, many street vendors in Thailand also offer a wide range of local desserts. Try a Thai crepe full of meringue, coconut ice cream, or the classic mango sticky rice. Keep in mind that most food cart vendors in Bangkok take Mondays off, as this is usually the city's street cleaning day.
Location: Bangkok, Thailand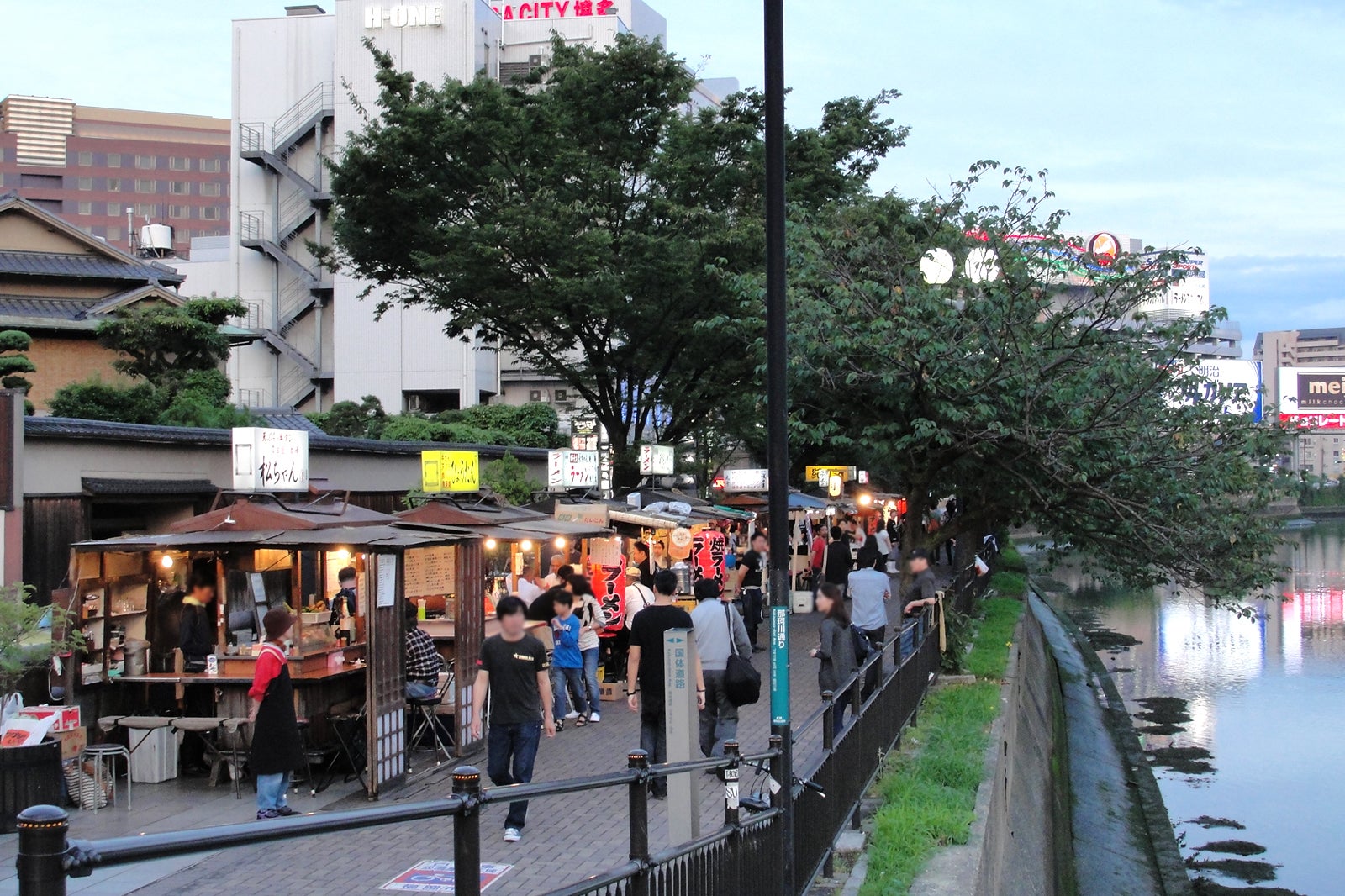 Fukuoka's famous food stalls, known as yatai, are located along the river on Nakasu Island. These open-air eateries can sit around 7 to 8 people at a time, and are usually open from 6pm to 2am.
Some of the many dishes you should order include yakitori (chicken skewers), miso soup, and the famous Hakata ramen. This is a local noodle dish consisting of thin ramen noodles in a cloudy pork-based soup and topped with green onions and char siu (boiled or roasted pork). It can get rather packed at peak hours, so it's common courtesy to finish your meal quickly and offer your seat to the next person.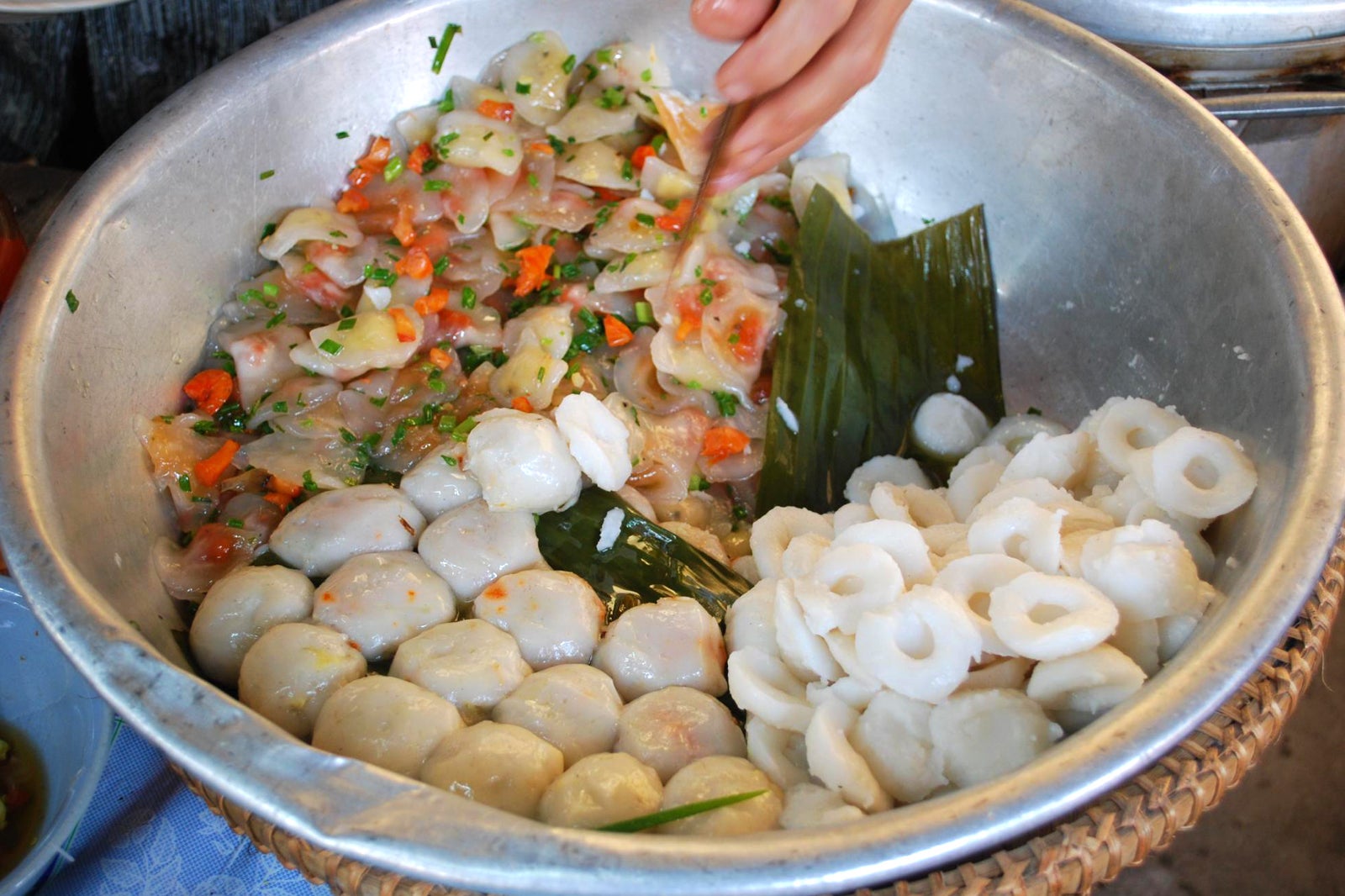 Enjoying street food is one of the best things about vacationing in Ho Chi Minh City. Start the day with one of Vietnam's most recognised dishes, banh beo, available at almost every street food cart. These small discs of rice flour are topped with crunchy pork rinds and toasted shrimp powder and are usually served in sets of 8 or 10.
Other popular choices include bunh mam (fermented rice vermicelli soup), bun rieu cua (rice vermicelli soup with crab), and che chuoi (coconut, banana and tapioca dessert). While the street food scene in Ho Chi Minh saturates every district and neighbourhood, some of the best food stalls are found in Van Kiep Street in District 10 and Vihn Khanh Street in District 4.
Location: Ho Chi Minh, Vietnam
photo by Alpha (CC BY-SA 2.0) modified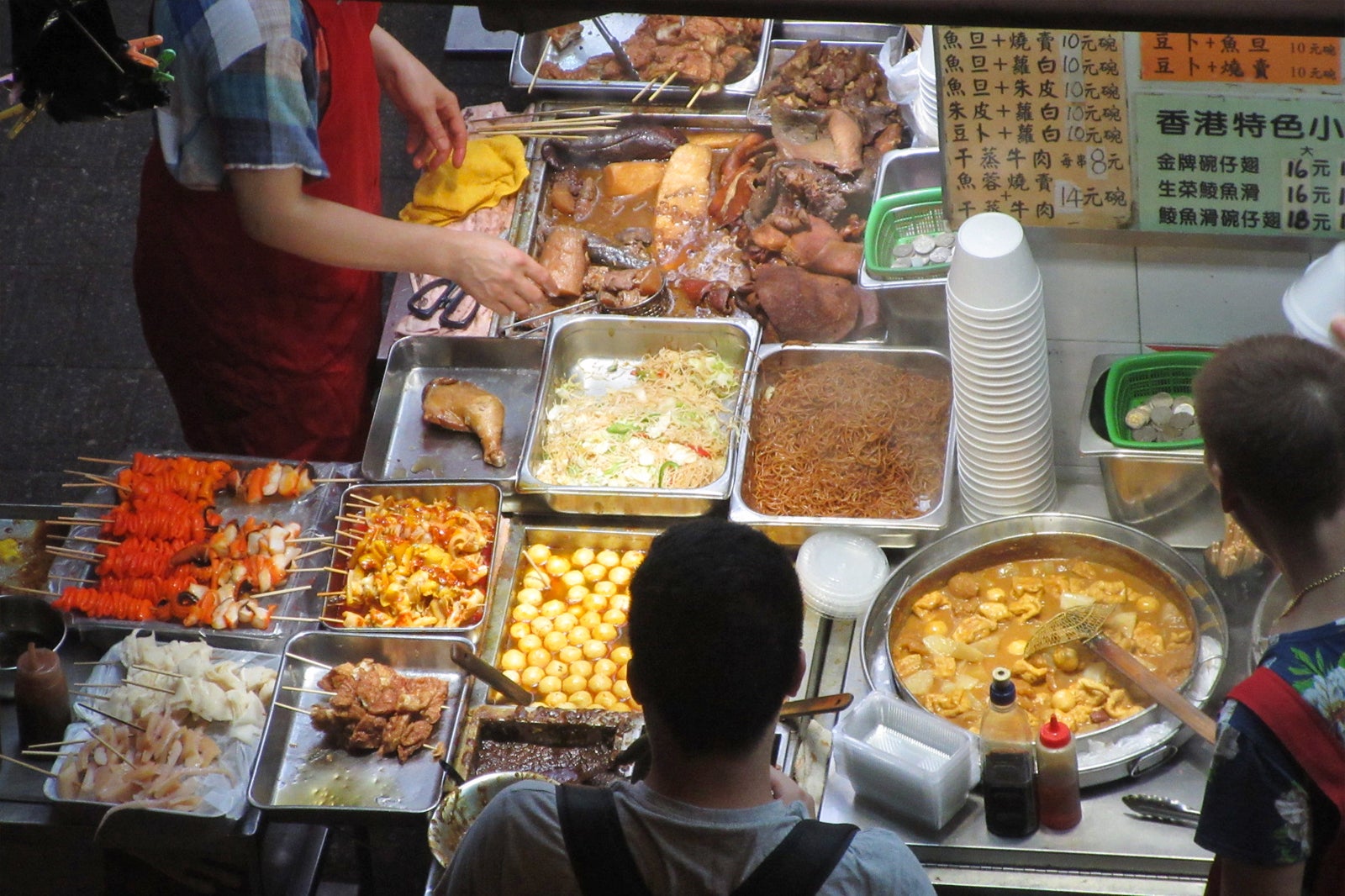 For a city that has dozens of Michelin-starred restaurant, Hong Kong manages to attract budget travellers with its extensive range of affordable coffee shops and dim sum restaurants. Cantonese cuisine is the city-state's speciality, with popular dishes such as curry fish balls, egg waffles, and grilled squid.
Some of the most popular areas for street food in Hong Kong include Causeway Bay, Mong Kok, and Tsuen Wan. You'll often find entire meals for just a few dollars. Chilli and soy sauces are readily available at virtually every food stand in Hong Kong – add these condiments to your dish, whether it's dim sum, noodles or skewered tofu, for extra flavour.
Location: Hong Kong, China
photo by Louallchs (CC BY-SA 4.0) modified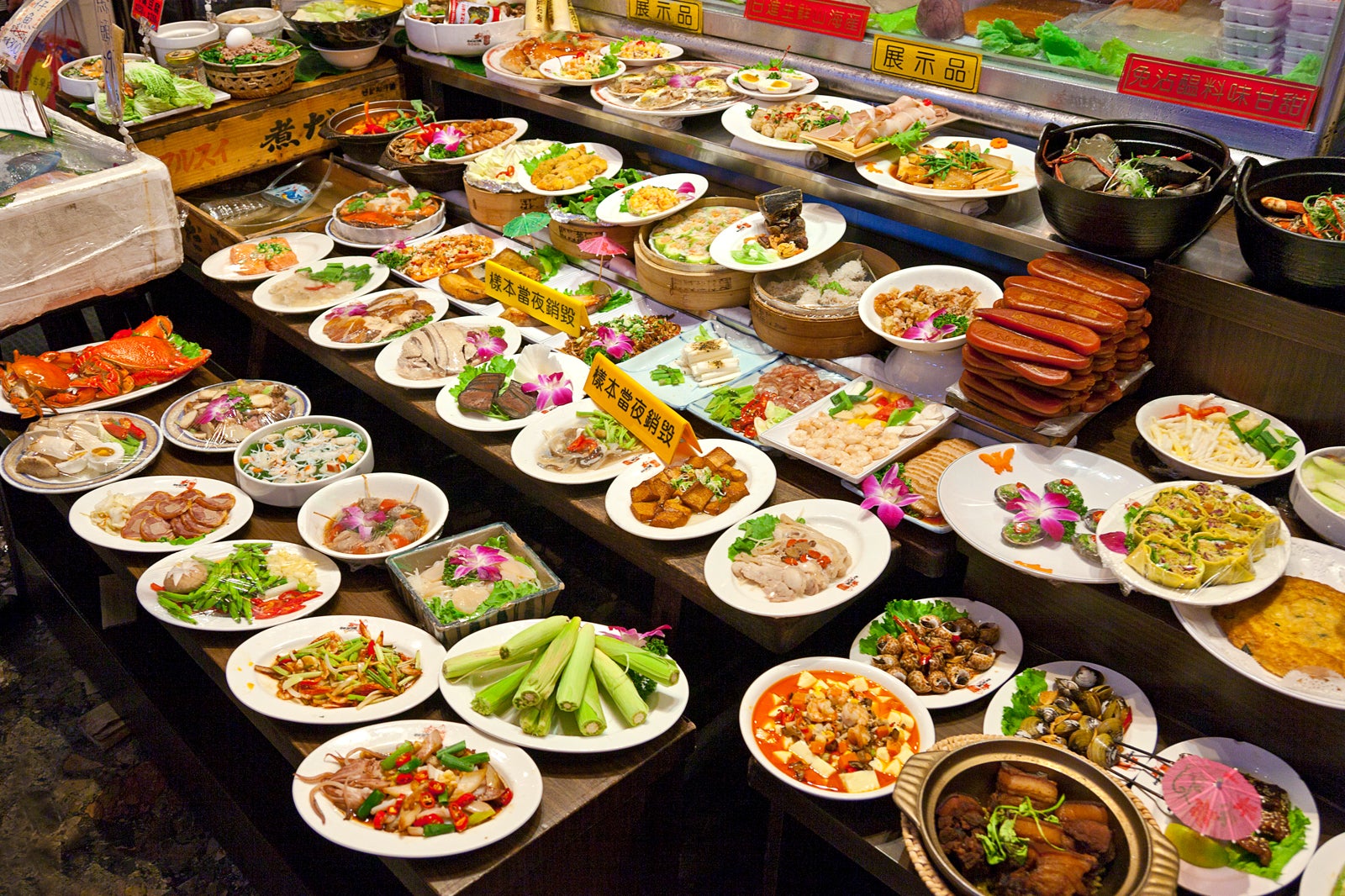 Taipei's night markets are the heart of the city's food scene. Crowds flock to these open-air stalls for xiao chi (small bites or appetisers in Chinese) and enjoy them on the go. Some of the most popular food options include steamed dumplings, fried pork chop on rice, and thick oyster noodles. If you're looking for something exotic, try hong shao rou (sticky red-braised pork feet) or chou dou fu (deep-fried fermented tofu).
Night markets in Taipei are full of unique sights, smells, and sounds. You'll often encounter locals and travellers sitting on plastic stools, stalls playing loud music, and the smell of tofu permeating the air. Some of the most popular Taipei markets are Shilin Night Market and Tonghua Night Market.
photo by Tomás Fano (CC BY 2.0) modified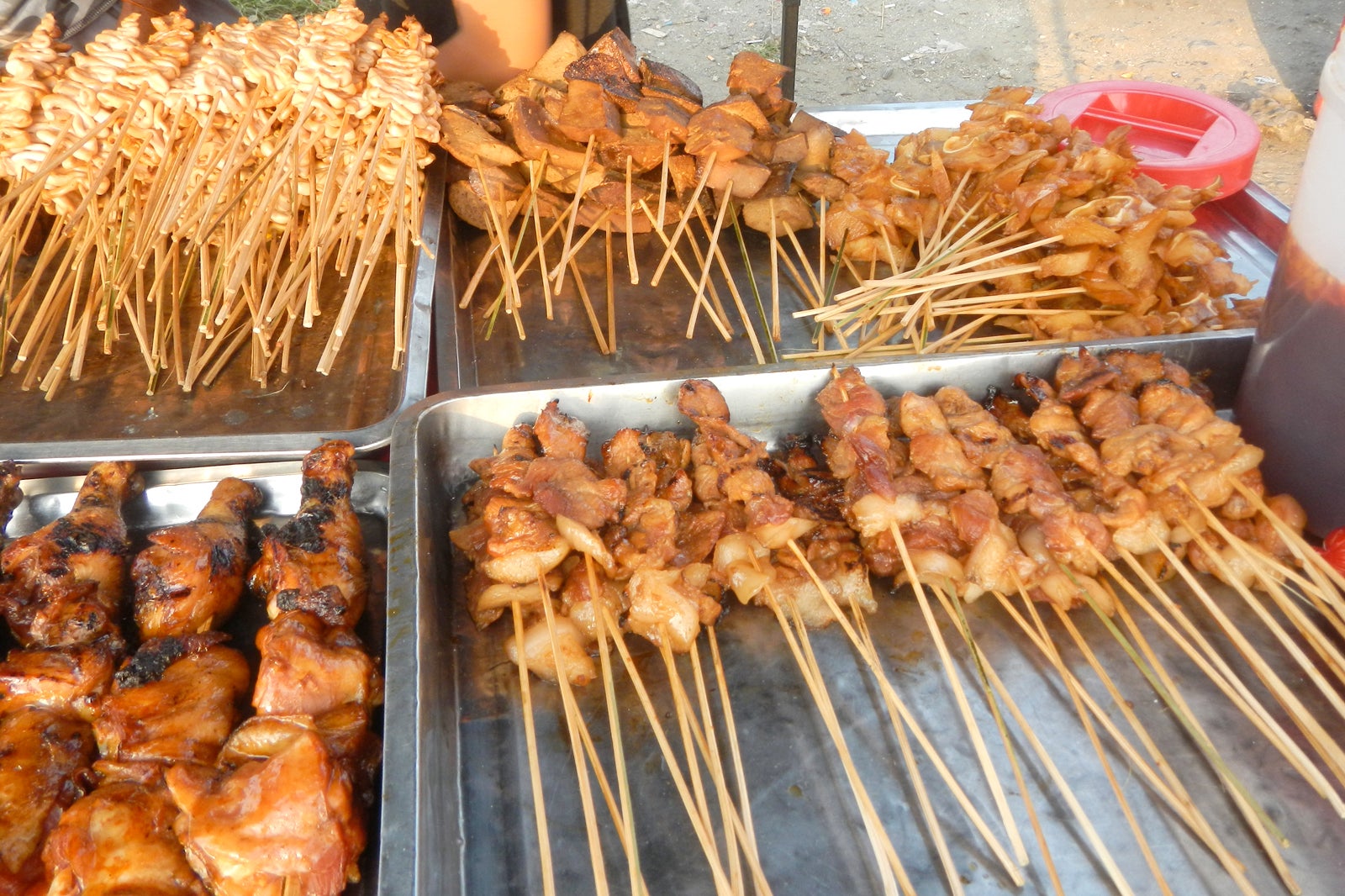 If you're looking for street food in Manila, head to the Quiapo Market in the old downtown district, where you'll find affordable but delicious options like tusok-tusok (skewered meat, usually chicken and pork), mami (noodle soup), and lumpia (fresh spring rolls).
Street vendors in Manila are also known for serving ice cream inside burger buns – the local version of the ice cream sandwich. These colourful wooden pushcarts can be found throughout the city, offering sorbet flavours such as strawberry and banana, along with unique options such as ube (purple yam), cheese, and avocado.
Location: Manila, Philippines
photo by Judgefloro (CC0 1.0) modified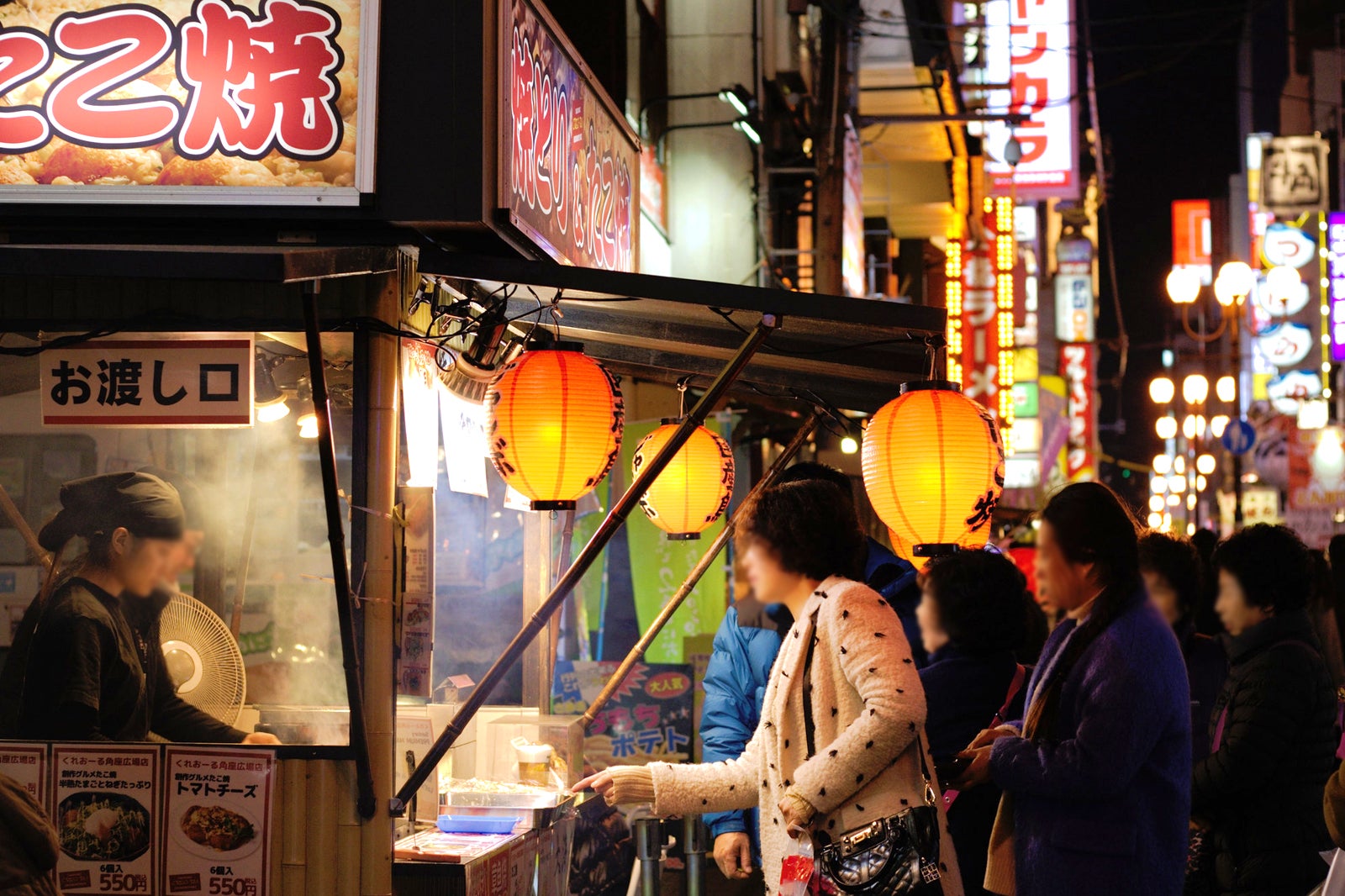 Osaka is famous for a variety of dishes, some of which started on the street and have attained international fame. The term "kuidaore" (eat until you drop) is even used to describe the food culture here, and the street food scene is no exception. The best place for street food in Osaka is in the Dotonbori district near Namba Station, where you'll find hundreds of pushcarts, stalls, and restaurants lining the streets.
Try kushikatsu (deep-fried skewered vegetables and meat), okonomiyaki (savoury pancake filled with a variety of ingredients, cabbage, mayonnaise), and takoyaki (dough balls filled with minced octopus, tempura scraps, pickled ginger, and green onion). Pair it with the traditional Japanese green tea (hot or iced) or Ramune, Japan's beloved soft drink.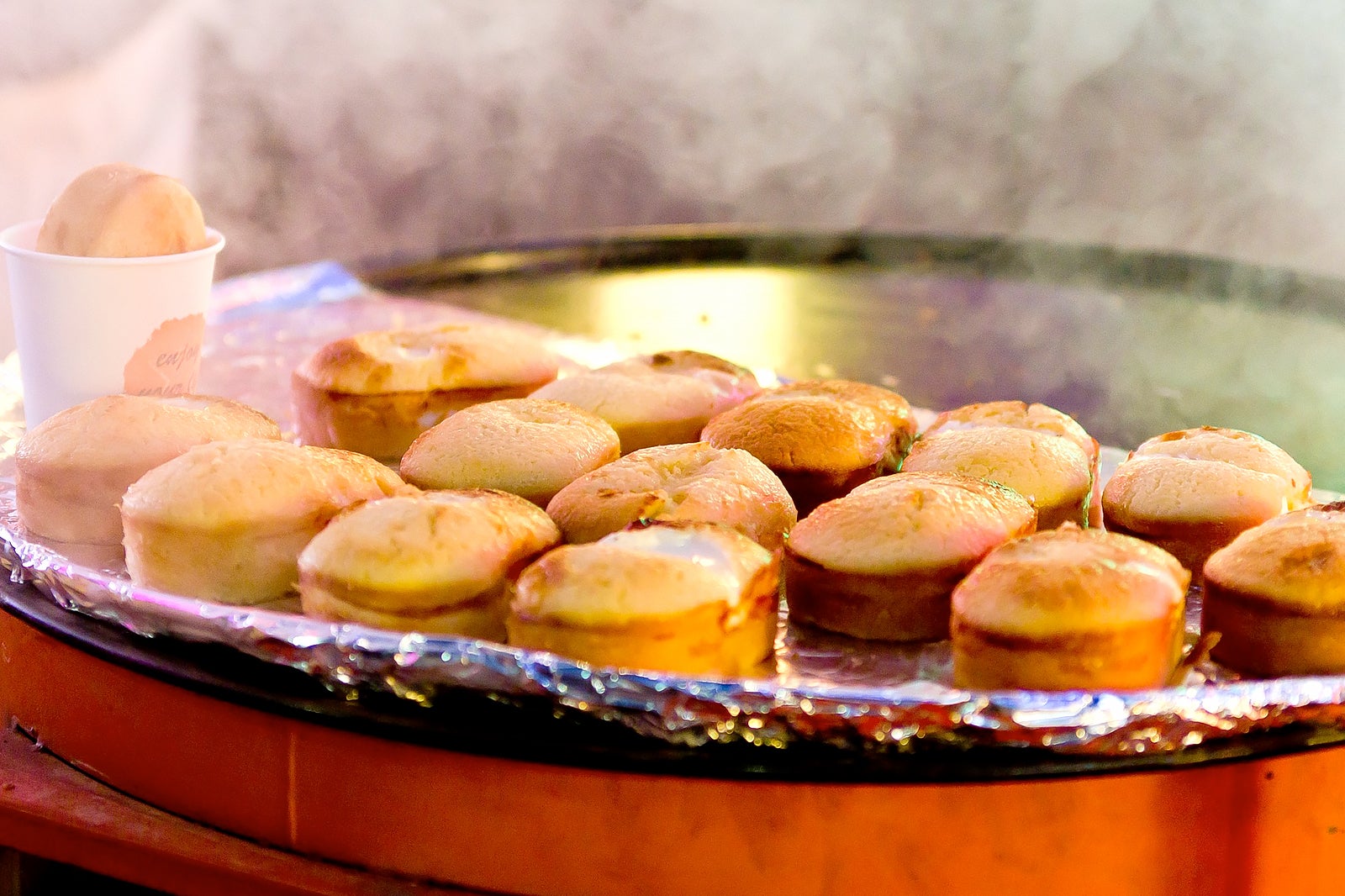 You'll find dozens, if not hundreds of vendors serving up delicious street food in Seoul, making this modern city seem like a gigantic open-air restaurant. Street treats such as hotteok (stuffed pancakes), tteokbokki (spicy rice cakes), and odeng (fish cakes) can be found in Seoul's Gwangjang Market. Founded in 1905, the ground floor of this traditional marketplace has over 5,000 food vendors operating from 9am to 11pm.
The Myeongdong Street Food Alley offers a mix of traditional and trendy street foods – must-tries include patbingsoo (shaved ice), gyeran-bbang (Egg Bread), baked cheese skewers, and soft serve ice cream.
Location: Seoul, South Korea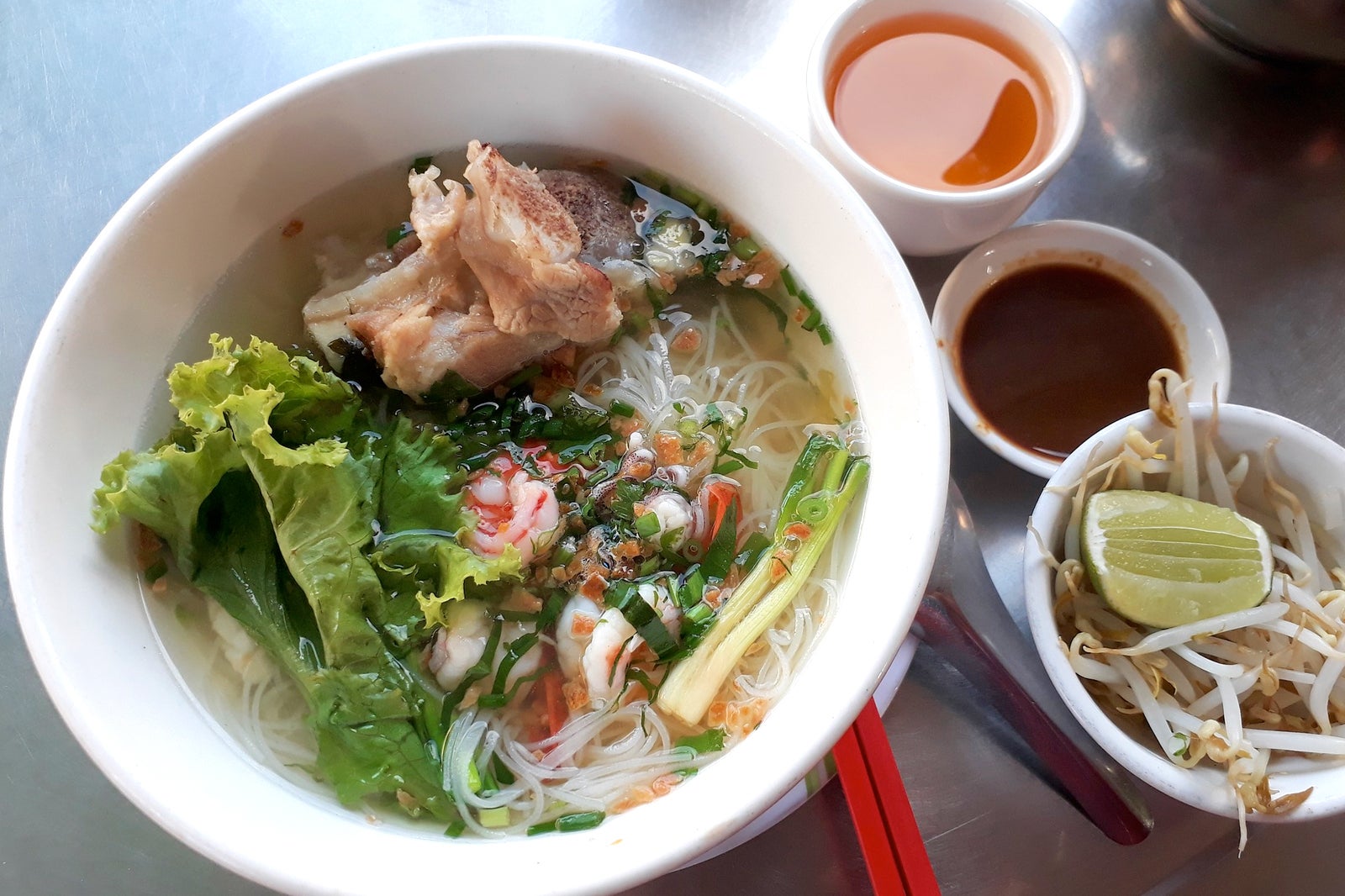 Recognised for their rich flavours and bargain prices, street food stands can be found on the streets of Phnom Penh at all hours of the day. One of the city's most popular dishes is lort-cha, a stir-fried dish of rice noodles, bean sprouts, Chinese broccoli, and chives. It is typically cooked with beef and topped with a fried egg.
Head to the Phnom Penh Night Market for an immersive experience of inexpensive clothing, accessories, electronics, and food stalls. Some of the city's best noodle, rice and spring roll dishes can be found in this traditional market.
Location: Phnom Penh, Cambodia
Kuala Lumpur's diverse demographic makes for one of the most diverse food scenes in Southeast Asia. Tastes from all over the world come together in a single city, giving street foodies more than enough options to choose from. One of the more popular choices is satay, a seasoned meat skewer grilled on charcoal embers, and often paired with a tangy peanut sauce.
Other options include nasi lemak, a fragrant rice dish cooked in coconut milk and served with roasted peanuts, boiled eggs, sweet and spicy sambal, and crunchy anchovies, as well as ikan bakar (spicy barbecued fish wrapped in banana leaves). You can find some of Kuala Lumpur's best street foods at Jalan Alor, located in the Bukit Bintang district, as well as the Taman Connaught Market – it's one of the longest street markets in Kuala Lumpur.
Location: Kuala Lumpur, Malaysia