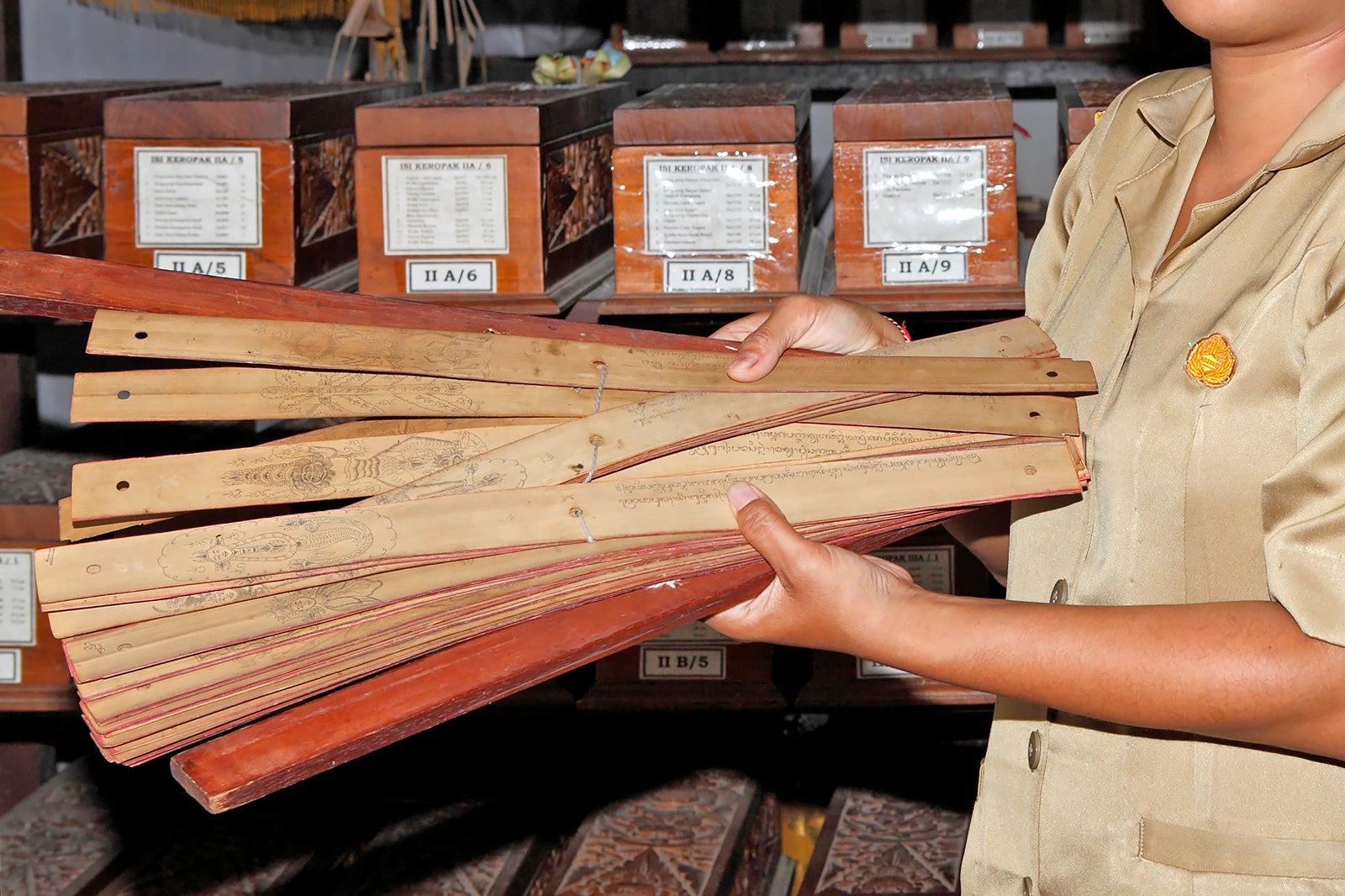 Gedong Kirtya is a museum of ancient manuscripts in Singaraja, North Bali. It houses a vast collection of thousands of old Balinese manuscripts inscribed on lontar palm leaves. These traditional books cover subjects of literature, mythology, history and religious works and are some of the oldest written literary works on the island.
The carved manuscripts record ancient knowledge and wisdom of older Balinese generations and are historical references of all Balinese daily activities, rituals and art. The museum was formerly referred to as the Liefrinck van der Tuuk library, named after its Dutch founders. Singaraja proudly hosts this only lontar museum in the world.
Museum Gedong Kirtya in Bali - one of the highlights of 39 Best Things to Do in Buleleng (North Bali) and 15 Great Museums in Bali (Read all about Bali here)
Lontar manuscripts at Gedong Kirtya
Lontar is the local name for the Asian Palmyra palm Borassus flabellifer that grows in dry regions. The leaves are dried and used as pages upon which letterings are carved into by the aid of a special sharp-tipped blade called a temutik.
The pages are bound by woven strands between 2 pieces of wood into what is collectively referred to as a lontar book. These 'books' have long been used as references among the Balinese people for knowledge and local wisdom, encompassing religion, rites of passage, and traditional shamanism or medicine.
The forms of lontar are found throughout the archipelago, from Java, Lombok to other parts of Indonesia. Most of them date back to the 13th century and were mainly written in the Kawi script in old Balinese, old Javanese and Sanskrit.
Gedong Kirtya was built in 1928 as a repository of these manuscripts with collections coming from the various islands. The volumes are kept in special wooden boxes and sorted under different categories such as Vedic renditions and mantra hymns, wariga (Balinese astronomy), itihasa (epic tales and poems), babad (Balinese genealogy) and tantri (folklore).
Some are authentic and original pieces, sourced from the royal courts throughout Bali. Others are copies and even feature prasi art as accompanying illustrations.
Good to know about Museum Gedong Kirtya
Gedong Kirtya was previously named Stichting Liefrinck-Van der Tuuk, a foundation that focused on the preservation and storage of the lontar manuscripts. It was founded following the Pertemuan Kintamani meeting held by Dutch Indies scholars together with Balinese religious figures and royalties back in 1928.
F.A. Liefrinck was an official in the Dutch administration on Bali and Lombok who had a great interest in Balinese culture and had written extensively about the islands. Dr. H.N Van der Tuuk, a Dutch historian provided the piece of land where the museum stands now.
The building also once served as the storeroom for scientific journals of research conducted on Bali and has since sourced and documented lontar collections dispersed throughout public possession to be copied and catalogued. Up until 1987, Gedong Kirtya has reproduced and listed around 4,000 manuscripts covering various topics.
You can find the museum at the Sasana Budaya complex in Singaraja, the once capital city of the Lesser Sunda Islands during the Dutch occupation. Entrance fees apply and donations for the maintenance of the library are greatly appreciated.
Museum Gedong Kirtya in Bali
Location: Jalan Veteran No. 23, Singaraja, Buleleng, Bali 81118, Indonesia
Open: Monday–Thursday from 8am to 4pm, Friday–Sunday from 9am to 4pm
Phone: +62 (0)362 22645
Back to top