8 Best Restaurants in Busan
Where to Eat Around Busan
Restaurants in Busan often specialise in seafood, from various types of grilled fish to pufferfish dishes. You can try a variety of unique dishes at restaurants or simply relax with a cup of tea at a café, all while overlooking magnificent ocean views. Tasty meals in a romantic atmosphere are a given, especially at the coastal city's high-end eateries.
Busan also offers regional dishes unlike anywhere else in South Korea, many of which are packed with seasonings for a distinct flavour profile. Get ready to be amazed by not only fresh seafood, but other unique Busan delights as well. Discover the best restaurants in Busan below.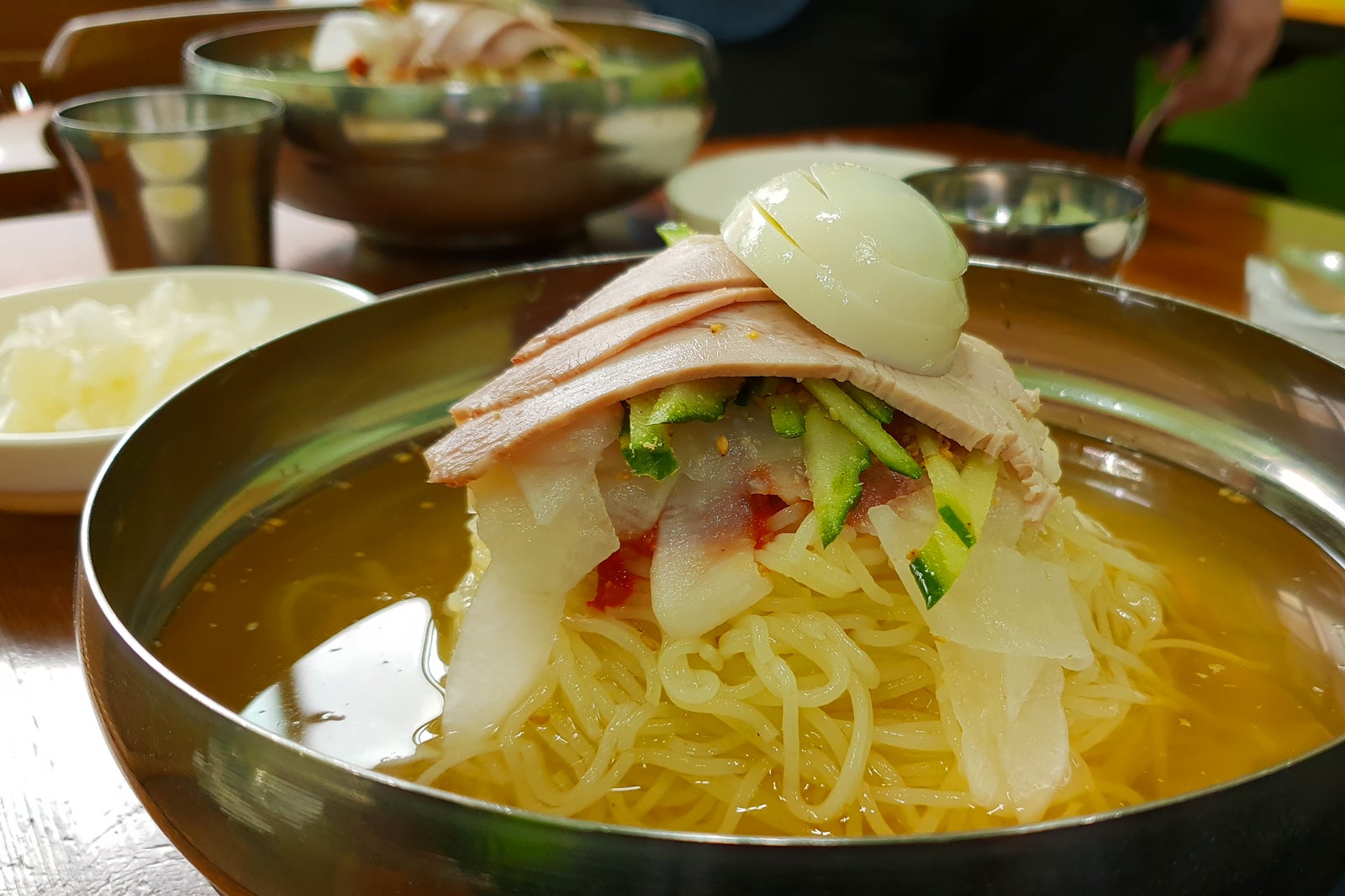 Gaya Milmyeon in Busan is the only place that sells wheat noodles in winter. The restaurant's signature dishes include the spicy wheat noodles (bibim milmyeon) and wheat noodles in broth (mul bibimmyeon).
It's highly recommended by many taxi drivers, who are known for their deep knowledge of hidden local spots. The servings are generous, and its sauce is just the right blend of sweet and spicy. If you're looking for a twist on typical spicy flour-and-starch noodles (bibimbnaengmyeon), give Gaya Milmyeon a visit.
Location: 38-12 Simingongwon-ro 19beon-gil, Buam 1(il)-dong, Busanjin-gu, Busan, South Korea
Open: Daily from 10.30 am to 8.30 pm
Phone: +82-51-808-8820
photo by CYAN (CC BY-SA 4.0) modified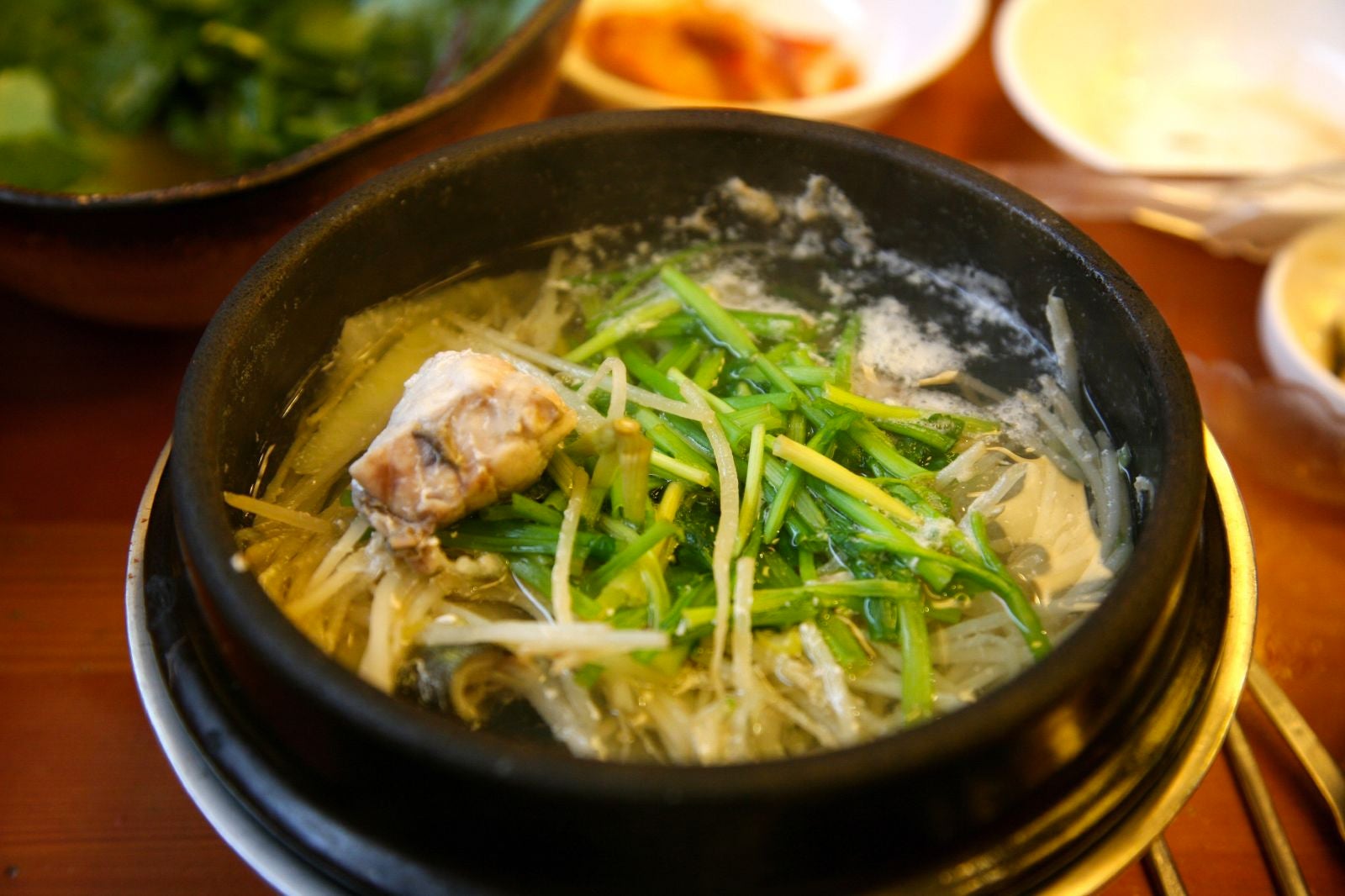 Geumsubokguk stands out as one of the best pufferfish soup (bokguk) restaurants in Haeundae. Grilled pufferfish (bokbulgogi) is a delicious delicacy that combines the contrasting textures of crisp bean sprouts and water celery.
The restaurant also offers a variety of pufferfish dishes, including pufferfish fritter (boktwigim) and raw pufferfish with rice (bok hoedeopbap). The side dishes are also remarkable, excellent for enjoying a satisfying meal in Busan.
Location: 23 Jungdong 1-ro 43 beon-gil, Haeundae-gu, Busan, South Korea
Open: 24/7
Phone: +82-51-742-3600
photo by Junho Jung (CC BY-SA 3.0) modified
Gooweo Samkki's signature dish is the spicy grilled pork hotpot (maekom bulgogi). It's a hearty serving of smoked marinated pork slices, whole squid, and various vegetables simmering in a hotpot. There are also plenty of additional toppings for you to choose from.
The dish is quite popular with those who like spicy food. You can choose the degree of spiciness, so it's worth a shot even if you usually don't eat spicy food. Gooweo Samkki is within a 5-minute walk of Seomyeon Station Exit 6.
Location: 80 Jungang-daero 680 beon-gil, Busanjin-gu, Busan, South Korea
Open: Monday–Thursday from 11.30 am to 1 am, Friday–Saturday from 11.30 am to 2 am, Sunday from 11.30 am to midnight
Phone: +82-51-819-0093
photo by Beinuo (CC BY-SA 3.0) modified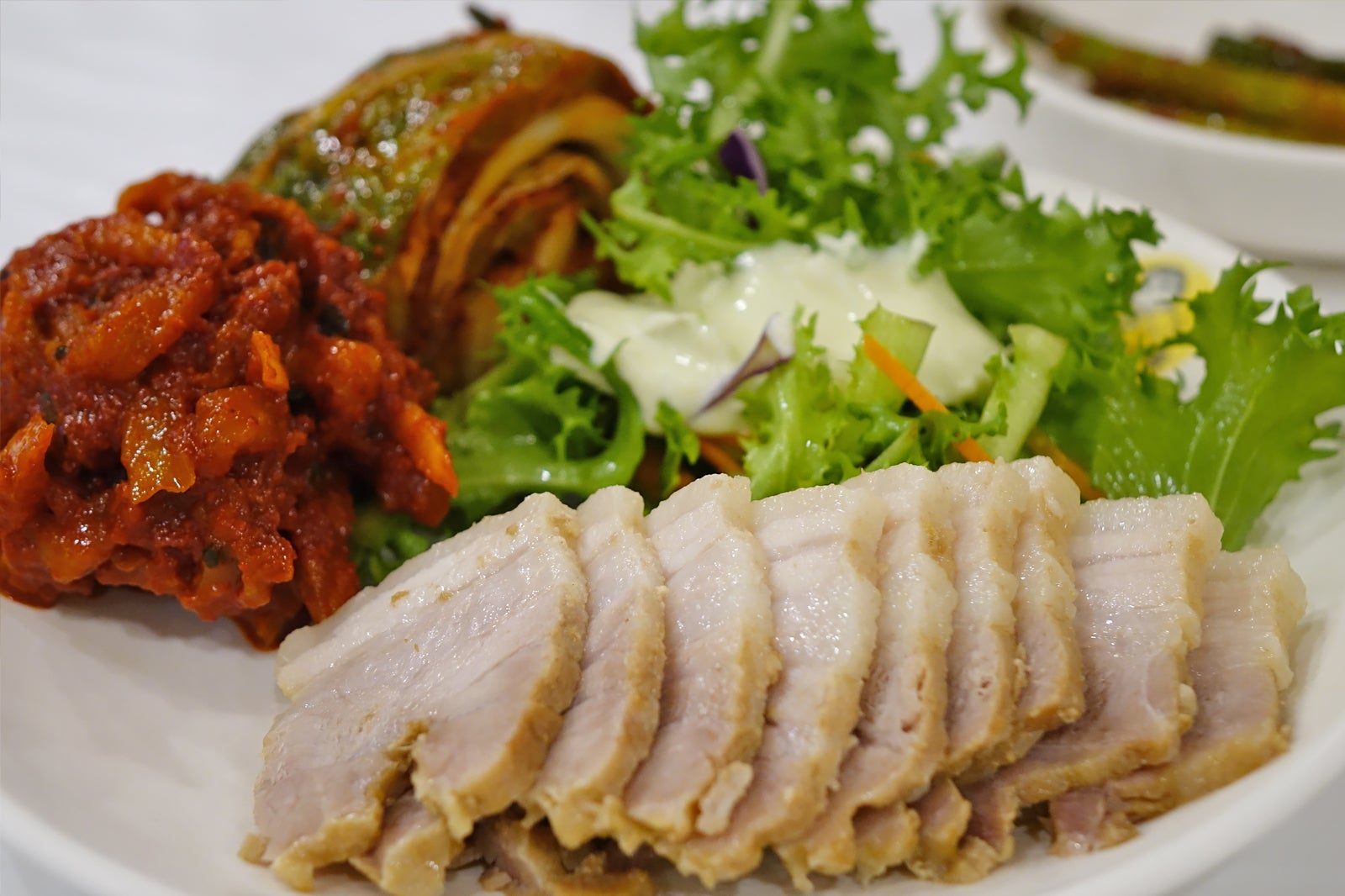 Busan Jokbal is a restaurant along Jokbal Alley, a street in Bupyeong with rows of eateries selling pig trotter dishes. Its signature cold pig trotters (naengchae jokbal) comes with a side of jellyfish and crisp vegetables mixed with mustard sauce. It probably sounds like an odd blend of different ingredients, but they work well together, thanks especially to the mustard sauce. The dish is best enjoyed in the summer, though you can find it year-round. Don't forget to try it with noodles, which are served as an appetiser.
Location: 17-1 Gwangbok-ro, Jung-gu, Busan, South Korea
Open: Daily from 11 am to 1 am
Phone: +82-51-245-5359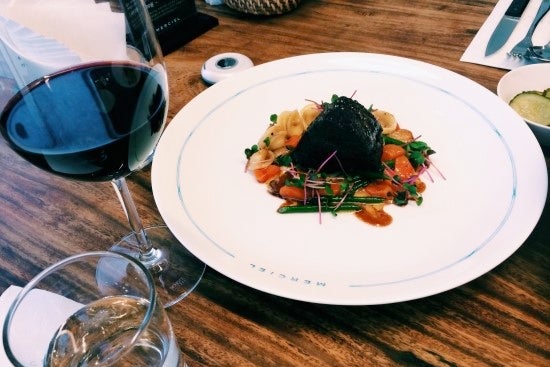 Merciel is an excellent restaurant for an authentic French meal and oceanside views. This award-winning eatery serves delightful French cuisine and a wide variety of wines. Many people come for an afternoon tea – its beautiful desserts are served on a 3-tier tray.
Location: 154 Dalmaji-gil 65 beon-gil, Jung-dong, Haeundae-gu, Busan, South Korea
Open: Daily 12 pm to 10 pm
Phone: +82-51-747-9845
photo by jihee4356 (CC BY-SA 2.0) modified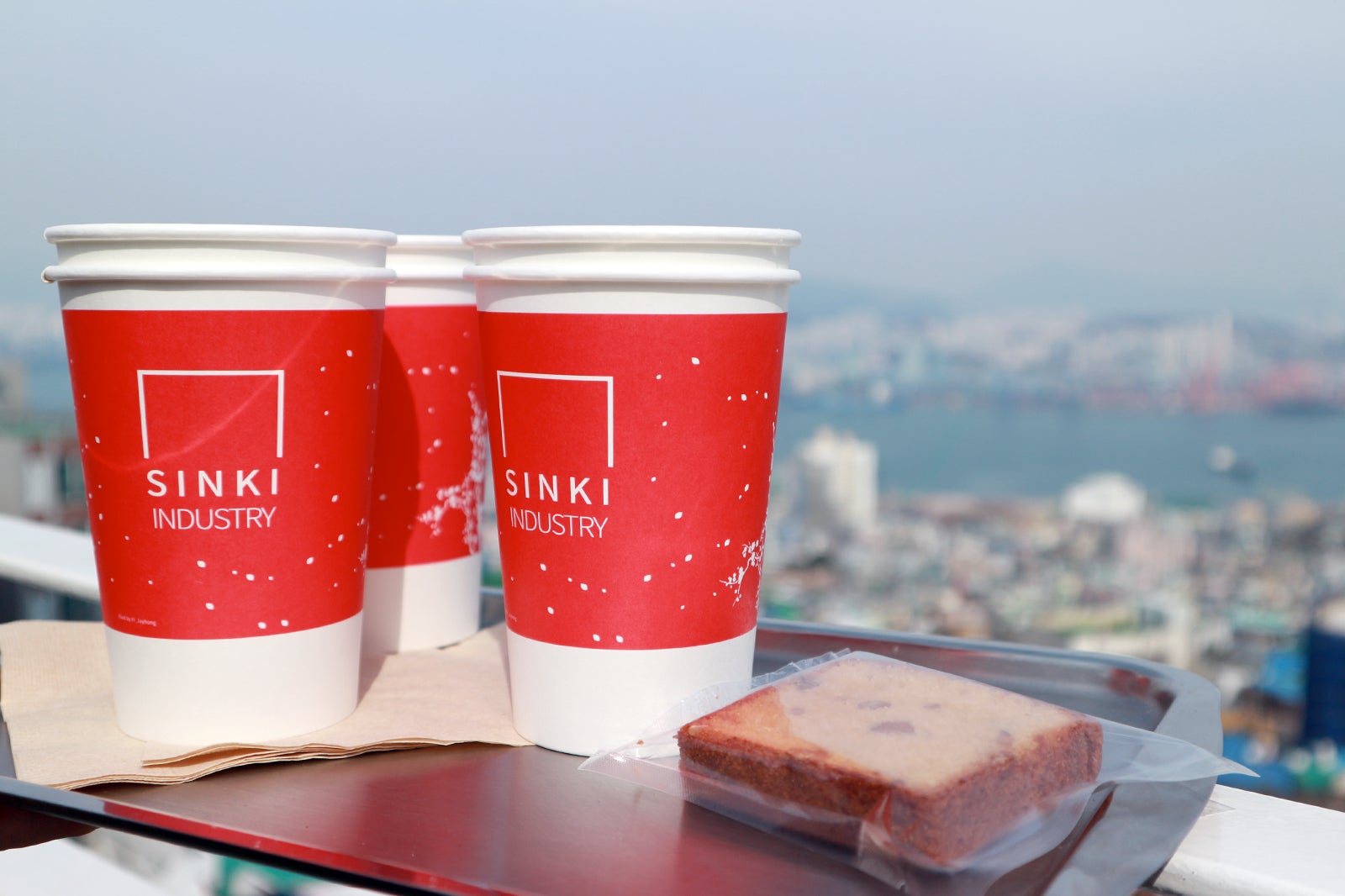 Sinki is actually a product design company, but they also operate a café in Yeongdo. It occupies the brand's old factory, and has large glass panels offering lovely night views of Busan Harbor Bridge. The cafe also exhibits and sells products such as stationery items.
Thanks to its hilltop setting, there's no better way to soak in the night views than with coffee or tea and pastries at Sinki Industry Cafe. You'll want to savour the ambience of this one-of-a-kind café.
Location: 2 Wachi-ro 51 beon-gil, Yeongdo-gu, Busan, South Korea
Open: Daily from 11 am to 11 pm
Phone: +82-70-8230-1116
photo by 쑤기 (CC BY-SA 2.0) modified
Gijang Sonkalguksu's menu is simple, but once you try their noodles, you'll understand why it's such a big part of Seomyeon Market in Busan. Its wheat noodles are made from scratch, cut by hand, and topped with various seasonings and garnishes. Served in rich anchovy stock, the dish is best enjoyed with diced radish kimchi (kkakdugi). Its more-than-reasonable price is a bonus your wallet will appreciate.
Location: Sejong World Plaza #161, 814 Haeundae-ro, Haeundae-gu, Busan, South Korea
Open: Weekdays from 11 am to 10 pm
Phone: +82-51-701-5880
Hanwol Sikdang is a long-standing local restaurant at Jagalchi Market. You can find it deep inside the Grilled Fish Alley, where every restaurant displays its seafood right at the entrance.
At Hanwol Sikdang. the fish is grilled for a 2nd time after you've placed an order. If you order the assorted fish, they'll start you off with a righteye flounder (gajami), followed by lots of meaty fish. It's a great option when you're having a hard time deciding on what to eat.
Location: 27 Jagalchihaean-ro, Jung-gu, Busan, South Korea
Open: Monday–Friday from 6 am to 9 pm, Saturday and Sunday from 6 am to 10 pm
Phone: +82-51-246-2421