10 Best Pingtung Foods Everyone Should Try
A Guide to Local Specialties You Should Try in Pingtung
Pingtung has fertile land and a rich variety of produce. The locals make good use of this bounty in many of its delicious dishes, such as sweet mung bean soup (lu dou zhuan), Hengchun cassia seed tea (hengchun jue ming zi cha), aiyu jelly ice (xian cuo ai yu bing), wax apple cuisine (lian wu liao li), Wandan red bean cakes (wandan hong dou bing), Hengchun onion cakes (hengchun yang cong su), and Wutai coffee (wutai ka fei). All are made from locally sourced ingredients.
Pingtung Wanluan pig knuckle (wanluan zhu jiao) is well known. Wanluan pig knuckle street is a popular point of culinary interest, where visitors can enjoy the rich stewed pig knuckles on the spot or take them back home. Pingtung's seafood specialities have gained a global presence. The bluefin tuna (hei wei yu) and sakura shrimp (ying hua xia) from Donggang enjoy a high international reputation for their delicious taste.
1
Sweet mung bean soup (lu dou zhuan)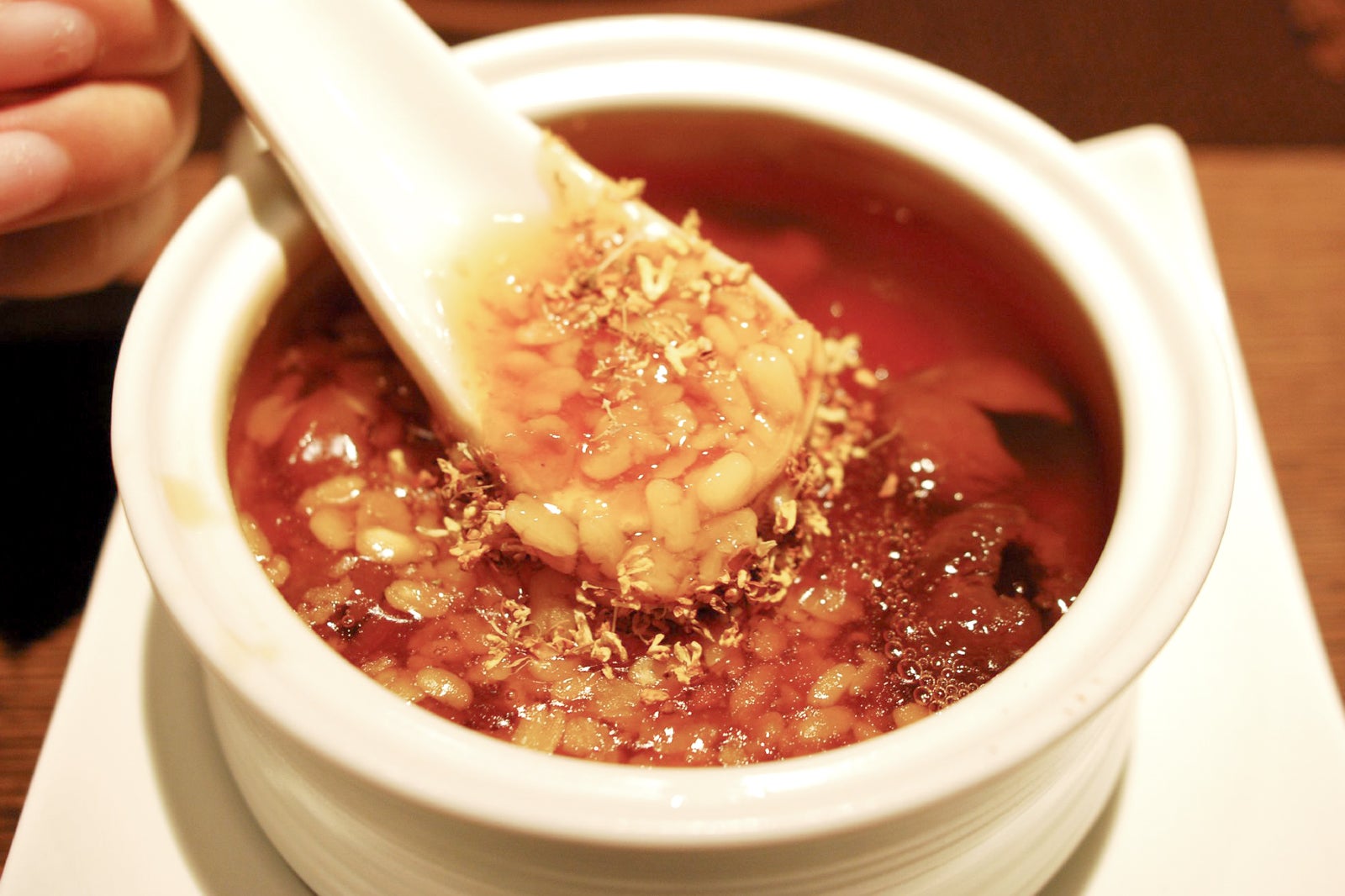 Sweet mung bean soup, also known as sweet mung bean garlic, is a favourite dessert of Pingtung residents. Both of the names are a bit confusing. Actually, there is no garlic in sweet mung bean "soup." Instead, it's a dessert made by steaming skinless mung beans. The "garlic" is from the fact that the naked mung bean looks a lot like minced garlic. Without its green skin, mung bean is very soft after cooking in water thickened with sugar. It can be enjoyed hot in winter, or with ice in summer. Either way, it's delicious and nourishing.
You can always find this dessert in traditional markets and street stalls no matter in which season you visit Pingtung. Thick in texture, sweet mung bean soup is tasty even when served alone. Some sellers add other ingredients, such as tapioca balls, rat noodles and peanuts, to enrich its flavour.
photo by Yu-Ching Chu (CC BY 2.0) modified
2
Hengchun cassia seed tea (Hengchun jue ming zi cha)
Hengchun in Pingtung is a rich producer of cassia seed. Many sellers make cassia seed into tea, which is a popular health drink. Highly recommended in traditional Chinese medicine, cassia seed is a mild and non-irritating herb. It is said that cassia seed tea can help lower blood pressure and control weight. Those visiting Hengchun and looking to try cassia seed tea need not worry about the strong smell of traditional Chinese medicine. The warm, dark brown tea will leave a pleasing aroma in your mouth.
The cassia seed of Hengchun is top quality and visitors can enjoy the tea on the spot or take some home to help maintain their health. Hengchun cassia seed tea can be served either hot or cold, good in either winter or summer.
3
Aiyu jelly ice (xian cuo ai yu bing)
A bowl of aiyu jelly ice on your summer visit to Pingtung can be a truly refreshing treat. The jelly comes from the seed of the aiyu fruit. Sellers make a strict selection of the fruits, peel them and bask them under the sun. Take the tiny seeds, wrap them in a strainer, and slowly wash them by hand, until the natural jelly remains. The natural jelly takes shape after a few moments of setting. Its bright colour alone gives a cooling sensation.
Aiyu jelly ice in Pingtung is made from this slow handmade process. With ice and sugar water added, the crystal aiyu is smooth and refreshing. Other ingredients can also be added, such as tapioca balls, red beans and mung beans. Enjoy a bowl of aiyu jelly ice in Pingtung, and you'll be able to fight the summer heat and continue on with your wonderful journeys.
4
Wax apple cuisine (lian wu liao li)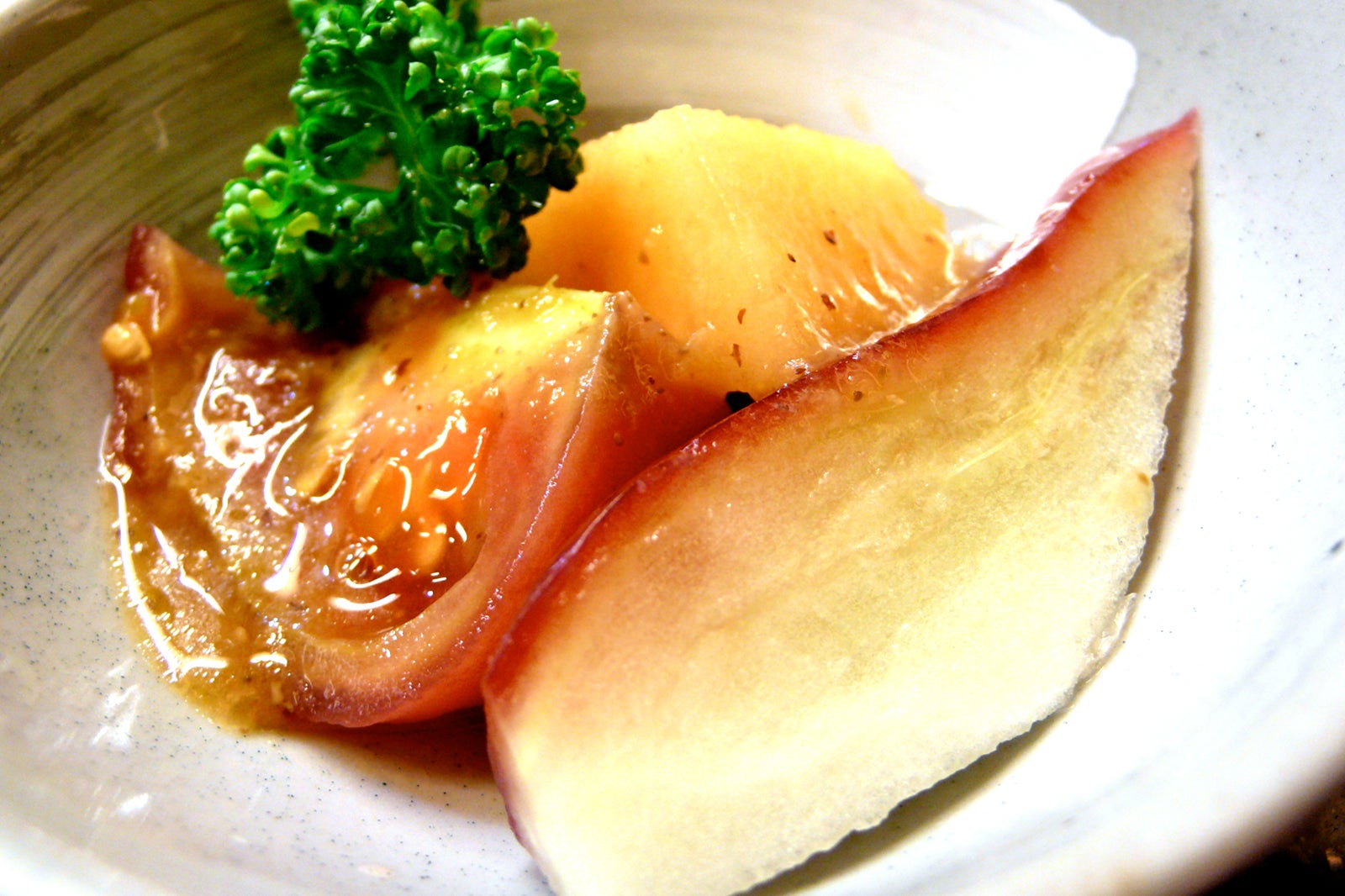 Wax apple is a tropical fruit that's in abundance in Pingtung, thanks to plenty of sunshine, fertile soil and the tropical climate that's perfect for the cultivation of tropical fruits. Pink and appealing, wax apple is crisp and juicy. Pingtung offers a wide range of juicy and delicious wax apples, such as black pearl, red bullet and black diamond. Among them, the black pearl wax apple is an improved variety in Pingtung. It's dark red, shiny like a sparkling pearl, hence its name.
Visiting Pingtung, you'd certainly want to take some with you. Pingtung's wax apples are of excellent quality. Many will book several boxes in the producing area to be able to take and enjoy them at home. There are restaurants in Pingtung offering cuisines made of wax apple such as black pearl and fish soup, fried vegetables with wax apple and wax apple salad. Innovative and refreshing, these local dishes are unique to Pingtung and are worth trying.
photo by 挪威 企鵝 (CC BY-SA 2.0) modified
5
Wanluan pig knuckle (Wanluan zhu jiao)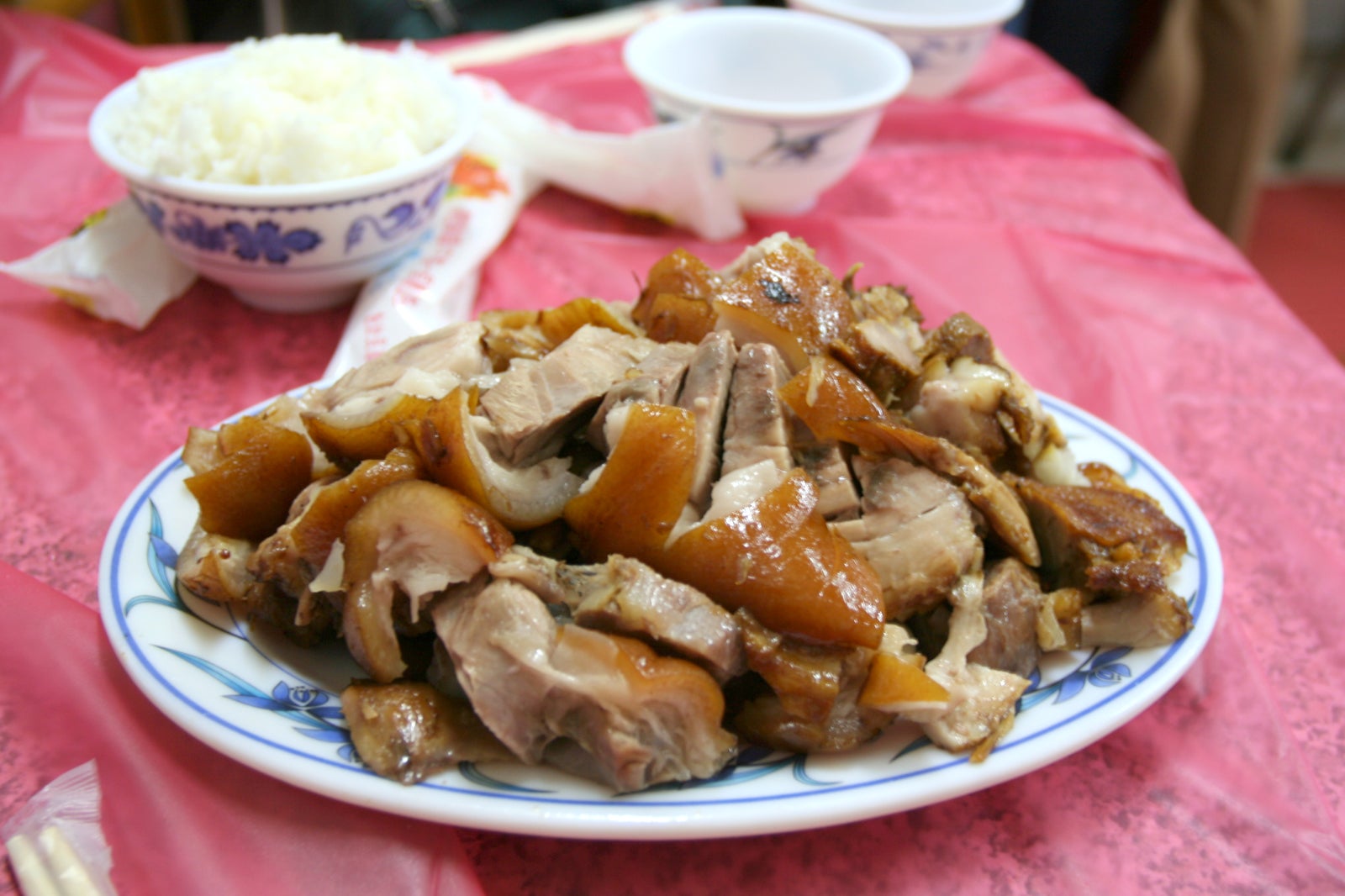 Wanluan pig knuckle originated from the namesake township in Pingtung county. It was invented by Mr Wang Yiti by stewing the knuckle in Chinese herbal medicine for a long time. It has become a popular local cuisine ever since. Nowadays, Wanluan pig knuckle has become sought-after by travellers, most who come to Wanluan only to have a taste of this authentic delicacy.
The Pingtung county government even established a whole street named Wanluan Pig Knuckle Street in Wanluan. The street includes Minhe road and Baozhong road, together with a large number of restaurants serving pig knuckle. Over the holidays, the street would be crowded with visitors looking to try out the speciality. Wanluan pig knuckle can be served hot, but it's also delicious after its cooled. Pig knuckle is rich in flavour, further enhanced by the special sauces served by each different restaurant.
photo by Matt Chang (CC BY 2.0) modified
6
Bluefin tuna (hei wei yu)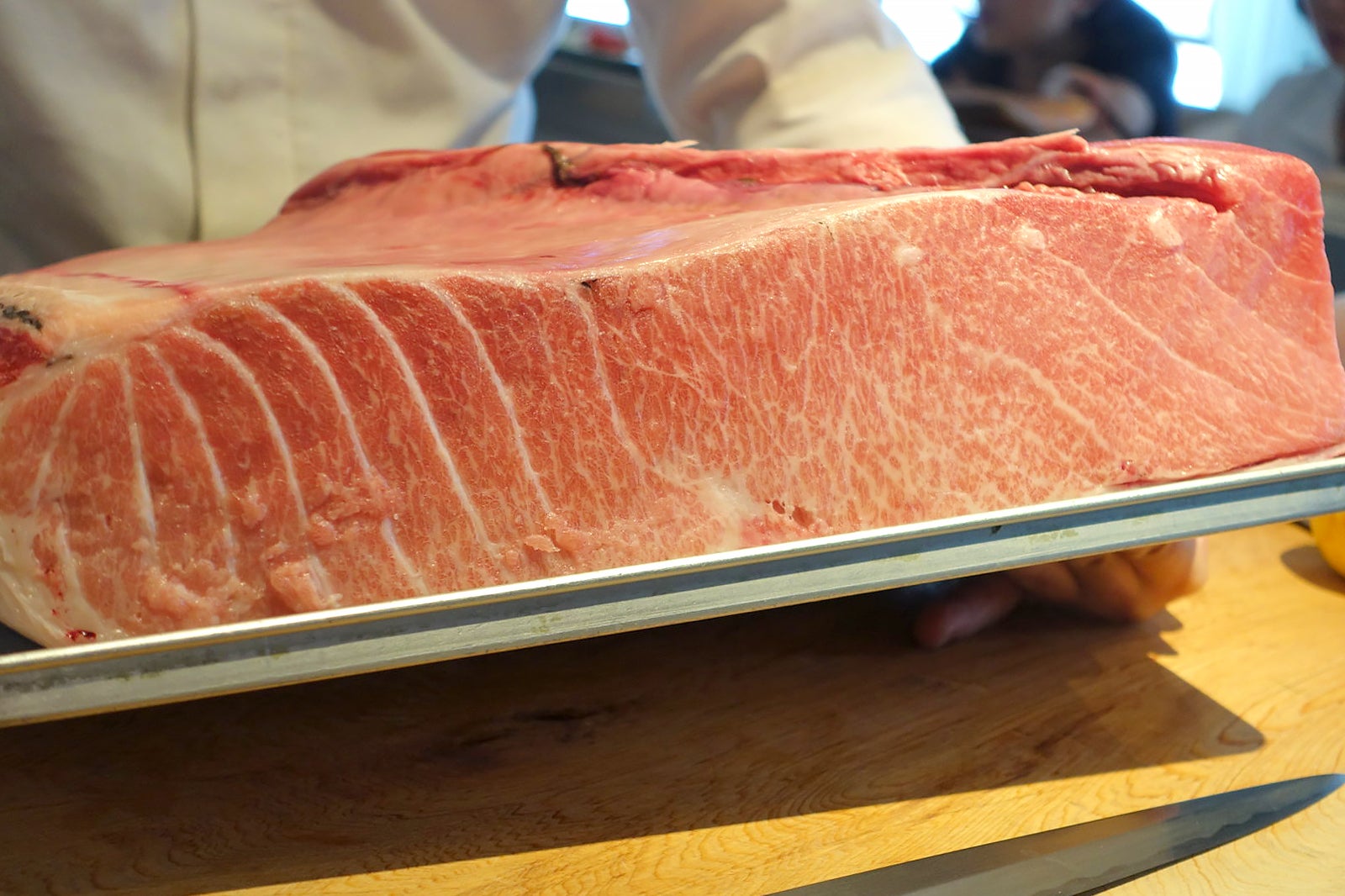 Bluefin tuna is a speciality in Donggang, Pingtung. From April to June each year, a large amount of bluefin tuna would migrate to Bashi Strait. The delicious bluefin tuna caught by fishermen attracts famous restaurants around the world for bidding. It is an important economic lifeline of Donggang. There's the annual Pingtung Bluefin Tuna Cultural Festival, where many would travel all the way to Pingtung, the southernmost part of Taiwan, just for a plate of fresh bluefin tuna.
There are many ways to prepare the delicacy. Sashimi is the most straightforward, dipped in wasabi and soy sauce. Every year during the festival, banquets would be held in Donggang. With advance bookings, the public can join in on the feast together with thousands of people in front of Donglong Temple.
7
Sakura shrimp (ying hua xia)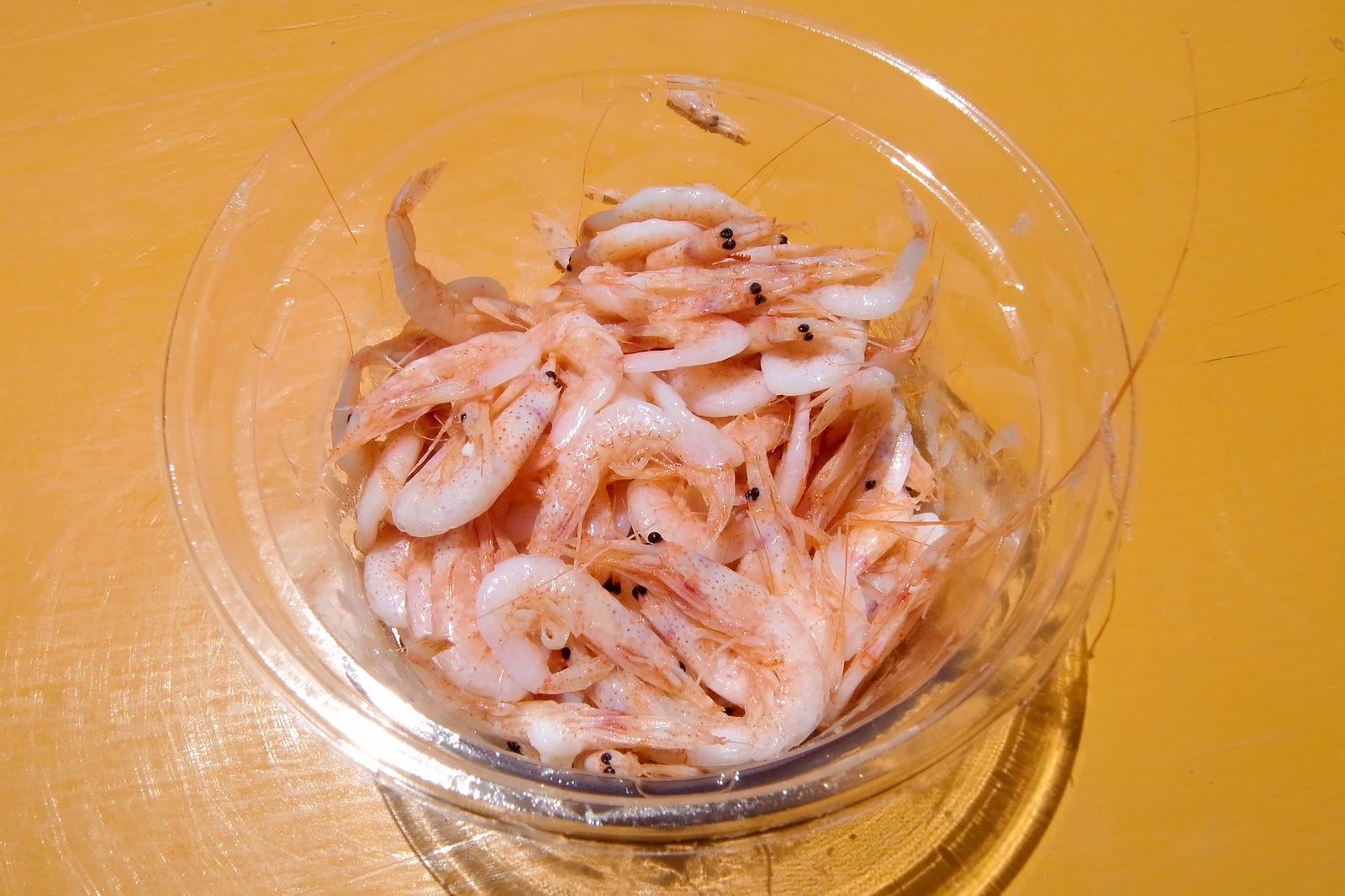 Sakura shrimp is a seafood speciality in Pingtung and together with bluefin tuna and escolar roe, it ranks amongst the "3 culinary treasures of Donggang". The red shrimp is no longer than 5 cm and swims in groups just like sakura blooming in the water. The high-yield period of sakura shrimp is between November and May. To avoid overfishing, Donggang strictly controls the harvests. Therefore, the yield of sakura shrimp in Donggang is precious and of high quality. It would enter the market for auction on the catching day.
Visitors to Pingtung can enjoy sakura shrimp freshly captured or dried. The whole shrimp is edible. Visitors can buy dried sakura shrimp to cook at home. Fry it with green vegetables or cook it with porridge to ensure that the freshness and sweetness of the shrimp can add flavour to the dishes.
photo by Tnk4a (CC BY-SA 3.0) modified
8
Wandan red beans (Wandan hong dou)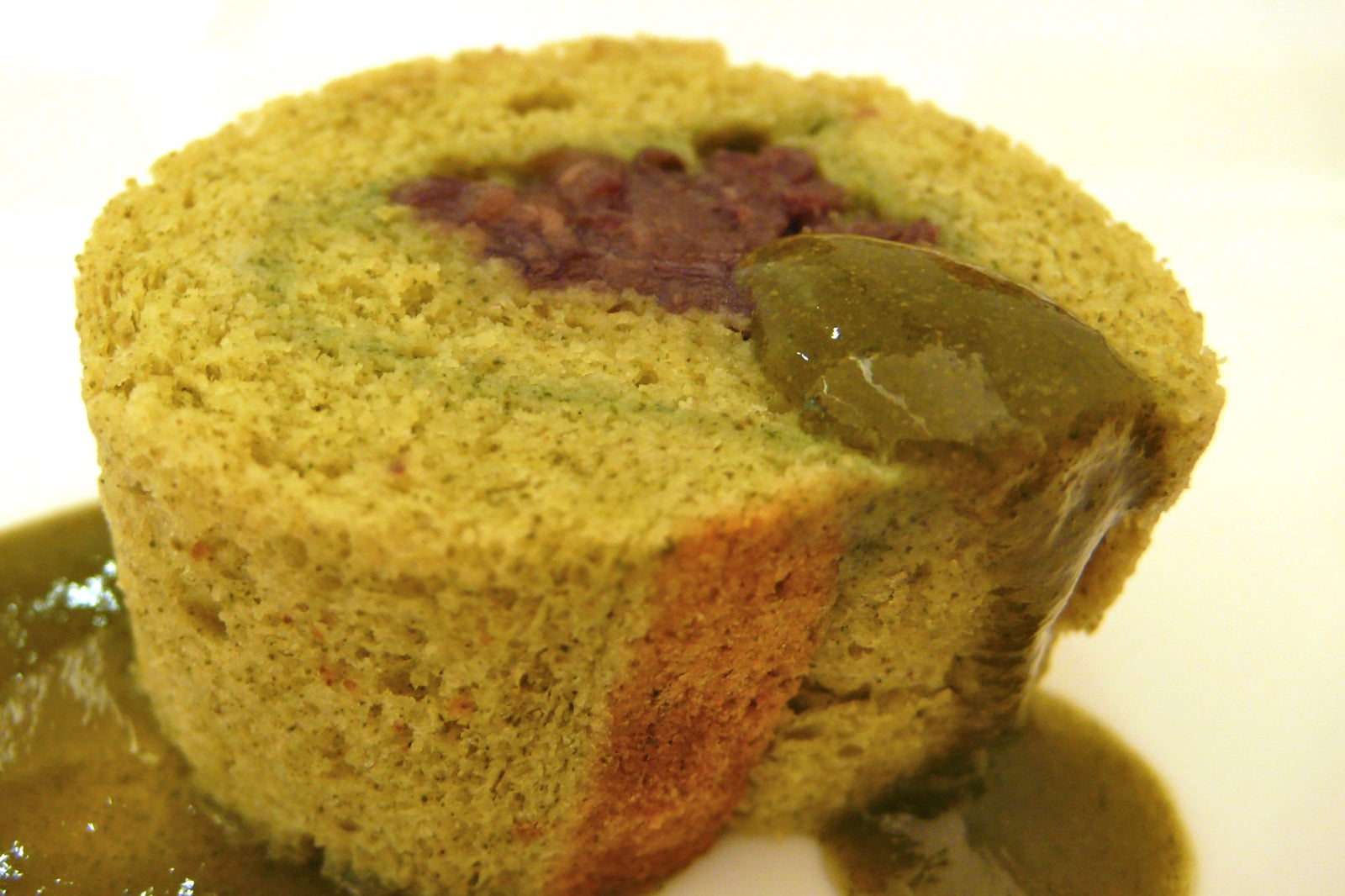 The Wandan township in Pingtung county produces red beans of excellent quality. With a wide range of uses, they can be made into various pastries. Accounting for 25% of the red bean production in Taiwan and exported to foreign countries, they are of important economic value in Wandan. Most coming to Wandan will buy local red beans which are bright in colour and full of flavour. You can buy packaged red beans and cook them at home.
Red bean is prepared simple and can be served as a sweet porridge, babao rice, red bean soup, or red bean smoothie. There are many red bean-related cuisines in Wandan, where you can have desserts such as red bean cake, red bean mochi and red bean puff. In recent years, sellers have developed creative red bean dishes, such as red bean dumplings, red bean noodles and red bean sausages.
photo by 挪威 企鵝 (CC BY-SA 2.0) modified
9
Onion cake (yang cong su)
Onion cake is one of the many specialities in Pingtung thanks to the many onion fields in Hengchun. The onion produced here is fresh, sweet and juicy, and offers many health benefits. Some sellers in Hengchun make onion cake with local onions. After word-of-mouth among customers, the local onion cake has been featured in media interviews and become one of the highlights of Hengchun.
The main ingredients of onion cake are the onions produced at the foot of Santai Mountain in Hengchun. The onions are cut by hand, fried with oil, and then boiled to be used as the fillings of cakes or made into crispy cakes. Onion cake derives its crispy and pleasing taste from the natural sweetness of the onions. If you visit Hengchun, don't forget to take several boxes of onion cakes home.
10
Wutai coffee (Wutai ka fei)
For coffee lovers travelling in Pingtung, be sure to taste the coffee made from coffee beans planted in Wutai. You will find that the coffee beans produced in Pingtung are comparable with those well-known coffee beans imported. Wutai township in Pingtung county is located in the mountains, with an average altitude of more than 1,000 metres. It is famous for sakura, aiyu and a wealth of local cuisine. In addition, coffee beans are planted with limited output and made into a precious local coffee speciality.
Wutai coffee beans are only planted locally, harvested by hand, and basked manually. The whole process is done by the locals themselves. Wutai coffee beans have limited output due to an average planting area. Most of them are only available in the local cafes of Wutai. If you are coming to Wutai to get close to the mountains, you can take a rest in the local cafes. Order a cup of fragrant Wutai coffee and learn more about coffee planting with the owners, which can add insight to your trip to Pingtung.
Back to top