10 Best Budget Things to Do in Pingtung
Most Popular Budget Things to Do in Pingtung
Who says travel has to cost a lot of money? There are plenty of interesting places to explore that won't break the bank. You can visit the third-class historic site Wanchin Basilica of the Immaculate Conception, Pingtung Tutorial Academy, as well as Chaozhou Japanese Historical Architecture Cultural Park, an important site during the resistance against the Japanese. Pingtung is surrounded by mountains and the sea. Play in the water at White Sand Bay, where famous movies were filmed. Hike or ride a bike through Silin Green Tunnel to reach Linhousilin Forest Park, where you can wander in the green forest and breathe in the clean air. Or drive to Liangshan Waterfall to feel the majestic power of nature. Don't forget to visit Taiwan's only remaining pristine coastline. Enjoy the impressive views along the Alang Yi Trail, which runs between the mountains and the sea. Longpan Park, which is famous for its unusual limestone topography, is also a good place for sightseeing. You can enjoy the magnificent scenery of the sea and the beautiful starry sky without paying a penny. If you're an art lover, don't miss Fangliao Railway Art Village.
1
Wanchin Basilica of the Immaculate Conception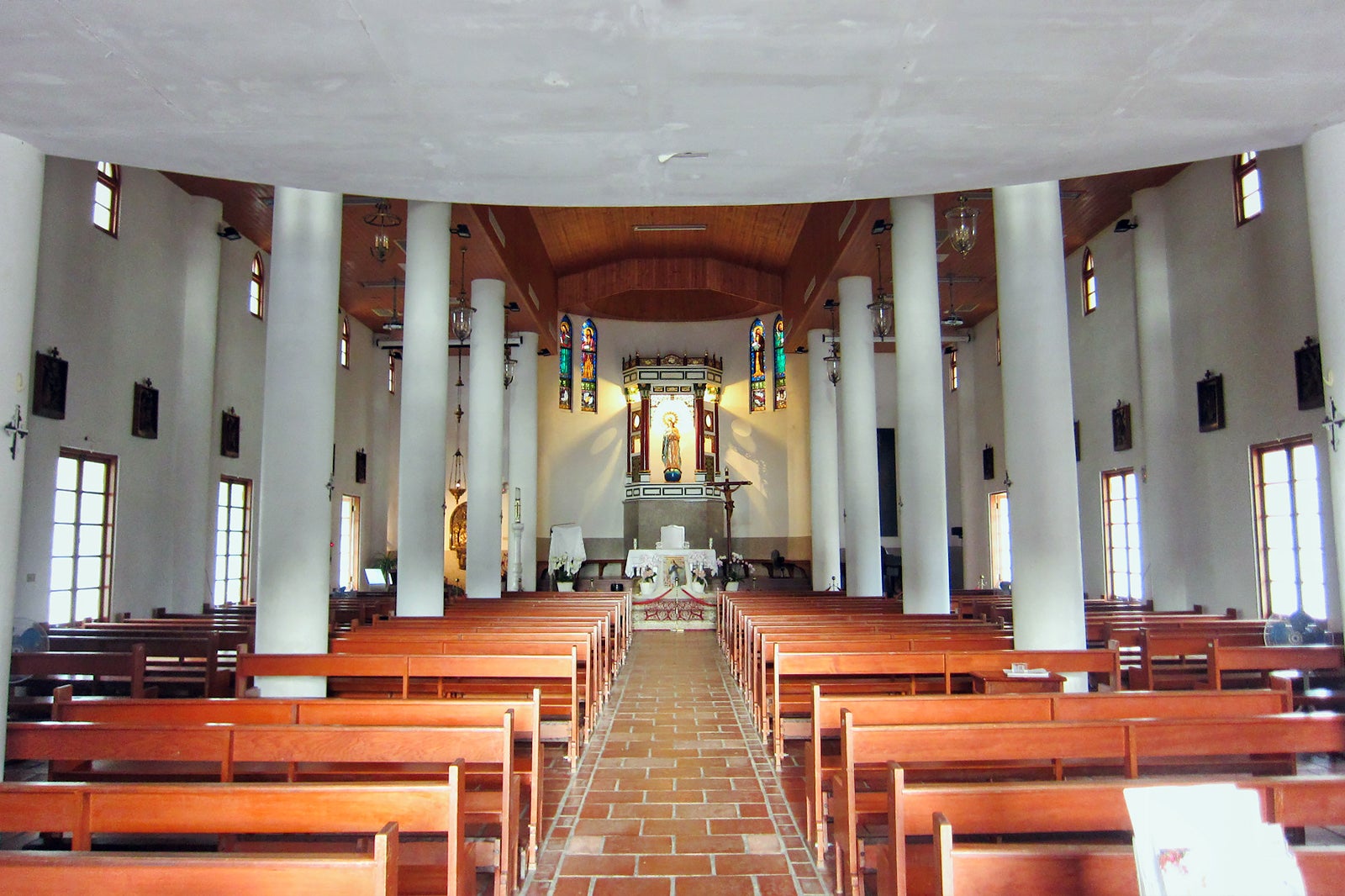 Wanchin Basilica of the Immaculate Conception, also known as Wanjin Catholic Church, has a history stretching back more than 150 years. It is the oldest church in Taiwan and a Grade III historic site. Its history can be traced back to 1861, when the Spanish priest Fernando Sainz came from Kaohsiung to Pingtung to preach, and the church was built 2 years later. In 1874, Emperor Tongzhi personally gifted the church "Imperial Decree" and "Catholic Church" plaques. In 1984, the church was conferred the title "Basilica of the Immaculate Conception" by the Pope John Paul II, making it second only in status to the Vatican in Rome. Wanchin Basilica of the Immaculate Conception has a large church bell from Spain and looks like an old Spanish castle. The building was constructed using local gravel, lime, brown sugar, kapok, brick and other materials, making it a unique structure combining both Chinese and Western styles. Arrange a tour to learn more about the influence and importance of religion in local life in Pingtung.
Location: No. 24, Wanxing Rd., Wanluan Township, Pingtung County, Taiwan, 923019
Open: Daily from 6.30 am to 9.30 pm
photo by Rutger van der Maar (CC BY 2.0) modified
Longpan Park, an elevated limestone platform, is located in the south-east of Hengchun. Because limestone is easily dissolved by water, the park has an array of strange and interesting landscapes, including limestone caves, sinkholes and cliffs. There are many grassland plants in the area. Take some time out to stroll on the extensive grassland, gaze out over the vast coastline and admire the magnificent beauty of the sea and sky. The natural and primitive landscape and endless views of Longpan Park make it one of the best places to watch sunrise and sunset. Because there's no light pollution, on a clear night at any time of year you'll be able to see the beautiful starry sky just by looking up. You can also see the rarely visible Southern Cross at night from April to June each year. From the gorgeous golden light of sunrise to the soft glow of sunset and the dazzling starry sky at night, this unparalleled beauty is intoxicating to anyone who has lived in the city for a long time.
Location: No.946, Provincial Highway 26, Hengchun Township, Pingtung County, Taiwan, 946
Open: 24/7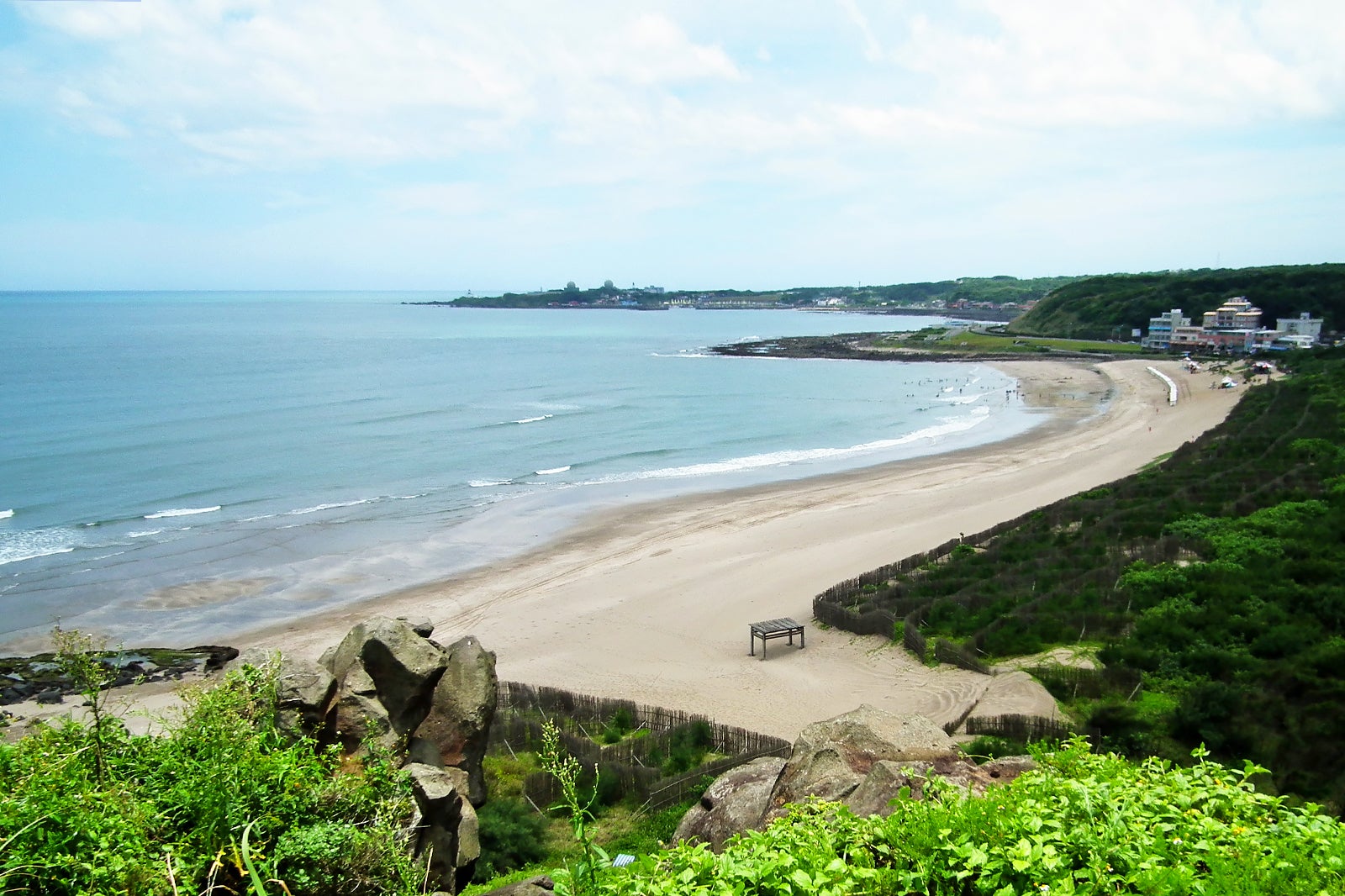 White Sand Bay is located in Kenting National Park in Hengchun, Pingtung. The bay's long beach has a high shell content, making the sand fine and white. White Sand Bay has always been famous for its white sand and clear water, and is one of the most popular beaches in Kenting. It was used as a filming location for the movies "Cape No. 7" as well as "Life of Pi", directed by Ang Lee. In addition to the fine, soft shell sand, White Sand Bay also offers a variety of water sport activities for visitors to enjoy, such as banana boating, jet-skiing and sailboarding, among others. If you like diving, the rich ecology of the waters at White Sand Bay make it a must-see attraction. You can also barbecue, camp or go for a bike ride here. Or you may decide that simply lying on the beach while listening to the waves is the best way to enjoy life. So, what are you waiting for? Come and visit in summer and enjoy the endless sunshine, white sand and blue sky.
Location: North-west of Maobitou, Hengchun Township, Pingtung County, 946
Open: 24/7
photo by lienyuan lee (CC BY-SA 3.0) modified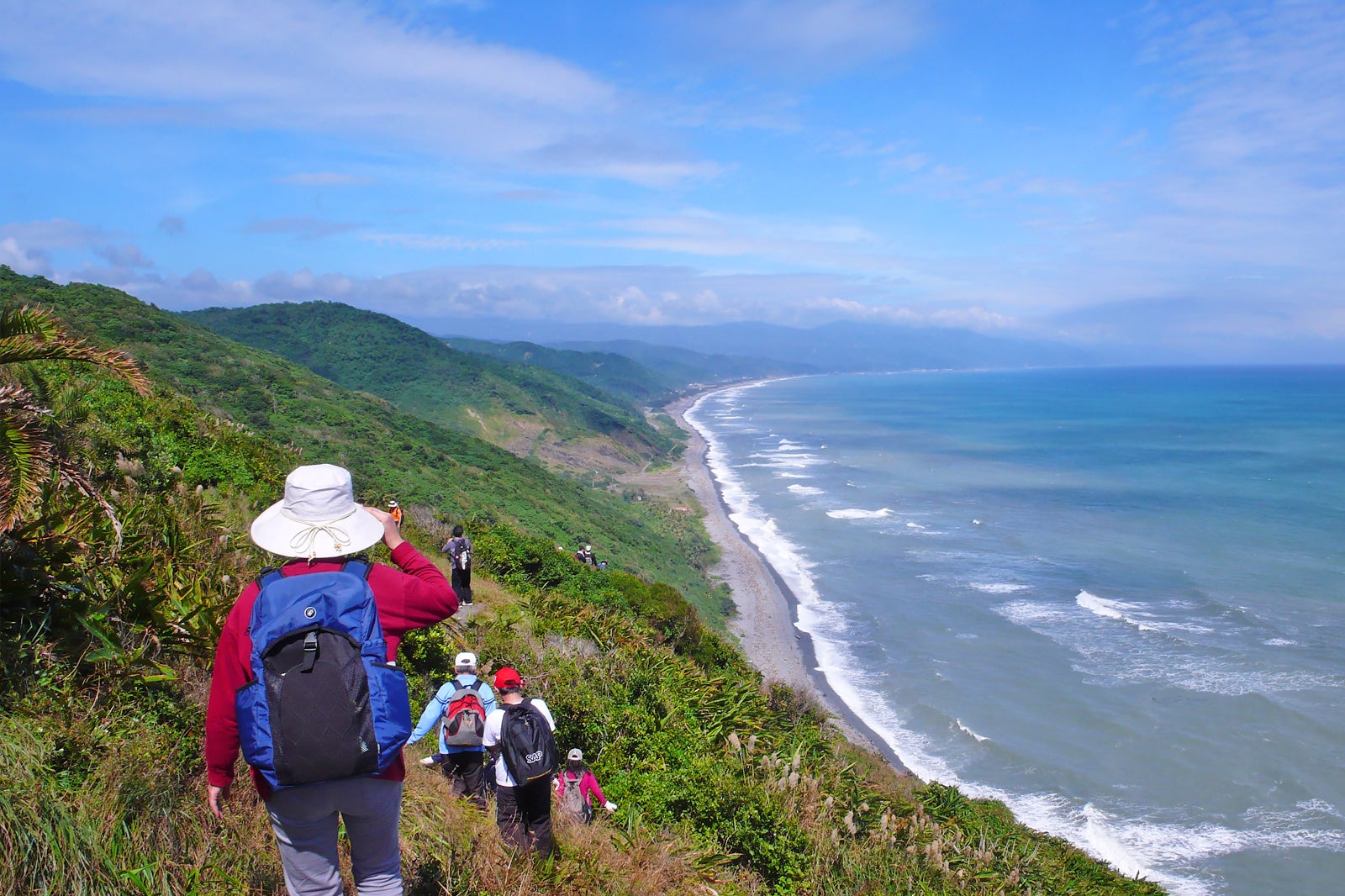 Alangyi Historic Trail was a section of the Langjiao-Beinan route during the Qing Dynasty. It is the last remaining stretch of coastline in Taiwan that hasn't yet been paved by roads. This 4.9-mile-long (8 kilometres) path is now a part of the Xuhai Guanyinbi Nature Reserve. Alangyi Historic Trail was once used by hunters and pioneers, and is therefore of important historical and cultural value in the context of the development of eastern Taiwan. Because there's no public road here, it has been possible to preserve the primitive natural landscape. You can admire the beautiful blue coastline and the green forest along this historic trail. You'll find many endemic plant and animal species of the Hengchun Peninsula here, such as Asian bayberry, Garcinia multiflora, coconut crabs and green sea turtles, as well as 31 different species of land crab. If you want to explore the secret lands of Taiwan and enjoy the exhilarating experience of hiking where the mountains meet the sea, Alangyi Historic Trail is a great place to visit.
Location: Between Nantian Village, Daren Township, Taitung County, Taiwan, 966 and Xuhai Village, Mudan Township, Pingtung County, Taiwan, 945
Open: Daily from 7.30 am to 2 pm
photo by 江城 張 (CC BY-SA 2.0) modified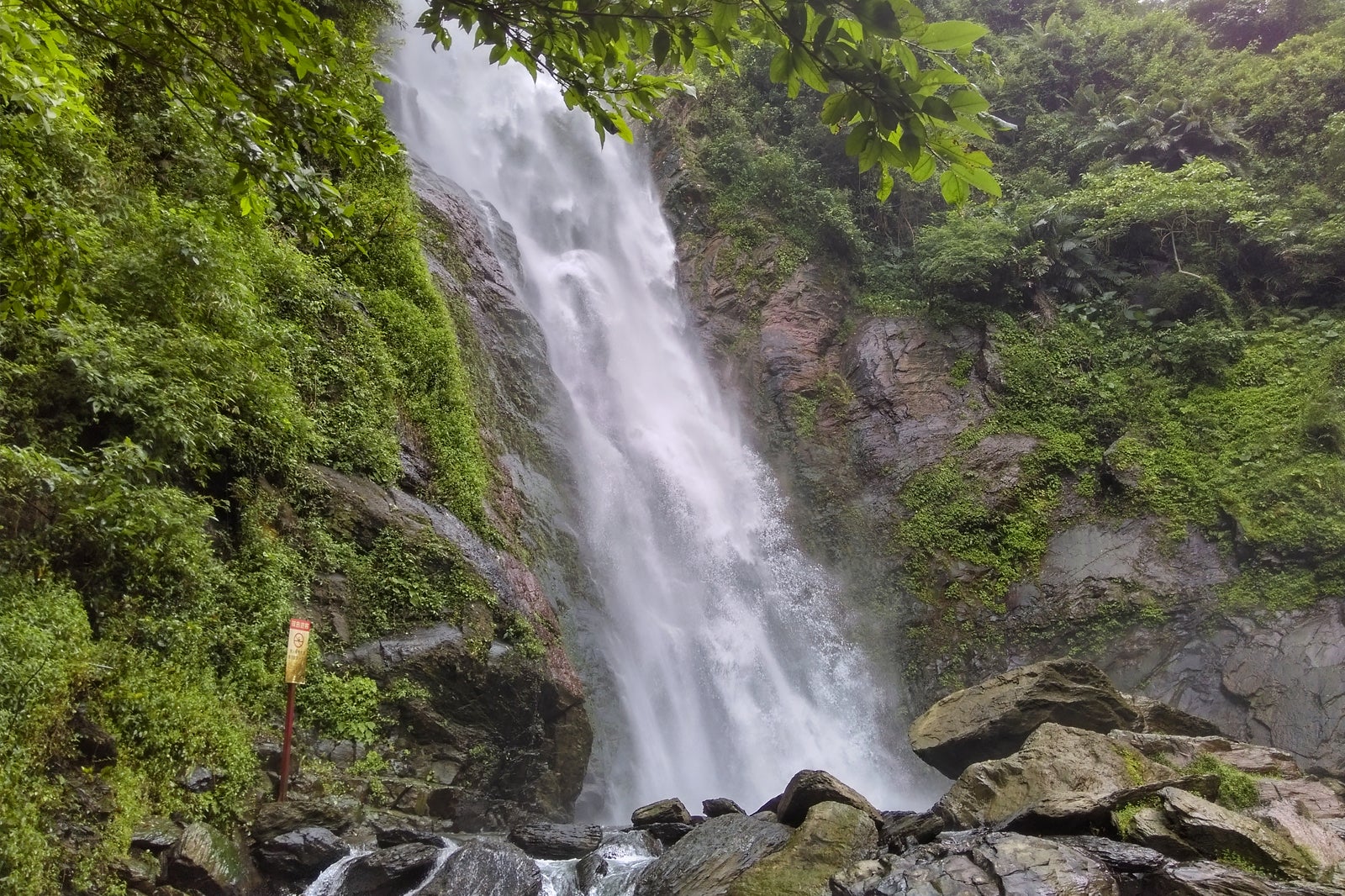 Liangshan Waterfall is located in the Liangshan Recreation Area of Majia Township, and has a trail about 0.9 miles (1.5 kilometres) long. The water volume of the waterfall area varies depending on the time of year, with the wet season running from April to October and the dry season from October to March. Liangshan Waterfall is divided into three tiers. The first tier has a gentle water flow with a recreation area, and takes 5 to 10 minutes to reach on foot. Access to the second and the third tiers is more challenging. The momentum of the water of these two tiers is incomparable to the first. The second tier is about 32 feet (10 metres) tall. After navigating some steep steps, you have to grab a rope to descend a 3-storey-high rock face to reach the second tier. The pool here is extremely deep, so swimming is prohibited. The highest tier of the waterfall is by far the most majestic. You can hear the waterfall roar from a distance. To reach this tier, you need to climb some rocks and wade through a stream, which adds to the sense of adventure. If you visit in summer, you'll see plenty of birds and colourful butterflies dancing around you, and schools of small fish swimming in the stream. It's an ideal destination for a half-day tour.
Location: No. 14 - 20 Liangshan, Liangshan Village, Majia Township, Pingtung County, Taiwan, 903001
Open: Daily from 8 am to 6 pm (clearance starts at 5 pm)
photo by StevenK234 (CC BY-SA 4.0) modified
6
Pingtung Tutorial Academy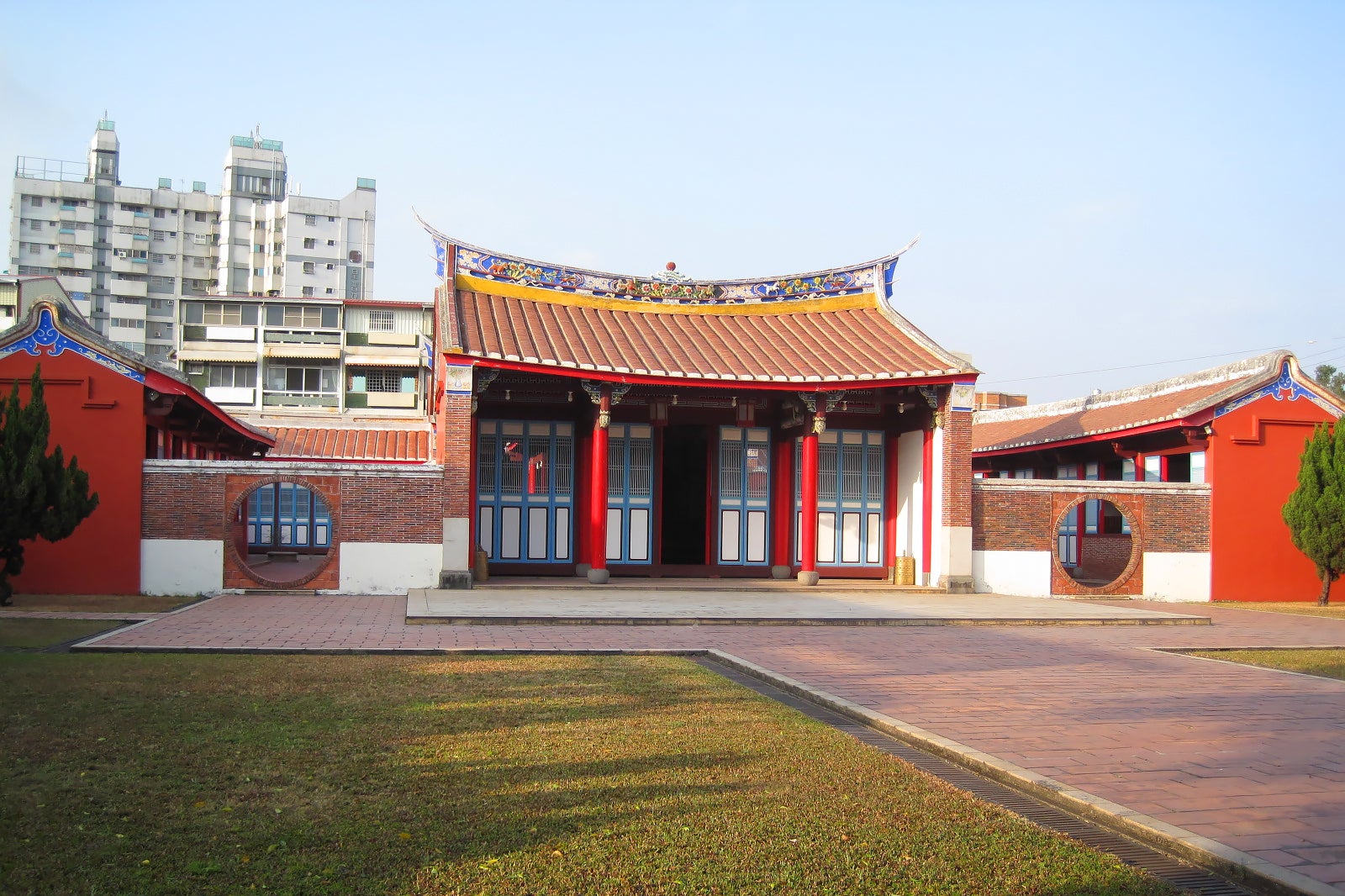 Pingtung Tutorial Academy has a history stretching back more than 200 years, and is the only academic building in Pingtung County. The academy was built in 1815 by Wu Xingcheng, the District Magistrate of Fengshan District, among others. In 1895, the Qing Dynasty education and imperial examination system was abolished when Taiwan became a dependency of Japan. The Japanese then turned the academy into a Confucian temple for the veneration of Confucius as well as other sages and disciples. At various points throughout its history, the building was reconstructed, relocated and abandoned ‒ a symbol of how an important historical town became a forgotten place. In 1977, the building was restored, rebuilt and transformed into a Confucian temple until it was renamed "Pingtung Tutorial Academy" in 1988. Outside the gate of the academy stands a tall screen wall bearing the four Chinese characters "九仞宮牆 (Jiu Ren Gong Qiang)", indicating that Confucianism is extremely advanced, and that in order to learn Confucianism, one must do so in the proper way. These characters reflect the spirit of this traditional academy. Although not big, Pingtung Tutorial Academy is a symmetrical quadrangular building. Whether you're interested in its history as an academy or a Confucian temple, this Grade II historic site is an important piece of Taiwan's cultural heritage and well worth a visit.
Location: No. 38, Shengli Rd., Pingtung City, Pingtung County, Taiwan, 90054
Open: Tuesday to Sunday from 9 am to 12 pm and 1.30 pm to 5 pm (closed on Mondays and public holidays)
photo by Pbdragonwang (CC BY-SA 3.0) modified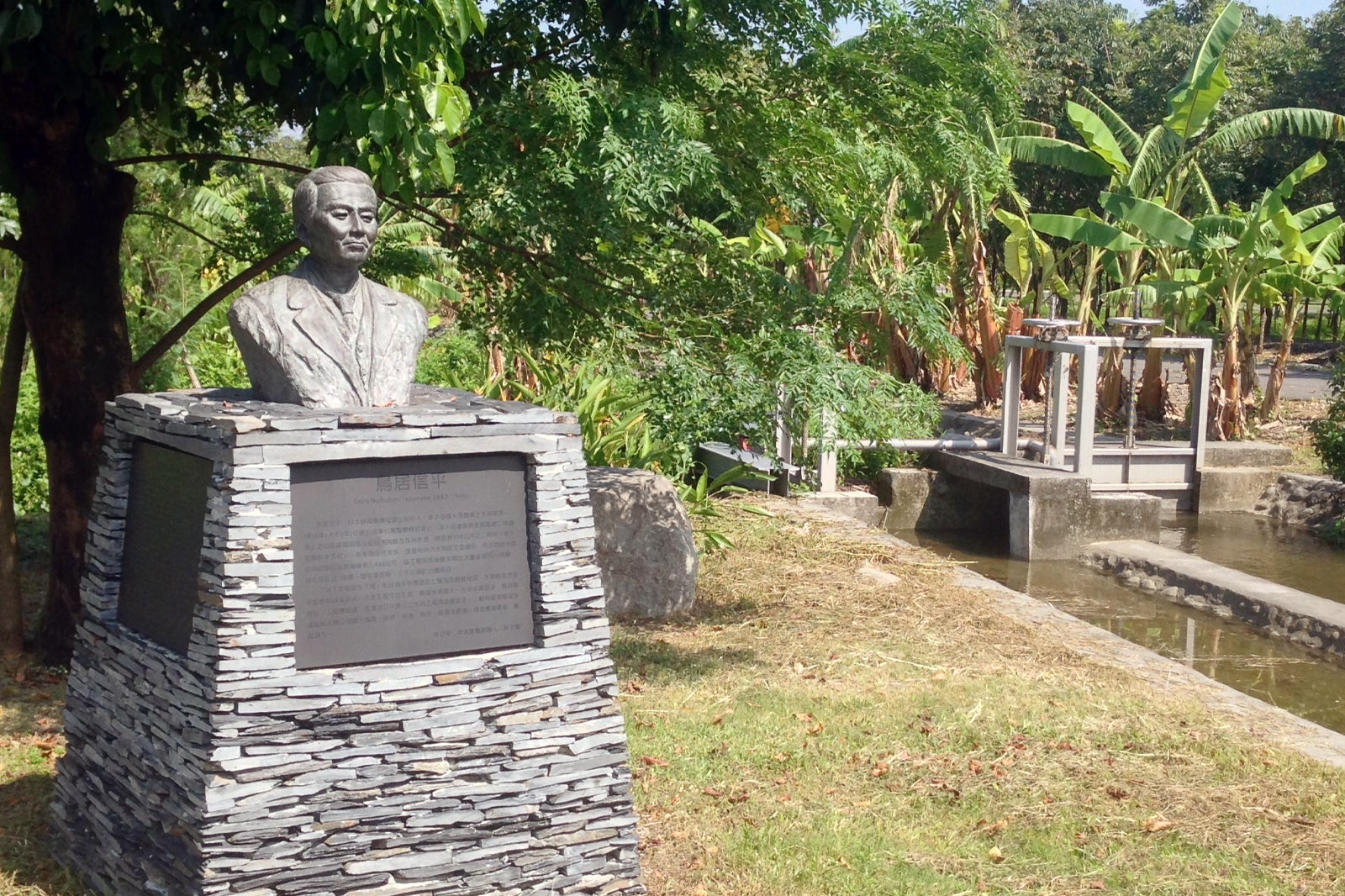 Linhousilin Forest Park is one of the three largest flatland forest parks in Taiwan. This huge park covers an area of about 2,483 acres (1,005 hectares), with a tree planting area of 1,976 acres (800 hectares). It is home to more than 20 tree species, including flamegold rain tree, big-leaf mahogany, chinaberry, and Formosan ash. Upon entering the park, you'll first go through the long, straight Madagascar almond trail, after which you'll see all kinds of colourful art installations on the hillside, including small mosaic animals and hand-painted pieces of wood produced by local residents, which symbolise the origin of their settlement. If you want to learn more about the recycling of forest resources and the multiethnic culture, you can visit the exhibition area in the visitor centre. You can rent a bike from the visitor centre or explore the endless green forest on foot. Whichever method you choose to get around, you'll be supporting the energy-saving and carbon-reducing goals promoted by the park.
Location: No. 221-1, Chaoyi Rd., Chaozhou Township, Pingtung County, Taiwan, 920020
Open: Daily from 8 am to 5 pm
photo by Outlookxp (CC BY-SA 4.0) modified
Silin Walking Trail is also known as Chaozhou Green Tunnel. The trail is lined by around 500 Madagascar almond trees. The 0.7-mile (1.2 kilometres) trail was extended in 2018, and is now 1.49 miles (2.4 kilometres) long and connects to Linhousilin Forest Park. It also has links to local farms and the surrounding shopping districts, driving the development of this area. In recent years, Silin Walking Trail has become very popular with cyclists and is also much loved by local residents. Entering the green tunnel is like walking into a magical green forest from a fairy tale. When the weather is fine, the warm sunlight shines through the leaves, casting its golden rays onto the asphalt and illuminating the vivid green rice fields lining both sides of the road to create a picture-perfect scene. Getting here early on weekends is advised. Whether you come on foot or by bike, a wander through this tree-lined trail revitalises both body and soul.
Location: Ln. 802, Chaozhou Rd., Chaozhou Township, Pingtung County, Taiwan, 920
Open: 24/7
9
Fangliao Railway Art Village
Fangliao Railway Art Village, also known as "Fangliao F3 Art Village", is a hidden treasure tucked away near the mountains and the sea. Get off at Fangliao Station, and a short 5-minute walk will take you to the Railway Art Village. "F3" is a portmanteau of "Fangliao" and "Warehouse No. 3". Originally a dormitory for Taiwan Railways Administration employees, it was later rebuilt by the Cultural Affairs Department of Pingtung County Government after a group of young people came up with the idea of creating a space for local arts and culture. Their efforts ultimately led to the opening of the venue in 2002. Since its opening, Fangliao Art Village has attracted many local artists, who have produced numerous artworks in disciplines such as wood carving, stone carving, music, printmaking, puppetry, installation art as well as other artistic creations. Although not very big, the Art Village is extremely popular with the many young people who come to visit. From the large landscape painting at the entrance to the stone carvings on the ground and the art installation featuring mosaic cows, the entire area is filled with colour and creativity. Art exhibitions are held from time to time, and there are workshops where you get to create your very own work of art.
Location: No. 15, Chuyun Rd., Fangliao Township, Pingtung County, Taiwan, 940003
Open: Tuesday to Sunday from 9 am to 5 pm (closed on Mondays). Hours vary by store.
10
Chaozhou Japanese Historical Architecture Cultural Park
Chaozhou Japanese Historical Architecture Cultural Park is a Japanese-style building complex in Chaozhou Township, Pingtung County. It has a history spanning nearly a hundred years, and is the place where the 1898 "Lin Shao Mao Anti-Japanese Incident" took place. After the end of the War of Resistance against Japanese Aggression, the building became the dormitory of the Directorate General of Highways, and was known as the "new highway village" among older Chaozhou residents. No longer in use since 1995, most of the beams, pillars and roof tiles of the dormitory were damaged and required restoration. A major restoration project was therefore undertaken, and the first phase was finally completed in November 2018, when the building was reopened with the name of "Chaozhou Japanese Historical Architecture Cultural Park". The only reminder of the Lin Shao Mao Anti-Japanese Incident, the "Junsa Goto Matsujiro Monument", remains in the park to this day, and the three restored buildings now serve as a tourist information centre, mini-exhibition and salon space, and large exhibition space. This park is well worth a day trip if you're interested in learning more about the life story of Lin Shao Mao, an anti-Japanese hero of early Taiwan.
Location: No. 30, Yanping Rd., Chaozhou Township, Pingtung County, Taiwan, 920009
Open: Tuesday to Sunday from 9 am to 5 pm (closed on Mondays)
Back to top