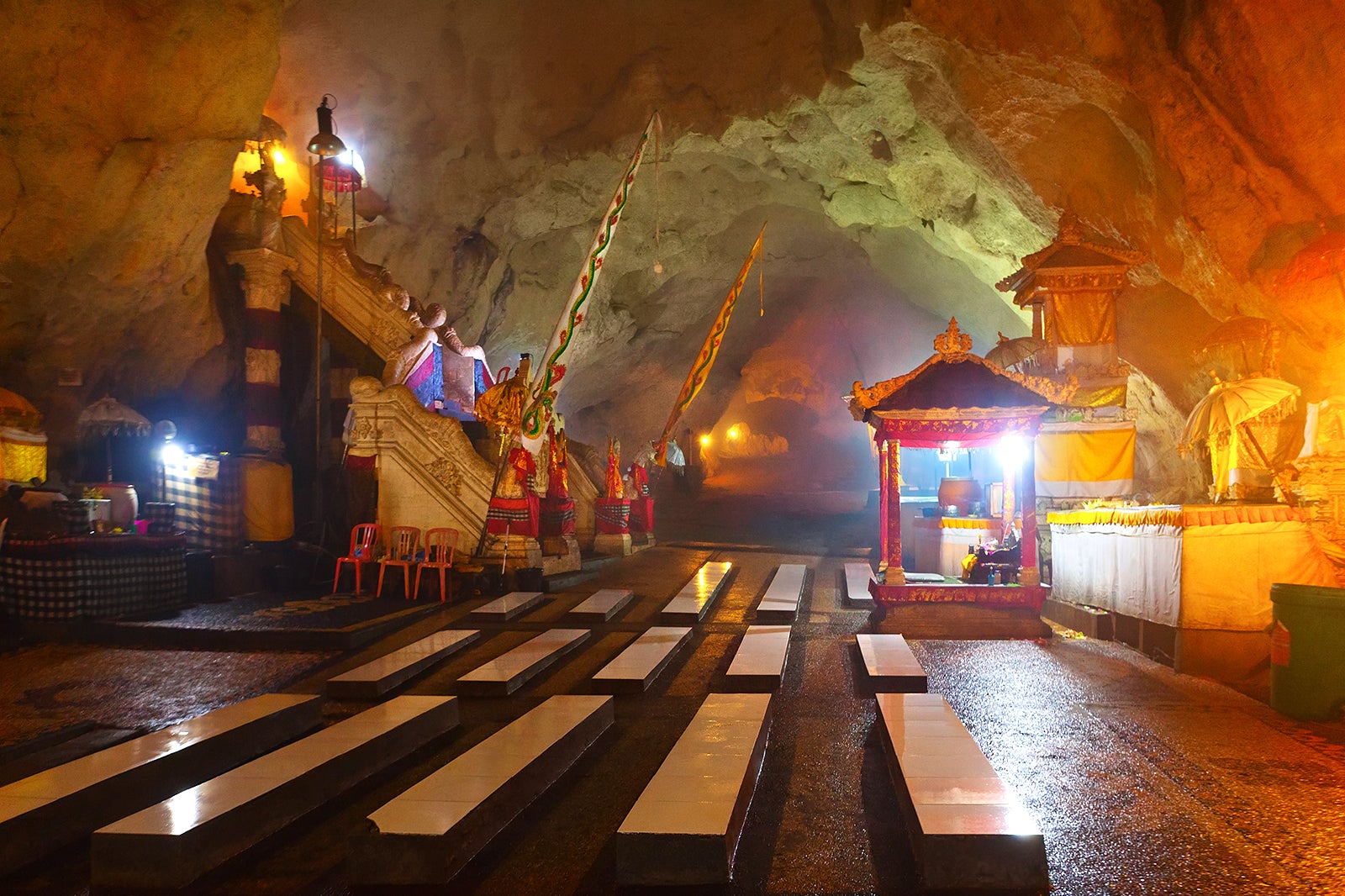 The Goa Giri Putri Temple is one of Nusa Penida Island's major cultural attractions. The large cave temple is in the village of Suana, on the north-eastern part of the island. Clear signs lead you to the site along the Jalan Ped-Buyuk main road. A shrine and a priests' praying shelter guards its entrance.
The entrance itself is uniquely a narrow opening in a rock face. You'll need to stoop down low to be able to squeeze and get through. Inside, you'll discover a spacious temple courtyard. Floorings before the main shrines in the cave's corner are partly covered in white marble. As your eyes adjust to the dim lights inside, the scene is nothing short of magical.
Goa Giri Putri Temple in Nusa Penida - one of the highlights of 26 Must-See Temples in Bali and 12 Weird and Unusual Places to Visit in Bali (Read all about Bali here)
The sacred cave temple of Goa Giri Putri
At Goa Giri Putri Temple, there are a total of 6 praying spots. This includes the preceding stairway up to the Ida Hyang Tri Purusa Lan Ganapati shrine at the entrance. The remaining 5 spots are inside. Visiting pilgrims must go through all of them, consecutively. Visits usually include a holy water purification ritual.
Devotees take their seats on the raised marble platforms. This is due to the surrounding floor of the cave being constantly moistened by the water dripping from stalactites. During major ceremonies, pilgrims must take turns getting in and out of the cave.
Goa Giri Putri Temple's unique features
Another unique feature of this cave temple is the final praying spot. This is devoted to Chinese deities such as Guan Yin, or the Goddess of Mercy, as well as the god of the earth and sky. It's adorned with red Chinese lanterns and ornaments that you would usually find at a Chinese temple. Many pilgrims pray here and ask for blessings of better business and prosperity.
As this is a sacred site, proper attire must be worn when visiting Goa Giri Putri. If you didn't bring a sarong and sash, you can rent them at the temple's base. Lighting inside the cave is adequate, but if you're planning to take photos, a tripod and a camera or smartphone with low-light capabilities would be best.
Goa Giri Putri Temple in Nusa Penida
Location: Suana, Nusa Penida, Klungkung, Bali 80771, Indonesia
Back to top