10 Best Things to Do at Night in Doha
Doha's Best Nightlife
Doha has a diverse nightlife scene that promises plenty of excitement despite the ban on public drinking. Qatar's capital may be famous for its ultra-modern skyscrapers and Islamic-inspired architectural masterpieces, but rooftop bars, historic shopping districts and even desert safaris promise plenty of excitement once the sun goes down.
Stroll around Qatar's best souq, drink a cocktail while the sun sets over the skyline or sit back with some friends and smoke a shisha when temperatures cool in the evening – your evenings in the capital can take on many forms. Here's our pick of the best things to do at night in Doha.
1
Souq Waqif
The streets come to life when the sun goes down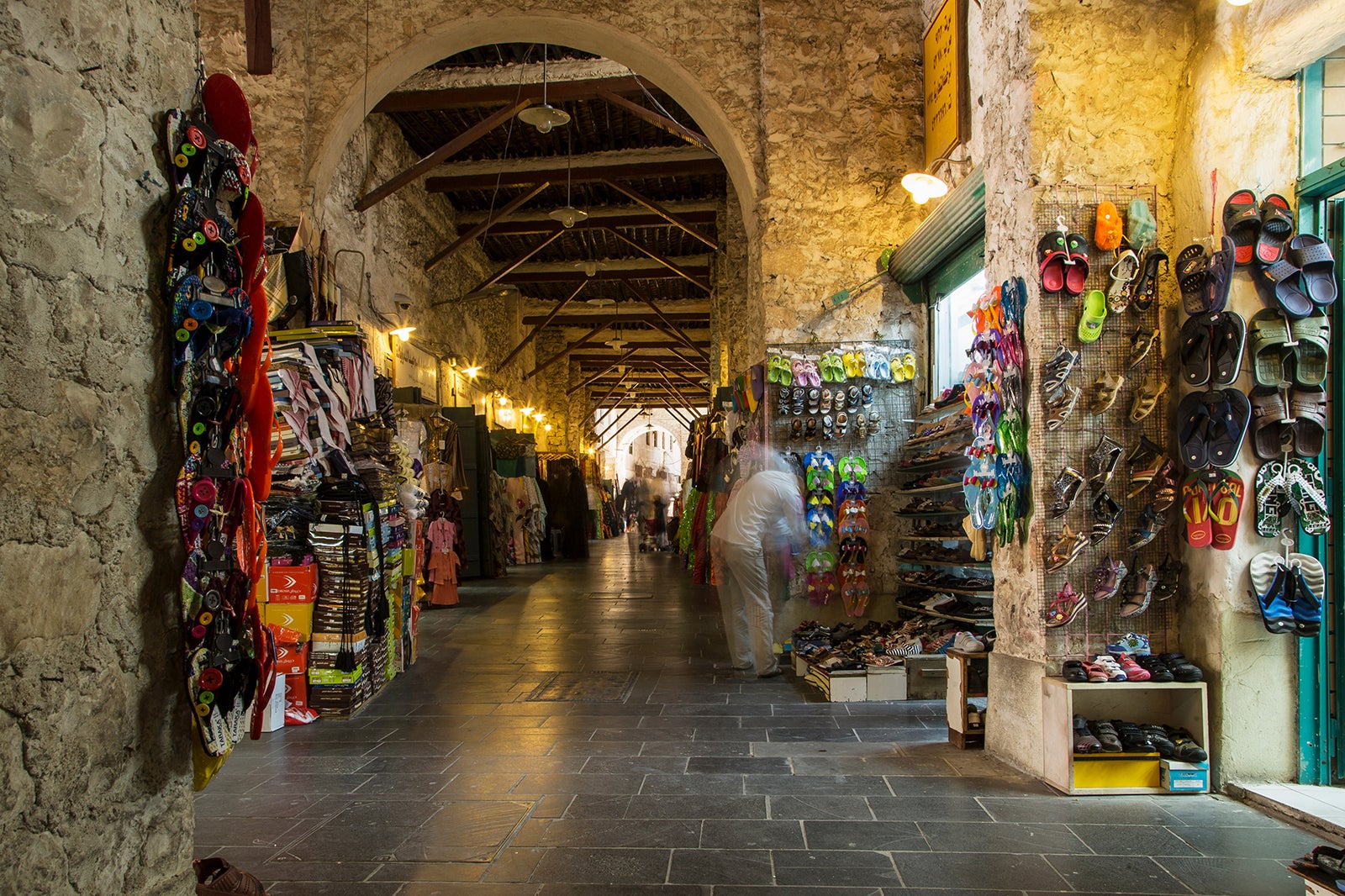 Take a glance at Doha's skyline and you'll see a modern city full of looming skyscrapers. But walk around the lanes of Souq Waqif, and you'll feel like you've been transported back in time. These charming streets are home to historical Arab architectural masterpieces, traditional street stalls and upscale restaurants.
Souq Waqif awakens at night when the hot day gives way to the cool evening. Here, you can stock up on local handicrafts, watch street performances, check out the falconry market and visit art galleries. If you want to enrich your cultural awareness, we recommend exploring the alleyways around Souq Waqif for several hours.
Location: Al Souq St, Doha, Qatar
Open: Saturday–Thursday from 7.30 am to 12.30 pm and 3.30 pm to 10 pm (closed on Fridays)
Phone: +974 5551 9254
2
Shisha Terrace at Four Seasons Hotel Doha
Relax like a local on a terrace or rooftop hangout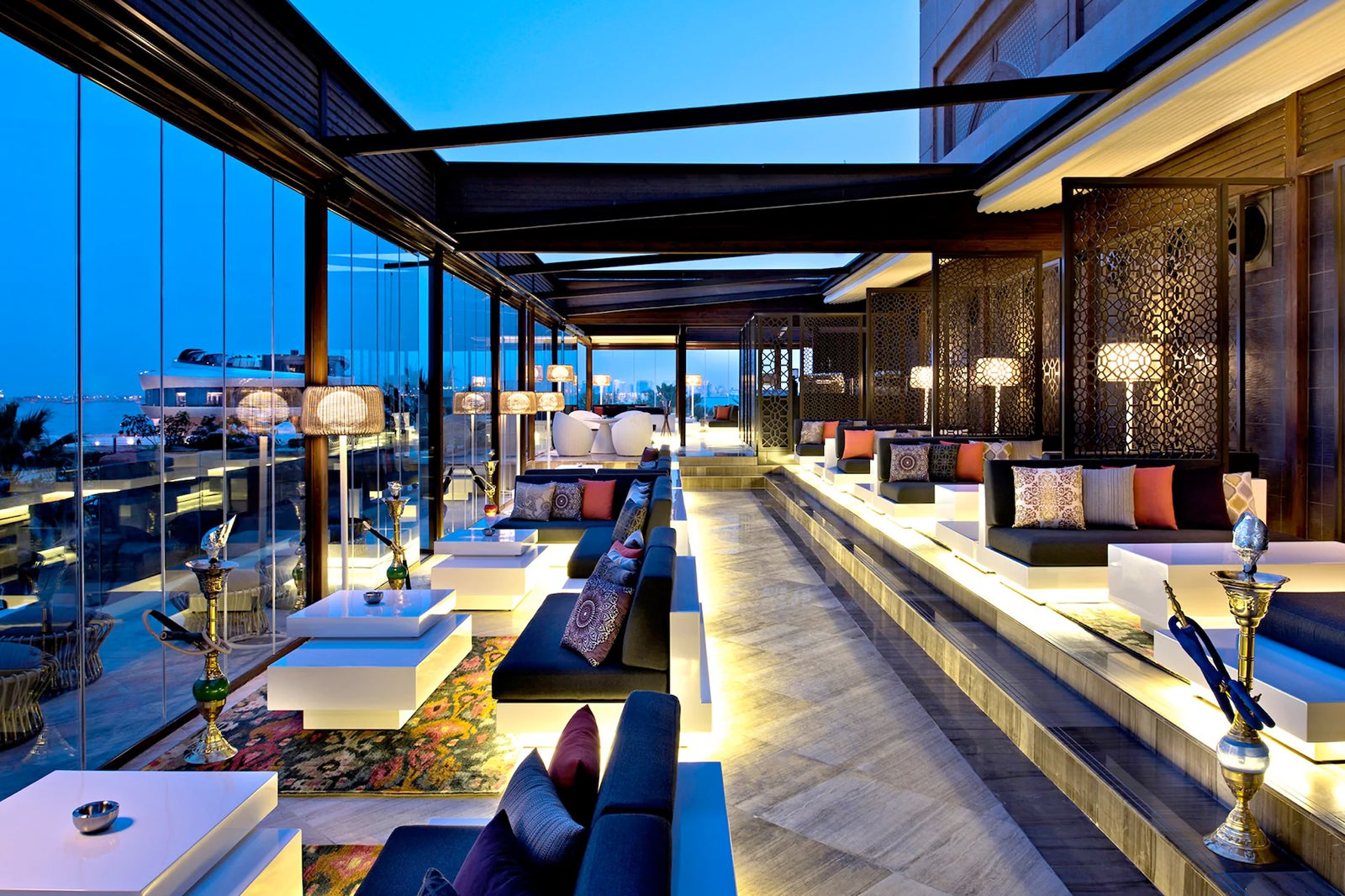 The Shisha Terrace is situated at the top of the Four Seasons Hotel and offers sweeping views of the city and sea. This relaxed and comfortable lounge has beautiful views and dedicated service. You'll also find many traditional shisha spots in the historic Souq Waqif. Le Gourmet and The Corner Café are 2 of the area's most popular shisha venues. But if you want a more upscale hookah experience, head to one of the city's 5-star hotels.
Nobody knows exactly where the hookah – otherwise known as shisha – originated. Some historians claim it was invented in India before spreading to Persia. Others claim it was actually the other way around. Regardless of its history, the hookah still plays a prominent role in Arab culture. While you're in Doha, you might want to kick back like a local by visiting a shisha bar.
Location: Four Seasons Hotel Doha, The Corniche, Doha, Qatar
Open: Saturday–Thursday from 8 am to 2 am, Friday from noon to 2 am
Phone: +974 4494 8600
3
Sunset dinner cruise
Enjoy the calm waters while immersing yourself in Arab culture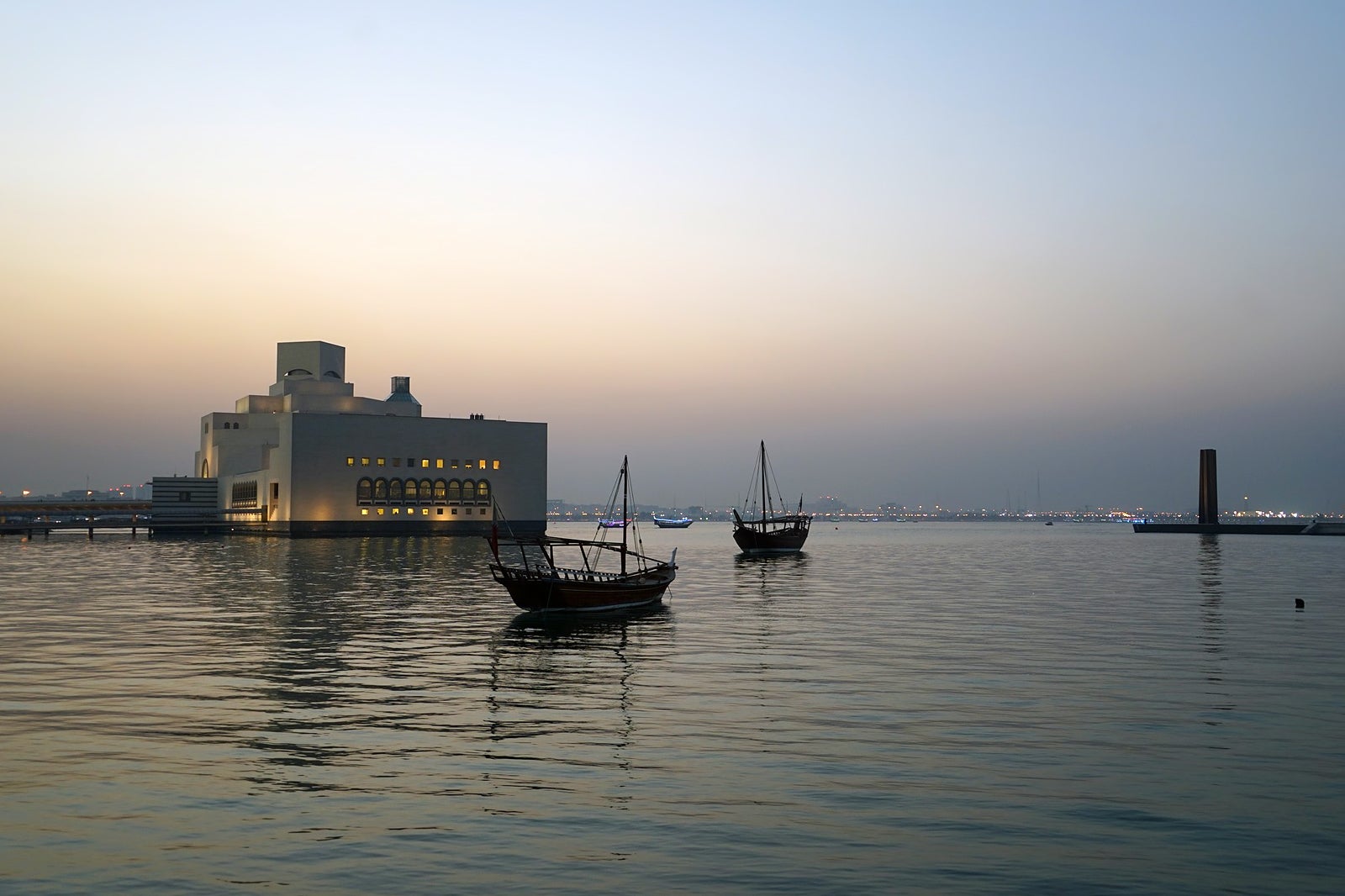 If you're a fan of sunset views, you should take to the waters while you're in Doha. You might have to put up with the blazing heat when you first set sail, but once the day gives way to night, you'll be glad you're aboard a traditional dhow boat. Most river cruises last around 2 hours and depart in time for sunset.
For a traditional cruise experience, head to the Corniche where lines of wooden dhows illuminate the waters with multi-coloured lights. For a more upscale experience with fine-dining included, head over to the Pearl Qatar, which is home to plenty of yachts with glass windows, air-conditioning and open decks with majlis-style seating.
4
Drink cocktails on a rooftop terrace
Enjoy a tipple with spectacular city views at PURE Lounge
If you're looking for a classy nightlife experience, head to PURE Lounge at Double Tree by Hilton Hotel Doha for signature cocktails, a classic lounge setting and panoramic views of the Arabian Gulf and West Bay skyline. At La Cigale Hotel, you'll find the Sky View rooftop terrace bar on the 15th floor. Here, you can drink cocktails while enjoying live acts and DJs.
Most establishments that serve alcohol are located inside hotels due to the ban on public drinking, but Doha's upscale establishments remain open until the early hours. If you want to sip a cocktail or 2 with a city view, you should reserve a table at a rooftop bar.
Location: DoubleTree by Hilton Hotel Doha, Al Meena St, Doha, Qatar
Open: Daily from 6 pm to 2 am
Phone: +974 4034 3333
5
Catch up on the day's sports at a sports bar
Enjoy international snacks, pool tables and sports galore in a hotel bar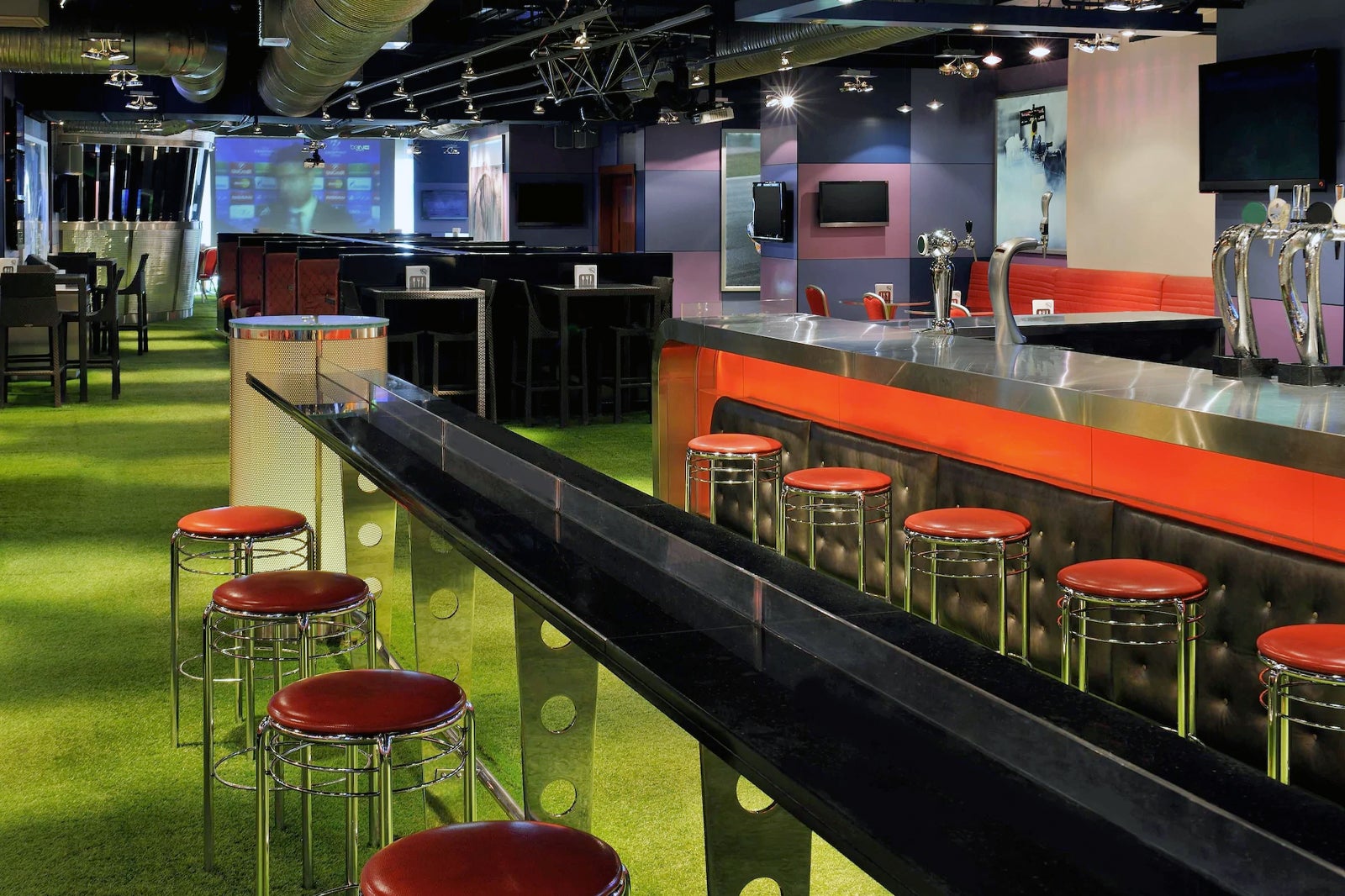 Doha has its fair share of sports bars, meaning you won't have to fall behind on the latest news from the world's sporting events. As public drinking is illegal, you'll find most sports bars inside hotels, such as the Radisson Blu Hotel, The Sheraton and the Holiday Inn.
Champions, which is located inside the Marriot Marquis City Centre Doha Hotel, is an award-winning sports bar that's filled with flat-screen TVs showcasing all the top sporting events from around the world. If you want to catch up with the latest news in sports such as Formula 1, cricket and NFL, Champions is a popular spot connected to DECC subway station.
Location: Marriott Marquis City Center Doha Hotel, Doha, Qatar
Open: Daily from 5 pm to 2 am
Phone: +974 4419 5000
6
Night desert safari
Watch the sunset over the dunes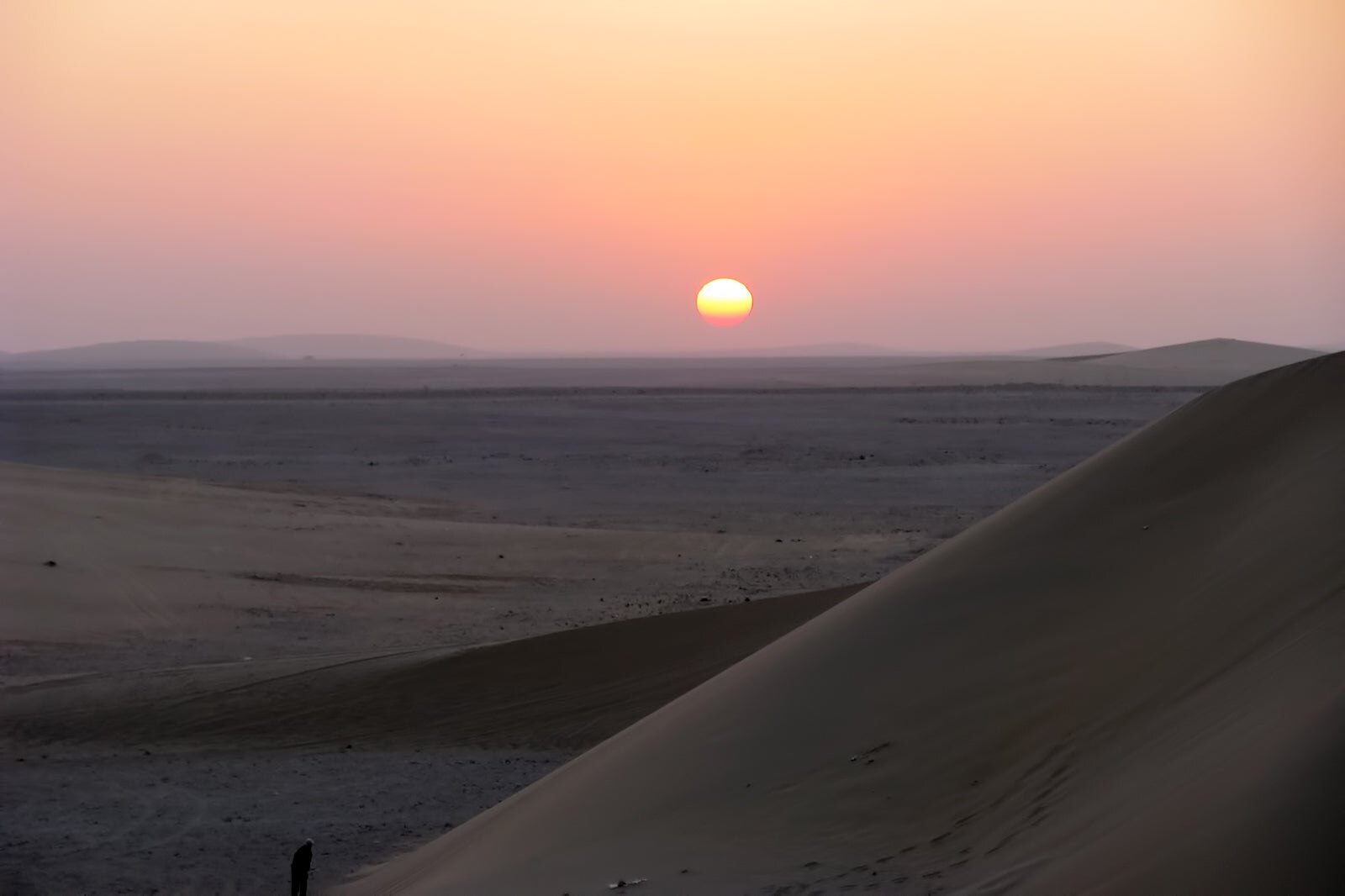 Families
Nightlife
Adventure
If you want to escape the crowds and get your blood pumping in the evening, head out on a sand dune adventure in the Qatari desert. Rather than trek through the baron wilderness on a camel's back, you'll bounce over the dunes in the back of a 4x4. This rollercoaster of a drive takes you by breathtaking scenery and pearly white beaches. Some tour operators will let you take a dip in the waters of the Khor Al Adaid, around 80 km south of Doha.
Don't be afraid to tell your driver if you want a bumpy ride – they'll be delighted to show you just how exciting the desert can be under a twinkling, starlit sky. Most evening tours last up to 5 hours and leave from Doha at between 2pm and 3pm.
photo by Peter Dowley (CC BY 2.0) modified
7
The Pearl Qatar
Live the high life on Doha's man-made island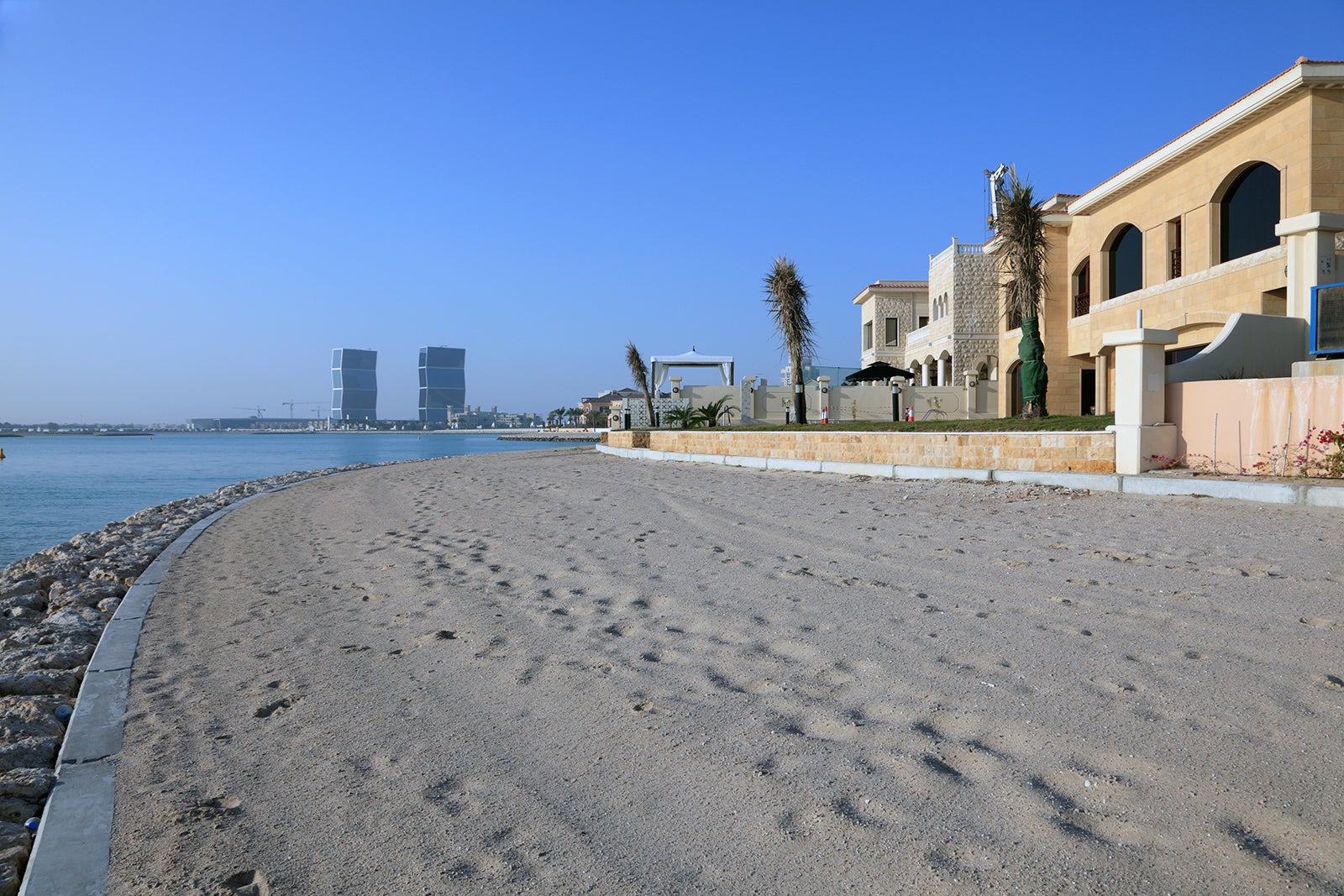 The Pearl Qatar is an artificial island in Doha that covers an area of 4 sq km. The island is famous for being home to the more affluent of Doha's residents. Its restaurants are admittedly on the pricey side, but this is fine dining at its best. In addition to the dozens of waterfront eateries that serve cuisines from all corners of the globe, you'll find boutique stores, supercar showrooms and beach clubs at the "Arabian Riviera".
Even if you don't intend to dine or stock up on designer goods at the Pearl Qatar, you should take a tour of the villas, upmarket residential towers and Mediterranean-style marinas that make this island unique.
Location: The Pearl Qatar, Doha, Qatar
8
Marvel at the Doha skyline
See the city at night from the Corniche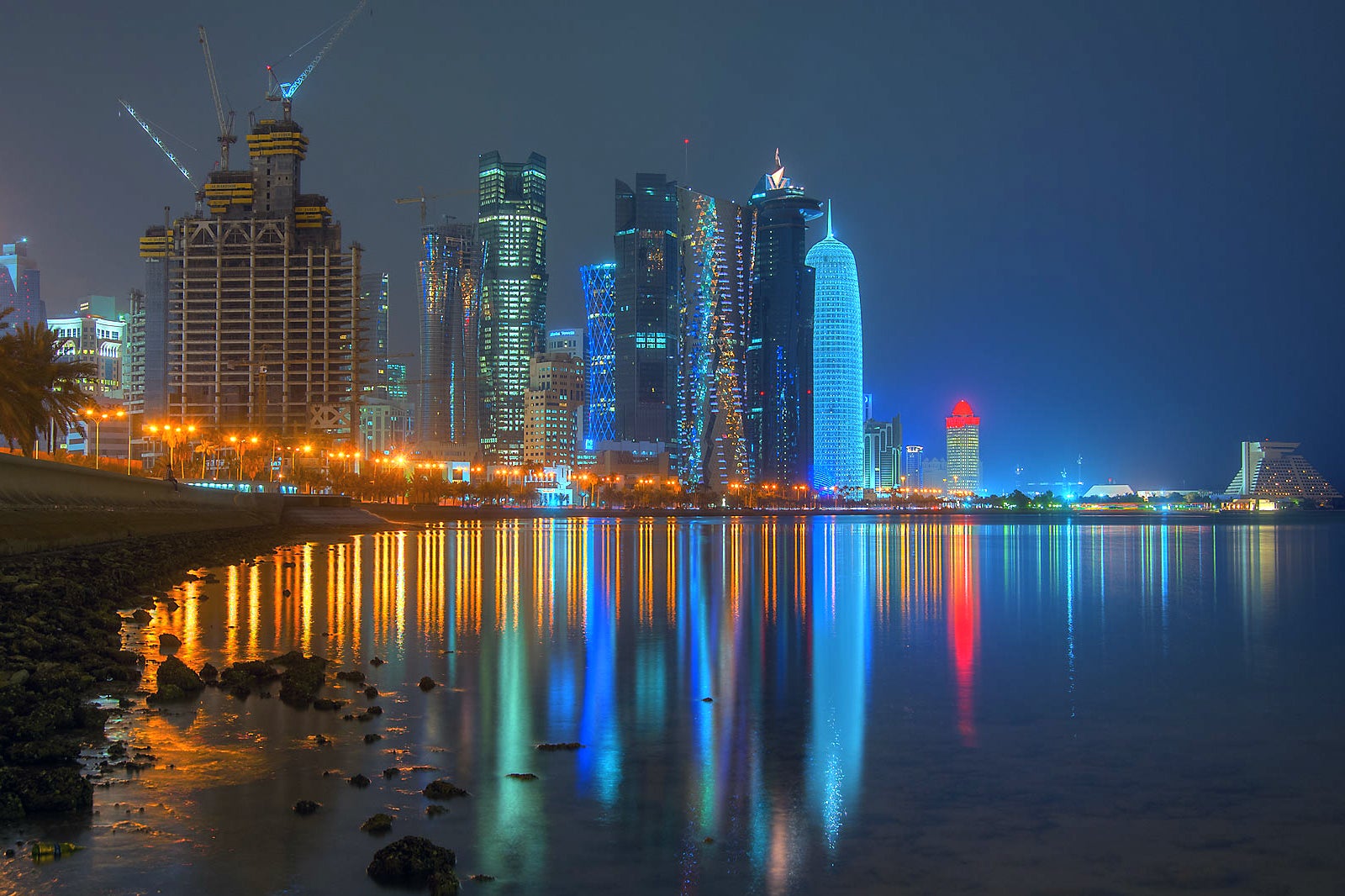 Doha's skyline looks impressive from any angle, but you'll find the most photo-worthy shots of the cityscape from Doha Corniche – the city's waterfront promenade. The Corniche, which is home to late-opening landmarks such as the Museum of Islamic Art, is a popular gathering spot for locals looking to enjoy the cool evenings.
The Corniche is also one of the most popular tourist attractions in Doha thanks to its family-friendly green spaces, fine-dining establishments, cruise tours and more. After sunset, set up your camera to catch the golden lights of the city's looming skyscrapers reflecting off the water.
photo by Alex Sergeev (CC BY-SA 4.0) modified
9
Visit the beach club at St. Regis Doha
Relax on the sand or take part in watersports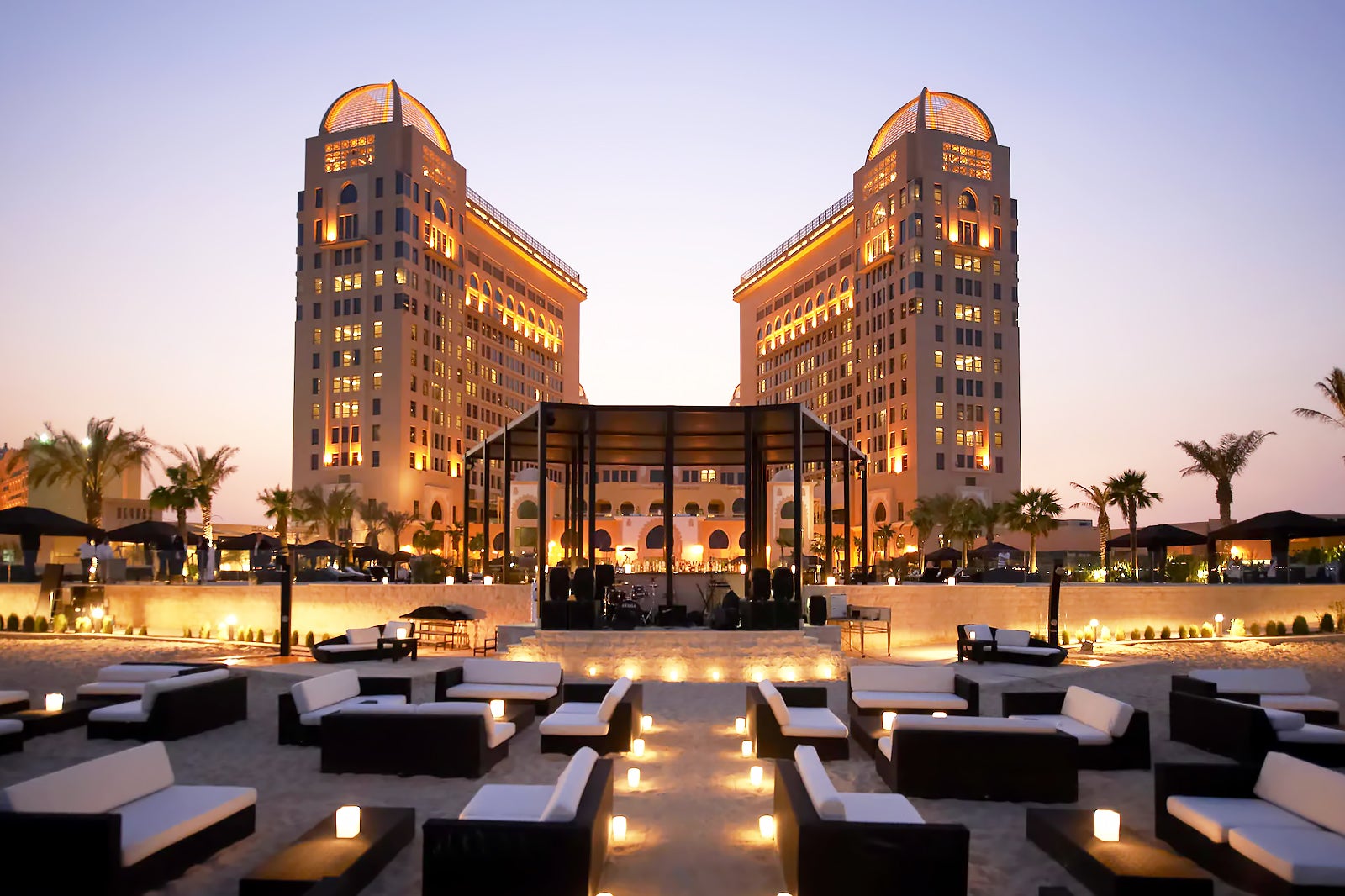 Weather conditions in Doha are often perfect during the afternoons and evenings in autumn. Head to Oyster Bay beach club at the St. Regis Doha Hotel to relax on its stretch of white sand or take part in watersports ranging from banana boat rides to tube riding. You can also freshen up with a swim in the Olympic-sized swimming pool that meets the shore.
Other beach clubs in Doha include Flip Flops beach shack at The Grand Hyatt, popular with those wanting to escape the crowds of tourists. At the Four Seasons, you can enjoy the sunset from a beachfront cabana or walk around the hotel's beautiful landscaped gardens.
Location: The St. Regis Doha, Doha, Qatar
Phone: +974 4446 0000
10
Society Lounge at Hilton Doha
Celebrate in one of Doha's classy hotel clubs
Society Lounge is one of the top-rated nightclubs in Doha. It's situated on the rooftop of The Hilton Doha, meaning you can enjoy sweeping views of the skyline as you drink cocktails and maybe even hit the dancefloor with your buddies. Soft purple lighting and laser shows illuminate the rooftop. There's also a relaxed section for when you need a break from the action.
Most nightclubs are housed inside Doha's 4- and 5-star hotels. Besides Society Lounge, some of the most popular hotspots include Oxygen Club at La Cigale Hotel, The Pearl Lounge at the Marriot and The Club at St Regis. Rooftop bars in Qatar are fairly swanky affairs so it's a good idea to dress up if you want the best experience.
Location: Hilton Doha, Diplomatic St, Doha, Qatar
Open: Daily from 7 pm to 2 am
Phone: +974 5539 0937