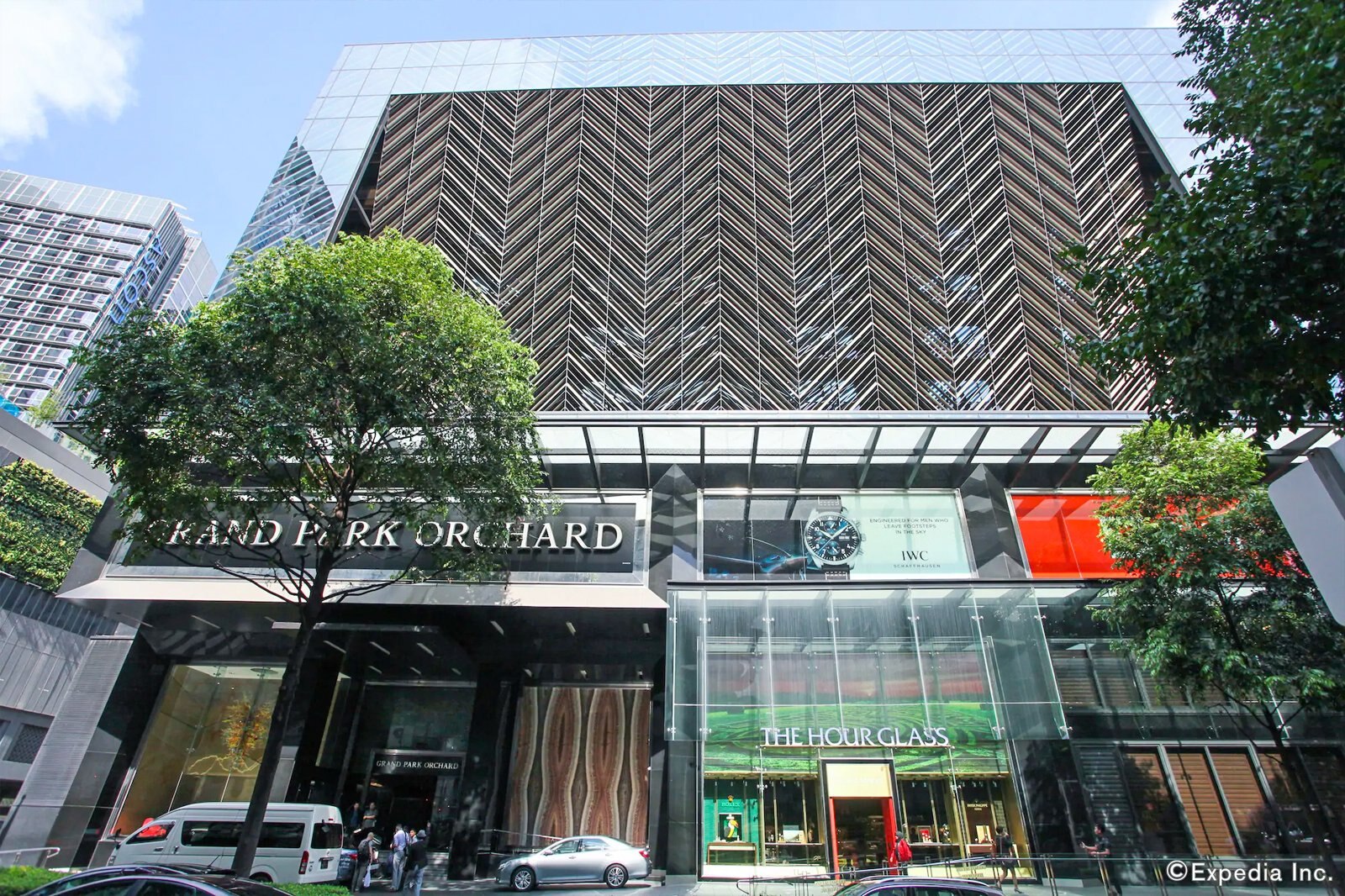 Knightsbridge Mall forms part of the Grand Park Orchard Hotel on Singapore's famous Orchard Road. The mall's cutting-edge design allows retail outlets to completely customise their space via double façade frontages and direct street access. Flagship stores dominate this 4-level shopping centre which focuses solely on fashion and jewellers.
The mall is one of the most eye-catching icons along Orchard Road. Dining is offered at the 5-star hotel next door which, like the mall, is a dazzling creation of glass chic. This is the place to come and shop for your favourite brands – the choice of outlets may be limited, but the retailers here showcase in spectacular style.
Knightsbridge Mall Singapore - one of the highlights of 16 Best Places to Go Shopping in Orchard Road and 11 Best Shopping Malls in Singapore (Read all about Singapore here)
Shopping at Knightsbridge Mall
Knightsbridge Mall is home to the first Abercrombie & Fitch store in Southeast Asia, alongside a select few fashion favourites and a couple of decadent jewellers. The Hour Glass Limited have been leading the way as Asia's most select luxury watch retailer since 1979, with merchandise including coveted brands such as Hublot and Philip Stein.
Hip fashion brands Tommy Hilfiger, Topshop and Topman enjoy the vast space offered at the mall and open their doors as flagship stores here. Expect bigger collections and basically a more pleasant space in which to shop and enjoy the merchandise. Brooks Brothers have an excellent outlet catering to the office set looking for fashionable work wear.
Knightsbridge Mall is integrated with the stylish Grand Park Orchard – shoppers can step into the Open House restaurant within the hotel for superb international dining. There are also 2 very fashionable bars at the hotel for shoppers seeking somewhere to sit back and pre-shopping or before heading back onto buzzing Orchard Road.
Dining at Knightsbridge Mall
Open House at the Grand Park Orchard has a la carte choices for lunch and dinner, with signature dishes including dim sum, clay pot dishes, roast meat with noodles, and pizza. International cuisine is offered across 4 live cooking stations. The restaurant is modern and trendy, attracting a fashionable crowd wanting to eat and be seen.
Onyx Bar is a bustling space of eclectic fashionistas unwinding and relaxing during or after a busy day. Low lighting and hidden corners result in an intimate yet vibrant bar attracting a very chilled out crowd. The Onyx Bar has an extensive list of drinks including beers, wines and spirits.
For spectacular views and champagne al fresco, look no further than Bar Canary. Situated alongside the hotel's outdoor pool on level 4 with fantastic views of Orchard Road, this is a cool, chic place to hook up with friends after work and enjoy the finer things in life. Veuve Clicquot cocktails are popular here alongside other decadent signature cocktails.
Knightsbridge Mall entertainment and features
Fashion shows and new product launches are high on the agenda of entertainment and events at the Knightsbridge Mall. One of the main draws at the mall is the huge 450-sq-m media wall broadcasting news, events, and more from its great location at the Orchard Road and Bideford Road junction.
To get to the complex you can take the MRT to Orchard Road – Knightsbridge Mall is opposite the Mandarin Hotel and next to Paragon shopping centre. If you're travelling by bus, depart at Lucky Plaza. Car parking is available at the Grand Orchard Hotel.
Knightsbridge Mall Singapore
Location: 270 Orchard Road, Singapore 238857, Singapore
Open: Daily from 10am to 10pm
Phone: +65 6593 6999
Back to top