A Marrakech travel guide – mazy markets, Moroccan feasts and a steam clean in a hammam bath
A Marrakech travel guide – mazy markets, Moroccan feasts and a steam clean in a hammam bath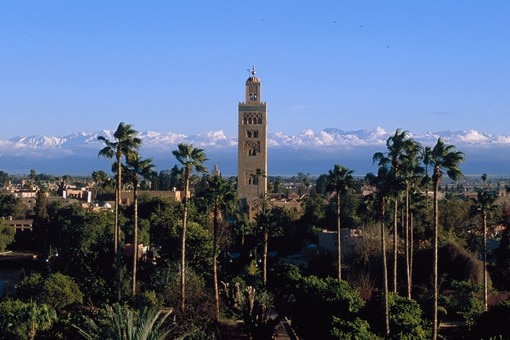 Whether bargain hunting in the souks, romantic courtyard dining or enjoying a joint-cracking massage in a hammam - state your wish on a Marrakech city break and it shall be granted. Book a Marrakech hotel and sink into this fascinating city.
Souk shopping
Dodging donkey carts, slurping mint tea and haggling are expected in Marrakech's souks, the mazy urban market north of Djemaa el Fna square. Find Berber carpets, pick up wood carvings or try on twinkling babouches (slippers). Framed by apothecaries selling miracle 'cures' for ageing and arthritis, bewitching Rahba Qedima is the place to head for bathing essentials like olive-based savon noir soap. Well-heeled locals shop for couture kaftans and genuine antiques in Mouassine, or head to modern Guéliz for innovative Moroccan art galleries and designer boutiques.



Moroccan dining
For authentic Moroccan flavours, pick one of the grill stands on Djemaa el Fna square at dusk to watch acrobats and snake charmers while tucking into kebabs or chickpea soup. Orange trees shade intimate riad courtyards where burbling fountains and strumming lute players set the scene for Moroccan diffas (feasts). Sample lamb stews accompanied by saffron-infused couscous, or snack on crisp pigeon-filled pastries. Belly dancers, shisha pipes and DJs attract partygoers to Hivernage's glitzy supper clubs.



Relaxing Marrakech
No Marrakech city break is complete without a visit to a sultry hammam steam bath. La Sultana relaxes bathers with eucalyptus exfoliating scrubs and soothing orange-flower oil massages. Lounge on a Balinese-style cabana bed or splash in the lagoon with the jet set at La Plage Rouge. Sultans once strolled in the olive-strewn Menara Gardens, where symmetrical pools reflect the Atlas Mountains in the late afternoon. Watch storks swoop down to the Badi Palace walls over sundowners at Kosybar before retreating to your Marrakech hotel.