An island guide to Bali - ancient temples, artisan crafts and sacred forests
An island guide to Bali - ancient temples, artisan crafts and sacred forests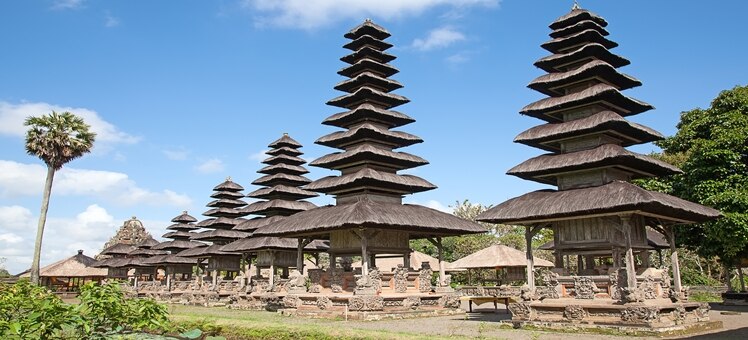 A tiny Indonesian province, Bali's geography is etched with verdant rice terraces, dewy jungle palms and rippling sandy bays. Becoming increasingly popular as an island getaway, Bali has plenty of attractions to tempt travelers. Head south to Uluwatu Temple to witness hypnotic displays of the kercak dance, visit Ubud to explore local villages filled with ancient handcrafted techniques, or journey east to plunge into the picturesque dive spots dotted all along the coastline.
North Bali
Speckled with sleepy coastal villages, black sandy beaches and shimmering coral reefs, northern Bali offers a peaceful counterpart to the bustling south. Home to Singaraja, the former colonial capital of Bali, visitors can happily spend the day wandering the tree-lined town, visiting the old harbor and waterfront.
South Bali
An eclectic mix of areas, each with their own draws, southern Bali is a unique blend. Join in with the young, beautiful and carefree at Kuta Beach, where pulsating nightlife and stellar surfing dominate. Alternatively, if boutique shopping, upscale resorts and tranquil beach restaurants are more your scene, Seminyak and Jimbaran Bay are more likely to suit you.
East Bali
Sandwiched between mountains, lakes and rice terraces, eastern Bali is filled with breathtaking scenery. Renowned as the island's diving hub, scuba diving and snorkeling opportunities are widespread, with regular daytrips offered from the Candidasa area. While here, make sure to stop by Padang Bai - a small fishing port peppered with attractive white sandy beaches.
West Bali
Seven thousand hectares of coral reefs and coastal water, western Bali consists mainly of passive volcanoes and the Taman Nasional Bali Barat Park. With swathes of local flora and fauna, nature-lovers can admire over 300 species of Balinese birds as well as wild boar, black monkeys, Java deer and flying foxes. Also lying nearby, just off the northwest coast of Bali, is Menjangan Island. This island is a particularly popular spot for swimming, scuba diving and snorkeling.
Central Bali
Accented by tropical forests, cascading waterfalls and bustling towns, Central Bali offers a whole host of cultural options. Ubud - Bali's artistic core – jostles with artisan crafts from traditional lacemaking to hand-carved wood, inlaid silver to tie-dyed batiks. Also nearby is the Sacred Monkey Forest, an enclosed nature reserve filled with countless cheeky long-tailed macaques. Surrounded by a mountainous backdrop, Bedugul serves as a scenic alternative to Ubud, housing the ancient towering structure of Ulun Danu Bratan. Lastly, home to black sandy beaches and the imposing silhouette of Mount Batukaru, Tabanan offers an intriguing gateway into western Bali.
Discover
Find your perfect holiday in Bali
From 5860 hotels.