Where to eat in Barbados – a food and dining guide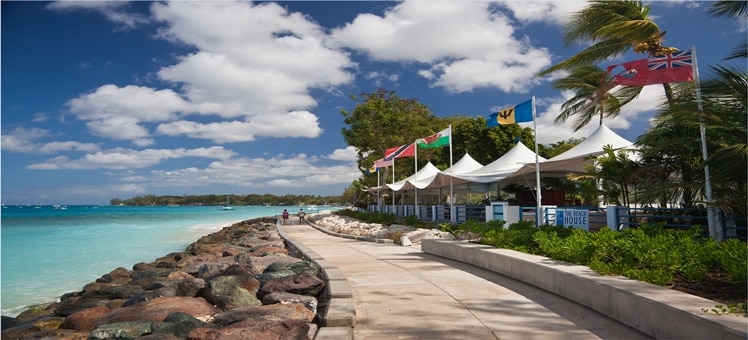 Whether it's an outdoor fish fry, a village rum shop or a fine dining restaurant, eating in Barbados is a cultural experience. An eclectic blend of English, Indian and African flavors – seasoned with zingy jerk spices - dishes served offer an authentic taste of the Caribbean. Nicknamed 'The Land of Flying Fish', marine and fresh fish are a particular specialty in Barbados, with salt cod, snapper and yellow fin tuna available around every corner of the island.
Flying fish and cou-cou is considered the national dish of Barbados. Consisting of fish stewed in a gravy of herbs, tomatoes, garlic and onion, this flavorful platter comes served with a side of cou-cou – yellow cornmeal simmered in okras, water and butter.
North Coast
Coral limestone cliffs and pounding Atlantic waves, the north coast of Barbados is occupied by private islets, rugged sugar cane fields and dramatic coastal views. Being the most undeveloped part of the island, restaurants can be a little few and far between, with coastal picnic spots being a more regular occurrence. Nestled in the tiny parish of St Lucy, however, you'll find a small collection of popular eateries including St Elmo's, a no-frills restaurant, serving up fresh fish and sweeping Atlantic views.
•
St. Elmo's
, Moontown, Half Moon Fort, St. Lucy. Tel: +1 (246) 439 1927
South Coast
The most urbanized part of the island and a particularly popular spot amongst western travelers, the south of Barbados brims with life. Home to a selection of hotels, apartments and white sandy bays, the south is an ideal spot for the sophisticated traveler. With a new boardwalk sprinkled with open-air restaurants and bars, the majority offering a fine dining waterfront experience, this vibrant region is rife with dining opportunity. Acclaimed restaurants include Tapas, a trendy venue perched right by the water's edge, and Naru Restaurant & Lounge, a vibrant spot serving an unusual blend of Pan Asian and Caribbean cuisine.
•
Tapas
, Hastings Main Road, Hastings. Tel: +1 (246) 228 0704•
Naru Restaurant & Lounge
, The Shak Shak Complex, Hastings. Tel: +1 (246) 271 2191
East Coast
Populated with rustic beach houses and small hotels, the east coast offers a striking comparison to the bustling south. Rugged limestone cliffs, wooden chattel houses and windswept beaches dominate, contrasting to the competing resorts and nightlife of the south and west coasts. Home to a few authentic Barbadian eateries, however, the east coast has a small handful of unrivaled restaurants. Sample authentic Caribbean cuisine at The Cove Restaurant in Cattlewash, tuck into a Bajan buffet at The Atlantis, or, savor the fresh seafood of Sand Dunes in the scenic village of Belleplaine.
•
The Cove Restaurant
, Atlantic Park, Cattlewash. Tel: +1 (246) 433 9495•
The Atlantis
, Tent Bay, St Joseph. Tel: +1 (246) 433 9445•
Sand Dunes
, East Coast Road. Tel: +1 (246) 422 9427
West Coast
Balmy sea temperatures, white sandy beaches and palatial private villas, the west coast of Barbados is famed for its glittering excess. Known as the 'Platinum Coast', this sun-drenched corner bursts at the seams with five-star resorts, exclusive spas and designer shops. Also in abundance are elegant dining venues, particularly in the lively area of Holetown. Highlights include Tides' breezy beachside veranda, Daphne's sumptuous Italian food and Lone Star's gourmet Caribbean cuisine.
•
The Tides Restaurant
, Holetown, St James. Tel: +1 (246) 432 8357•
Daphne's
, Paynes Bay, St James. Tel: +1 (246) 432 2731•
Lone Star
, Mount Standfast, St James. Tel: +1 (246) 419 0599
Discover
Find your perfect holiday in Barbados (all)
From 570 hotels.