Where to stay in Queenstown - accommodation options from budget to the best
Where to stay in Queenstown - accommodation options from budget to the best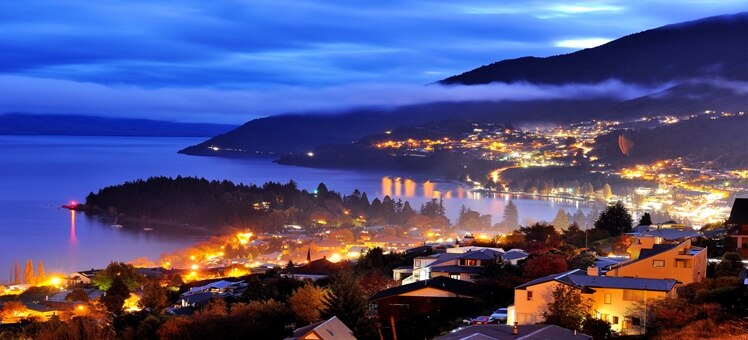 Queenstown itself is a mixture of high-energy party streets and quiet suburban enclaves, while just outside of the town, accommodation options provide great links with the Otago back country and the region's major natural attractions. Whatever you're after from your accommodation in Queenstown you're sure to find something that fits.
Downtown
Church Street has established itself as the center of budget and backpacker accommodation in Queenstown. With easy access to all the nightlife hot-spots and bars, there's also a wide range of top-end hotels and boutique B&Bs to suit most non-backpacking budgets, while all the accommodation options here benefit from easy walking access to the major outdoor sports outlets in town. Wherever you are in Downtown you'll never be too far from the major attractions, while those looking to stay right in the city's heart should look for options on Stanley Street, Melbourne Street and the lower end of Frankton Road.
Lake Esplanade Road
This somewhat quieter area is located away from the hubbub of Queensland's nightlife center and enjoys some magnificent mountain panoramas and lake side views. A short walk in one direction will lead visitors to the fine-dining shore-side enclave at Steamer's Wharf, while the position also allows great access to the scenic roadway leading to Glenorchy and out of town. Whatever your budget there's usually something available here, from backpacker lodges, luxury apartments and large chain hotels, many of which boast water-facing balconies overlooking the attractive St Omer Park.
Frankton Road
Frankton itself is home to Queenstown's sprawling retail park and international airport, while the road into downtown is lined with top-quality self-catering apartment accommodation that's particularly popular for those looking for somewhere with good connections to the major sites outside of town. The historical mining centre of Arrowtown can be reached easily via highway 6 that continues past Lake Hayes, a popular spot with locals, and onto the award-winning wineries of Gibbston and their welcoming cellar doors. Connections to town aren't bad either, and a scenic lakeside route encompassing Queenstown Gardens allows visitors an enjoyable walk into the center of town.
Arthur's Point
A remote and peaceful location that's indelibly surrounded by nature and boasts quick access to the beginner-friendly Coronet Peak Ski Resort just 18km out of town. The offering at Arthur's point is largely family-orientated, with a number of self-catering apartments, house rentals, backpacking lodges and a luxury spa hotel to boot. Quick access to Coronet Peak Ski Resort and Queenstown's famous Shotover Jet Boat experience have made Arthur's point a favourite among adrenaline seekers. The Connectabus operates a regular bus service mornings and late afternoons, while getting into town takes around 10 minutes by car.
Fernhill
For those with a car, Fernhill offers a good out-of-town accommodation option with a distinctive local feel. Primarily residential, the area is home to a number of large hotels and privately owned short-term rental properties that exude a charming, suburban vibe with some of the best views of Lake Wakatipu. Bonuses here include great access to the scenic route to Glenorchy, where some of New Zealand's prime hiking routes can be enjoyed at leisure.
Arrowtown
Arrowtown is as much a town as it is a national artefact of a bygone age. Here, the colonnaded façades ooze a post-goldrush charm that rings of the Wild West, haunted with the sceptres of prospecting hopefuls and the ghostly inhabitants of yesteryear. Accommodation options tend to be on the smaller size, with everything from motel rooms and budget B&Bs, to self-catering apartments and luxury lodges right on the edge of the Arrow River. Arrowtown is perfect for those looking to unravel Otago's past, with the Lakes District Museum and Arrowtown Chinese Settlement providing a fascinating insight into the gold mining era.