Where to eat in Serbia – a food and dining guide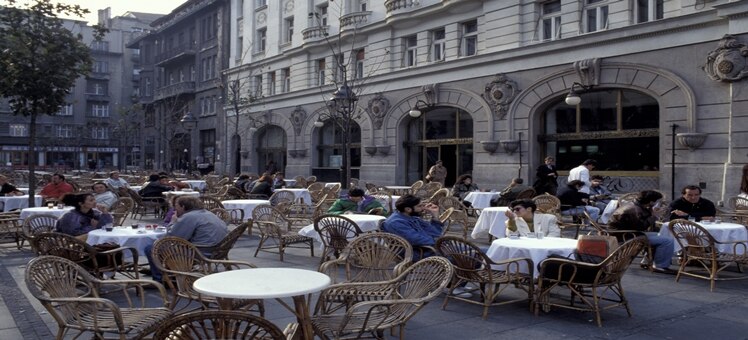 Owing to its diverse heritage, Serbian cuisine is equally varied. Taking influences from Turkish, Hungarian, Austria and particularly Greek foods, dishes here are mouth-wateringly unique. Perhaps most pleasing for carnivores, meat is a staple on most menus, ensuring a warm and hearty meal is never hard to come by and portion sizes are equally filling.
Across the generations, various international influences have filtered their way into Serbian gastronomy. Mediterranean infused dishes in particular are extremely popular and it is common to see vibrant and colourful variations upon dinner tables all across the country. Peppers are perhaps one of the most frequently-used ingredients; Muckalica, for example, combines the Serbs' love of barbecuing, and uses a tasty concoction of spicy tomato sauce, peppers and a variety of meats. Of course, Serbia's other great addition to mealtimes is their homemade drink Rakija (fermented grapes), which packs a warm punch.
Belgrade
Given Serbia's infancy as a European tourist destination, the biggest choice of restaurants is located throughout the country's capital, Belgrade. Here, visitors are faced with a fantastic selection of both authentic cuisine and flavors from all corners of the globe. What's more, many of the best eateries seamlessly reside among the city's most beautiful landmarks, providing an opportunity to dine among the ruins of the Belgrade Fortress, the peaceful banks of the Danube or in the city's bohemian quarter, Dorcol.
•
Kalemegdanska terasa
, Mali Kalemegdan bb, Belgrade, Serbia. Tel: +381 11 3283011.
Pekara
Dotted throughout the streets of most cities and villages, Pekara (bakeries) are a firm favorite for providing convenient and wholesome foods. There is also an ideal pit-stop to try some of the local delicacies. Serving a range of delicious tempters, such as the famous börek (pastry filled with cheese, vegetables or minced meat) or baklava (pastry filled with nuts and syrup). Known locally, Nis is said to be the place to go for outrageously delicious böreks, with Pekara Branković leading the way.
•
Pekara Branković
, Vožda Karadora 68, Niš, 18000, Serbia, Bul.
Serbian Restaurants
Accompanied by the vibrant sounds of violins, guitars, accordions and a serenading quintet, traditional Serbian restaurants offer much more than just tasty food. Typically decorated with a homely and atmospheric vibe, these fantastic eateries offer a great chance to sample recipes that have been honed and refined over decades. Better still, dining locally not only comes with the satisfaction of supporting this evocative culture but prices tend to be slightly cheaper and service exceptionally accommodating.
•
Gurinovic
, 32Bajaski put, Subotica, Vojvodina, 24000.
Fine Dining
At the high-end of the spectrum, Serbia certainly packs some gastronomic punch. Along with the country's transformation into a thriving tourist destination, the culinary world is also in the midst of a revolution, with restaurants popping up all over, serving outstanding food from international cuisine. Perhaps the jewel in the crown of Serbia's cosmopolitan heritage, world renowned chefs are flocking to the country, bringing their own innovative interpretation of authentic Serbian food, as well as offering a luxurious taste of foreign lands.
•
Madera
, Bulevar Kralja Aleksandra 43, Belgrade 11000, Serbia. Tel: +38 111 323 1332.•
Mala Fabrika
, Nebojsina 49a, Belgrade, Serbia. Tel: +38 111 243 5727.
Discover
Find your perfect holiday in Belgrade
From 430 hotels.