Where to shop in Lisbon - what to buy and where to get it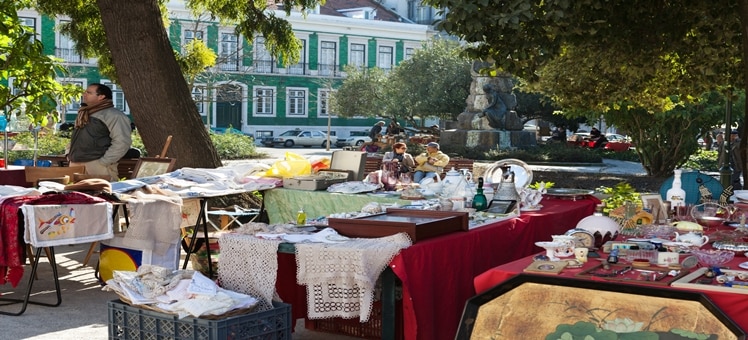 The city mixes big commercial malls with smaller old-fashioned shops to provide an eclectic mix of products to buy throughout the different districts. Its mixture of reasonable prices and mild temperatures makes Lisbon an ideal shopping destination, with it being Western Europe's least expensive capital. Shops usually open around 10am and stay open throughout the evening until roughly 7-8pm throughout the week (with a mid-afternoon break for siesta).
The city used to be split up into artisan sections, with clusters of shops selling the same goods in a set area, and whilst most of these have since disappeared, a few remain. The shops found within the Bairro Alto, Baixa and Chiado districts tend to be family-run, usually selling handmade or unusual items. Lisbon's shopping malls and the city center offer some well-known brands such as Zara and Mango, as well as some higher-end designers. The best buys in Lisbon are soaps, good quality leather, wines, crafts and gold.
Bairro Alto
Quirky clothes and jewelry stores line the two-block chunk of shops within the Bairro Alto district. The backstreets of the district are lined with local designers' boutiques with the especially interesting shops mainly residing on Rua do Norte, Rua da Atalaia, Rua da Rosa and Rua das Salgadeiras. Retrosaria Bijou is a wonky little haberdashery within the district which is a favorite amongst locals and visitors, whilst wine, ports and gourmet products can be found in shops such as Napoleão.
Baixa
Traditional craft shops can be found in the Baixa district, which mixes touristy shops with more genuine local products, as well as international shops. Many of the shops in this district have an old-world feel such as crooked haberdasheries and fabric shops. The main shopping street, Rua Augusta, is lined with a mixture of stores including fine shoe shops. One of the suggested world's finest leather gloves shop, Luvaria Ulisses, sits on Rua do Carmo, which have been custom-making gloves since 1925.
Chiado and Avenida da Liberdade
These are the two most likely areas within Lisbon to find mainstream stores. Chiado is mainly home to high street chains such as H&M, Mango and Zara; however, you can also find the world's oldest bookstore, Betrand, on Rua Garrett in this district. Items within the high street chains are typically sold at a cheaper price compared to those within other major cities. Higher end luxury brands can be found along Avenida da Liberdade including Louis Vuitton, Gucci and Prada as well as some of the finest local shoe and jewelry stores.
Alfama
With its origins dating back to the 12th century, the Feira da Ladra flea market runs every Tuesday and Saturday morning by the National Pantheon in the Alfama district. It's a market of random goods; however it is a shopping highlight of Lisbon. An eclectic mix of items are lined up along stalls and pavements, with hidden gems being amongst the jumble. The Mercade da Ribeira is an open market that is open every morning on the waterfront in the same district. The market sells fresh produce and is popular amongst locals as well as tourists.
Lisbon shopping tips
To explore all of the shopping areas with ease, it is a good idea to consider purchasing a travel card, which will allow you to make use of the local trams and buses. If you decided to explore Lisbon's shopping areas by foot, then it is important to wear comfortable footwear due to the city's cobbled and uneven streets.