Where to eat in Wellington – a food and dining guide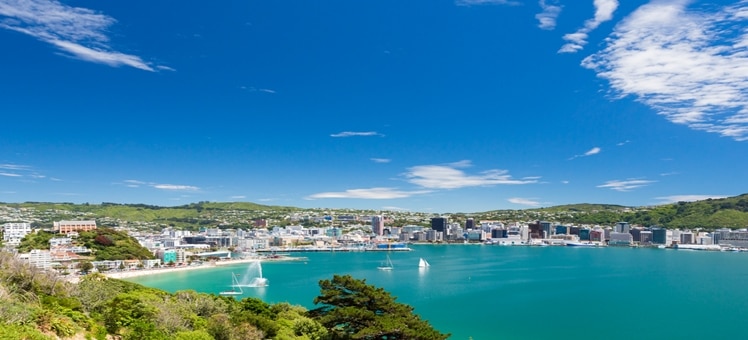 Wellington's culinary scene is world-famous, and for good reason. The city enjoys a healthy supply of fresh produce from both the land and the sea, with specialties including fresh seafood and Wairarapa wine. Take advantage of these superb New Zealand flavors by visiting internationally acclaimed seafood restaurant Martin Bosley's or well-established eatery The White House, which prides itself on using local free range pork and herbs from its rooftop garden.
Oriental Bay
East of the center and with the nickname of 'Millionaire's Row', the golden stretch of Oriental Bay is home to some of the most exclusive restaurants in the city, often specializing in locally caught seafood. Martin Bosley's is such a restaurant – a multi-award-winning eatery with panoramic views of the city and its harbor. Book here for a magnificent waterfront dining experience, with Fish of the Day dishes and a 'Coastal Cuisine' degustation menu. Further down Oriental Parade, you'll find acclaimed restaurant The White House, a fine dining venue with a focus on seafood, prime meat and game. Savor ocean views accompanied by neat dishes such as pan-roasted market fish with Waikanae crab or the sugar cured breast of a Gameford Lodge duck.
•
Martin Bosley's
, 103 Oriental Parade. Tel: +64 4 920 8302•
The White House
, 232 Oriental Parade. Tel: +64 4 385 8555
Waterfront
Wellington Waterfront – particularly the Queen's Wharf area - is packed with trendy cafes and bars. Here you'll find the Dockside Restaurant & Bar, a prime location for waterside dishes and with one of the largest over-water dining decks in the southern hemisphere. Enjoy Kiwi classics such as oysters, whitebait fritters or salt and pepper squid. Further south near the Te Papa Museum lies another dockside gem – the laidback Mac's Brewbar. Unsurprisingly, this restaurant serves an eclectic mix of Mac's beers, but also expect a tasty selection of beer-matched food including crispy pork belly and fresh green-lipped mussels.
•
Dockside Restaurant & Bar
, Shed 3, Queens Wharf. Tel: +64 4 449 9900•
Mac's Brewbar
, 4 Taranaki Street. Tel: +64 4 381 2282
Courtenay Place
A bustling street in the heart of the Te Aro suburb of Wellington, Courtenay Place is a central hub of restaurants, nightlife and entertainment. Perfectly located for a spot of pre-theatre dining, there are plenty of classy and contemporary restaurants to sample here. Arbitrageur Wine Room and Restaurant is a fine choice, serving classic European cuisine and a vast selection of wines in an attractive monochrome setting. Quirky gastropub The Bangalore Polo Club is also nearby, with sultry décor, an amazing atmosphere and legendary ribeye steaks. Watch out for the Bangalore tradition of eating peanuts at the bar and discarding the shells on the floor.
•
Arbitrageur Wine Room and Restaurant
, 125 Featherston Street. Tel: +64 4 499 5530•
The Bangalore Polo Club
, 63 Courtenay Place. Tel: +64 4 384 6416
Cuba Street
Famous nationwide, the vibrant and bohemian Cuba Street boasts unrivalled diversity of its resident eateries; you can find fast food, brash bars and fine dining all nestled together here, making it the ideal evening destination for any budget. Discover Cuba Street's more upmarket side at Logan Brown, an incredibly grand restaurant serving exquisite gourmet dishes without the stuffiness. For a cheaper eat, head down the road to the family-run Italian restaurant Scopa Caffe Cucina – here you'll experience generous servings of pizza and pasta, a buzzing atmosphere and what's described as the best hot chocolate in Wellington.
•
Logan Brown
, 192 Cuba Street. Tel: +64 4 801 5114•
Scopa Caffe Cucina
, 141 Cuba Street. Tel: +64 4 384 6020