What to see and do in Ecuador – a guide to notable attractions and landmarks
What to see and do in Ecuador – a guide to notable attractions and landmarks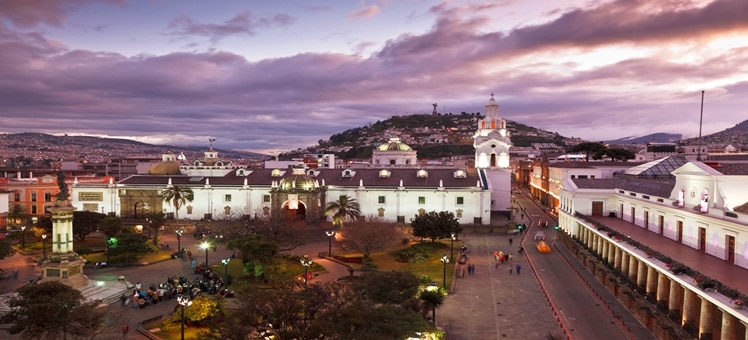 Ecuador is a country of geographical, scenic and historic interest, whose attractions are spread across the country. The diverse country is home to over 1600 bird species that live amongst the changing landscapes, from the vegetated Amazon Basin to the rocky Galapagos Islands. Its people are a cultural blend whose heritage is found in the many iconic landmarks and rural areas.
The Galapagos Islands
A natural wonder and the first named UNESCO World Heritage Site in 1979; the Galapagos Islands are one of Ecuador's prized gems. Completely separate from Ecuador's mainland, the archipelago has its own wildlife native to the area, ensuring it remains a truly unique destination. A 'must' for wildlife enthusiasts, you'll spot giant tortoises, blue or red-footed boobies, iguanas and flamingos, naming but a few.
The Andes
Scaling the breadth of Ecuador, the Andean Mountains cover a vast expanse worth exploring. Two ranges run parallel, divided only by lush greenery. Within them are more than 20 volcanoes, some of which are active or covered in glaciers and snow. Ecuadorian heritage is found here, with various colonial haciendas scattered across the countryside, surrounded by rolling hills. Take a horseback ride to explore the area, and stay at an historic estate or country inn.
Amazon Basin
Just a few hours' ride from the capital of Quito and you can find yourself in the dampest, darkest depths of the Amazon Basin. The overwhelming vegetation provides ample sightseeing for nature enthusiasts, with colorful birds, creepy crawlies and flora. Meander the Amazon's tributaries and you'll likely spot the pink tinged Amazon river dolphin, alligators and otters. Those brave enough can take part in a jungle stay and face the forest's full natural force from dusk till dawn...
Baños
Hot pools and thermal baths lure visitors to Baños, with both public and private options. Nestled in a valley and surrounded by Andean scenery, Baños is Ecuador's most popular thermal springs resort. The area has two luxury spas to cater to its international visitors, and is on-route to the Amazonian Rainforest. Not only is Baños popular with those looking to relax but is also an adventure hotspot with canyoning, mountain biking, tubing and river rafting also available.
Quito
Rich in Pre-Columbian history, the capital city of Ecuador is a vital check point for culture vultures. It was the first city to be named a UNESCO World Heritage Site and is often referred to as the 'Florence of America' due to its European influences and indigenous artwork. The preserved city is dotted with notable cathedrals, churches, convents and monasteries whilst towered over by the Pichincha Volcano and vast surrounding Andean scenery. Complete with modern touches too, the city is equipped with theatres, restaurants, museums and hotels.
Machalilla National Park
Found on Ecuador's Pacific Coast, the Machalilla National Park's combination of beaches, museums, archaeological sites and tropical forest all in one place is alluring. The open seas are often occupied by passing humpback whales between May and October when the mothers come to raise their calves. La Plata Island, also known as 'little Galapagos' is nearby and is a smaller version than the real archipelago, but still hosts many of the true islands' native birds. You can also snorkel and scuba dive around La Plata in its pristine waters.