Nightlife in Rome - Where to Find Bars, Discos, Opera, and Comedy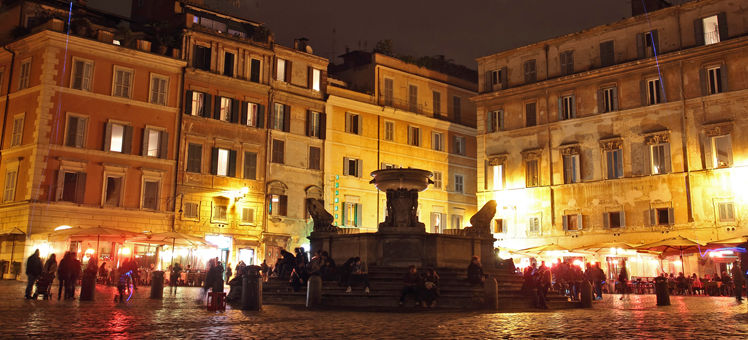 You can start your Roman night with an outdoor aperitivo, followed by light fare and Italian craft beer at a bar. After that, you could listen to an Italian tenor at the opera or head straight for the disco. Among the trendy areas for nightlife are Trastevere, the historic center, and Testaccio.
Rome's bars and clubs
Rome has countless clubs and local bars. Explore the historic center, the area surrounding Campo de' Fiori, and the streets around the Pantheon and you'll find well-dressed locals making their way to hotspots. Local bars usually serve light fare and beer, while clubs offer DJs and serve mixed drinks.
Open Baladin
Around the corner from Campo de' Fiori, Open Baladin is a multi-storey bar with more than 100 Italian beers. They offer a full menu with vegetarian options - don't miss the hand-cut fries.
Via degli Specchi 6, 00186 Rome. Tel: +39 06 6838989
Open Baladin website
Fluid
Entering Fluid is like entering another world. Its vaulted ceiling, lit cube seating, and décor that sparkles in the low light add to the ambience. DJs provide the music.
Via del Governo Vecchio 46/47, 00186 Rome. Tel: +39 06 6832361
Fluid website
Freni e Frizioni
Understatedly hip Freni e Frizioni in Trastevere is known for its affordable cocktails and young crowd. If you arrive in time, you can dine on eclectic dishes from the buffet.
Via del Politeama 4/6, 00153 Rome. Tel: +39 06 45497499
Freni e Frizioni website
Rome's dance clubs
Each neighborhood in Rome offers a different vibe, and its clubs and patrons reflect the area. Many clubs start the evening as restaurants then transition to dance clubs with DJ sets that continue into the early hours.
La Cabala
You'll find La Cabala spread over 3 floors in an elegant old palazzo. You can join in the singing at the piano bar, grab dinner at the restaurant, and dance at the third-floor disco.
Via dei Soldati 25/C, 00186 Rome. Tel: +39 06 68301192
Shari Vari Playhouse
If you like a club with a lot of musical variety, you'll enjoy Shari Vari, with each of its rooms moving to a different beat.
Via di Torre Argentina 78, 00186 Rome. Tel: +39 06 68806936
Shari Vari Playhouse website
Rome's opera and comedy
At Rome's theaters and opera houses, you'll find classical opera and ballet, symphonic music, plus big names in pop. In summer, the city hosts many outdoor cultural evenings, crowned by the summer season at Baths of Caracalla. Throughout the year you can also find outdoor movie theaters, museum nights, and more.
Rome's Comedy Club
This is the only English-speaking comedy club in Rome. Reservations are suggested because seats fill fast. Tickets include admission to the show and a cocktail.
Via Francesco Carletti 5, 00154 Rome. Tel: +39 06 5755561
Rome's Comedy Club website
Teatro dell'Opera di Roma
Experience the magic of Rome's opera and ballet at the opulent Teatro Costanzi or under the stars at the Baths of Caracalla. There's a year-round calendar of events offering opera and ballet classics.
Piazza Beniamino Gigli 1, 00184 Rome. Tel: +39 06 481601
Teatro dell'Opera di Roma website
Discover
Find your perfect holiday in Rome
From 6500 hotels.