Good to Know - Travel Tips for a Surfers Paradise Vacation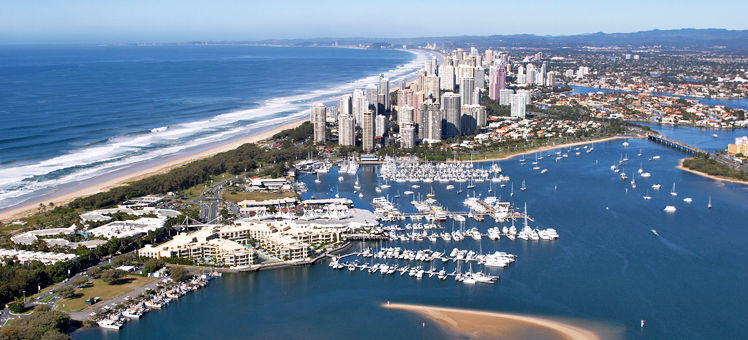 From a sugarcane plantation in the late 1800s, to one of Australia's most visited destinations, Surfers Paradise encapsulates the sea-and-sand lifestyle that is so integral to Australian culture. Its iconic skyscrapers - many of them hotels - tower over a wide beach perpetually lapped by rolling Pacific surf and dappled in the southern sun. A plethora of theme parks and activities make for a fun and varied vacation.
Best time to travel
Queensland's Gold Coast region is blessed with superb weather. Australians who live in the chillier, southern part of the country make the journey here by the thousands for some winter sun, with daytime temperatures averaging 20 degrees C (68 F). December and January are the hottest and busiest months, with temperatures topping 30 degrees C (86 F). Good deals, and equally good weather, can be found March to May and September to November.
Not to miss
Some of Australia's most spectacular and cutting-edge amusement parks are located around Surfers Paradise, such as Infinity - a virtual-reality maze - and Movie World. The dense rain forests of the Gold Coast's hinterland offer walking trails, skywalks, lookouts, and natural waterfalls. You can cuddle a koala, feed a kangaroo, or pat a dolphin at the numerous zoos, wildlife sanctuaries, and aquariums that dot the Gold Coast. Lovers of natural phenomena can experience whale-watching just 10 minutes offshore, from June to December.
Getting around
Gold Coast Airport (OOL), situated 20 km south of Surfers Paradise, welcomes flights from within Australia, from New Zealand, and from some Asian cities. Long-haul flights land at Brisbane International Airport (BNE), 100 km to the north. Most hotels offer transfers to and from both airports, and a fast train connects Brisbane airport with the Gold Coast. Surfers Paradise and its surrounding neighbourhoods are serviced by an extensive public bus and light-rail network, complemented by privately run shuttles to the major attractions. That said, a hire car offers the freedom to explore the hinterland and off-the-beaten-track areas.
Cuisine
Being such a widely appealing destination, Surfers Paradise caters to all tastes at the dining table. Seafood and fish take pride of place, with delicacies such as soft-shell crab and barramundi available in fine dining establishments. Relaxed beachside cafés are perfect for family meals and robust breakfasts, while pubs offer basic bistro fare such as grilled steak and chips. Asian food is a favorite all over the country, with Thai and sushi topping the list.
Customs and etiquette
Australians are renowned for their open, easygoing attitudes and lack of formality. Handshaking is appreciated in social situations, and "pleases and thank-yous" are widely used. The overall dress code is smart and casual, though some pubs and restaurants may insist on proper footwear as opposed to flip-flops. Smoking in public places, including beaches, is not only frowned upon, but also often illegal, and topless bathing is not widely accepted on city beaches. Some very smart restaurants may not be child-friendly - it's always best to check.
Fast facts
Population: 18500

Spoken languages: English

Electrical: 230 volts, 50 Hz, plug type I

Phone calling code: + 61 7

Emergency number: 000; 112 on cell phone