Arts and Culture in Patong - Galleries, Museums, and Muay Thai Matches
Arts and Culture in Patong - Galleries, Museums, and Muay Thai Matches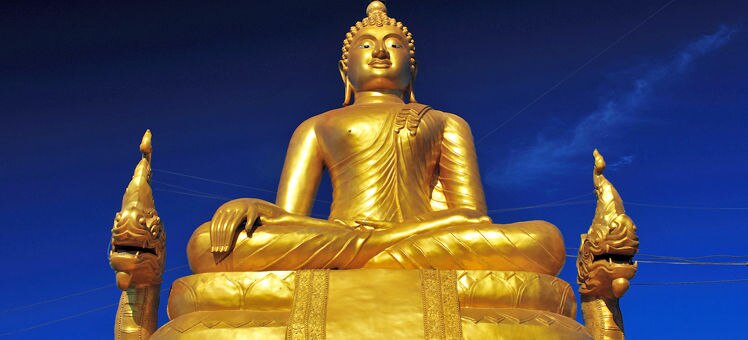 Because Patong has grown up around offering beach activities by day and a buzzing nightlife after dark, the city's arts scene is mainly geared towards stage entertainment. There are a few small museums, art galleries, and temples that offer a few hours' distraction within the city limits, and you'll find more cultural sites of interest elsewhere on Phuket Island.
Temple tripping in Patong and beyond
Wat Suwan Khiri Wong temple - known as Wat Patong - is located east of Patong's vibrant downtown, and is the main hub of Theravada Buddhism in the area. For an oversized experience, you can visit the golden gilded Buddha at Wat Khao Rang in Phuket town, or the Big Buddha which smiles benevolently over the island and ocean from its seat at Wat Phra Yai in Chalong.
Wat Suwan Khiri Wong (Wat Patong)
Monks reside here year-round; when you visit, you can usually tour the monastery building, and the main temple and its statues of Lord Buddha.
Phisit Karani Road, Patong Beach, Phuket 83100
Big Buddha (Phra Puttamingmongkol Akenakkiri Buddha)
At 45 meters tall, it's Phuket's largest and best known Buddha statue, renowned for its enigmatic white smile.
Soi Yodsanae, Chalong, Mueang District, Phuket 83000. Tel: +66 81891 3827
Big Buddha (Phra Puttamingmongkol Akenakkiri Buddha) website
Muay Thai - Thai boxing
Muay Thai is Thailand's cultural martial art, developed centuries ago by fighters who used their entire body as a weapon. It's referred to as the "the art of 8 limbs" as combatants use their fists, knees, elbows, and shins. Muay Thai is highly esteemed by students of martial arts all over the world, and many people travel to Phuket to train and watch Muay Thai every year.
Bangla Boxing Stadium
Fights typically take place every Wednesday, Friday, and Sunday from 9 PM until around midnight.
198/4 Ratautit Road, Patong Beach, Kathu, Phuket, 83150. Tel: +66 89 726 1112
Bangla Boxing Stadium website
Patong Boxing Stadium
Fights take place here every Monday, Thursday, and Saturday evening. You can also take part in daily fitness training and conditioning sessions, and spar in the ring.
2/59 Sai Nam Yen Road, Patong Beach, Amphur Kathu, Phuket 83150. Tel: +66 76 345 578
Patong Boxing Stadium website
Patong's museums and art galleries
Patong's museum and art gallery scene might be small, but it's a pleasant counterpoint to hot sand and noisy bars. Art galleries tend more towards replicas of famous paintings or images that you bring for artists to copy. King Art Studio is one place to peruse paintings by local artists. At Kathu Mining Museum, you can peek into Phuket's tin-mining past.
Kathu Mining Museum
Here you can get an insight into Phuket's tin mining heritage, from how the mines operated day-to-day to how workers relaxed during their downtime.
Moo 5, Khatu-Nakoh Road, Tambon Khatu, Amphoe Khatu, Phuket, 83120. Tel: +66 81 535 3187
King Art Studio
King Art sells original contemporary and classical Thai art and reproductions through its 3 outlets in Patong. You can also commission portraits to be completed in 24 hours.
50 Bangla Rd, Patong, Phuket 83500. Tel: +66 7 6293 035
King Art Studio website
Learning Thai cooking in Patong
It's said that the best way to learn about a culture is through its food. Taking one of the many cooking classes offered about town is a great way to learn about Thai culinary traditions and customs. And you get to enjoy the delicious fruits of your labors.
Pum Thai Restaurant & Cooking School
Pum's cooking school is widely regarded as one of the best on Patong Beach. Daily classes range from 30 minutes to 6 hours, and private and group tuition is available.
204/32 Rajuthit 200 Pi Road, Patong Beach, Ampur Kathu, Phuket 83150. Tel: +66 7 634 6269
Pum Thai Restaurant & Cooking School website