Shopping in Harrogate - From Antiques and Artisan Workshops to Farmers' Markets and Food Halls
Shopping in Harrogate - From Antiques and Artisan Workshops to Farmers' Markets and Food Halls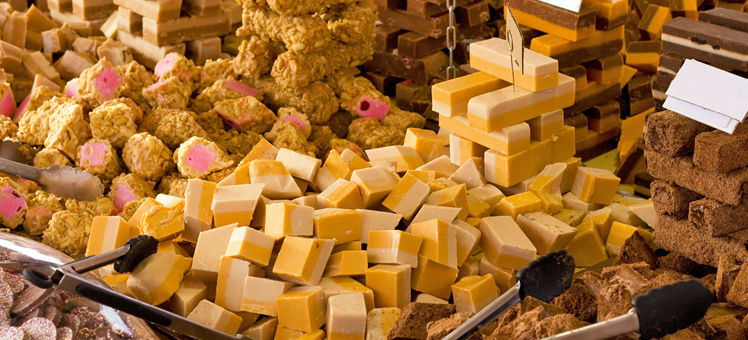 Harrogate's compact centre is made to measure for window-shopping. You'll find plenty of quirky, individual boutiques, art galleries, and antique stores in the arcades and streets in the middle of Harrogate, and an assortment of larger malls and chain stores nearby. Farmers' markets are held in many smaller towns and villages around the region, where you'll also find artists' studios and artisans' workshops.
Montpellier Quarter
Most of Harrogate's antique dealers and designer boutiques cluster in the Montpellier Quarter, in the city centre. With more than 80 independent stores, there's enough to satisfy even the most dedicated shopper. If you have a sweet tooth, head for Farrah's Food Hall, home of Harrogate's famous toffees. Feeling extravagant? Go antiquing for diamonds and silver at shops such as Montpellier Antiques, or pick up an original artwork at Sutcliffe Galleries.
Farrah's Food Hall, 31 Montpellier Parade, Harrogate HG1 2TG; Tel: +44 1423 525266; Website: Farrah's Food Hall

Montpellier Antiques, 12 Montpellier Mews, Harrogate HG1 2TQ; Tel: +44 1423 538484; Website: Montpellier Antiques
Around downtown Harrogate
More than 30 stores cluster in the Victoria Shopping Centre, opposite Harrogate's train station, selling everything from clothes and cosmetics to mobile phones, games, and toys. Three short blocks away, you'll find designer brands such as Mulberry, Armani Jeans, Ted Baker, Liberty, and Polo Ralph Lauren at Hooper's, a smart department store.
Farm shops and markets
The Yorkshire Dales is a region renowned for fine produce such as Wensleydale cheese, craft-brewed ales, baked goods, jams and honey, and all sorts of pickles and preserves. You'll find them in farm shops and at regular farmers' markets in the centre of towns and villages such as Masham, as well as at the RHS Garden Harlow Carr Plant Centre and Gift Shop, just outside the centre of Harrogate.
Artists in Ripon
Many artists and craftspeople make their homes in Ripon, and some have studios along Kirkgate, the city's main shopping street. You'll find contemporary and original prints, watercolours, and oil paintings at David Stead Gallery, Alan's Gallery, and other galleries nearby.
Browsing in Ripley
Though it's tiny, the village of Ripley has a handful of shops and galleries that are worth a look. Paintings, ceramics, sculpture, and works in wood and stone are on show at the Chantry Art Gallery, in the centre of the village. Ripley Castle, on the edge of the village, has a gift shop selling toys, postcards, and souvenirs.