Swansea - Home of Dylan Thomas and Proud of its Industrial Past
Swansea - Home of Dylan Thomas and Proud of its Industrial Past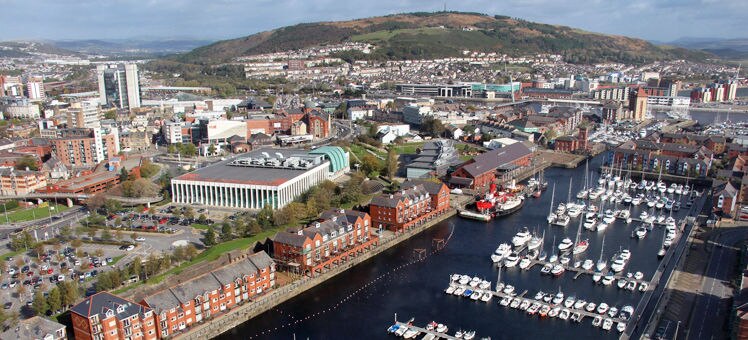 Once ranked among the world's wealthiest cities, Swansea endured decades of decline when the coal mines that supported it vanished. But recent rejuvenation has seen former docklands areas reborn as stylish marinas. New museums, restaurants, and shops have all returned the hometown of Welsh poet Dylan Thomas to its former glory. And its long expanse of sandy beaches might even make you forget you're in a city at all.
Cultural highlights
Swansea is primarily known for two things: its maritime and industrial heritage and for being the birthplace of Dylan Thomas. Both are celebrated equally in the city. The Dylan Thomas Centre chronicles the life and works of one of Wales's best-loved literary figures. In the western neighbourhood of Uplands, you can also visit the home in which he was born. It has been restored and furnished to look how it would have done in 1914, the year of the poet's birth.
Dylan Thomas Centre, Somerset Place, Swansea SA1 1RR; Tel: +44 1792 463980; Website: Dylan Thomas Centre

Dylan Thomas Birthplace, 5 Cwmdonkin Drive, Swansea SA2 0RA; Tel: +44 1792 472555; Website: Dylan Thomas Birthplace
Maritime and industrial heritage
In the 19th century, Swansea was among the world's most important seaports. Local merchants made fortunes from shipping coal from the mines of South Wales to every outpost of the British Empire. You can learn all about this proud past at the National Waterfront Museum, in the Maritime Quarter. Today the coal mines may be gone, but Swansea has reinvented itself. Former docks have been turned into yachting marinas. Now surrounded by bars and restaurants, these are bursting with life by day and night.
National Waterfront Museum, Oystermouth Road, Maritime Quarter, Swansea SA1 3RD; Tel: +44 300 111 2333; Website: National Waterfront Museum
Shopping highlights
Swansea is a regional shopping hub, with out-of-town malls, covered shopping centres, and department stores. A highlight for many, however, is a chance to explore Swansea Market, among the largest covered markets in the U.K. You could spend hours browsing its fresh food and flower stalls, or snacking on locally caught cockles and warm Welsh cakes. If you're in the city centre, you may also want to stop for refreshments at Kardomah Restaurant and Coffee Shop. This local institution was serving lattes and espresso for decades before multinational coffee chains permeated the world. It still has its original 1957 decor.
Swansea Market, Oxford Street, Swansea SA1 3PQ; Tel: +44 1792 654296; Website: Swansea Market

Kardomah Coffee Shop, Morris Buildings, 11 Portland Street, Swansea SA1 3DH; Tel: +44 1792 652336; Website: Kardomah Coffee Shop
Miles of sand
When visitors hear about Swansea's industrial past, few expect the city to also have a vast and inviting beach. It curves for 6 miles around Swansea Bay in a crescent shape, from the harbor entrance in the north, to Mumbles Head in the south. In between is a near-unbroken stretch of sand. Bring your kids here in summer and you may find it hard to drag them away. In winter, the beach becomes a centre for fitness fans who come looking for fresh air and a bracing hike.
Day trips from Swansea
Swansea is an industrial town, but you won't have to travel far to find peaceful countryside escapes. A short drive southwest from the city will take you to the Gower Peninsula. It's dotted with pristine villages that seem unchanged over time, and its wild coastline is popular with hikers. You'll also find several small bays with sandy beaches. To the northeast, the hills soon become wilder, as you head into the Brecon Beacons. Along the way, you'll be able to visit the spectacular network of underground caves at Dan-yr-Ogof.