Broad Beaches, Tranquil Temples, and Bustling Nightlife - A Guide to Patong
Broad Beaches, Tranquil Temples, and Bustling Nightlife - A Guide to Patong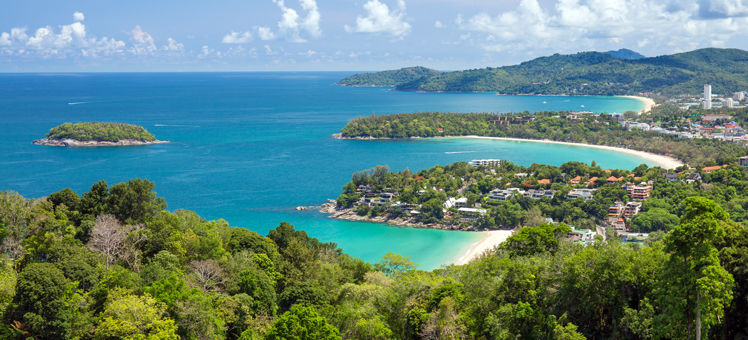 Pa Tong - or Patong as it's generally known - is Phuket's most famous beach destination. Sun worshippers flock to the beach by day, and after dark, the town comes alive with hundreds of bars, clubs, and discos. And while the entertainment scene here tends to cater more to adults, you'll also find plenty of family-friendly activities in and around Patong, including water parks and spectacular stage shows.
Sandy beaches, sheltered bays, and water parks
Patong Beach is the town's focal point by day, and it can get crowded. Kamala Beach, a sheltered bay and fishing village north of town, is more relaxed than Patong, with pleasant places to eat, stroll, and lounge. South of Patong, Karon is one of Phuket's longest beaches. You'll find excellent snorkeling and diving spots, especially at its southern tip. Kata, a few minutes south of Karon, is the place to go for swathes of palm-lined white sand and clear water. Paradise Beach is only 150 meters long and offers safe swimming along with sweeping views across Patong Bay.
Surf House Phuket, 4 Pakbang Road, Karon, Muang, Phuket 83100; Tel: +66 8197 97737; Website: Surf House Phuket
Waterfalls, museums, and temples
Wat Suwan Khiri Wong, known as "Wat Patong," is a serene oasis in Patong's hectic downtown, and the hub of local Theravada Buddhism. You may see the resident monks collecting alms in the town centre in the morning. Sights include the main ubosot (chapel), pagoda, monastery, and statues of Buddha. The ascent to Kathu Waterfall is a great place to work up a sweat before you plunge into one of the cool drop pools lining the route. At Kathu Mining Museum you can peek into Phuket's tin-mining past, from the mines' operations to the opium dens frequented by workers.
Kathu Mining Museum, Moo 5, Khatu-Nakoh Road, Tambon Khatu, Amphoe Khatu, Phuket, 83120; Tel: +66 81 535 3187; Website: Kathu Mining Museum

Wat Suwan Khiri Wong, Phisit Karani Road, Patong Beach, Phuket 83100; Website: Wat Suwan Khiri Wong
Patong's frenetic nightlife
As the sun goes down on Patong, Bangla Road comes alive. Bars and clubs crank up the neon lights, and loud music blasts from the speakers, as the bars compete with each other to attract customers. Paradise Complex caters to gay travellers, while Simon Cabaret is a glittering song-and-dance extravaganza, featuring the island's famous ladyboys. At Danze Fantasy Theatre, illusionist Joe Labero and a troupe of international dancers stage nightly performances, some of them fresh from Vegas nightspots. You can catch professional and amateur Muay Thai bouts at Patong Boxing Stadium and Bangla Boxing Stadium.
Paradise Complex, Rat-U-Thit Road, Patong, Kathu, Phuket 83150; Website: Paradise Complex

Danze Fantasy Theatre, 5 Bangla Rd, Patong, Kathu, Phuket 83150; Tel: +66 7634 2858; Website: Danze Fantasy Theatre
Eating out in Patong
Patong offers eateries to please every palate, from rustic shacks serving family-style Thai dishes, to upscale European cuisine. If you hanker for Middle-Eastern flavors or an Indian curry, you'll find that too. There are also plenty of spots catering to vegetarians - it's common in Buddhist cultures for the faithful to forgo meat a few days a month. Seafood lovers should check out open-air Patong Seafood Court, where numerous stalls serve crab, lobster, and the catch of the day. If you're looking for a more high-end Thai experience, Baan Rim Pa serves delectable Royal Thai cuisine against an ocean backdrop.
Patong Seafood Court, Intersection of Sawatdirak Road and Beach Road, Patong, Kathu, Phuket 83150; Website: Patong Seafood Court

Baan Rim Pa, 223 Prabaramee Road, Patong Beach, Phuket 83150; Tel: +66 7 634 0789; Website: Baan Rim Pa