Malls, Bespoke Tailoring, and Late Night Markets - Where to Shop in Patong
Malls, Bespoke Tailoring, and Late Night Markets - Where to Shop in Patong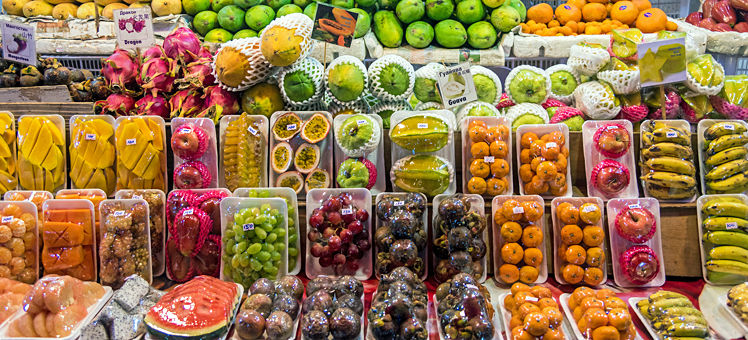 What Patong might lack in diversity of shopping experiences, it makes up for in opportunities. Local markets and malls do a roaring trade in copied leather goods and factory surplus clothing. Downtown's ever-growing plethora of tailors can quickly work up a bespoke suit for a fraction of the prices commanded along Savile Row. You'll be expected to haggle, and jokes and a smile will take you a long way.
Patong's Malls
Malls are a great place to escape the oppressive midday heat or rainy season downpours, and Patong is home to Phuket's most modern places to shop. Jungceylon is the largest mall, featuring around 200 small stores, anchored by outlets of upscale department store Robinson and a Big C supermarket. Futuristic Banana Walk comprises DVD shops, cosmetics stores, and fashion boutiques. Patong Promenade is a great place to pick up leather bags and shoes, t-shirts, flip flops, and assorted souvenirs. Bangla Mall along Bangla Road is another shopping hub with a wide range of stores and entertainment outlets.
Jungceylon, 181 Rat-u-thit 200 Pee Road, Patong, Kathu, Kratu Phuket 83150; Tel: +66 76 600 111; Website: Jungceylon

Banana Walk, 124/11 Thaweewong Road, Patong, Kathu, Phuket 83150; Tel: +66 7 634 1489; Website: Banana Walk
Markets in Patong
Markets are a great place to pick up souvenirs and branded apparel produced at local factories - admittedly, some pieces are more legit than others. Royal Paradise Night Market opens at 6 PM and is the place to shop for everything from sun hats and beachwear to home wares, lamps, souvenirs, and diamanté mobile phone covers. Banzaan Market sells fresh produce and small knickknacks from early morning until dusk. Markets are also held at the Karon temple grounds on Tuesday and Saturday afternoons, and in Kamala on Wednesday and Friday nights. Bring your best haggling skills, and always bargain with a smile.
Royal Paradise Night Market, Rat-U-Thit 200 pee Road, in front of the Royal Paradise Hotel, Patong, Phuket 83150; Website: Royal Paradise Night Market

Banzaan Market, Sai Kor Road, behind Jungceylon mall, Patong, Phuket 83150; Website: Banzaan Market
Patong's small stores and boutiques
OTOP - One Tambon, One Product - was an initiative designed to give villages across Thailand an outlet to promote their star products. It was originally intended that items such as silks, fabrics, ceramics, and food products would be the main attraction here, but DVDs, mass-produced garments, and knock-off handbags tend to dominate the stalls. Future Plaza is another place to peruse small stores and boutiques, most of which tend to be of higher quality than elsewhere in Patong. Luxury boutiques are thin on the ground, but most high-end hotels offer a small boutique.
OTOP, Rat-U-Thit Road, Patong, Kathu, Phuket 83150; Website: OTOP

The Future Plaza, Prachanukhro Road opposite Duangjitt Resort, Patong, Kathu, Phuket 83150; Website: The Future Plaza
Bespoke Tailoring in Patong
Because labor is much cheaper in Thailand than in the West, getting bespoke clothing tailored while on vacation is very popular - especially as a full suit can be worked up in a few days or less. You can bring your favorite garments for tailors to copy, choose from an extensive collection of fashion magazines and catalogs, or even draw up something of your own design. Narry Bespoke Tailors is one of Phuket's best known shops, and has customers all over the world. Magnifique and Instyle tailors are also ranked highly by style-conscious visitors.
Narry Tailor, 92/12-18 Soi Dr. Wattana, Thaweewong Road, Kathu Patong Beach, Phuket 83150; Tel: +66 7 634 5727; Website: Narry Tailor

Magnifique Tailor, 80/3-4 Soi Dr Wattana, Thaweewong Road, Patong, Phuket 83150; Tel: +66 7 629 2949; Website: Magnifique Tailor