Where to Stay in Jackson Hole - From Rustic Cabins to Refined Rooms
Where to Stay in Jackson Hole - From Rustic Cabins to Refined Rooms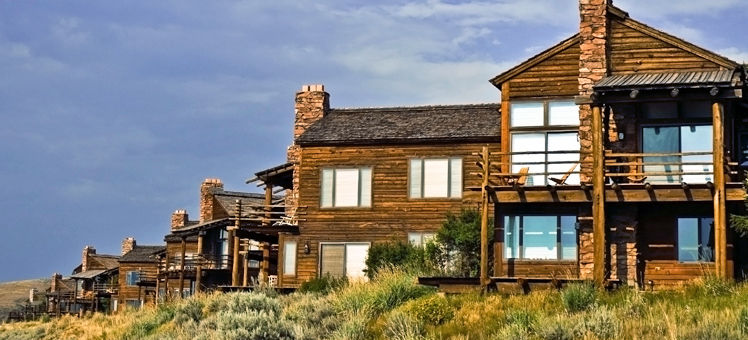 Lodging options abound in Jackson Hole, including conveniently located motels and ski lodges, elegant spa retreats, rustic ranches, cabins, and campsites. If you've come to town to pursue outdoor activities like skiing or hiking, you'll want to book accommodation near your favorite mountain. If shopping and dining are on the agenda, set your sights on downtown Jackson where basic and upscale hotels mix with restaurants, stores, and galleries.
Downtown Jackson
Home to cowboy bars, eateries, quaint shops, and historical attractions - most within a few blocks of each other - downtown Jackson is a low-key mountain town that has preserved much of its western heritage. Clustered around Jackson Town Square, the family-friendly downtown area is easy to navigate on foot.
For the most part, the downtown area is populated with no-frill chain hotels and locally owned motels. Amenities tend to be minimal, though some properties have fireplace rooms and spa tubs. For something a little more upmarket, you can choose from a handful of historic hotels and a growing number of boutique hotels, which are characterized by refined, mountain-style decor.
Teton Village
Located 12 miles north of Jackson Town Square, Teton Village is the home of Jackson Hole Mountain Resort and a popular destination for skiers in the winter, and hikers and mountain bikers in the summer. The Swiss-style village houses a plethora of cosmopolitan comforts like espresso stands, restaurants, and breweries, as well as shops and convenient services, including a bank and grocery store. If you've come for recreation, you'll be steps from mountain trails, an aerial tram, and a ski lift.
Teton Village offers accommodation for every type of traveller, whether you're keen to cook for yourself in a private home or condo, luxuriate in a cozy mountain lodge, or sleep in a basic ski hostel. Amenities range from bare bones to world-class, with some places offering onsite restaurants, full-service spas, and indoor and outdoor pools.
Snow King Mountain
Snow King Mountain is located less than 1 mile from Jackson Town Square. The state's first ski area, founded in 1939, it attracts skiers and snowboarders looking to navigate its more than 1,500 feet of elevation in winter months. The summer season lures hikers and bikers eager to experience its mountain trails and famous Alpine Slide. The resort houses restaurants and shops, and features recreational facilities like an indoor ice rink and a snow tubing park.
You can choose from luxury rooms, suites, and condominiums at the resort hotel. The rooms and suites feature stunning mountain views and charming western decor, while the rustic-chic condominiums, which range from basic 1-bedroom units to terraced 3-bedroom suites, offer comforts like kitchens, laundry facilities, and fireplaces.
Search for Snow King Mountain hotels
Greater Jackson Hole
If you're visiting Jackson Hole to experience the peace and beauty of the western landscape, consider booking a rural property that takes advantage of the area's ample supply of open land. Such properties include ranches, cottages, and cabins, as well as spa resorts, campsites, and RV parks. Accommodation ranges from rustic to luxurious, which means there's a style and space for everyone.
Many of the properties situated in natural settings offer guided excursions, including horseback riding and wildlife safaris. If you've come to Jackson Hole to be pampered, you'll find spa resorts with award-winning features like hot tubs with mountain views and organic spa treatments. The area is also home to nearly a dozen campgrounds and RV parks, some of which have swimming pools.