10 Best Things to Do in Seville
What is Seville Most Famous For?
The best things to do in Seville are based around beautiful weather, juicy fruits and a relaxed vibe. The combination of Muslim and European architectural styles, known as mudéjar, is unique to southern Spain and is an interesting part of exploring Seville. You'll see grand old buildings throughout the city, along with tree-lined plazas offering much-needed shade.
The Flamenco spirit is a big part of the Andalusian culture and the city knows how to have fun, particularly during the big spring festivals from March to May. During mid-summer, Seville is regularly the hottest city in Europe so dress light and pace yourself.
What are the best things to do in Seville?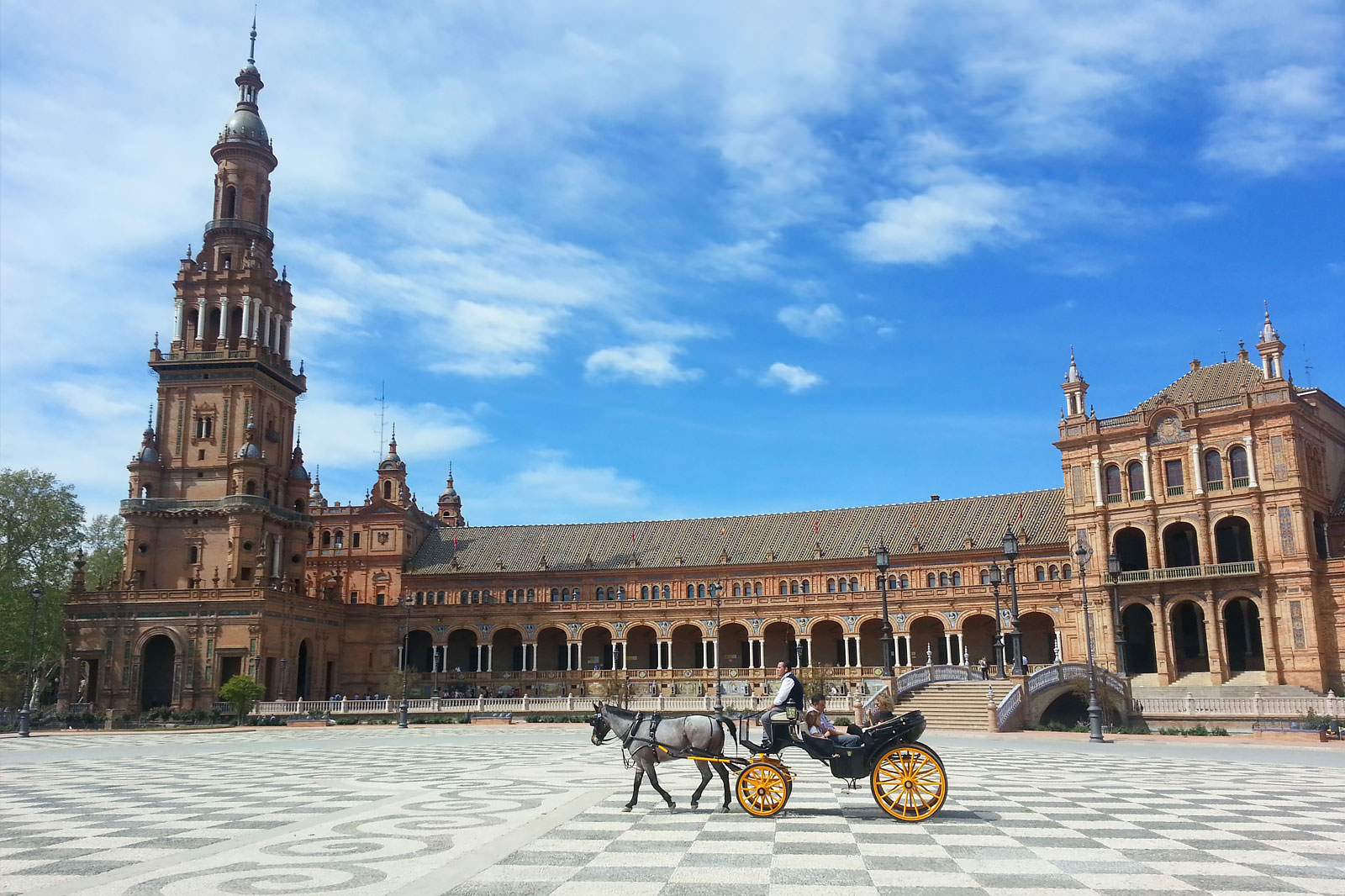 Start the day in Plaza de España
Seville's most famous public square
Plaza de España is a beautiful landmark in central Seville. Built in the 20th century to reflect the architectural styles of the city, the size of this square is seriously impressive. Running through the plaza is a water feature with fountains and shaded pavilions. If Plaza de España looks strangely familiar to you, it's probably because it has featured in several movies, including Star Wars and Lawrence of Arabia.
Following a complete refurbishment in 2010, you can see lots of specific details wherever you look, including some intricately designed ceramic tiles and lamps. Live shows throughout the summer will keep you entertained.
Location: Av de Isabel la Católica, 41004 Sevilla, Spain
Couples
Families
History
Photo
Budget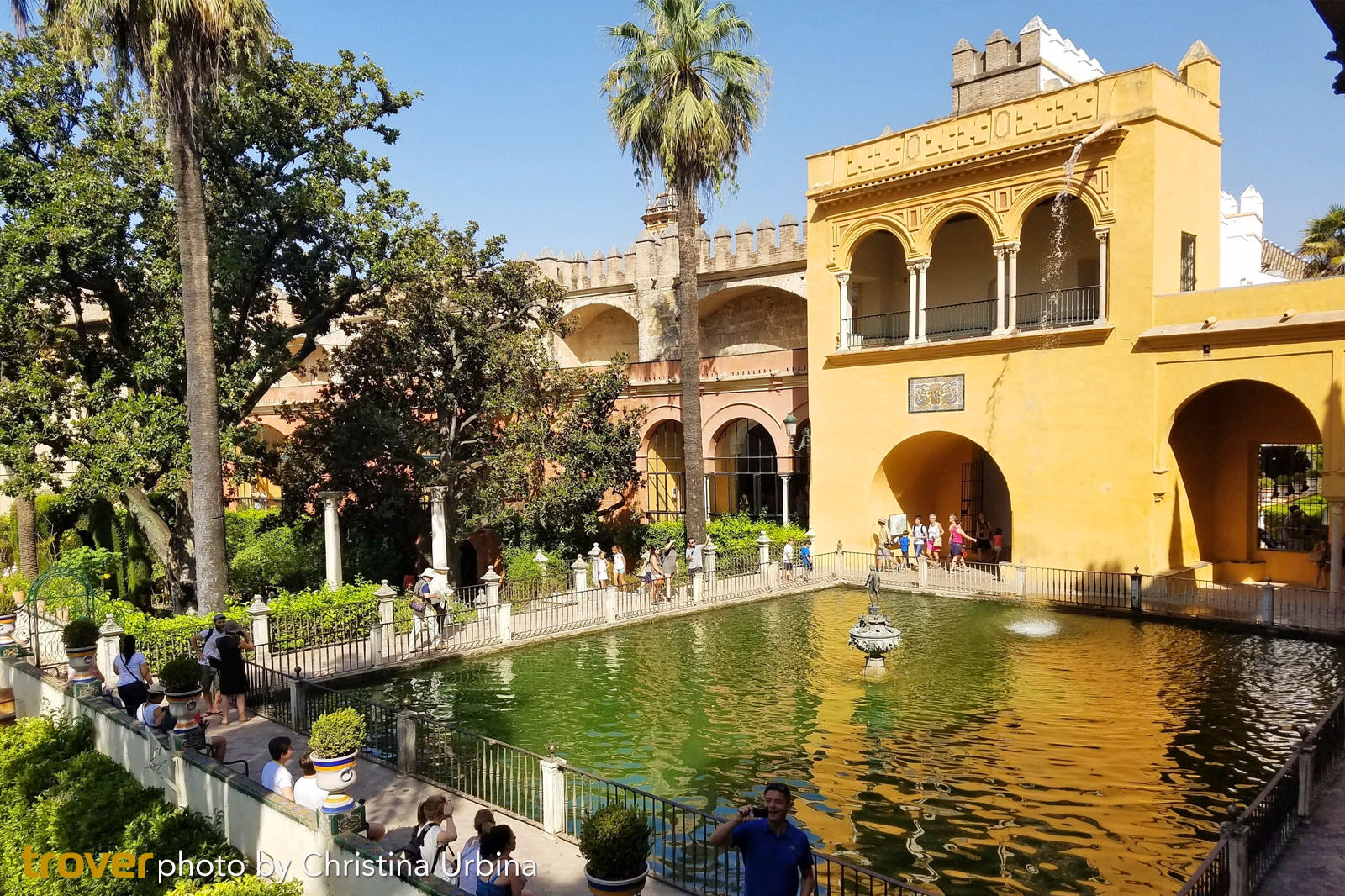 Book a guided tour of Real Alcazar (in advance)
Don't waste your precious hours in the queue
A mudéjar masterpiece, this UNESCO-listed palace is seemingly on every visitor's 'to do' list. Built in the 7th century with several major additions over the centuries, parts of the Alcazar complex are still in use by the Spanish Royal family. The coffered ceilings, ornate archways and stunning gardens capture a feeling of opulence that is only slightly ruined by the bustling crowds. It can take hours of queuing to get in unless you book a guided tour in advance – it's well worth it.
Location: Daily from 9.30am to 5pm
Open: Daily from 9.30am to 5pm
Phone: +34 954 50 23 24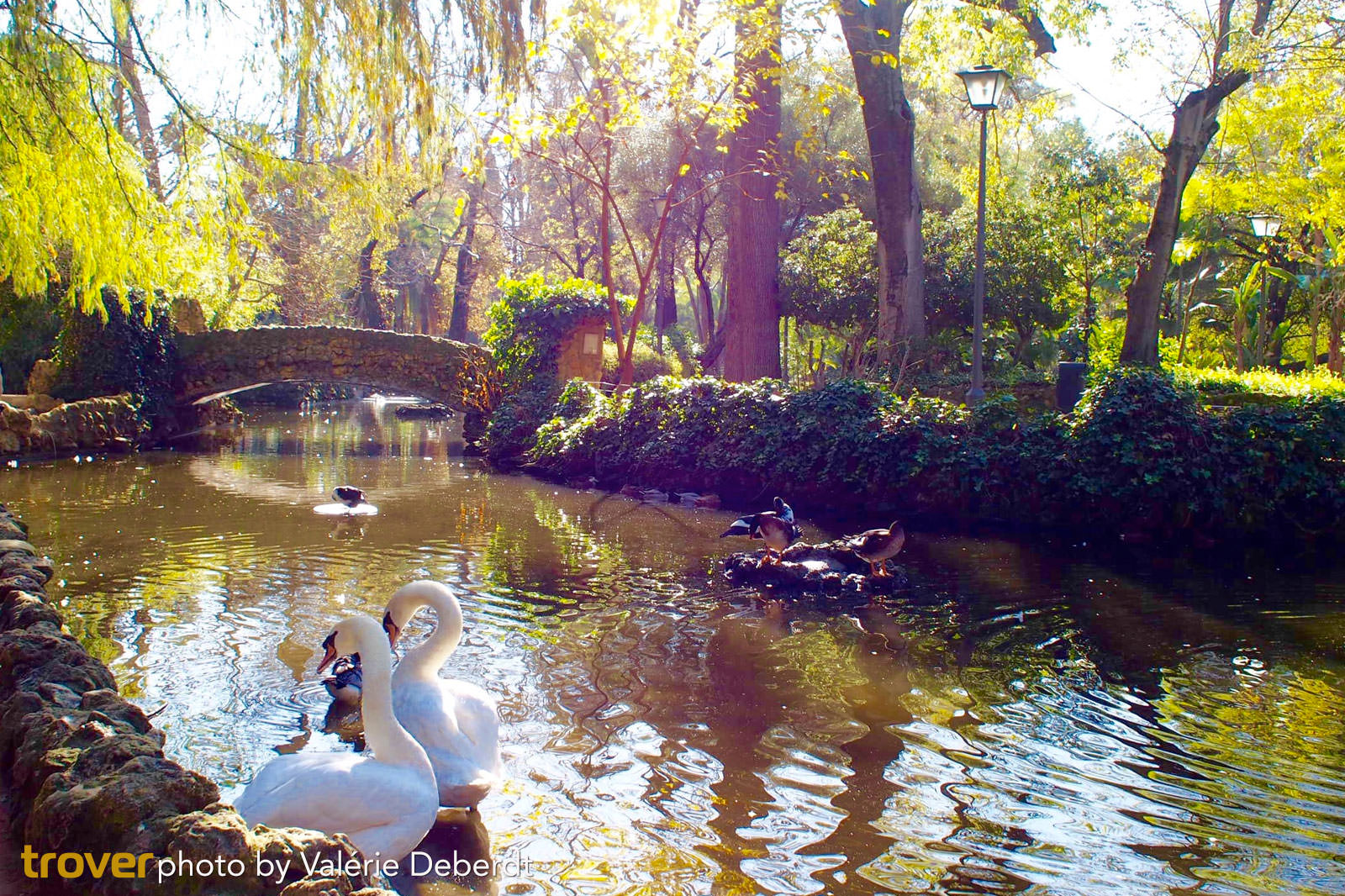 Smell the roses in Parque de Maria Luisa
Seville's largest park is lovely in every season
This huge expanse of nature in Seville is perfect for a stroll. You'll find an aquarium and the Museum of Popular Art and Traditions around the Parque de Maria Luisa. Large sculptures and mosaics are scattered throughout the park, with plenty of benches shaded by large trees. Most people stop for a refreshing drink at the cafés and bars lining the main pathway through the park.
Location: Paseo de las Delicias, 41013 Sevilla, Spain
Open: Daily from 8am to 10pm
Phone: +34 955 47 32 32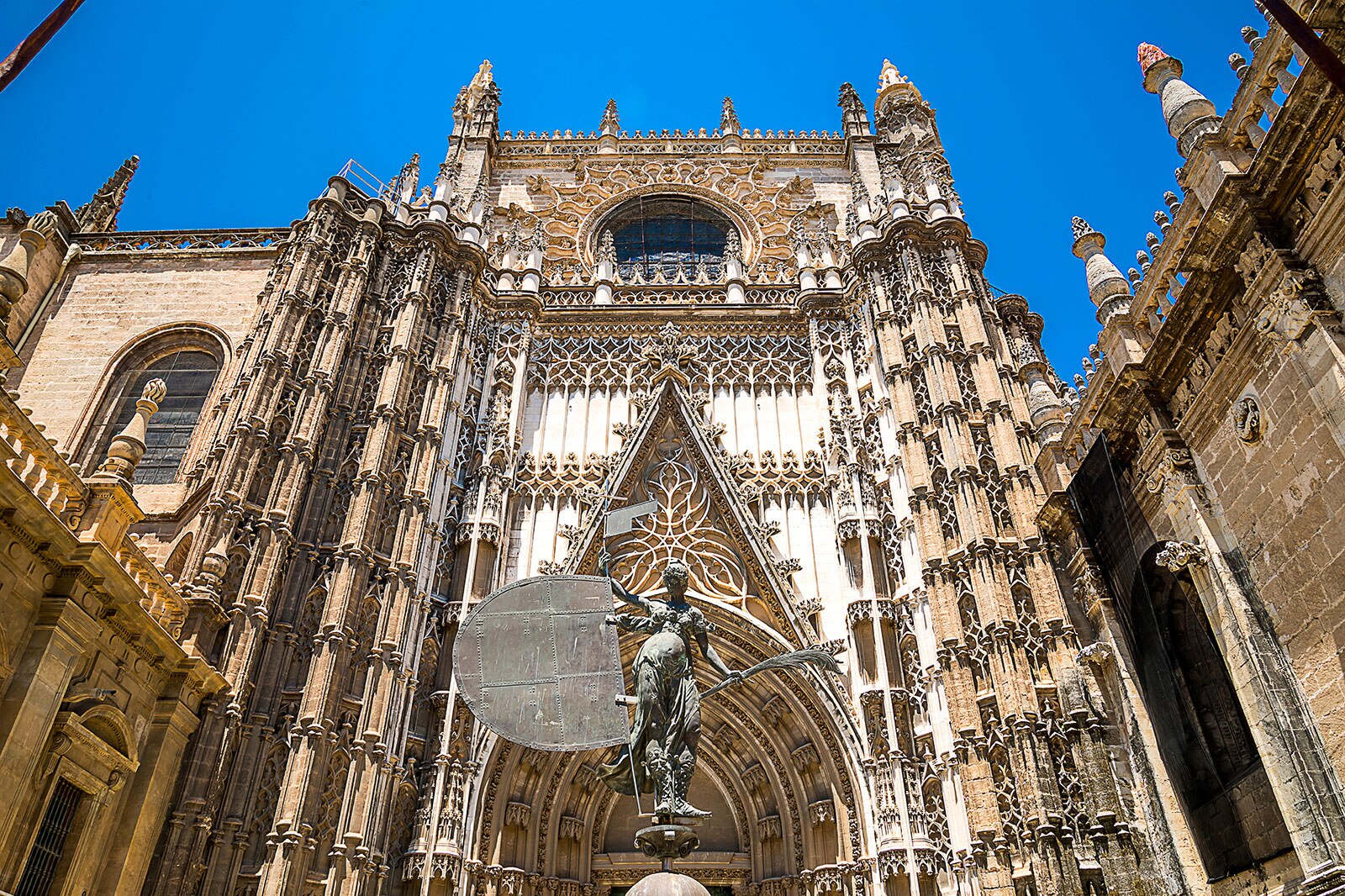 Must See: Seville cathedral
See the tomb of Christopher Columbus and several past royals
Seville Cathedral was built in the 16th century and remains the largest Gothic cathedral in the world. The looming vaults inside have the effect of making you feel small and inconsequential. Lots of religious iconography is displayed within, including some impressive reliefs detailing the life of Jesus. After exploring the church, head up the bell tower for some lovely views over the Old City. Exploring this stunning piece of architecture is one of the best things to do in Seville.
Location: Av. de la Constitución, 41004 Sevilla, Spain
Open: Monday - Saturday from 11.00am to 5.30pm, Sundays from 2.30pm to 6.30pm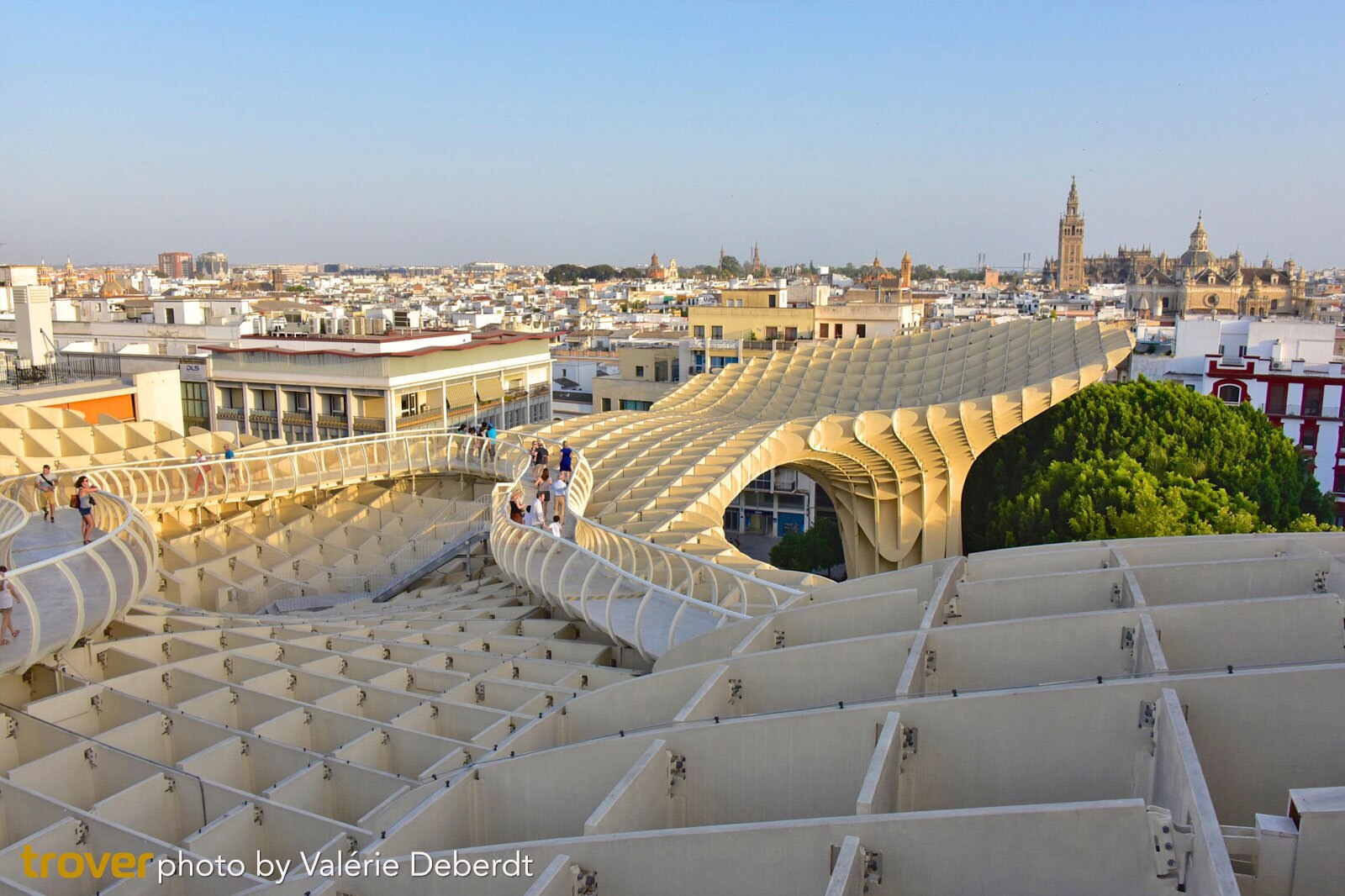 Must See: Metropol Parasol
Walk on one of the largest wooden structures in the world
Metropol Parasol is a modernist wooden landmark that looks like nothing else in the Old Town of Seville. Designed like a series of giant mushroom-shaped treehouses, you can walk over them and get some classic views of the city, particularly at night. At a height of 30 metres, you still feel connected to the city. Head down to the basement level to visit ancient Roman and Moorish remains discovered during the construction of Metropol Parasol, as well as a cool little market selling fresh produce. Located in Regina, the whole area is great for dining, with lots of tapas bars and trendy restaurants nearby.
Location: Plaza de la Encarnación, 41003 Sevilla, Spain
Open: 10am to 10.30pm (11pm on weekends)
Phone: +34 954 56 15 12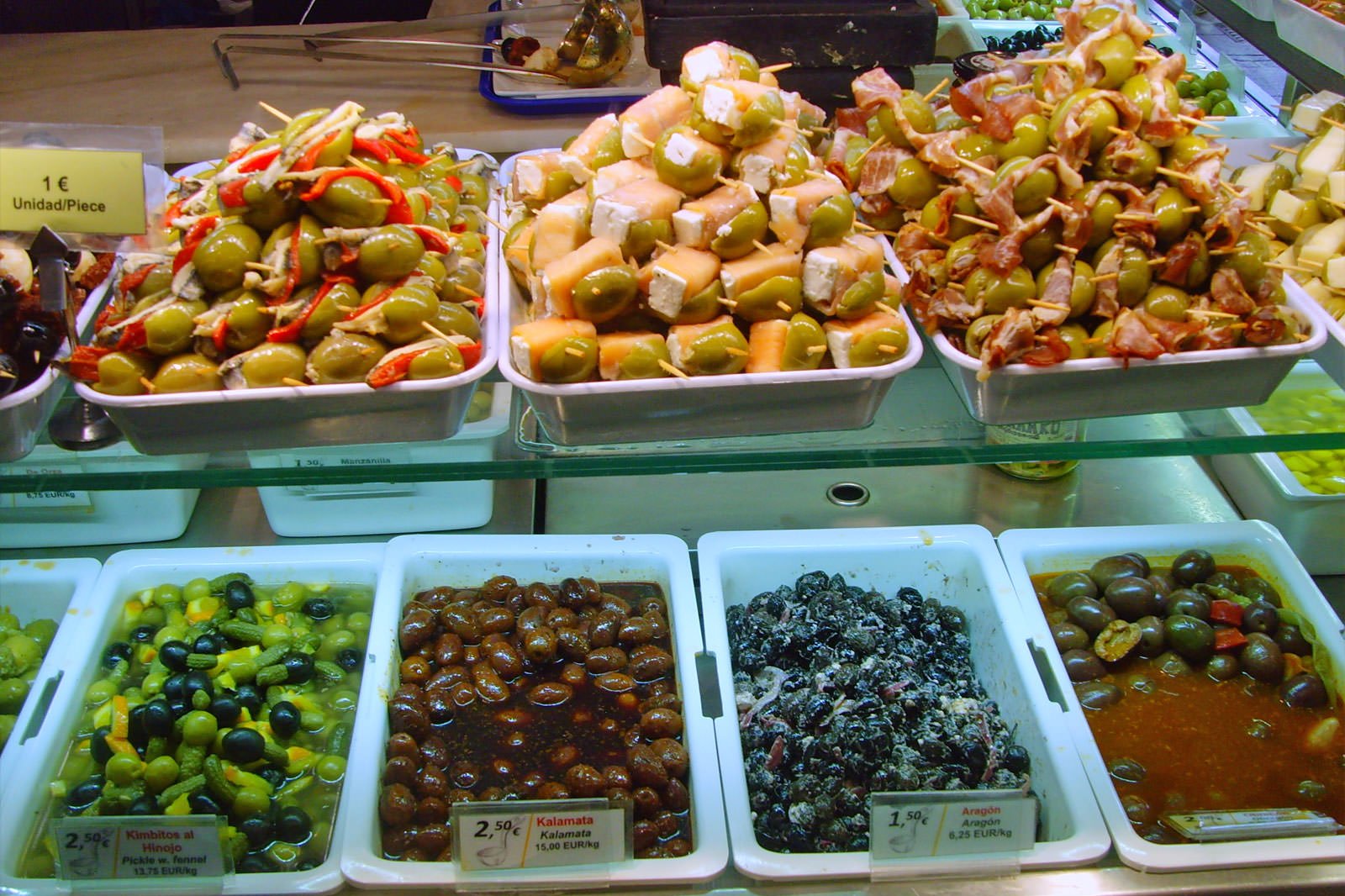 Snack at Mercado Lonja del Barranco
Try the excellent selection of Spanish cheeses and cured meats
This fancy food court and casual dining spot on the riverside is a cool place to sample Seville's food culture. You'll find a full range of Spanish seafood, cured meats and tapas, along with Japanese noodles and Italian pastas. Pick what you like then head out the back to find a table and enjoy your meal with a view of the river. Mercado Lonja del Barranco is modern and clean. It gets very busy on weekends.
Location: Calle Arjona, 41001 Sevilla, Spain
Open: Daily from 10am to midnight (2am on weekends)
Phone: +34 (0)954 22 04 95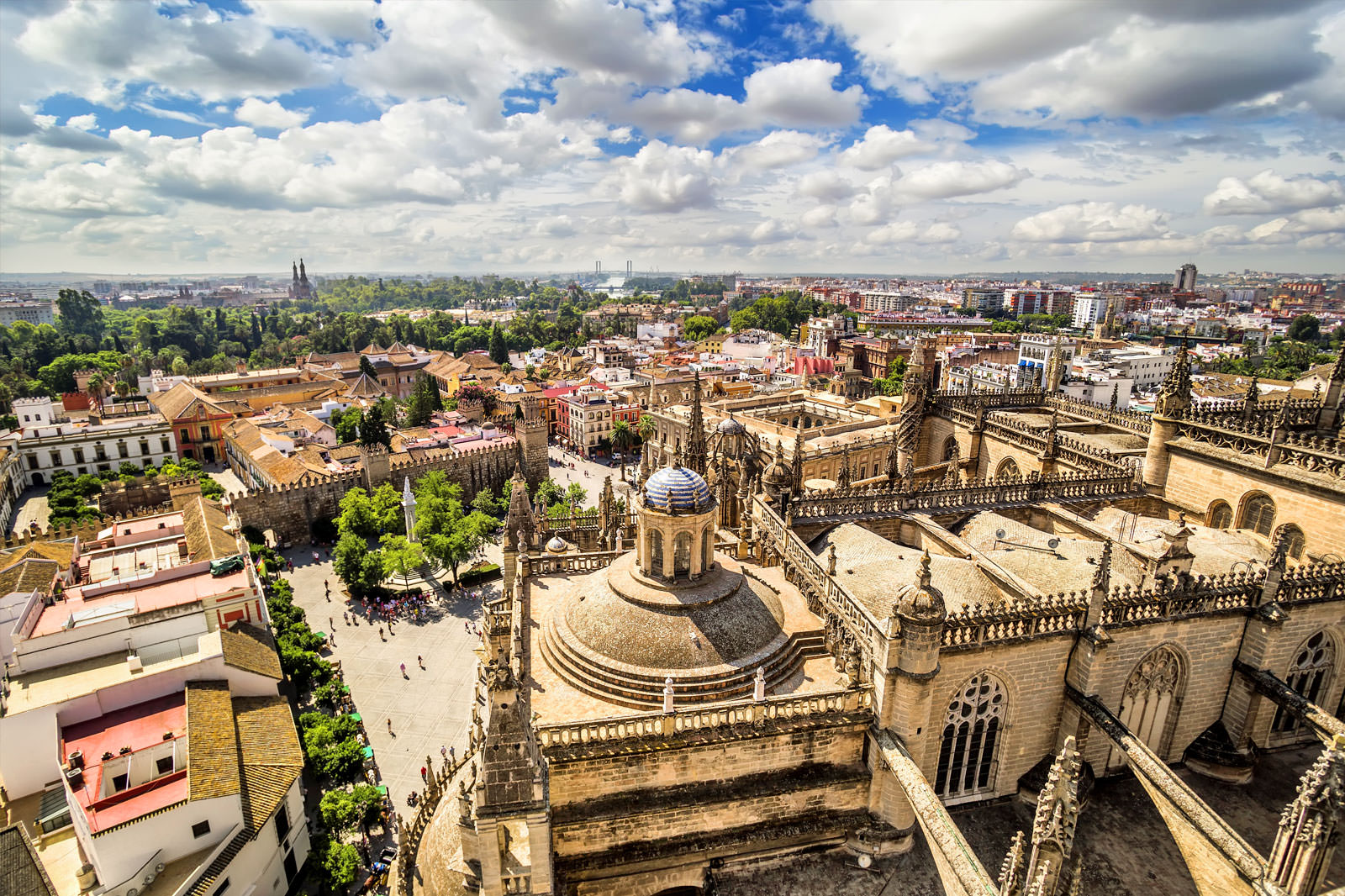 Explore Barrio Santa Cruz
Get lost in the maze of alleys and discover ancient buildings
Barrio Santa Cruz is the most picturesque neighbourhood in Seville and is home to many of the most fascinating historical buildings, including the cathedral and the Alcazar. Make sure you visit the Judería (Jewish Quarter) with its beautiful arches and excellent views of Alcazar palace. Among the many public squares, Plaza de Doña Elvira is especially peaceful and shaded in summer, with the scent of orange blossom in the air.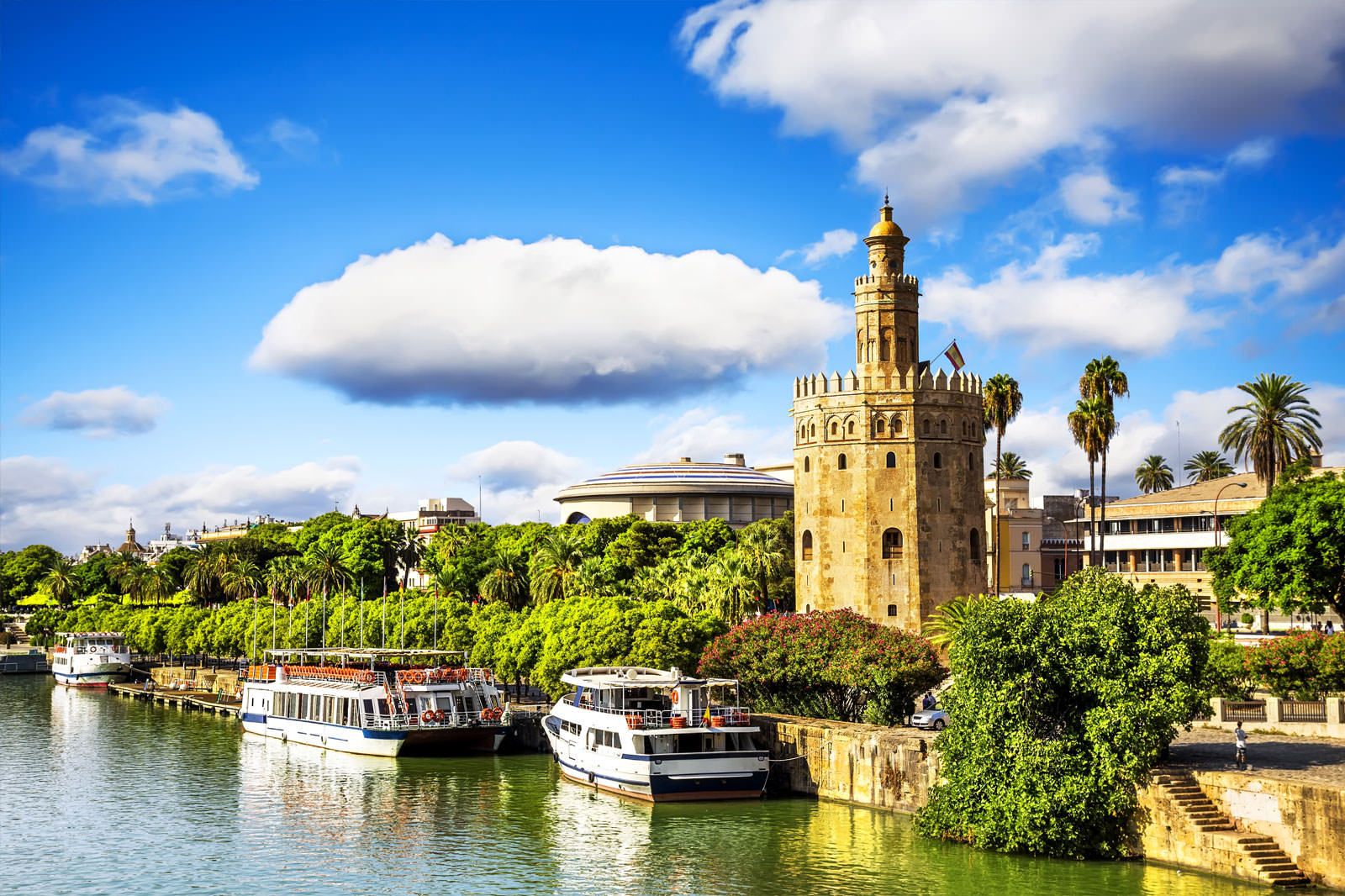 Climb up Torre del Oro
A cheap and interesting viewpoint on the riverside
Originally a naval fort and watchtower, Torre del Oro is now a great viewpoint open to the public. It only costs €3 to enter and there's a small museum on the first 2 floors about the maritime history of the area. After enjoying the viewpoint, cross the nearby Puente San Telmo bridge and enjoy a meal on the opposite bank of the Guadalquivir River with Torre del Oro as a backdrop.
Location: Paseo de Cristóbal Colón, 41001 Sevilla, Spain
Open: Daily from 9.30am to 6.45pm
Phone: +34 954 22 24 19
Eat tapas in Alameda de Hércules
Eating and drinking from one bar to the next
For dining out in the evening air, Alameda de Hércules is our favourite spot in Seville. There is a more authentic vibe here than the more touristy spots in the Old Town. Either side of this expansive public square has tapas joints and pubs spilling out into the street, and it makes a great spot for exploring. Look out for El Disparate tapas bar on the western side of the square. It serves some tasty fish dishes.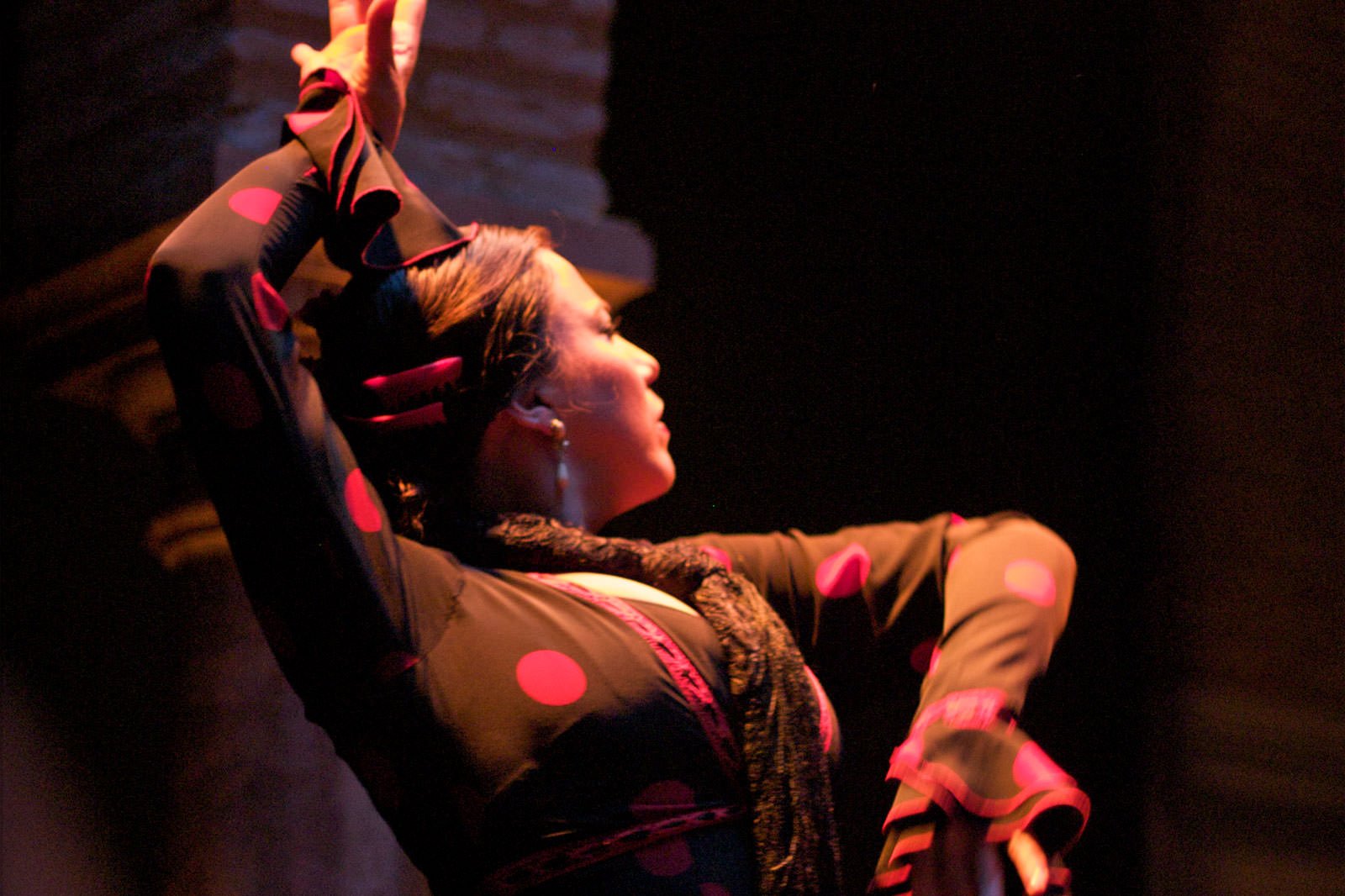 End the day watching a Flamenco show at Casa de la Memoria
Some of the most talented Spanish dancing in Seville
The intensity and passion of a live Flamenco performance lives long in the memory. To experience the heel tapping, jangling sounds of genuine Flamenco, head to Casa de la Memoria. The performance space is in the courtyard of an old house, with hanging vines and flowers all around. There's also a museum related to the history of Flamenco in Spain. After the show, you can enjoy a traditional Spanish meal in the restaurant inside the house.
Location: Calle Cuna, 6, 41004 Sevilla, Spain
Open: Daily from 11am to 10pm (live performances from 7pm)
Phone: +34 954 56 06 70
Couples
Photo
Nightlife
Luxury
photo by ecodallaluna (CC BY-SA 2.0) modified