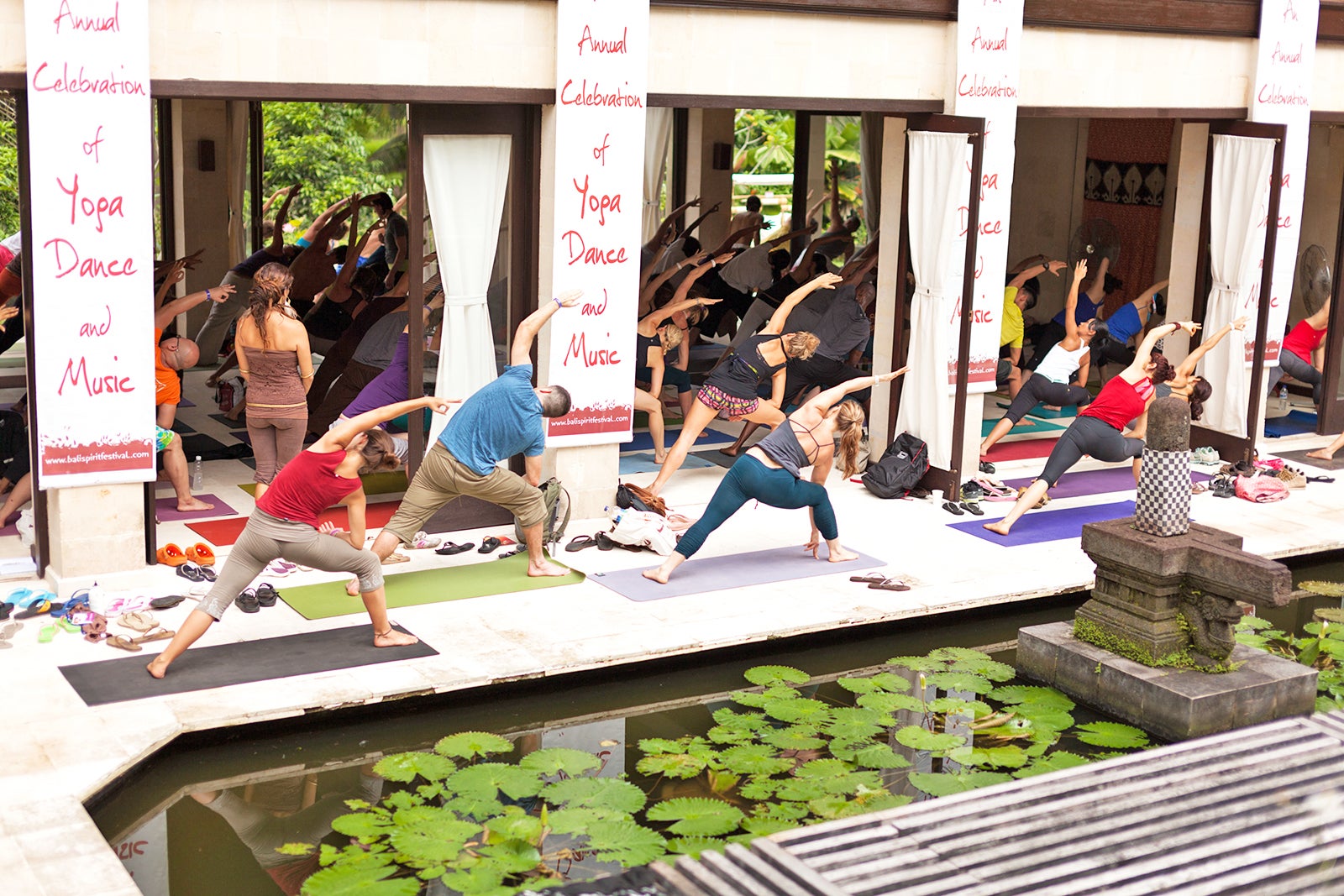 Bali Spirit Festival
Annual Festival of Yoga, Dance and Music in Bali
Bali Spirit Festival is an annual festival that's usually held between March and May, gathering yoga practitioners of all different levels and wellbeing enthusiasts from Bali and around the world. The festival is also a celebration of 'east meets west' through world arts, dance and music with colourful concerts and performances. The festival's agenda often features numerous health and wellbeing workshops held in various yoga centres in Ubud and other venues around Bali.
Over several days each year, thousands of festival-goers from various countries gather at the festival's outdoor grounds. Held since 2008, the festival aims to foster positive change and spread messages of love and peace toward a global impact.
Bali Spirit Festival - one of the highlights of 10 Best Yoga Studios in Bali and Bali Festivals and Events Calendar (Read all about Bali here)
Bali Spirit Festival highlights
You can join full yoga workshops during the festival, led by international instructors who are masters in various yoga styles – from Hatha, Tantra, Mantra, Prana flow, Anusara, Yin, Kundalini, Vinyasa, Ashtanga to many others. Even a 'laughing yoga' workshop was featured once, which proved a big hit. The yoga events also become a great chance for budding practitioners to meet and be inspired by new friends while improving their own forms.
Besides full workshops, a daytime event to check out during the festival is the Dharma Fair. This is an engaging scene full of health product bazaars with local organic food stalls, a kids' zone where little ones can play and do fun yoga, and a stage from which various world musicians and bands help keep up the vibes throughout the daytime gatherings. In the evenings, expect the festival's Bhakti Nights with dedicated 'One World, One Stage' concerts, as a variety of gigs including poetry and dance are presented across multiple stages.
Getting around during Bali Spirit Festival
Numerous passes are available for participating in Bali Spirit Festival's events, including an Abundance pass that enables you to enjoy all the multi-day festival has to offer. There are also single-day and weekend passes available.
To get you to the different venues during the festival, you can make good use of a special shuttle service that often goes from different areas within central Ubud. These shuttle points include the Ubud Monkey Forest in Padangtegal, Ubud's soccer field further up on Jalan Dewi Sita, Bali Spirit's KAFE on Jalan Hanoman, and the ARMA Café located in the Pengosekan area, a few minutes' drive east from the main Ubud hub.
Bali Spirit Festival
Location: Jalan Gunung Abang, Banjar Penataran, Negara, Batuan, Batuan, Sukawati, Gianyar, Bali 80571, Indonesia
Phone: +62 (0)361 970492
Back to top