Taman Ujung 'water palace', with its complete and official designation of Taman Sukasada Ujung, is located in the village of Seraya in Karangasem regency. It's the sister site of Tirta Gangga, also built by the late king of Karangasem. The complex consists of various large pools and historic structures set against a backdrop of Mount Agung and the eastern shoreline.
The site suffered near devastation by showers of hot ash following the eruption of Mount Agung in 1963, and also weathered an earthquake in 1979. Restoration efforts throughout the decades helped it on its way to its current splendour, and it continues to appeal to both locals and visitors.
Taman Ujung Water Palace - one of the highlights of 39 Best Things to Do in Candidasa and East Bali and 10 Places in Bali to Escape the Crowds (Read all about Bali here)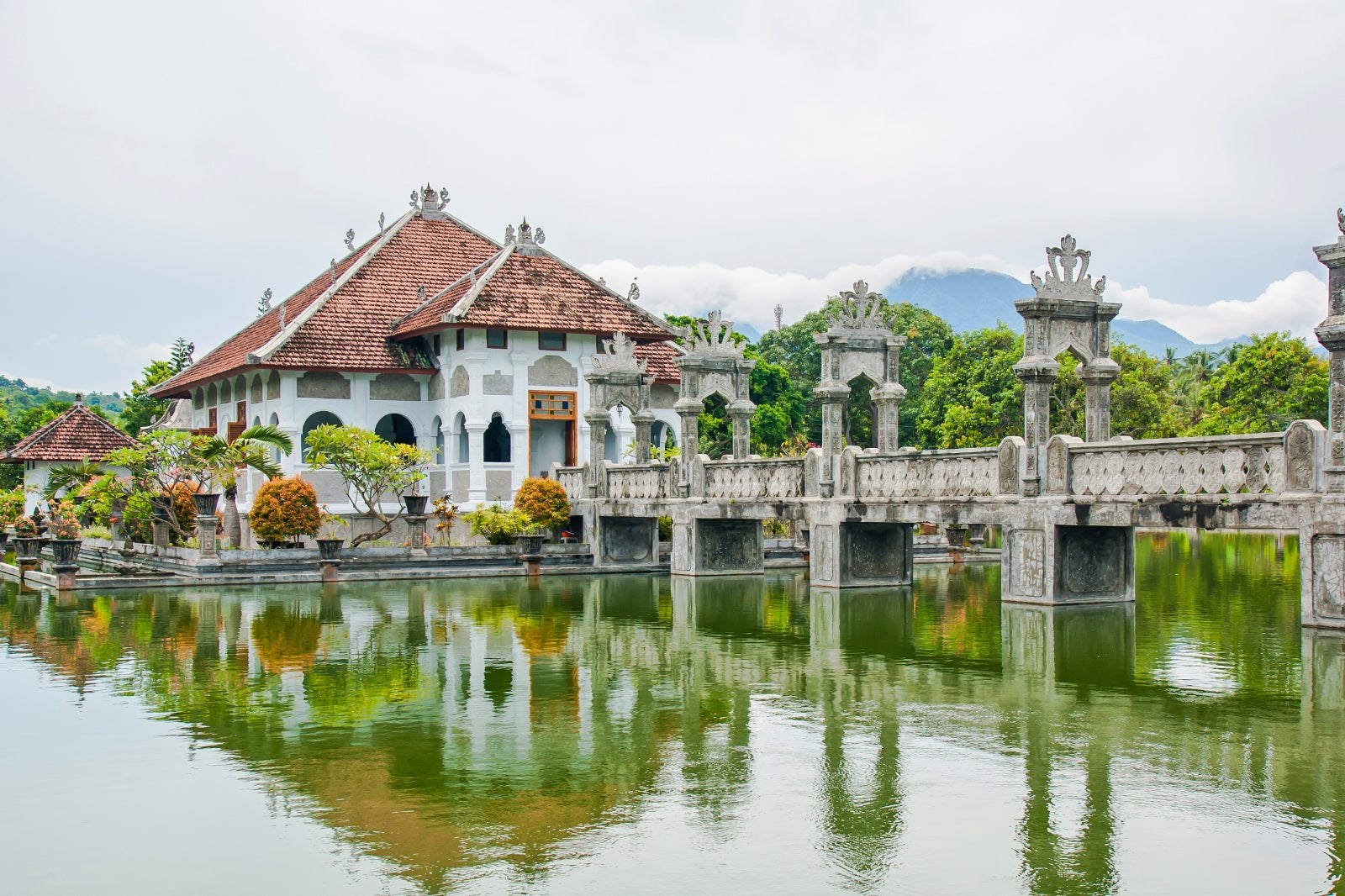 Taman Ujung Water Palace views and features
The Taman Ujung complex has a combination of Balinese and European architecture throughout 3 large ponds connected by long, elegant bridges and pathways. The physical features and superb mountainous backdrop to its north, and sea to its southwest, make it a favourite location for pre-wedding and artistic photographers.
The name Ujung means 'extremity' in Indonesian, and it often makes it easy for locals to describe its location as being one of the island's largest historical landmarks and places of interest in the easternmost part of the island.
Taman Ujung Water Palace highlights
The whole park covers about 10 hectares of land roughly 11 km southeast of Karangasem's capital of Amlapura. Its foundations were first laid out in 1919, under the rule of then raja I Gusti Bagus Djelantik, who was best known by his noble title, Agung Anglurah Ketut Karangasem.
The complex underwent a series of expansions and pool additions around the single existing pool, which served not as a royal bathing place, but instead a site for the punishment of accused proponents of black magic or Balinese witchcraft, known as pangiwa and leyaks.
This pool was known as Kolam Dirah and was said to have been built during the rule of the previous raja of Karangasem, dating back to 1901. The Dirah pool is located in the southeast corner of the current layout and takes its name from the witch queen of the Calonarang legend.
Two ensuing pools were built, adding to the Dirah pool, as well as a number of resting pavilions, the raja's meditation quarters, and the Taman Gili floating pavilions. The complex then shifted purpose to serve as a retreat and a place to welcome dignitaries on their visit to the Karangasem kingdom.
In 1921, during the Dutch occupation of Indonesia, Taman Ujung became officially open to the public and became known as a royal water garden complex.
Taman Ujung architecture
Combinations of Balinese and European architecture are evident through its ornate pillars, statues and garden and pool features. And much of its scenic appeal owes to the blend of manmade structures amid natural panoramas.
To the southeast is a hilly range known as Bukit Bisbis, and in the south is the namesake Ujung Beach with its blue horizon. An expanse of verdant rice paddies lies to its east, while in the west is residential housing.
To the northwest of Taman Ujung is a collection of cottages meant for overnight visitors. The Pura Manikan temple can be found within the grounds of Taman Ujung. Here, a revered water spring is used by devotees and pilgrims.
A highly popular lookout and vantage point at Taman Ujung is at one of the warak pavilions built on an eastern hill, accessible with a 5-minute drive uphill from the site.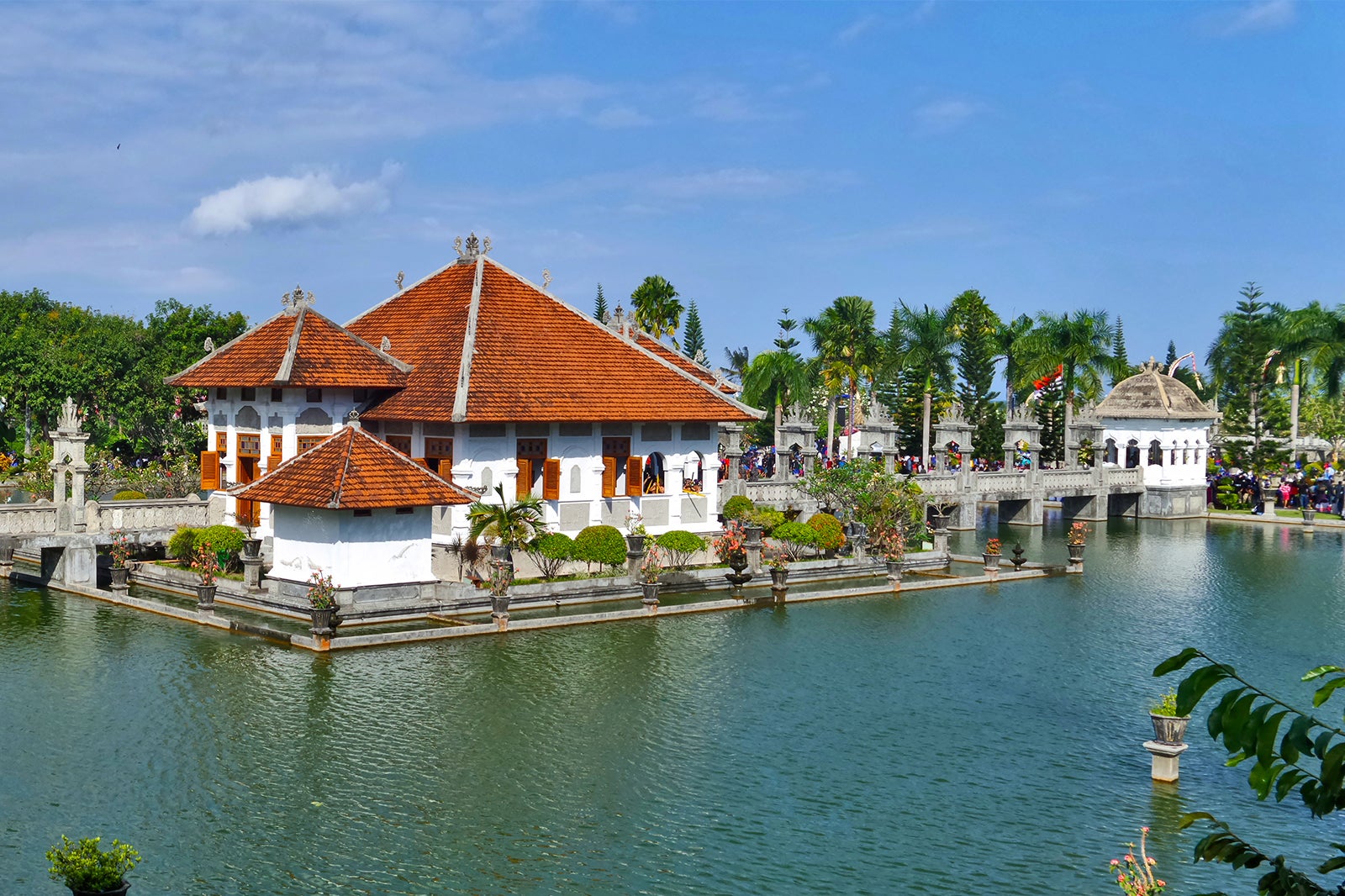 Taman Ujung Water Palace
Location: Tumbu, Karangasem, Bali 80811, Indonesia
Open: Daily from 6am to 7pm
Phone: +62 (0)363 4301870
Back to top