10 Free Things to Do in Madrid
How to Experience Madrid on a Small Budget
There are plenty of ways to enjoy your Madrid holiday, even if you're travelling on a small budget. The city's historical squares are teeming with centuries-old buildings and statues of prominent Spanish figures, giving you a glimpse of life back in medieval times. If splurging over €30 on a tourist pass is out of the question, many art museums offer free admission at certain times of the day.
There are also many public parks within central Madrid where you can enjoy a day of people-watching, picnicking, and walking along tree-lined pathways. If you're looking to save on unnecessary spending while on vacation, read on for our guide on free things to do in Madrid.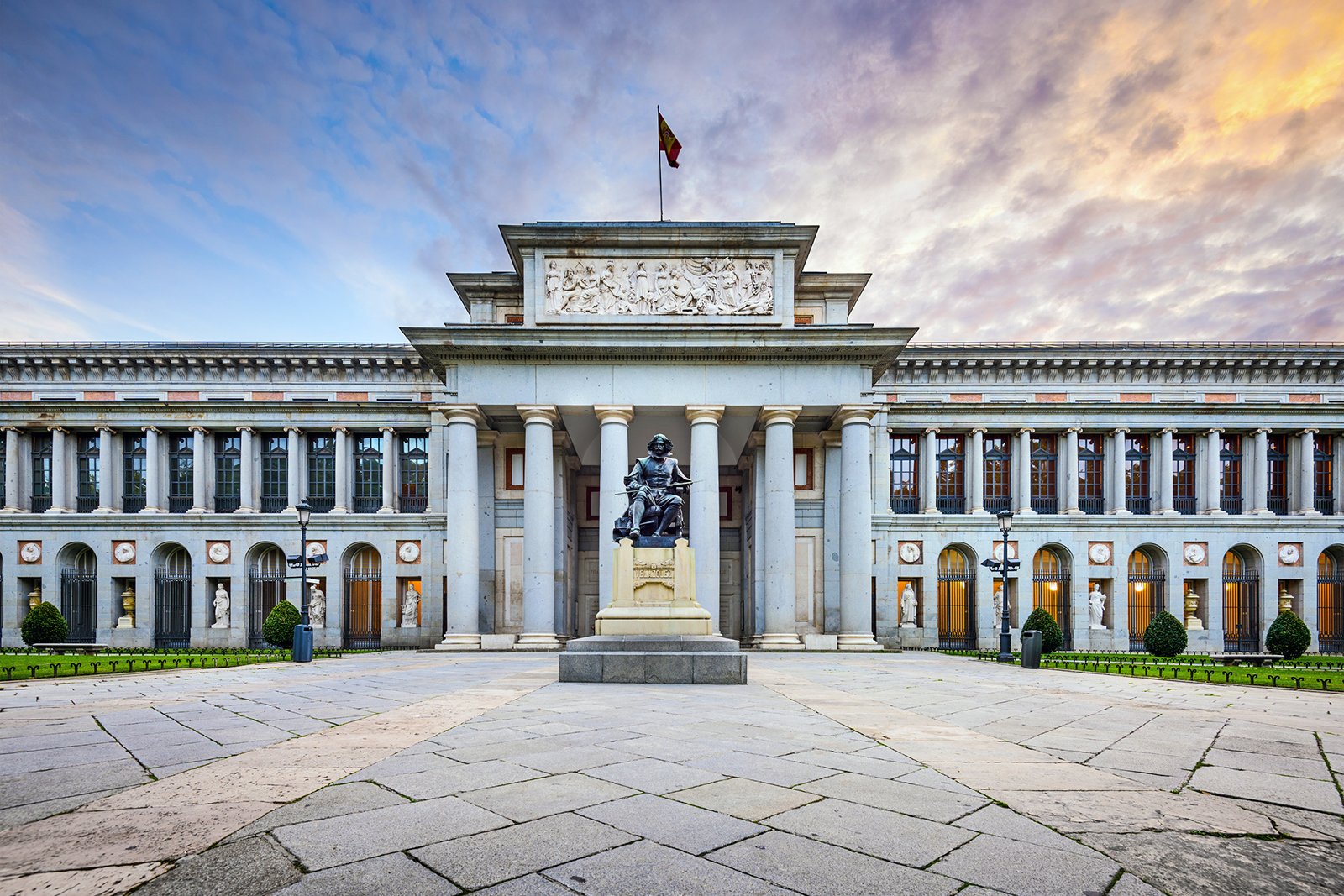 Visit Museo del Prado in the evening
Check out Las Meninas by Velázquez, the museum's most prized display
Museo del Prado, established in 1819, is one of Madrid's most popular art museums. It has a massive collection of masterpieces by European artists such as Bosch, Titian, El Greco, Rubens, Velázquez and Goya. Most of these paintings date back to between the 12th and early 20th centuries, depicting mythological deities, biblical scenes, patron saints, and royalty. Tickets to Museo del Prado start from €8, but it's free on weekdays and Saturdays from 6pm to 8pm, and Sundays from 5pm to 7pm.
Location: Paseo del Prado, s/n, 28014 Madrid, Spain
Open: Monday – Saturday from 10am to 8pm, Sunday from 10am to 7pm
Phone: +34 913 302 800
Couples
Families
History
Budget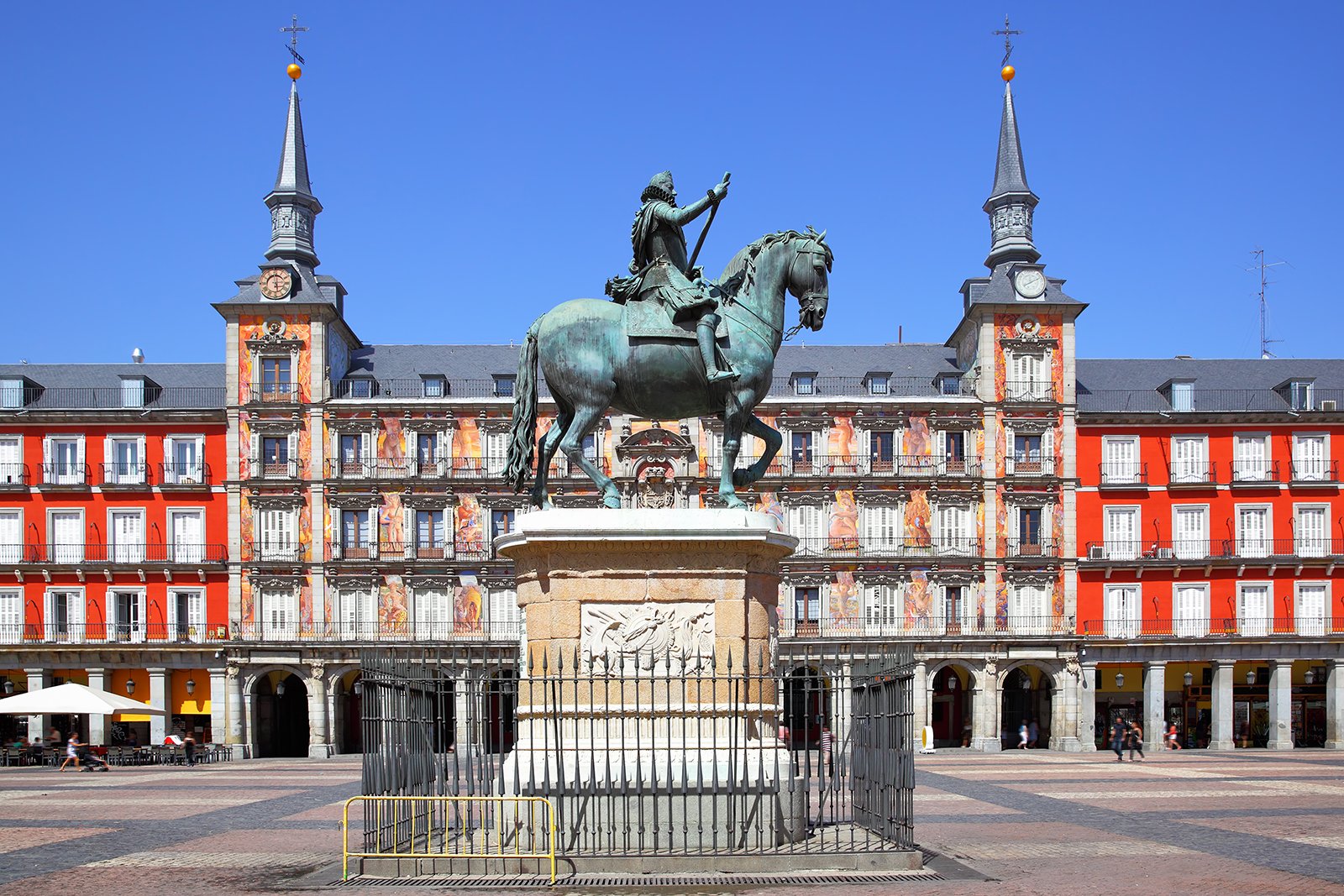 Check out historical monuments in Plaza Mayor
Try Madrid's famous calamari sandwich after exploring the square
Plaza Mayor is one of the grandest open squares in Madrid, featuring 9 entrance ways, 17th-century frescoes, and a bronze statue of King Philip III in the middle. A popular tourist attraction, Plaza Mayor offers lively events throughout the year, including a vibrant Christmas market and celebrations for San Isidro, the patron saint of Madrid. If you've worked up an appetite, there are plenty of cafés and sandwich joints serving coffee, beer, and Madrid's quintessential bocadillo de calamares (calamari sandwich).
Location: Plaza Mayor, 28012 Madrid, Spain
Couples
Families
History
Budget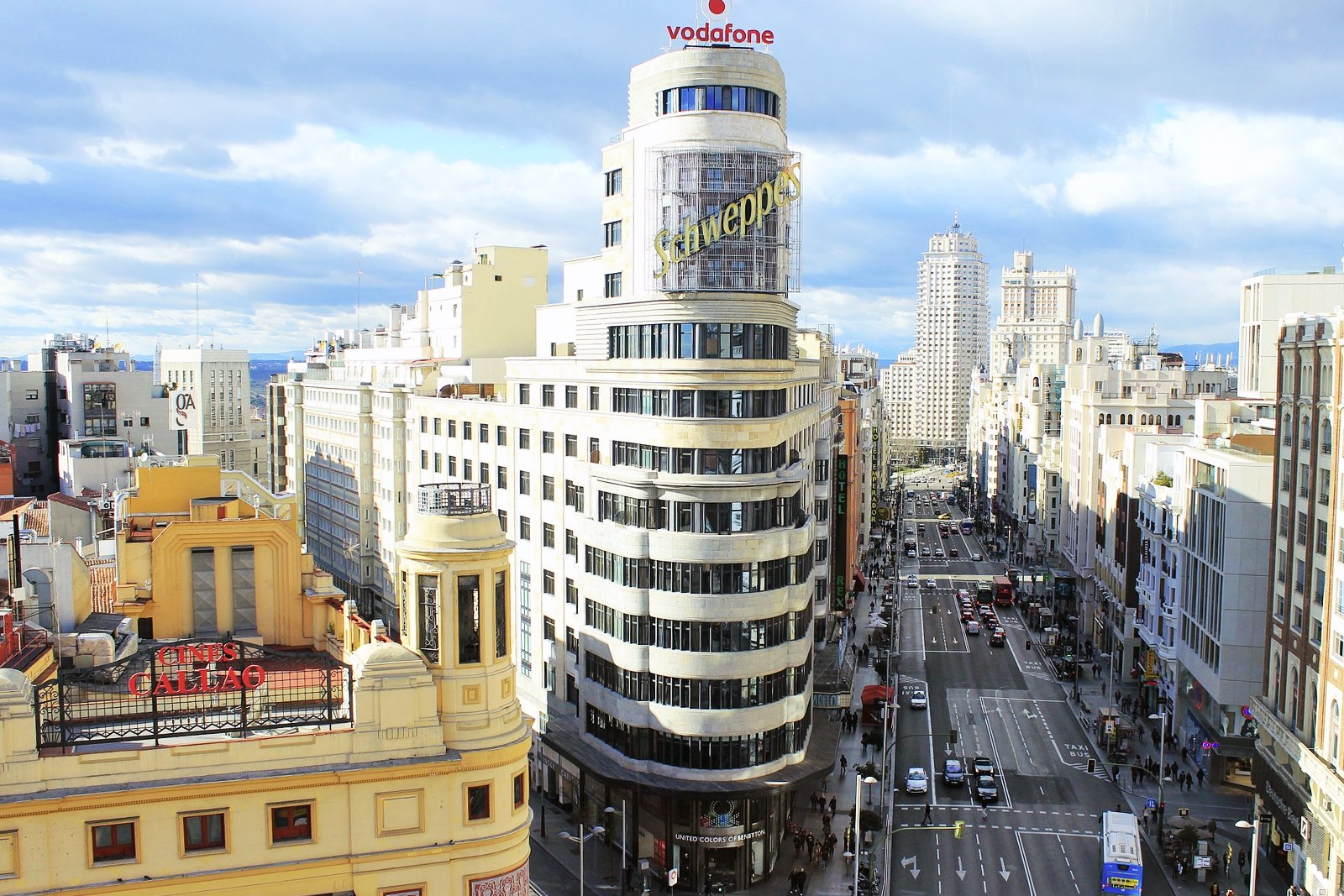 Free viewpoint from El Corte Ingles's rooftop
Head to the top floor for panoramic views of central Madrid
El Corte Inglé, located in Plaza de Callao, is Spain's largest department store. On the 9th floor is its expansive food hall, called Gourmet Experience. It has large glass windows and an outdoor terrace seating area, both of which offer panoramic views of the city. Look for Madrid's historical sites such as the Royal Palace and La Almudena Cathedral. Try to make your visit brief if you're not planning to dine at Gourmet Experience to not disturb its vendors and customers.
Location: El Corte Inglés, Plaza de Callao, 2, 28013 Madrid, Spain
Open: Monday – Saturday from 10am to 10pm, Sunday from 11am to 9pm
Phone: +34 913 798 000
Couples
Families
Photo
Budget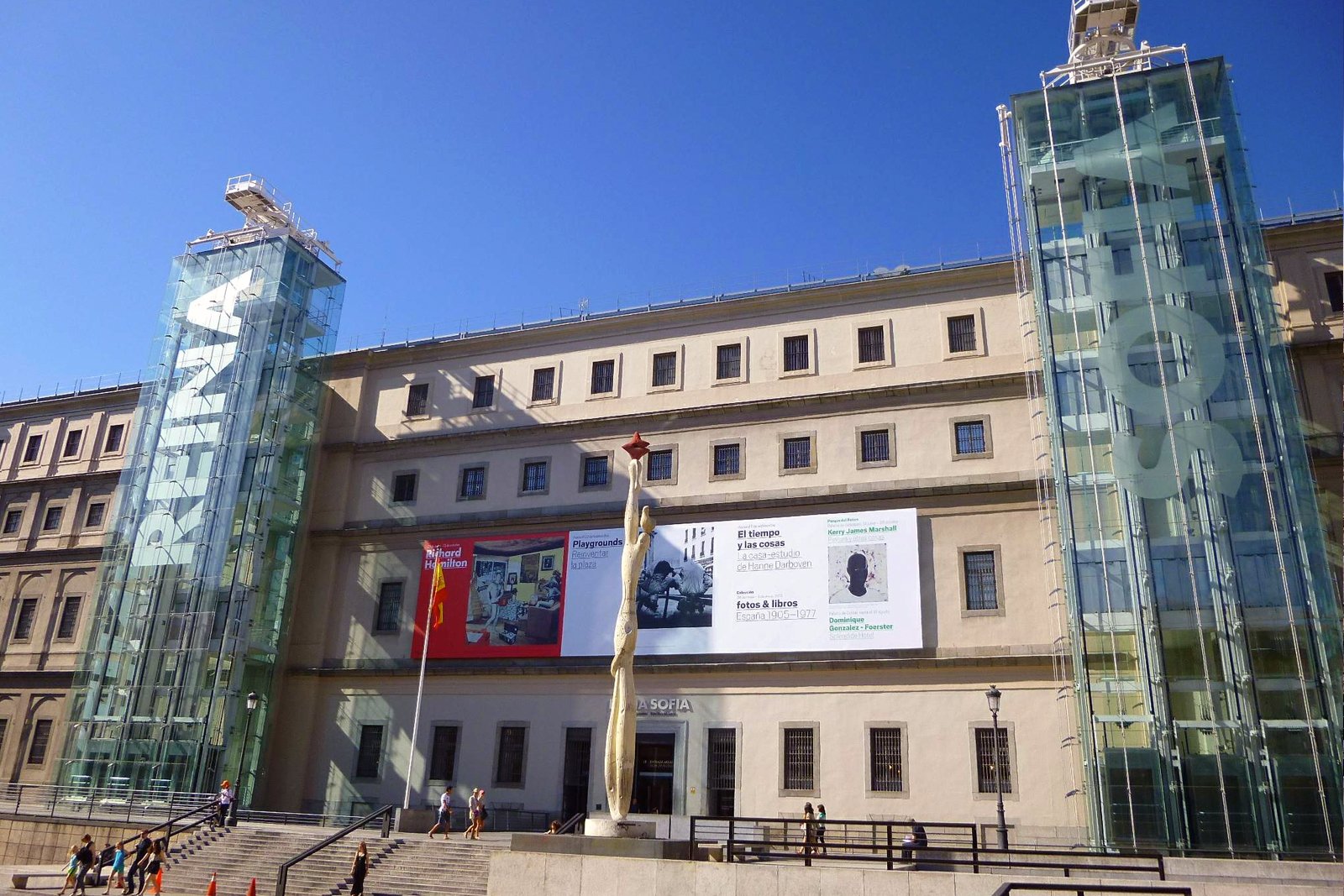 Visit Renia Sofia Museum on free days
Browse through over 100,000 books at the free-access library
Museo Reina Sofía displays 20th-century and modern artworks, including masterpieces by Salvador Dali and Pablo Picasso. One of its most popular exhibits is Picasso's Guernica, which was completed in 1937. It costs €15 to visit Museo Reina Sofía, but you can visit its exhibits for free every Monday and Wednesday until Saturday between 7pm and 9pm. On Sundays, the museum is free to enter from 1.30pm until 7pm. Located in central Madrid, this museum is part of Madrid's Art Triangle, which also includes Museo del Prado and Museo de Thyssen-Bornemisza. To enjoy free admission to all 3 museums, plan your visit for a Monday.
Location: Calle de Santa Isabel, 52, 28012 Madrid, Spain
Open: Monday from 10am to 9pm, Wednesday – Saturday from 10am to 9pm, Sunday from 10am to 7pm (closed on Tuesdays)
Phone: +34 917 741 000
Couples
Families
History
Budget
photo by Zarateman (CC BY-SA 4.0) modified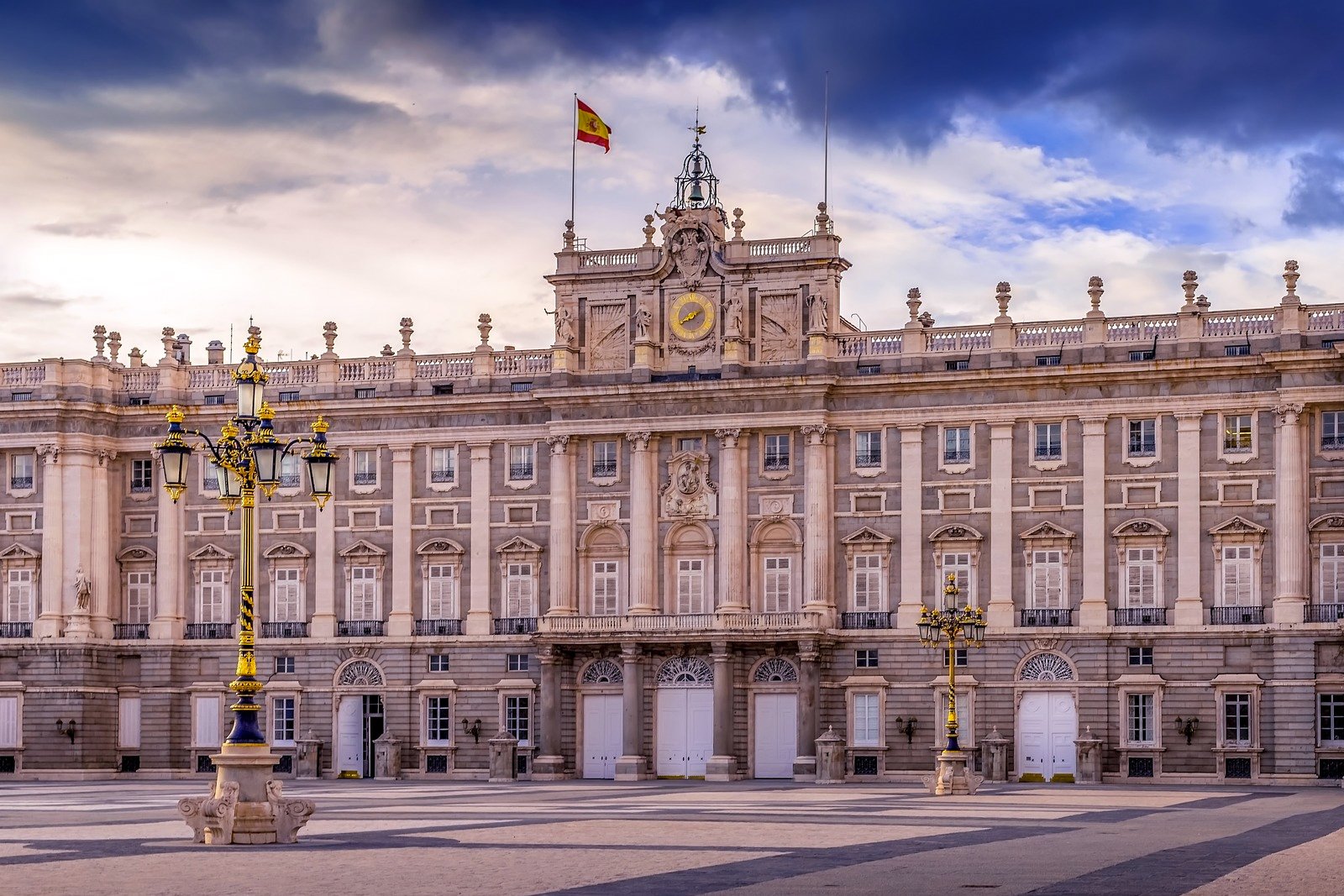 Visit Madrid's Royal Palace on Wednesdays
See the changing of the guard ceremony every Wednesday and Saturday
The Royal Palace of Madrid is the official home of Spanish royalty, though you won't be bumping into a family member during your visit. Commissioned by King Philip V during the 18th century, this grand structure is a mix of Neoclassical and Baroque architecture. There are 3,000 rooms in total, including a throne hall, armoury, and Europe's oldest well-preserved royal kitchen. Art lovers will find exquisite paintings by renowned artists such as Luis Morales, Goya, Juan de Flandes, Caravaggio, Velázquez, and Federico Madrazo.
Location: Calle de Bailén, s/n, 28071 Madrid, Spain
Open: Daily from 10am to 8pm
Couples
Families
History
Budget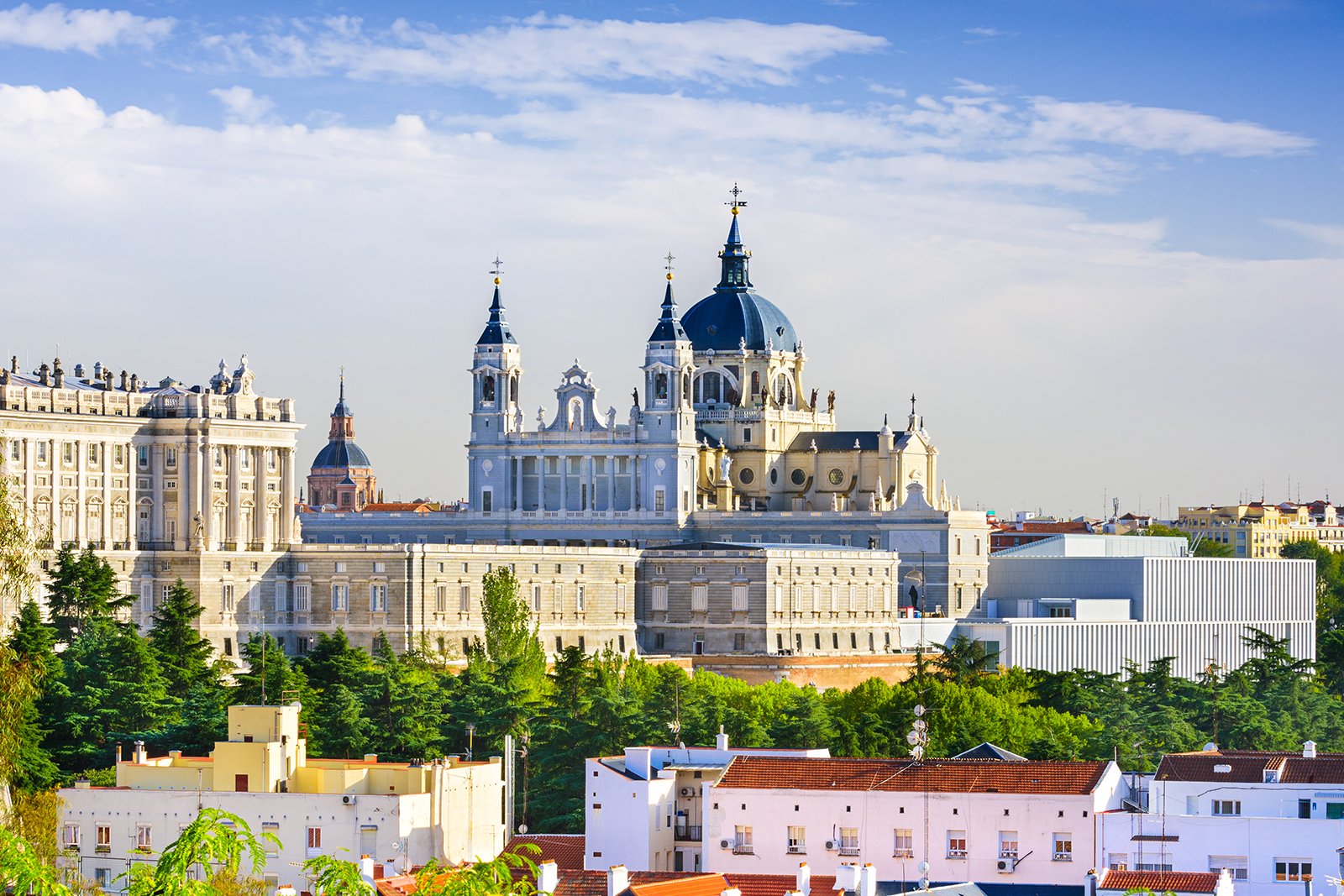 La Almudena Cathedral
See sculptures of the 12 apostles surrounding the cathedral dome
La Almudena Cathedral is a 19th-century church built in Neoclassical and Gothic Revival styles. It's located along Calle de Bailén, about 700 metres south of The Royal Palace of Madrid. Its Neo-Romanesque crypt features a painting of the Virgen de la Almudena, which dates back to the 16th century. There's a museum detailing the church's history. You can enter the cathedral for free, but access to the museum and crypt costs around €6.
Location: Calle de Bailén, 10, 28013 Madrid, Spain
Open: Monday – Saturday from 10am to 2.30pm (closed on Sundays)
Phone: +34 91 542 2200
Couples
Families
History
Photo
Budget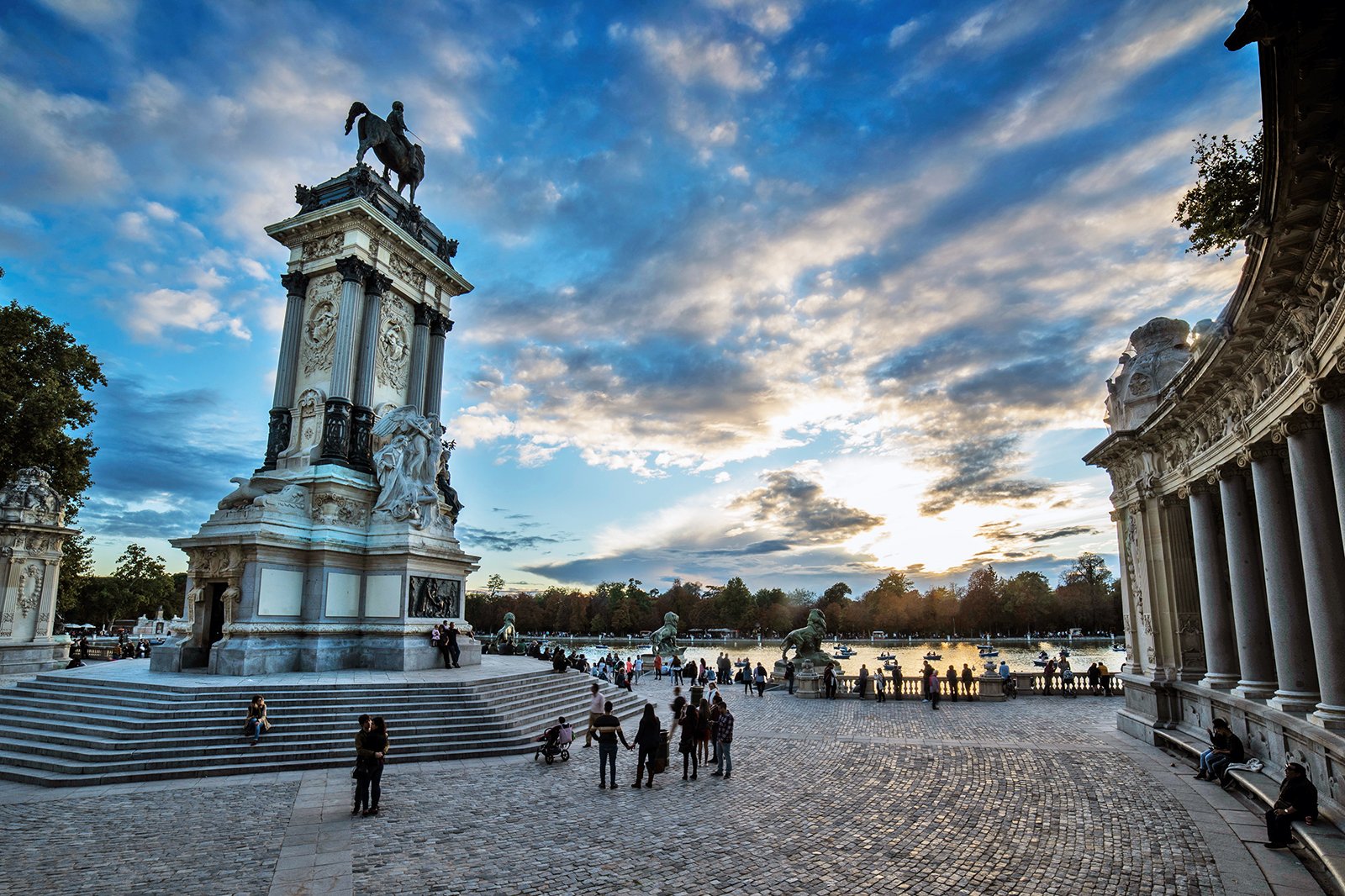 Go for a stroll in El Retiro Park
Wander down the Paseo de la Argentina in El Retiro Park
El Retiro Park is a vast garden in Plaza de la Independencia. One of its most popular attractions is the Statue Walk, a pathway that's lined with 18th-century statues of Spanish royalty. There's a manmade lake next to a monument of Alfonso XII, and you can rent a paddleboat for a few euros. Another must-visit in El Retiro Park is the Palacio de Cristal, a greenhouse-like pavilion that was built in 1887.
Location: Plaza de la Independencia, 7, 28001 Madrid, Spain
Couples
Families
Photo
Budget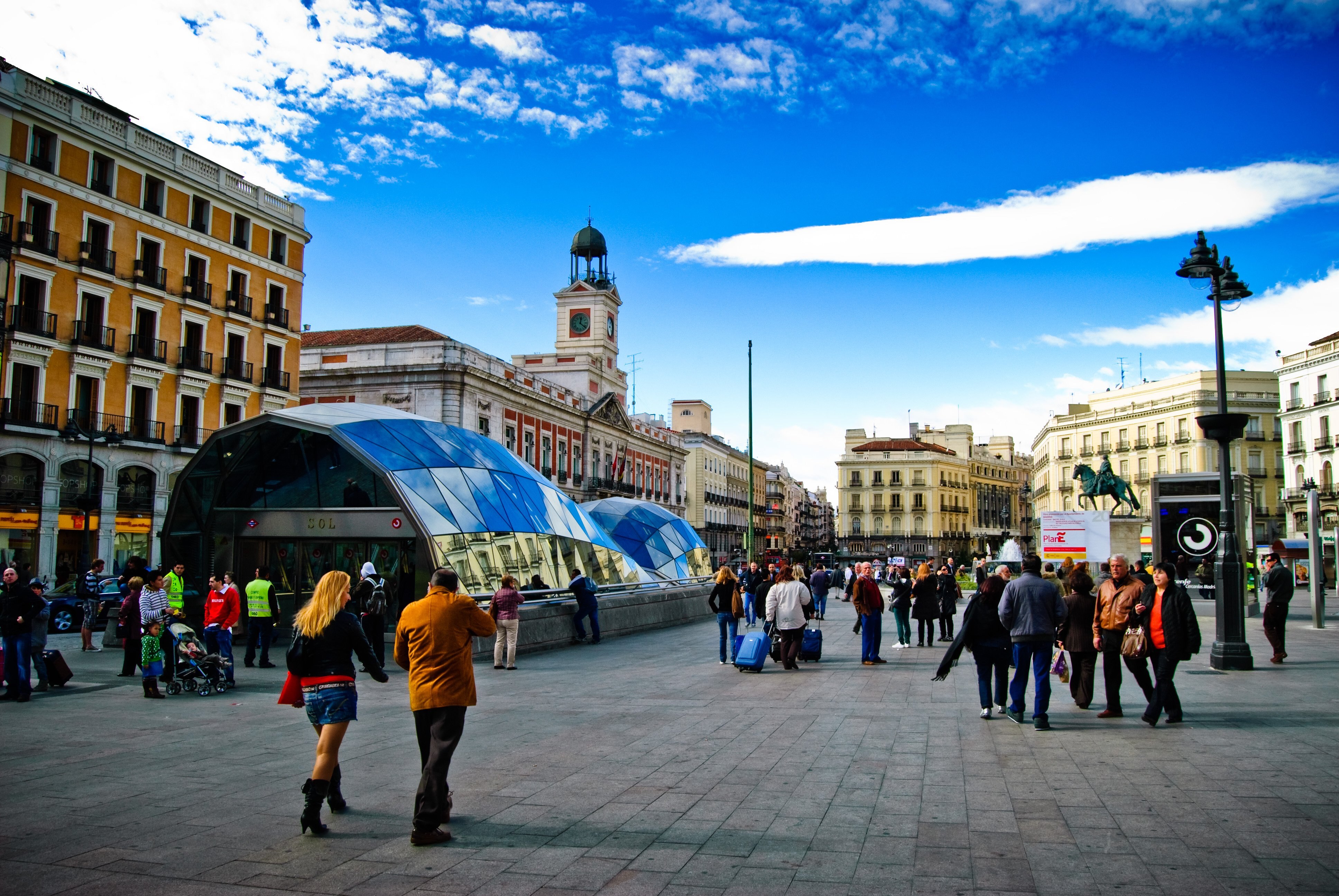 Watch street performers in Puerta del Sol
Stop by Calle Preciados for iconic statues and monuments
Puerta del Sol is a city square in Madrid that's mostly known for its 'Kilometre 0' slab, which is the official starting point for Spain's 6 national roads. Its vibrant shopping street, Calle Preciados, is where you can find many street performers throughout the day. Taking photos may cost you a euro or two, so just sit back and enjoy the performances if you're not planning to spend any money here. Exploring the square also gives you plenty of beautiful snapshots thanks to its noteworthy monuments, including the bronze statue of El Oso y el Madroño (The Bear and the Strawberry Tree).
Location: Plaza Puerta del Sol, s/n, 28013 Madrid
photo by Santi Díaz (CC BY-SA 2.0) modified
See Templo de Debod
Check out intricate hieroglyphs on the temple walls
Templo de Debod is an authentic Egyptian temple that was rebuilt in Madrid's Parque del Oeste. The only Ancient Egyptian structure that can be seen in Spain, the shrine dates back to 2200 BC and was brought over to the city from Aswan in 1968. It can only accommodate 15 visitors at a time, which often results in long queues. After visiting the temple, you can relax on the park's many green spaces, many of which offer beautiful views of La Almudena Cathedral and the Royal Palace.
Location: Calle Ferraz, 1, 28008 Madrid, Spain
Open: Tuesday - Friday from 10am to 2pm and from 4pm to 6pm, Saturday – Sunday from 9.30am to 8pm
Couples
Families
History
Budget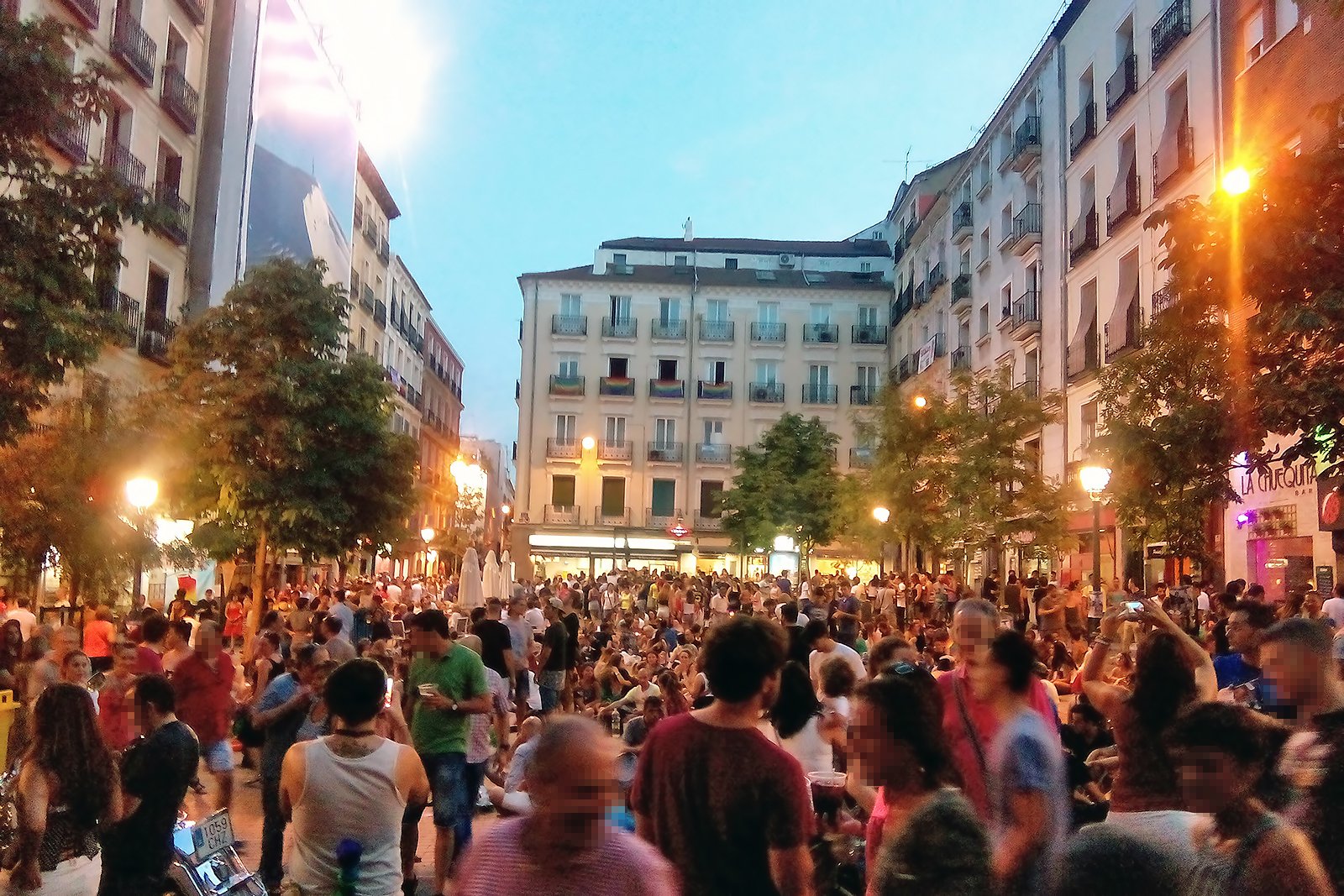 Catch a free concert
Enjoy live blues at La Coquette
Concerts can be enjoyed in Madrid almost any day of the week, thanks to its many live music venues. Many bars are free to enter during open-mic sessions, though some may require you to buy at least 1 drink for a seat. La Coquette is an underground bar near Puerta del Sol where you can catch live blues by local and international names until late. If you're visiting Madrid during annual festivals such as Christmas, free concerts are mostly held in public squares such as Plaza Mayor.
Location: Calle de las Hileras, 14, 28013 Madrid, Spain
Open: Tuesday – Thursday from 8pm to 3am, Friday – Saturday from 8am to 3.30am, Sunday from 8pm to 3am (closed on Mondays)
Couples
Families
Nightlife
Budget