10 Best Things to Do in Pennsylvania
What is Pennsylvania Most Famous For?
Pennsylvania is one of America's north-eastern states with 4 seasons, lush Appalachian Mountains, 83,000 miles of river, and impressive fall colours. It's the country's hardworking labour force from the small Pennsylvanian towns that made America great, with their steelmaking, oil production, nuclear power, and farming.
This Colonial state is where the Civil War was ignited, the Declaration of Independence was written, the United States Constitution was drafted, and where the Liberty Bell still chimes. From Abraham Lincoln to Andy Warhol, Pennsylvania is a region with so many things to see and do for history buffs, nature lovers, and art enthusiasts.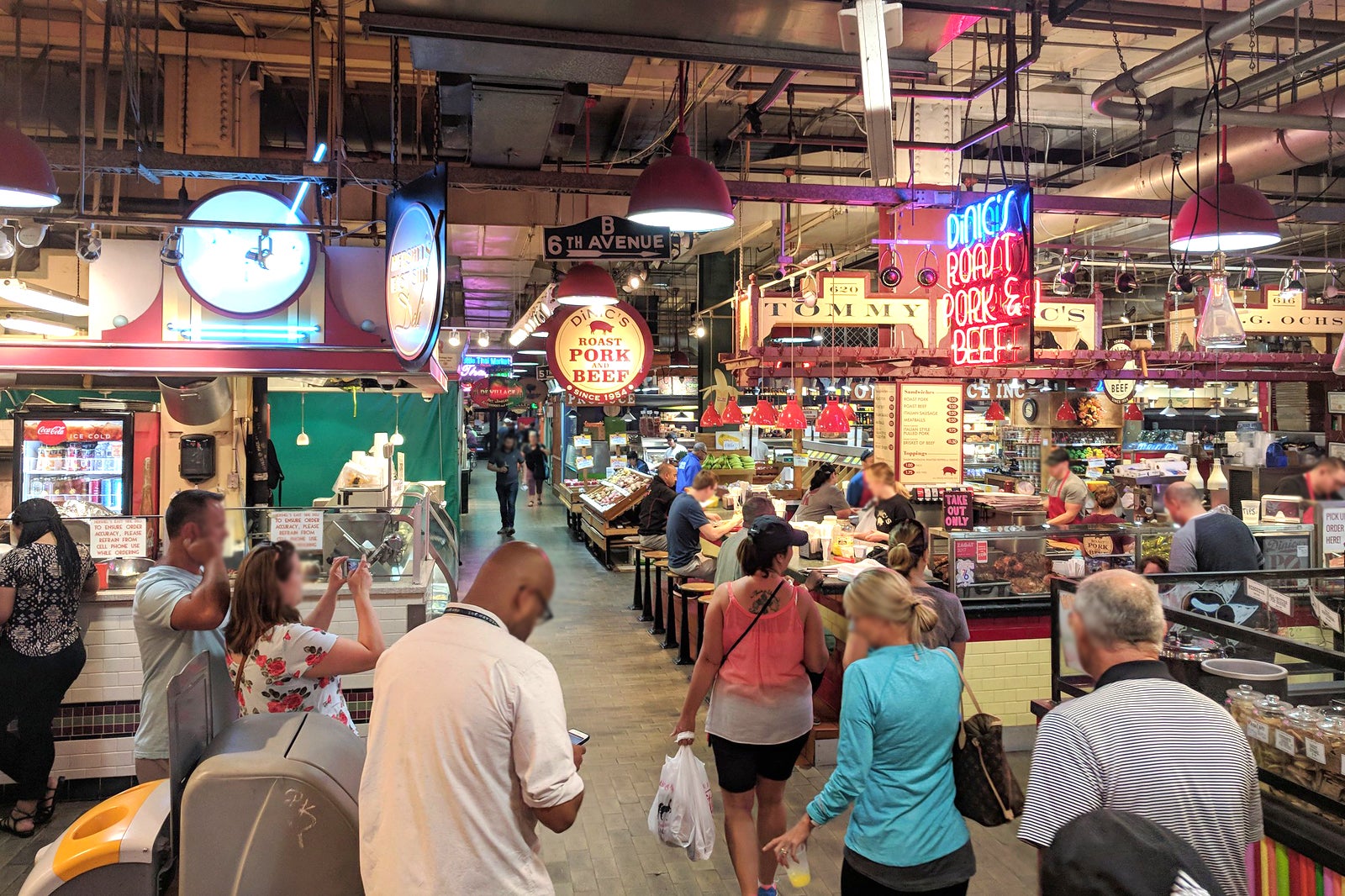 Eat at Reading Market
Start your day at Philadelphia's grub hub
Reading Market is one of America's oldest markets. It was originally built along with the subway system in the 1890s. As part of the city's sustainability plans, this market is a mix of farmer's produce and ready-made cuisines with very affordable prices. There are more than 80 stores offering an overwhelming variety of eats – from meatballs to vindaloo, and from whoopee pies to pear tartes.
Pearl's Oyster Bar is known to be the area's long-time legacy for their fish tacos and their buck-a-shuck oysters, brought straight from the Chesapeake Bay. While you're in the city centre, walk around and explore the nearby attractions like the Masonic Temple, City Hall and the Liberty Observation Deck, all within a few block's radii.
Location: Reading Market, 12th and Arch St., Philadelphia, PA 19107, USA
photo by James Cridland (CC BY 2.0) modified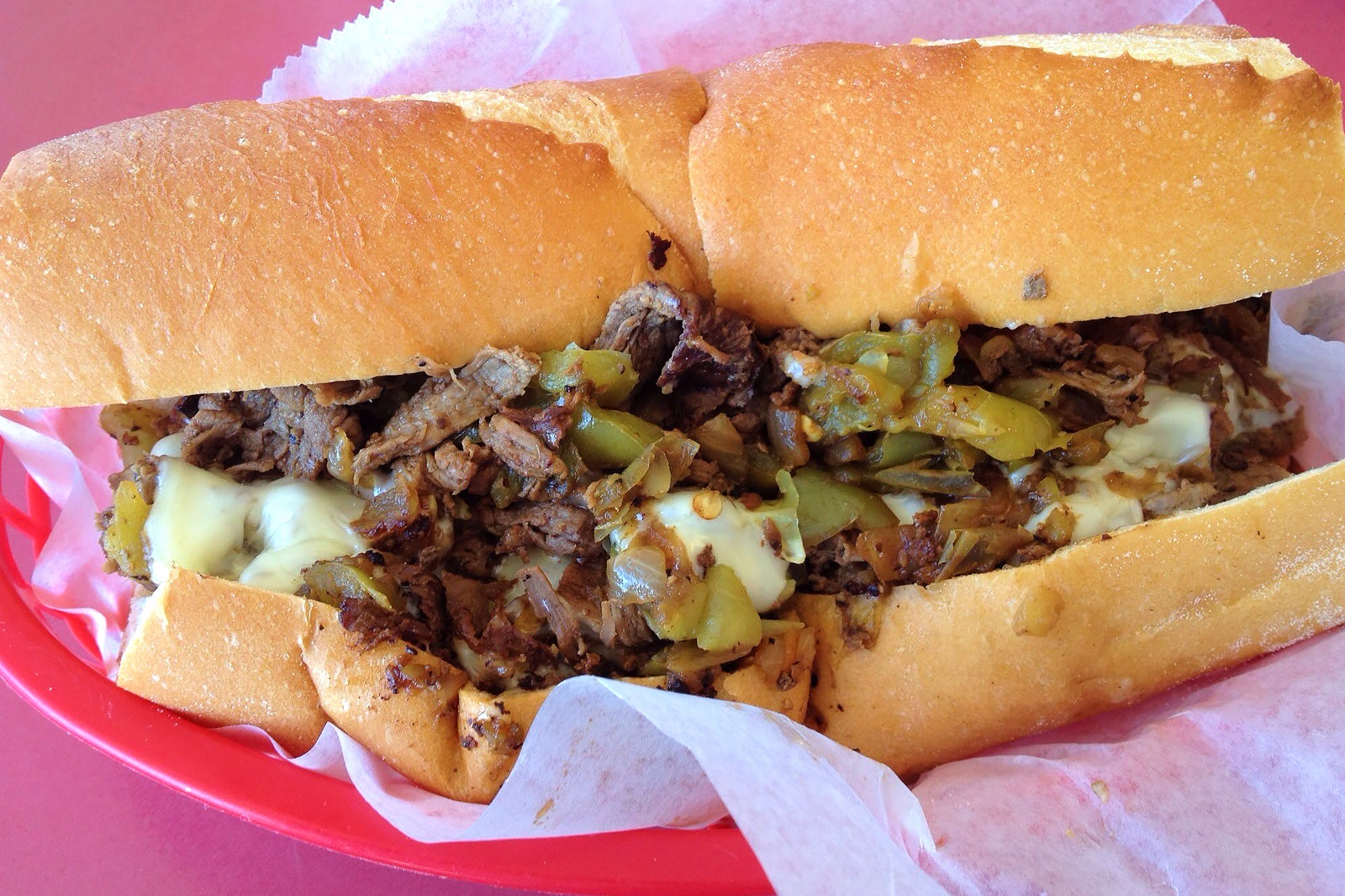 Eat a Philly cheesesteak
America's favourite cheesy sandwich
While in Philadelphia, don't miss out on the famous Philly "Steak n Cheese" sandwich that's been around since 1930. Locals can find these subs shops by just following the enticing, savoury whiff from blocks away. This sizzling grilled sandwich is made of a crusty bread roll, sliced ribeye beef, sautéed onions and mushrooms, and the crowning glory of sharp, melted cheese.
Woodrow's Sandwich Shop has been a long-time champion of the famous sandwich, while Ishkabibble's is always crowded, but it's worth the wait with their special Cheese Whiz and marinara sauce. Donkey's Place serves their steak on poppy seed rolls with their secret caramelised onion sauce, and Tony Luke's has been featured on many TV shows for its award-winning cheesesteaks.
photo by Phil Denton (CC BY-SA 2.0) modified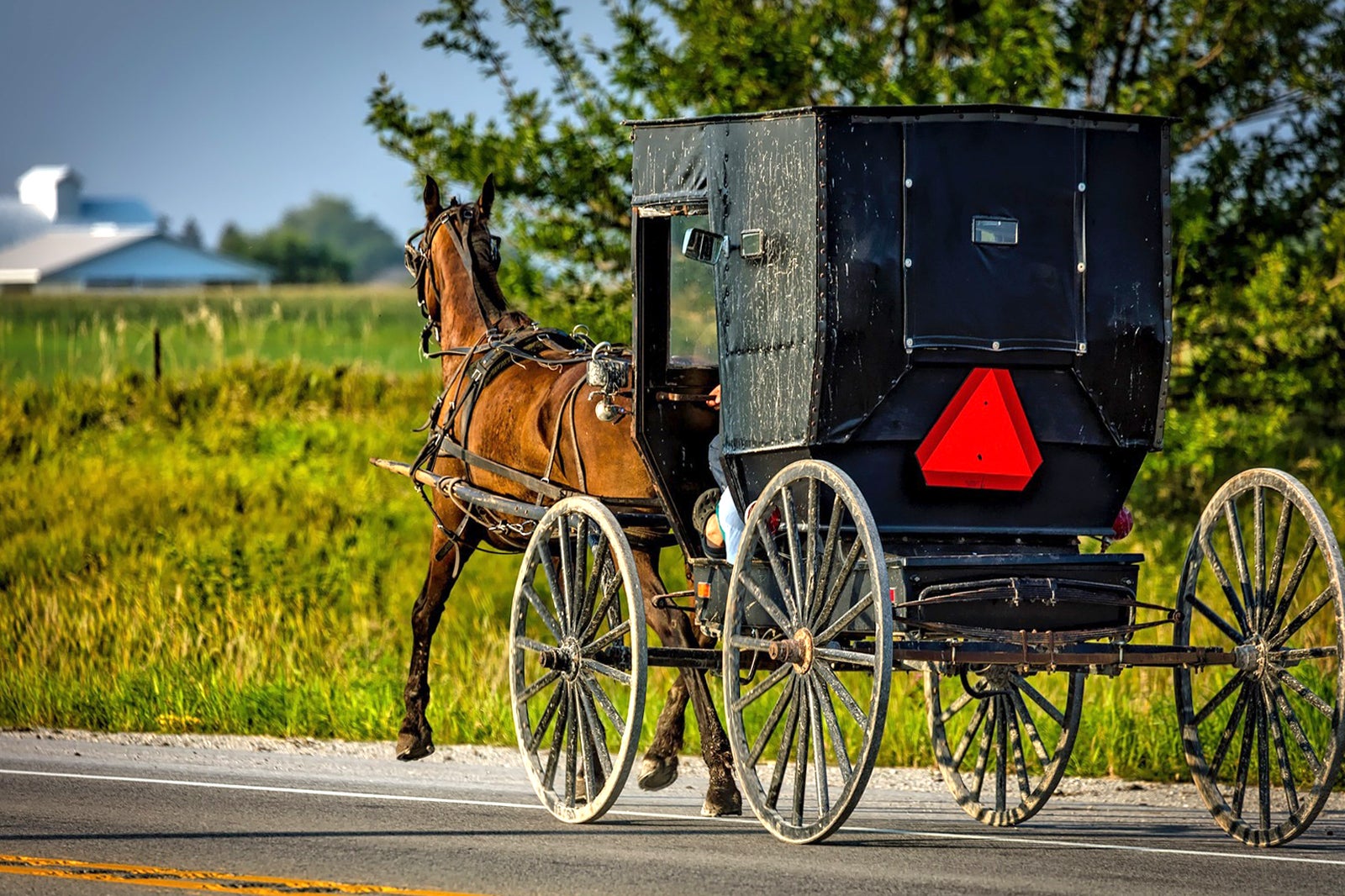 Unplug in the Dutch-Amish Country
Horse and buggy in Lancaster County
Lancaster, Pennsylvania is a region frozen in time. This town welcomed the first Amish community in the 1600s who were European Mennonites fleeing persecution for their religious beliefs. About 50,000 of the Amish population live here now, and they're known for their simple rural lifestyle, plain clothing and adverse views on modern technology.
The town isn't connected to the city's electric grid, and they also don't drive cars. You'll see a lot of horse and buggies, and quite a few bicycles. Walk around the neighbourhood to see the traditional blacksmiths and farms where you can feed the animals. The Amish are known for their baking skills, so look out for their maple and bacon donuts and their chocolate molasses cookies. Also note that the locals are not a big fan of selfies or photographs, so be respectful when using your cameras.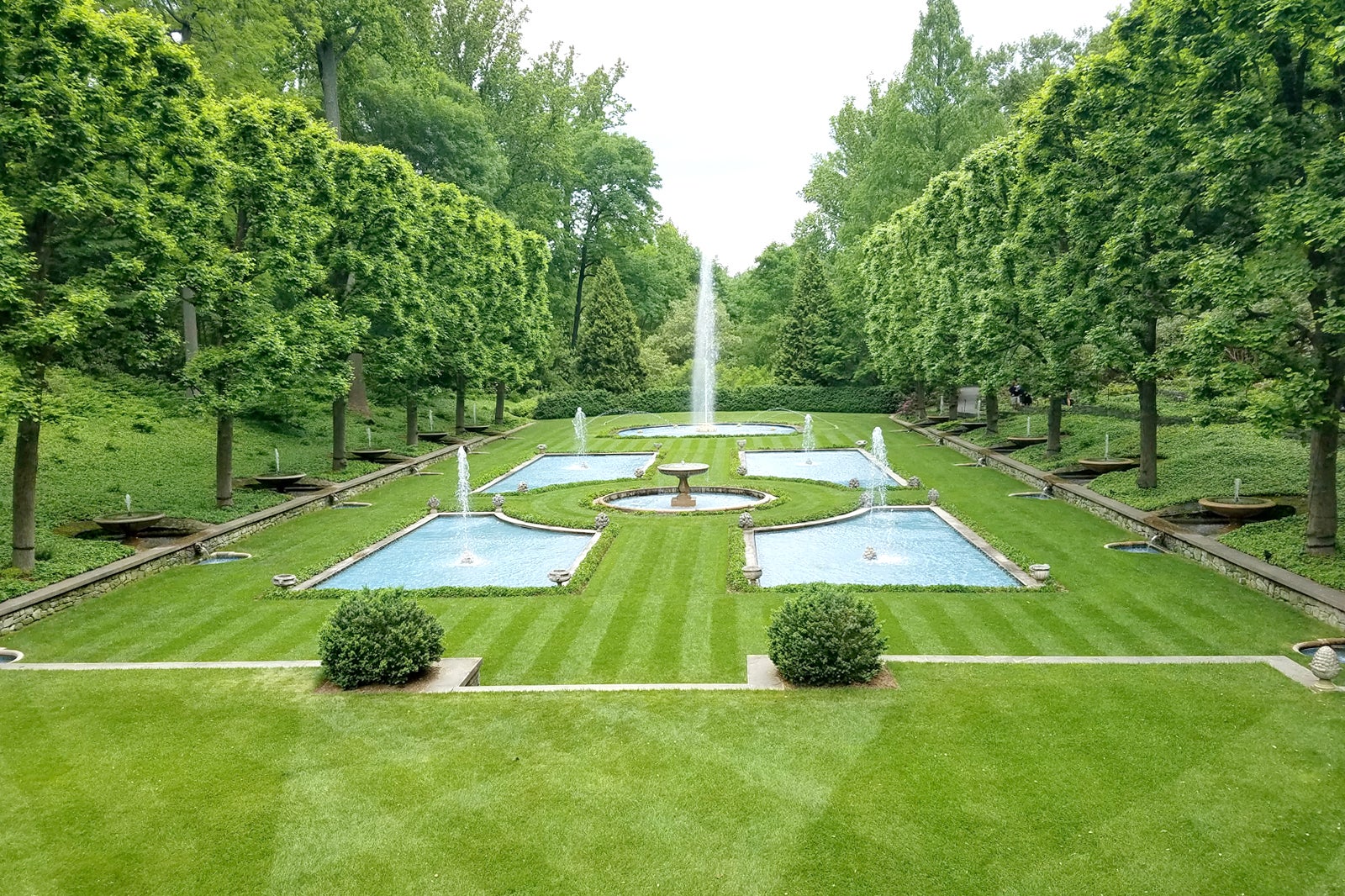 Walk the dreamy grounds of Longwood Gardens
Midnight garden strolls among fountains and flowers
Longwood Gardens is a horticultural delight of winter blooms. This 1075-acre space has a garden variety of the Gingko tree, the tulip tree, rare orchids, peonies, pineapple flowers, ferns, giant lily pads, bonsais, and 8 "outdoor rooms" of woodland plants. All in all, it takes about 3-4 hours to complete the whole walk. Stroll through the European gardens and see the crowd-favourite, the illuminated fountain shows that dances to Vivaldi's Four Seasons. The use of LED technology, combined with robotic jets create patterns like the Fabergé eggs, has made the night shows even more impressive.
Aside from exotic plants, this place is home to the enormous Longwood organ. The 10,010-pipe Aeolian organ was custom ordered by Pierre Du Pont, and can be found in the conservatory. The Longwood Gardens are not just for warm weather visits, as this place is known for its creative winter exhibits and amazing Christmas displays.
Location: Longwood Gardens, 1001 Longwood Rd, Kennett Square, PA 19348, USA
photo by ThingyThings14 (CC BY-SA 4.0) modified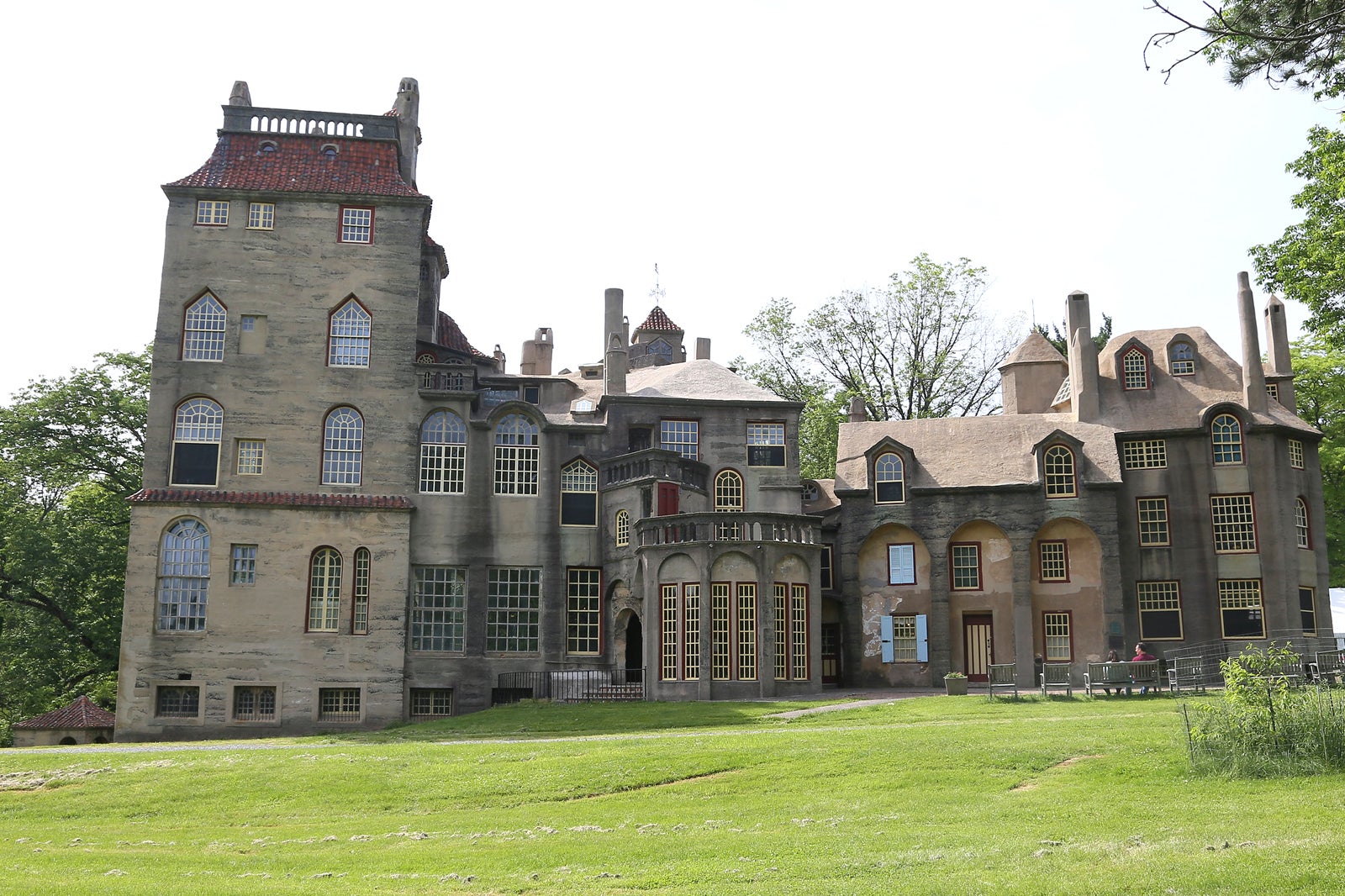 Henry Mercer's Fonthill Castle
America's pioneer of arts and crafts
Henry Chapman Mercer was an archaeologist and tile maker that started his ambitious homebuilding project in 1912, with a few unskilled labourers. He was an avid collector of local craftsman tools from the pre-industrial revolution era. The space and shapes of the rooms don't quite flow in unison, and the unusual framework of the interior is adorned with his original hand-made tiles and trinkets. Stairs are hard to walk on because of the inconsistency, with asymmetrical features that looks like a scene from a children's fairy tale. From the exterior, the mansion looks like an upscale manor in the British countryside, but inside is a motley mix of Mercer's eclectic inspirations condensed into one space. A guided tour is highly recommended, with the average time at about 80 minutes.
Location: 525 E Court St, Doylestown, PA 18901, USA
Phone: +1 215-348-9461
photo by Jim, the Photographer (CC BY 2.0) modified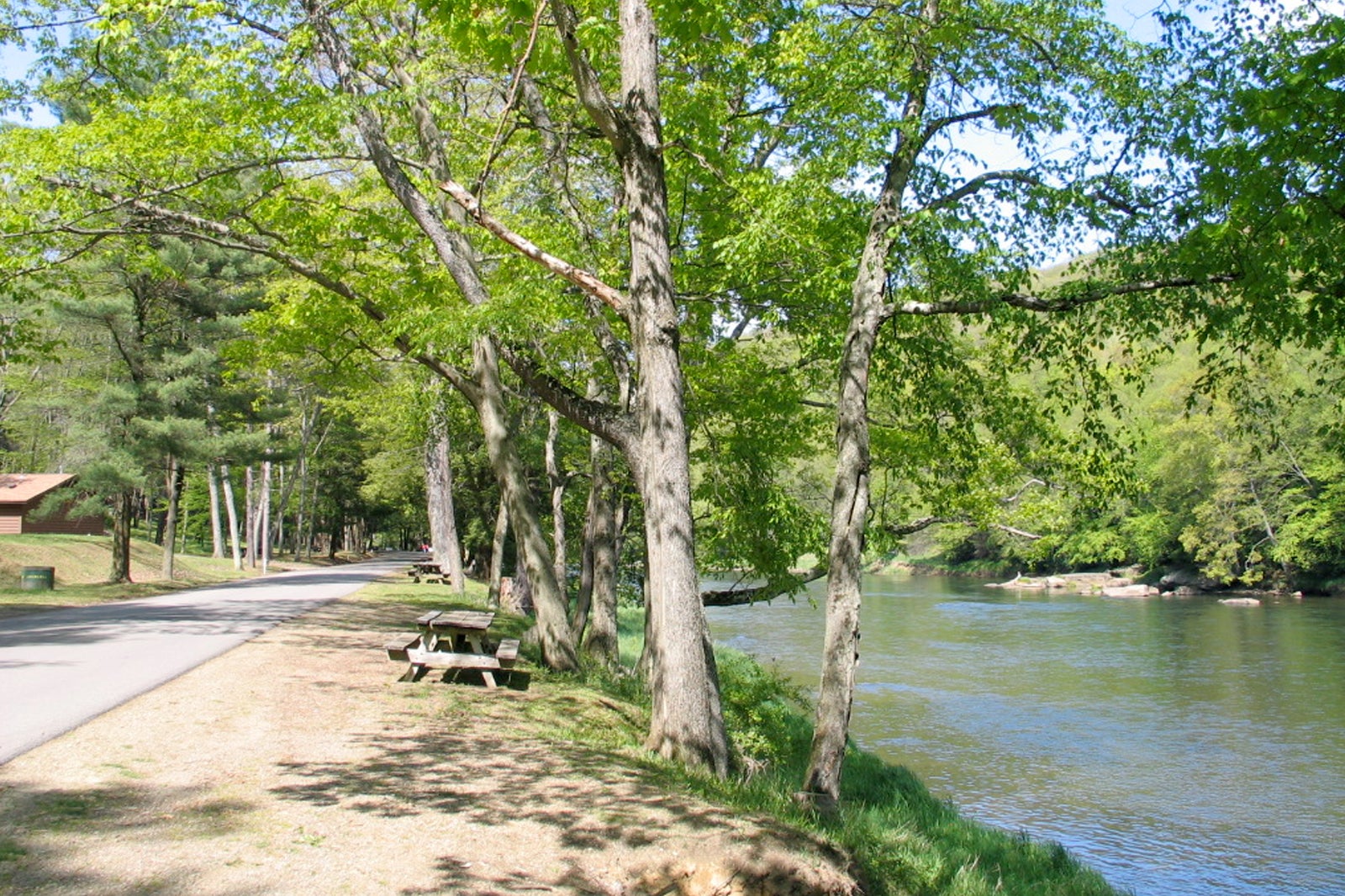 Camp and canoe at the Cook Forest
Walking through babbling brooks
Located in north-western part of Pennsylvania, this state park has inclusive amenities that range from dining, lodging, canoeing, hiking, fishing, horseback riding, ice-skating, and even performance arts. Stay the night at the park's cabins and trek out to the Forest Cathedral, a meadow of white pines and hemlock trees that's been around for more than 3 centuries. The most walked area is along the Clarion River that stretches 13 miles. Here, you have a chance to spot bald eagles, porcupines, and river otters while wading through the streams.
For a panoramic view of the mountains and river, climb 80 steps up the Historic Fire Tower 9. One thing to strictly remember is to not feed the animals or leave food out, as this may encourage animals to become aggressive.
Location: Cook Forest State Park, 113 River Rd, Cooksburg, PA 16217, USA
photo by Ron Shawley (CC BY 3.0) modified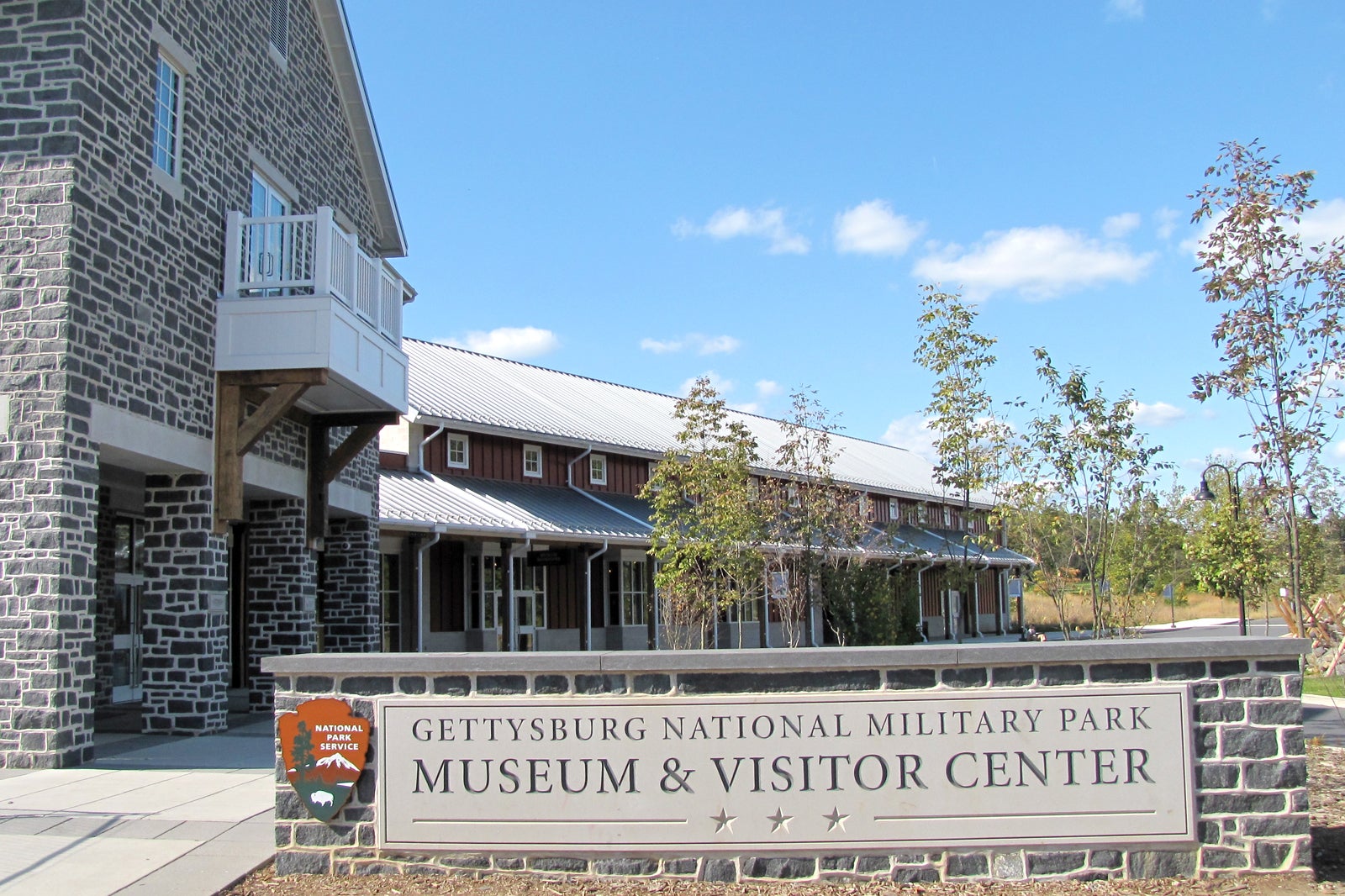 Witness the historic battle of Gettysburg
Ciders and Civil War
You may have heard Abraham Lincoln's famous quote that "all men are created equal". The Gettysburg Battle is a true story of the nation's hard-fought battle to claim more than just territories. It was to reclaim equality for people of all colours, creeds and religions. This place is where 51,000 soldiers died in 3 days in 1863 – the largest battle ever fought on US soil.
See the authentic weaponry, uniforms, letters, and learn about the Gettysburg Address. Visit the haunted Jenny Wade house and see the original bullet marks – the site of the only known civilian that was killed in the battle. Her burial plot was relocated 3 times, thus sparking rumours of paranormal activities.
Location: Gettysburg National Military Park Museum, 1195 Baltimore Pike, Gettysburg, PA 17325, USA
Phone: +1 717-338-1243
photo by Concord (CC BY-SA 3.0) modified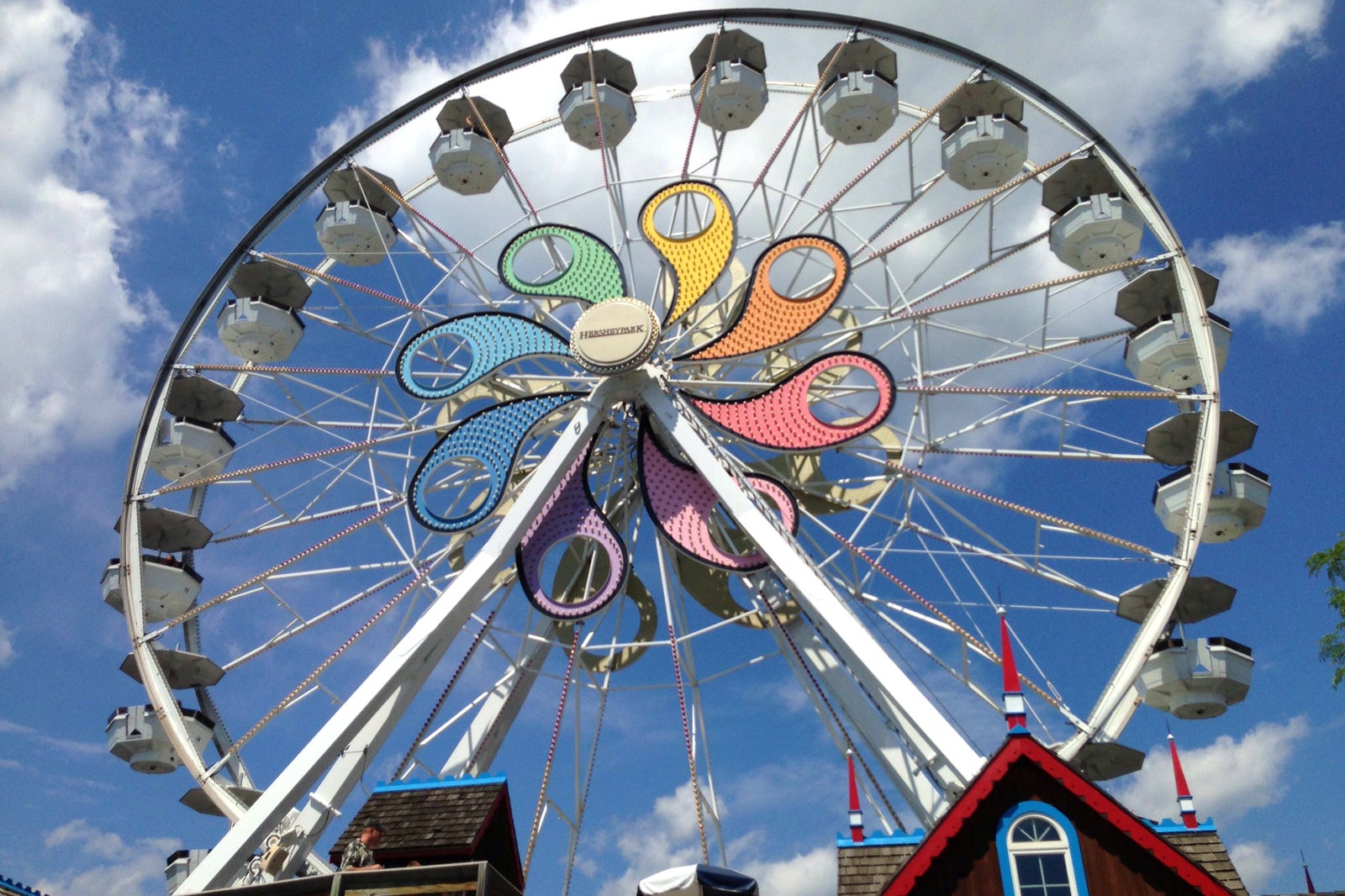 Head rush at Hersheypark
Sweet thrills in America's chocolate city
Come and see America's own version of the Willy Wonka chocolate factory. Hersheypark is the creation of the late Milton S. Hershey that was later developed into a theme park with its own hotels, 12 restaurants, and 11 roller coasters. Popular rides include the Sky Rush, a hyper-wing rollercoaster with loops and the steepest dips that you'll either love or hate, and the Fahrenheit ride that looks like a giant orange pretzel with very high vertical lift and drop.
Take a break and try their King Size Shakes, a chocolate frappe that comes with a variety of toppings from mint cream, S'mores, brownies, peanut butter mousse, and everything dipped in chocolate stacked up in a giant cup. For the more sophisticated palate, try their chocolate martini, the Guinness Float, and the dark chocolate milkshake.
Location: 100 Hersheypark Dr, Hershey, PA 17033, USA
Phone: +1 717-534-3900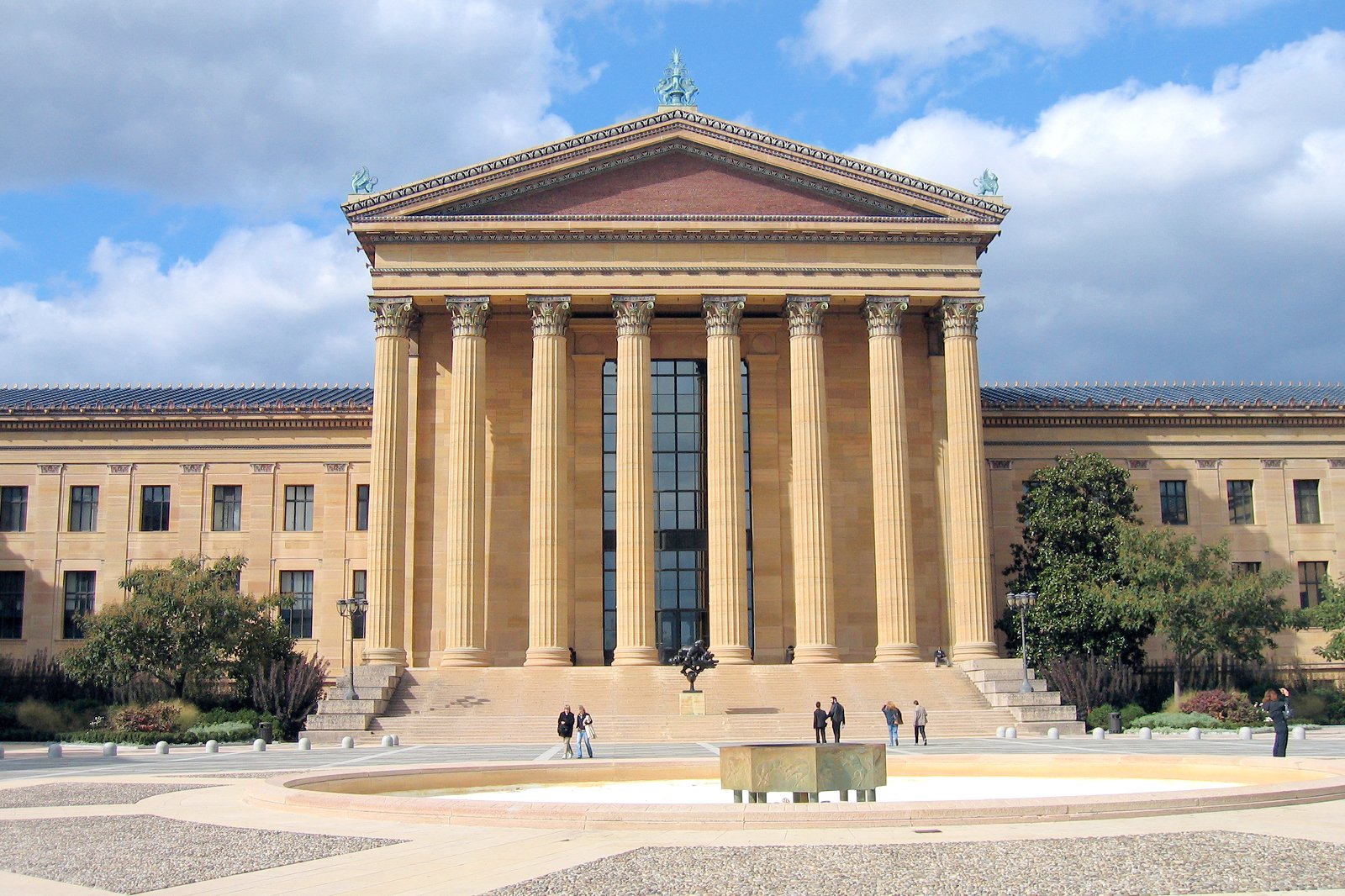 See the world history at the Philadelphia Museum of Art
From Byzantine bullions to Bauhaus blocks
The Philadelphia Museum of Art holds a huge collection of classics with 227,000 pieces from around the world. This museum space is one of the biggest in the US, so you're likely to get overwhelmed without a map. From a total of 80 period rooms, each room's interior is designed to complement the exhibition, from the Japanese pavilion, Buddha temple halls, Chinese wood panels, to the medieval cloisters.
Masterpieces include one of Van Gogh's sunflowers, Monet's lily gardens, and Picasso's "Old Woman." Despite its gargantuan size, this museum is still expanding, so there might be some areas under construction, with its newest modern art gallery renovation designed by the world-renowned architect Frank Gehry.
Location: 2600 Benjamin Franklin Pkwy, Philadelphia, PA 19130, USA
Open: Sunday, Tuesday, Thursday and Saturday from 10am to 5pm, Wednesday and Friday from 10am to 8.45pm (closed on Mondays)
Phone: +1 215-763-8100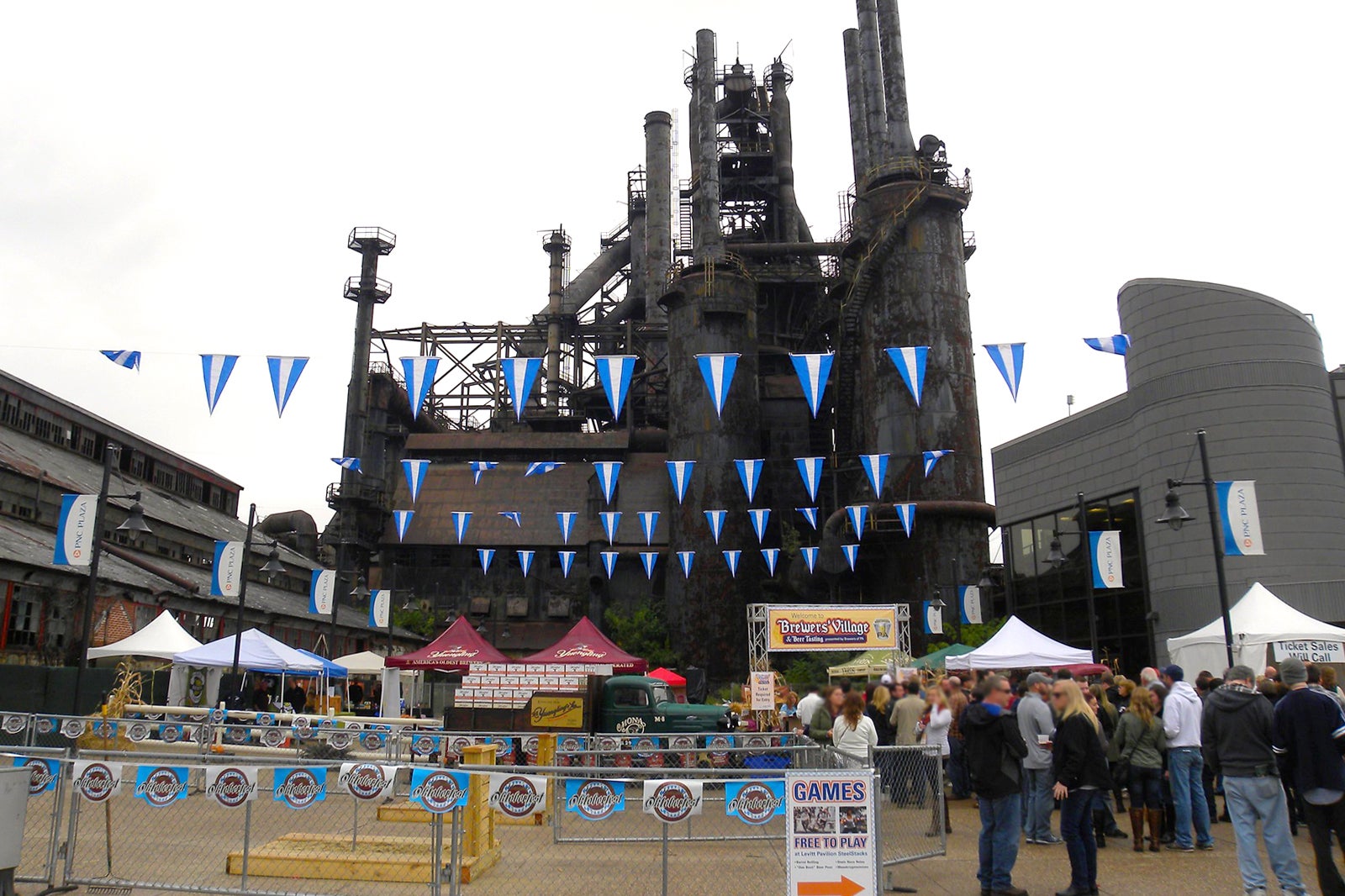 Beer and cheesesteaks in the rustic SteelStacks
The legacy of the old-town steelmakers
For a fun and funky night scene, visit Bethlehem's SteelStacks, an arts-and-culture homage to its local steel industry. The area is a 10-acre space that integrates a collection of cool and colossal art pieces that were part of the original steel plant. Aside from Pittsburgh, many of Pennsylvania's towns were dedicated to steel manufacturing since the 1850s. This state has helped build America's railroads, skyscrapers, navy ships, and even the Golden Gate Bridge.
See the Bridge sculpture with fire running on top, and the enormous Bethlehem Steel Blast Furnaces that looks like a scene from the film Mad Max, especially at night with the trippy LED lighting. The area has many surrounding bars and night venues like the Levitt Pavilion, the Frank Banko Alehouse Cinemas, and the Sands Deck that has great views of the sculptures.
Location: 101 Founders Way, V, Bethlehem, PA 18015-1347
photo by JasonParis (CC BY 2.0) modified