10 Most Instagrammable Places in Washington State
Photos of Washington You Can Brag to Your Friends About
Washington State, with its sparkling Pacific coastline, abundant wildlife, majestic mountain ranges and fertile valleys offers a huge variety of sights that will inspire many envy-inducing Instagram shots.
Photographers could spend many snap-happy days or weeks exploring the glittering lights of big-city Seattle, the colourful tulip fields of Skagit Valley, untouched beaches, moss-covered primaeval forests, and scenic mountain trails. Here are a few landmarks and locales around Washington that offer great photo opportunities.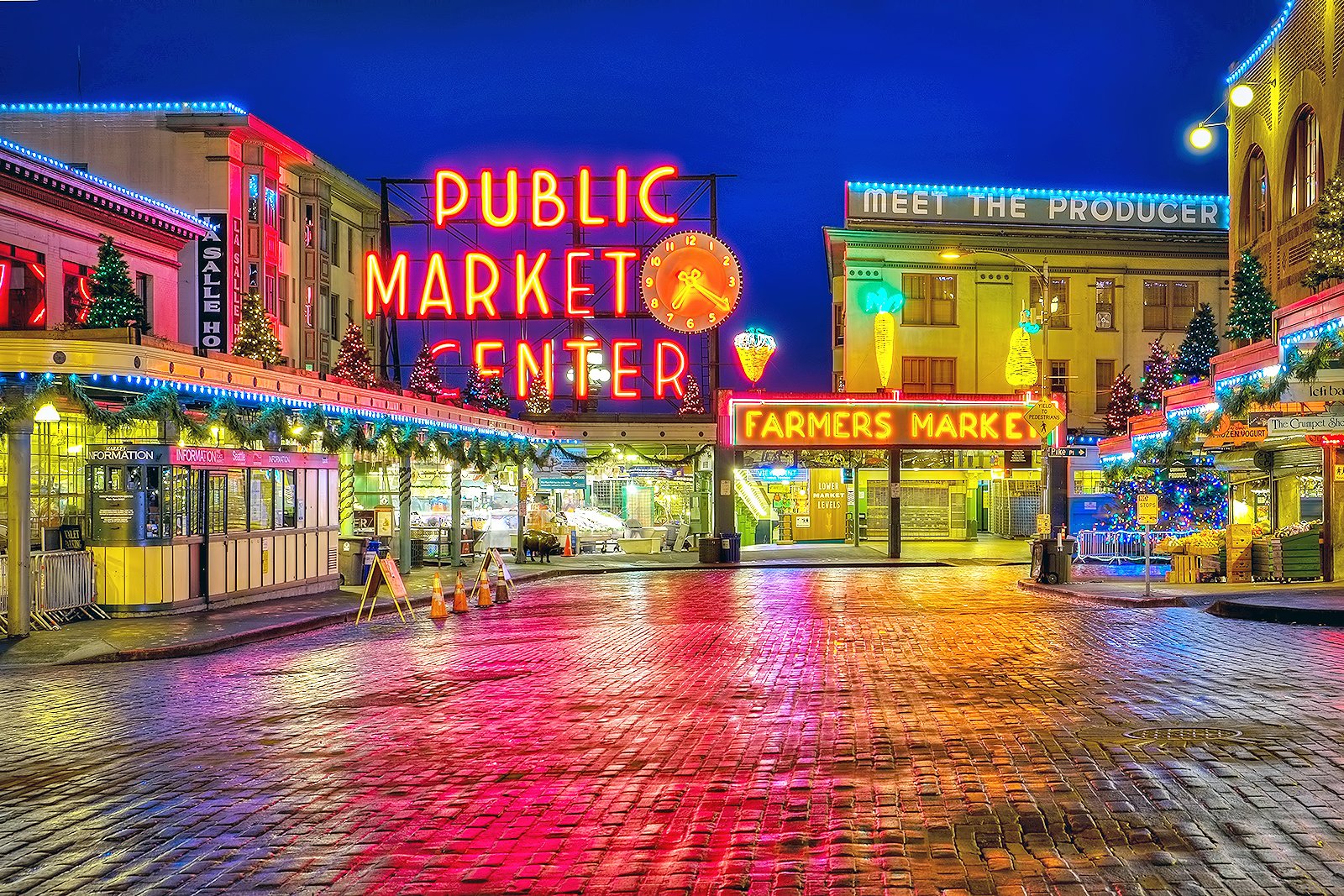 Snap new angles around Pike Place Market
Take more colourful pictures at the infamous Gum Wall nearby
Seattle's iconic Pike Place Market has been running for more than 100 years, and its multi-coloured displays of fish, fruit, vegetables and flowers make it a fun spot to photograph. Snap a few images of the large neon market sign, a vivid sight both day and night, before venturing in to jostle for market photos with the crowds.
Be sure to switch to video mode to capture the market's famously exuberant fishmongers flinging their fresh catch around. The crafts market is another Insta-friendly spot with paintings, handmade fabrics and ceramics among the creative and quirky things for sale – offered by artisans that are often as colourful as their creations.
Location: 85 Pike Street, Seattle, Washington 98101, USA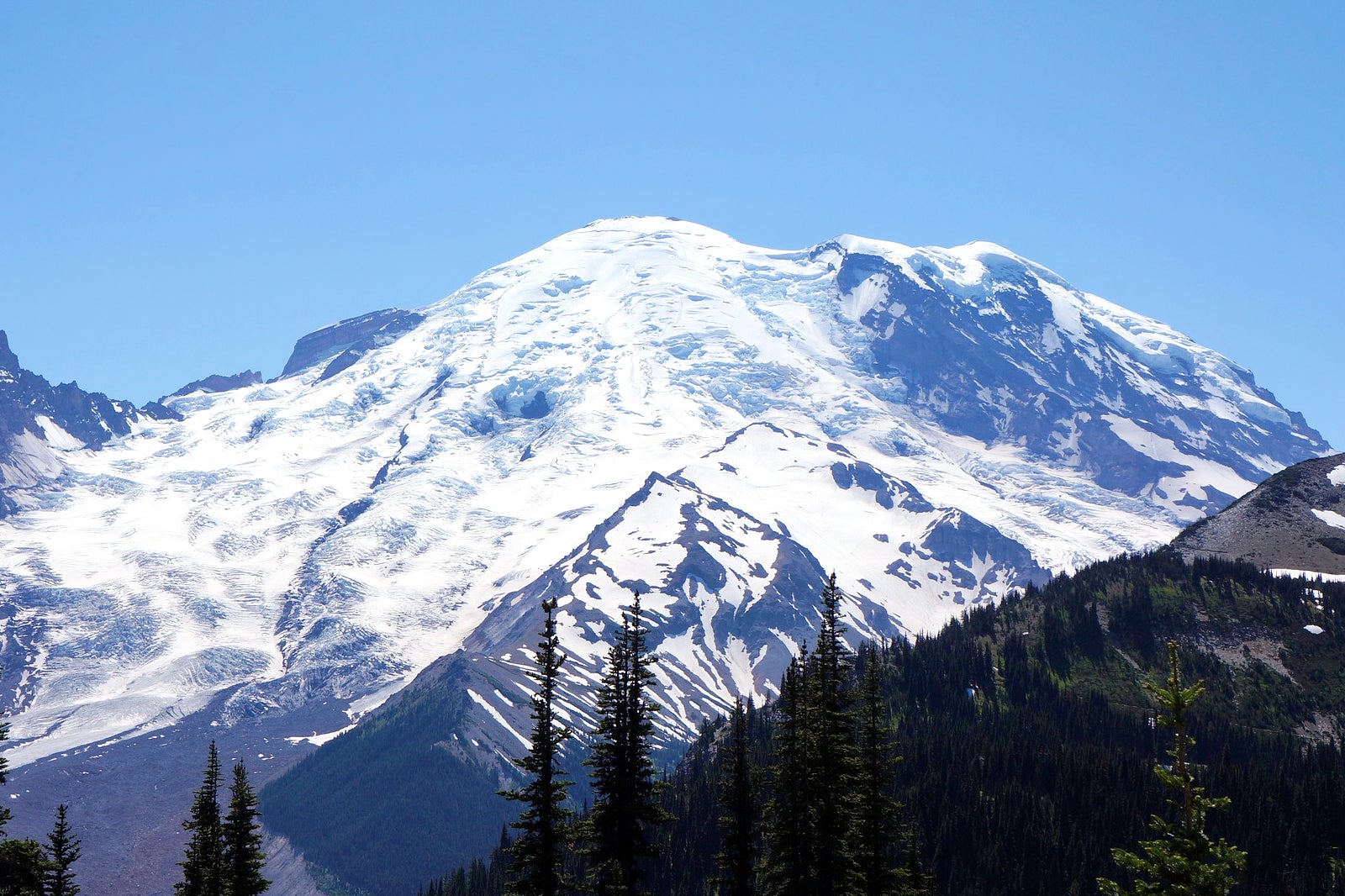 The snowy peaks of Mount Rainier
The highest mountain of the Cascade Range
Found about 130 km away from Seattle, Mount Rainier is an impressive peak of 4,392 metres that can be seen from many vantage points around the state. If you're in Seattle, try to find a spot along the shores of Lake Washington for the best views of the mountain, including Madrona Park Beach or the dock at Mount Baker Beach Park.
Head up to Tumwater Hill near downtown Olympia for fabulous views of South Puget Sound and Mount Rainier. For a closer look, hike along the trails in Mount Rainier State Park where wildflower-strewn meadows and old growth forests offer more beautiful sights to brighten up your Instagram page along with the mountain scenery.
Location: Mount Rainier, Washington 98304, USA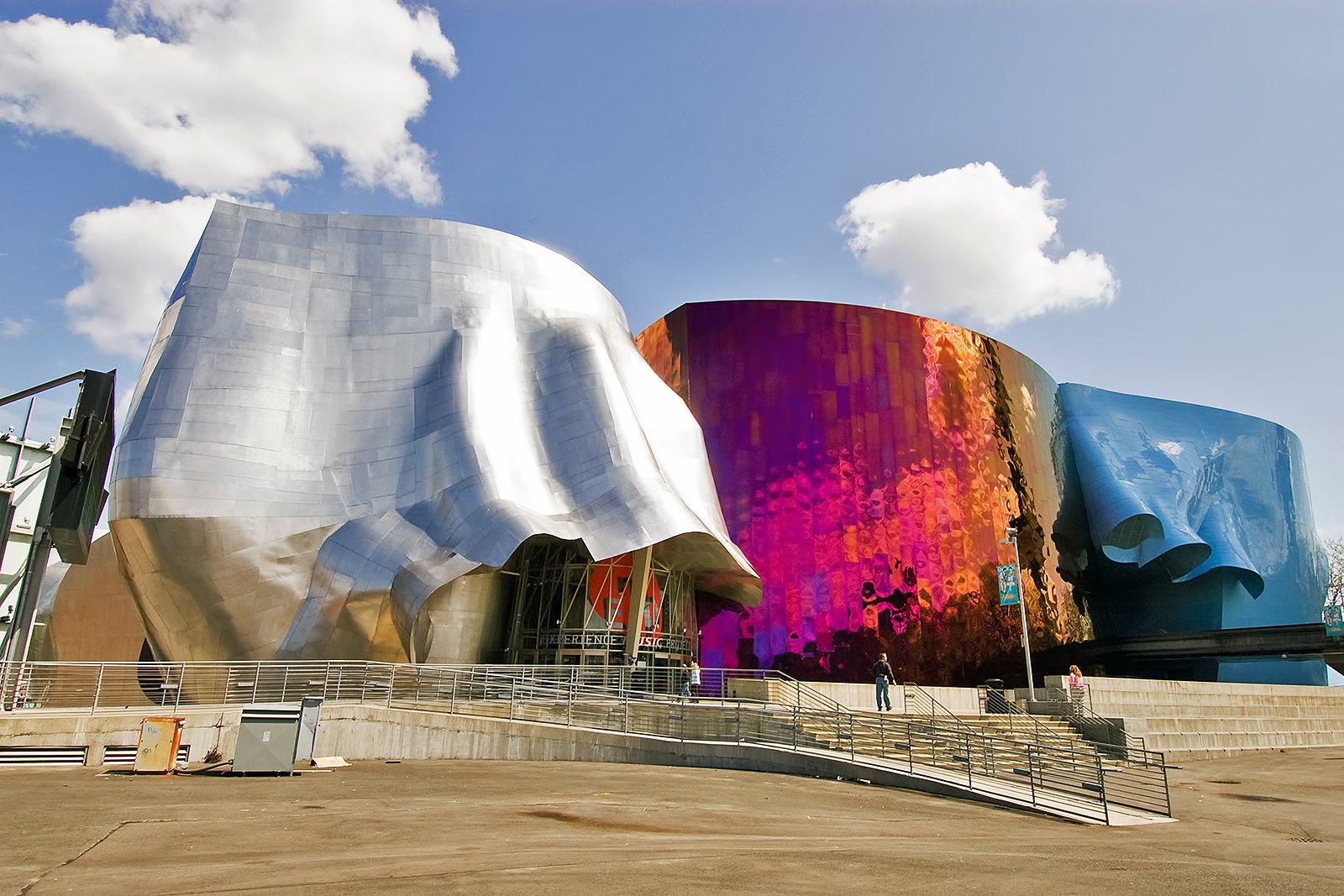 The glittering, curvaceous Museum of Pop Culture
Some locals call it "The Blob"
Even Seattle's notorious grey skies can't dim the sparkle of the Museum of Pop Culture, the wildly bold creation of architect Frank Gehry. Inspired by the smashed electric guitar of legendary rock star and Seattle native Jimi Hendrix, the building's exterior is an undulating wave of sheet metal in a rainbow of glittering colours.
Inside, there's a photo-worthy range of weird and wonderful pop culture displays including science fiction, fantasy, fashion, video games, music, and Sky Church hall with its gigantic LED screen. See artefacts and art from Seattle's two famous grunge bands, Nirvana and Pearl Jam, as well as a guitar gallery featuring music legends like Howlin' Wolf and Stevie Ray Vaughan.
Location: 325 5th Avenue N, Seattle, Washington 98109, USA
Open: Daily from 10am to 5pm (late-May–September: daily from 10am to 7pm)
Phone: +1 206-770-2700
Space Needle and the Seattle skyline
Seattle's space-agey tower
The Space Needle has been Seattle's best-known landmark since the 1960s and it still forms a distinctive presence in the city skyline. For awesome photos of the Space Needle head to Kerry Park, where you'll find panoramic views of the city with Mount Rainier in the background.
Capture more city scene angles from the ferry from Bainbridge Island, at Ella Bailey Park, and from the Sky View Observatory on the 73rd floor of Columbia Center for a bird's eye view. You can also stand at the base of the Space Needle and point your camera up to the sky to give this towering saucer-like structure the dramatic close-up shot it deserves.
Location: 400 Broad St, Seattle, WA 98109, USA
Open: Daily from 8am to midnight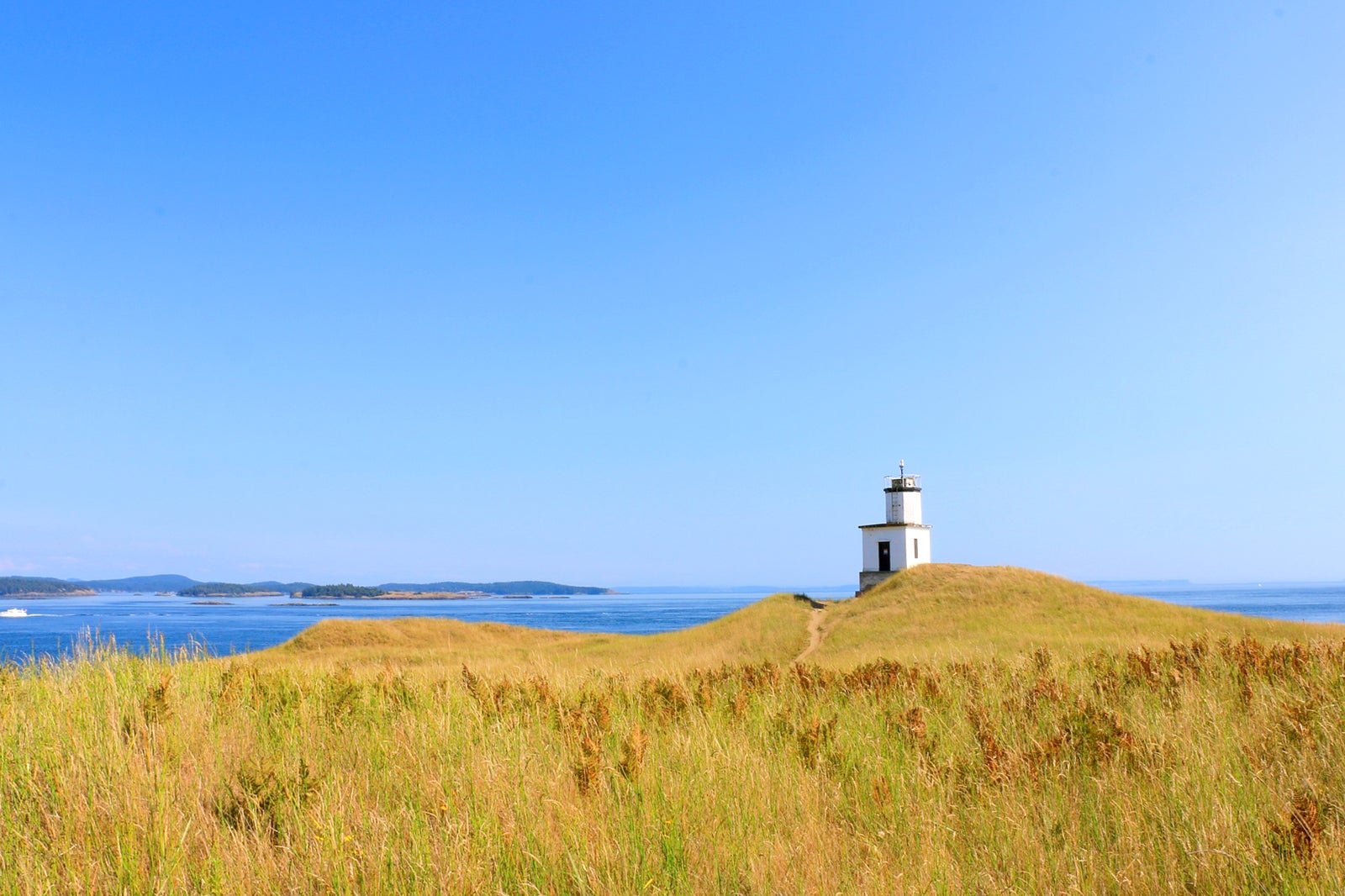 Sunsets and seascapes of the San Juan Islands
An archipelago of unspoiled natural beauty
Washington's peaceful San Juan Islands offer a range of sights, from lonely driftwood-strewn beaches to lush forests, tidy farms to charming seaside villages. Scenic landscapes of rolling farmland and rugged coastlines make Lopez Island an ideal place to discover by bicycle. On Orcas Island, stop by the art studios in the village of Eastsound or take in panoramic views from the stone observation tower atop Mount Constitution.
Those in search of an Insta-perfect shot on San Juan Island could paddle a kayak in search of hidden coves, explore the colourful galleries, museums and shops of Friday Harbor, then watch the sunset – and maybe see some whales – from the water's edge at Lime Kiln State Park.
Location: San Juan Islands, USA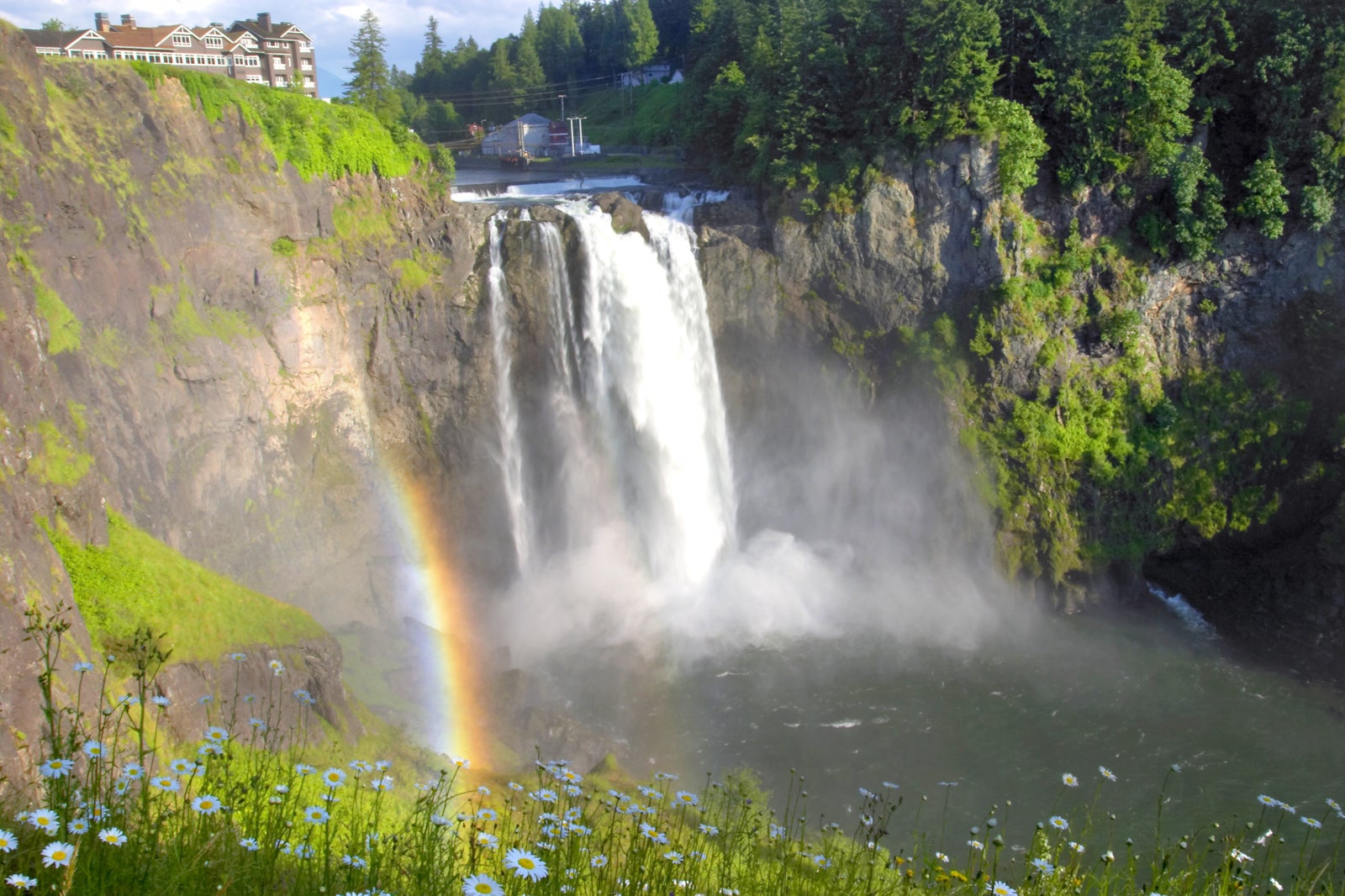 Snoqualmie Falls
A cascade of mists and legends
One of the most photogenic waterfalls in the state, Snoqualmie Falls is found about 45 km east of Seattle. Tumbling over the cliff at a height of more than 80 metres, the falls are best viewed from the park's observation deck. You could also take the short trail that leads to a point near the base of the falls for a different angle.
The falls are part of a sacred site for the earlier inhabitants of the area, the Snoqualmie Tribe, who believe that prayers are carried between heaven and earth by the fall's mist.
Location: Snoqualmie Falls, Snoqualmie, WA 98024, USA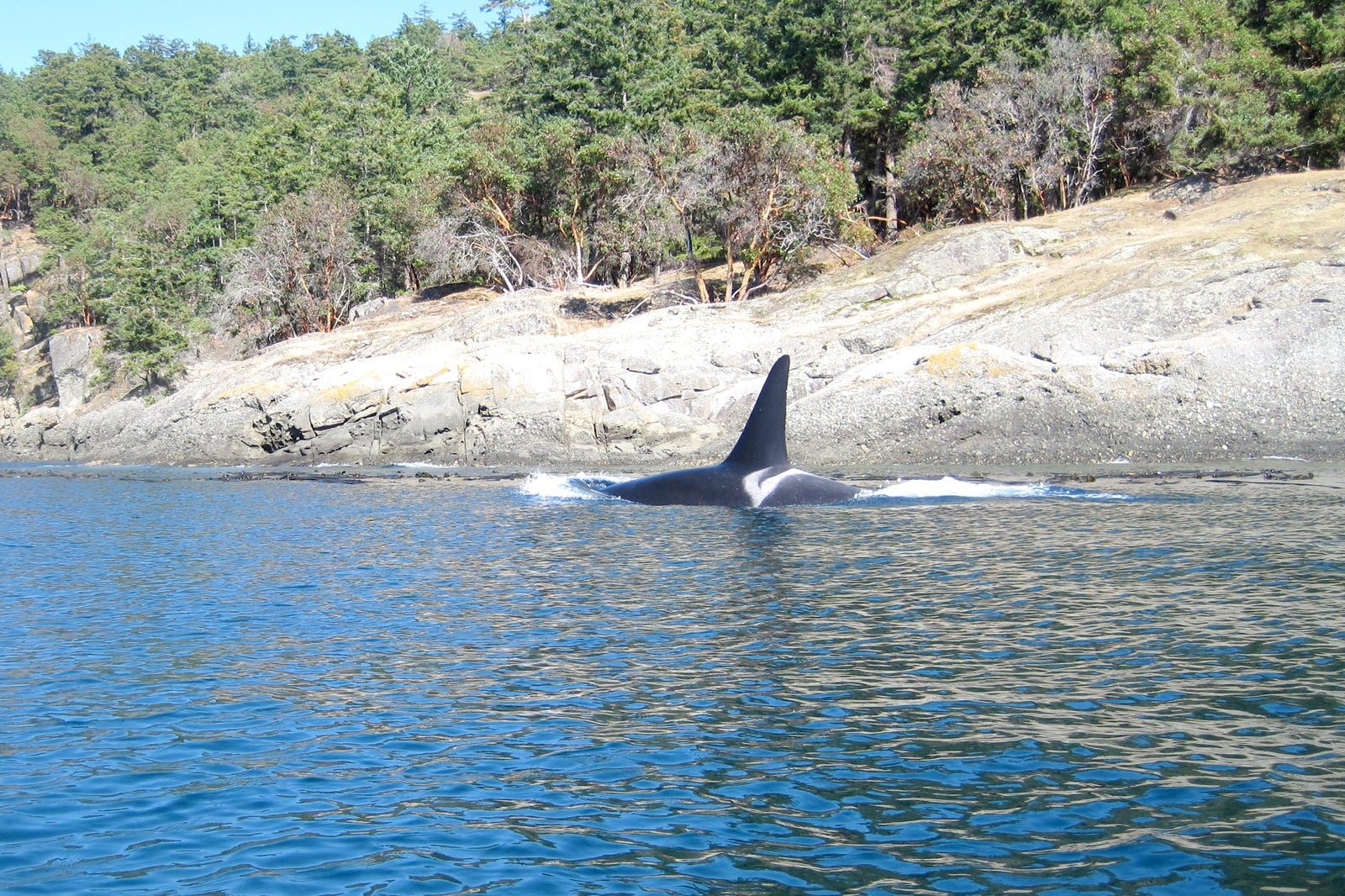 Orca whales in Puget Sound
You might also see humpbacks, minke whales and bottlenose dolphins
Puget Sound in Washington's north coast is one of the best areas in the world to enjoy an up-close (but not too close!) encounter with these killer whales on a whale-watching tour. It's a thrilling experience for anyone to capture the moment when the sleek black body of an orca whale breaches the glassy surface of the water.
Orcas can be seen year-round but the best time of year is from mid-May to mid-October. You can book whale-watching tours from several operators along the Washington coast including Seattle, Port Townsend, Anacortes and Friday Harbor on San Juan Island.
Location: Puget Sound Lowlands, Washington, USA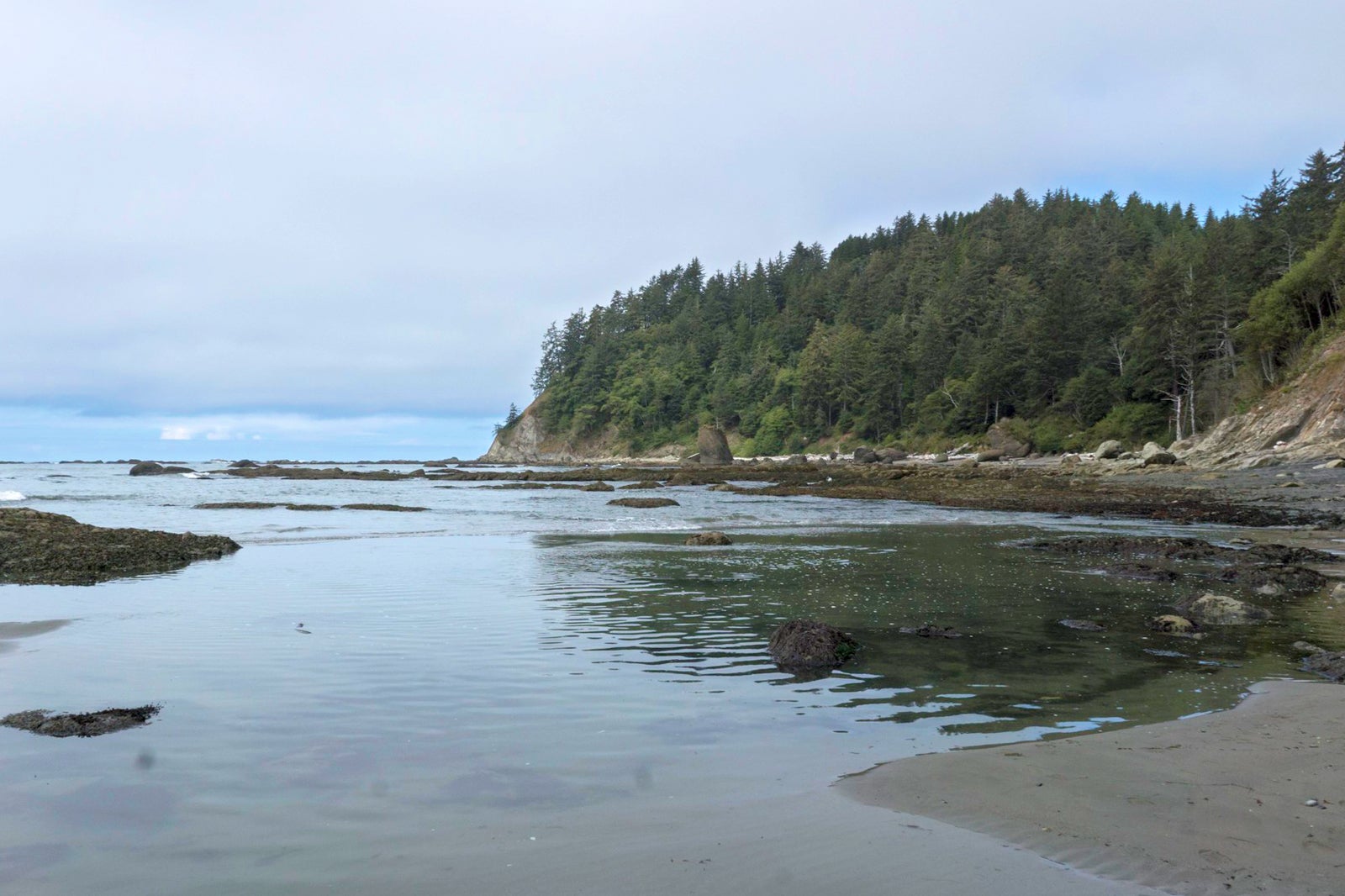 Discover tide pool reflections at Rialto Beach
Pitch your tent for an overnight stay at nearby Mora Campground
Rialto is a pristine beach in Olympic National Park. A photographer's dream location, this spectacular stretch of wild beauty offers tide pools to explore and huge driftwood logs to scramble over. Tall sea stacks just offshore add some dramatic effect to the windswept seascape.
At low tide, wander for about 2.5 km along the rugged coastline north from Rialto Beach and snap some selfies at the arched rock formation known as the Hole in the Wall. The soft, misty morning light at sunrise and the golden hours before sunset are the best moments for capturing Rialto's dreamy coastal setting.
Location: Olympic National Park, Clallam, Washington, USA
photo by Gary Brownell (CC BY-SA 2.0) modified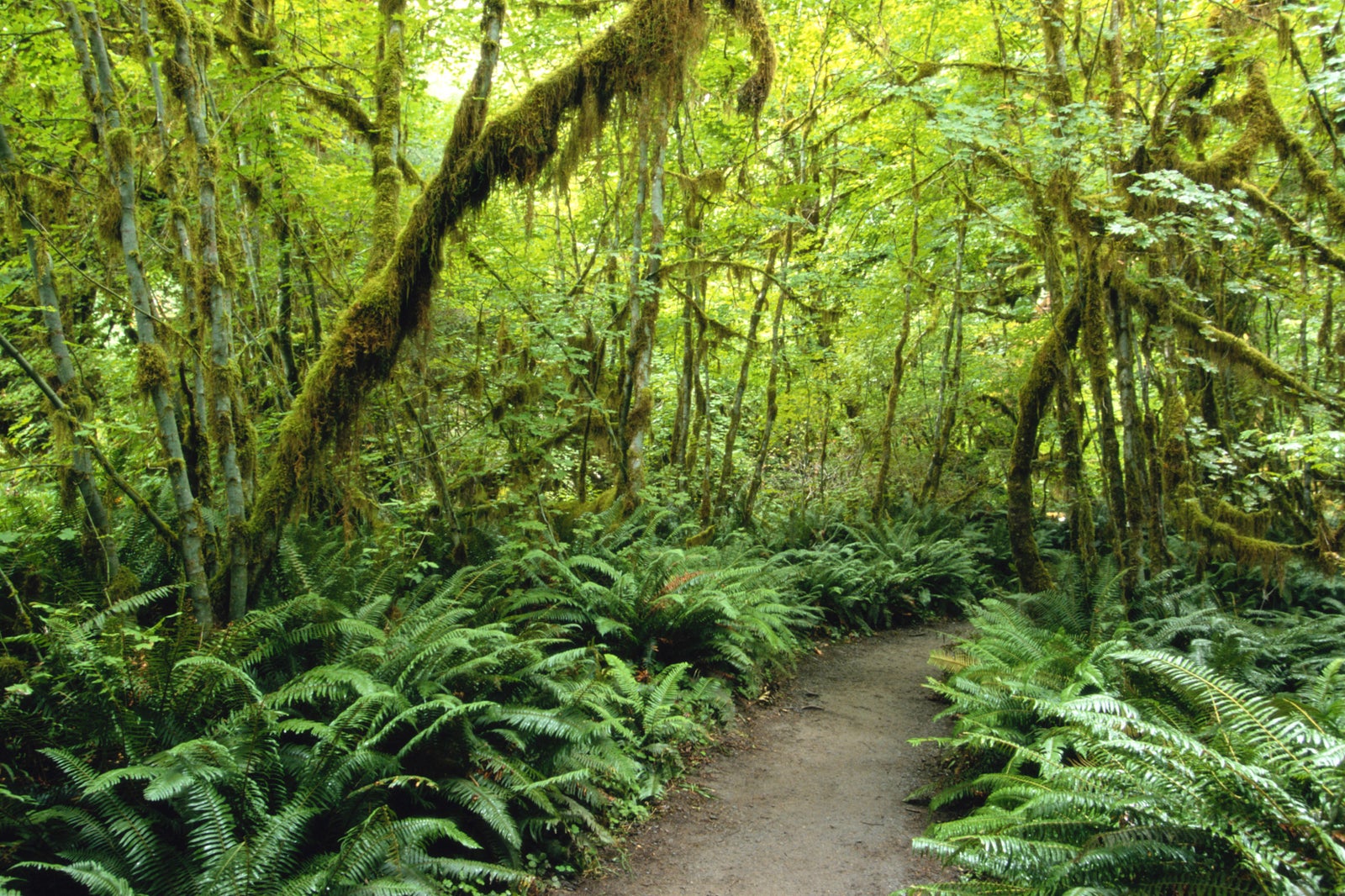 Hall of Mosses Trail in Hoh Rain Forest
Old-growth forest in Olympic National Park
There's no need to set a moody filter for photos taken in Hoh Rain Forest, with its trails carving a path under a thick green canopy of moss-coated bigleaf maples, ferns and Sitka spruce. The forest's lush setting has such an enchanted fairy-tale aura that you almost expect to meet a Game of Thrones character or a lost-in-time Medieval princess when wandering along the trail.
The ultra-photogenic Hall of Mosses trail runs for about 1km, while those in search of more storybook forest scenes could continue down the Hoh River Trail, which meanders over bridges and past waterfalls for more than 25 km to Glacier Meadows.
Location: Olympic National Park, 18113 Upper Hoh Rd, Forks, WA 98331, USA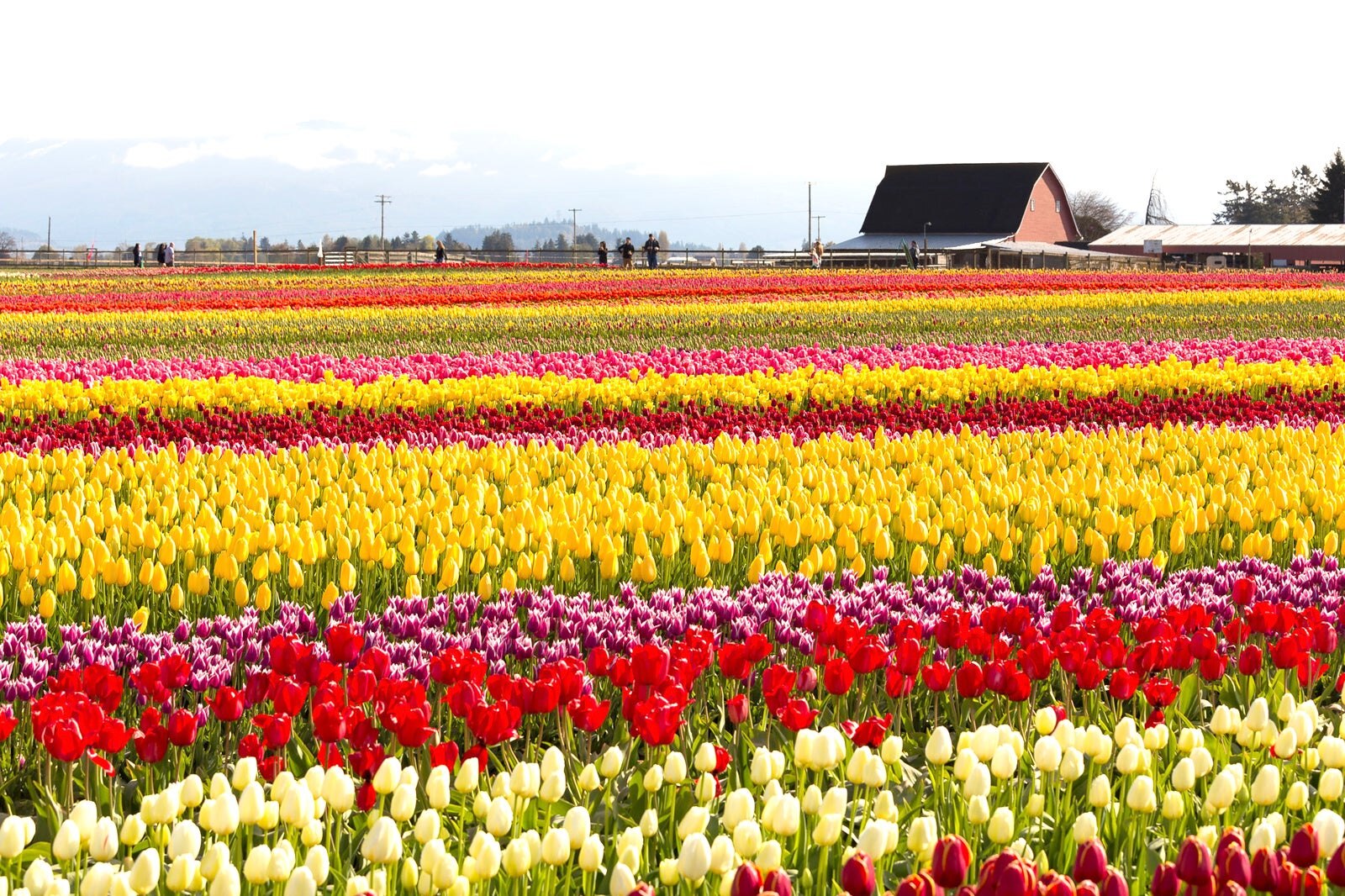 A rainbow of tulips in Skagit Valley
Skagit Valley wineries are also worth a stop and sip
Skagit County is home to thriving communities of farmers who grow flowers, fruit and vegetables in the fertile valley west of the Cascade mountains. Tulip fields bloom in springtime, offering the chance to capture landscapes blanketed by vibrant red, purple, yellow and orange flowers with mountains rising in the background. Photo tours are available in April during the Skagit Valley Tulip Festival to help you find the most photogenic spots.
Even without the tulips, Skagit Valley's abundant farmland is still worth exploring, with daffodils in bloom in March and pumpkin patch season during the autumn months.
Location: Skagit Valley, Washington 98284, USA
photo by Jonathan Miske (CC BY-SA 2.0) modified