Shops at Rivercenter in San Antonio
A Landmark Mall by San Antonio's River Walk
Shops at Rivercenter is a grand mall complex right on the famous River Walk, in the heart of Downtown San Antonio. The mall is anchored by H&M and AMC Theatres, with the 4-star San Antonio Marriott Rivercenter to its east.
Shops at Rivercenter enjoys one of the best locations in the city – its midsection borders the River Walk, there's the Alamo to its north, and it's accessible from many of Downtown's walking streets. On East Commerce Street, to its south, is the unmissable St. Joseph's Catholic Church, which the mall was built around. You can hardly the Shops while exploring downtown, partly due to its sheer size and central location.
Shops at Rivercenter in San Antonio - one of the highlights of 8 Best Shopping Malls in San Antonio and 13 Best Places to Go Shopping in San Antonio (Read all about San Antonio here)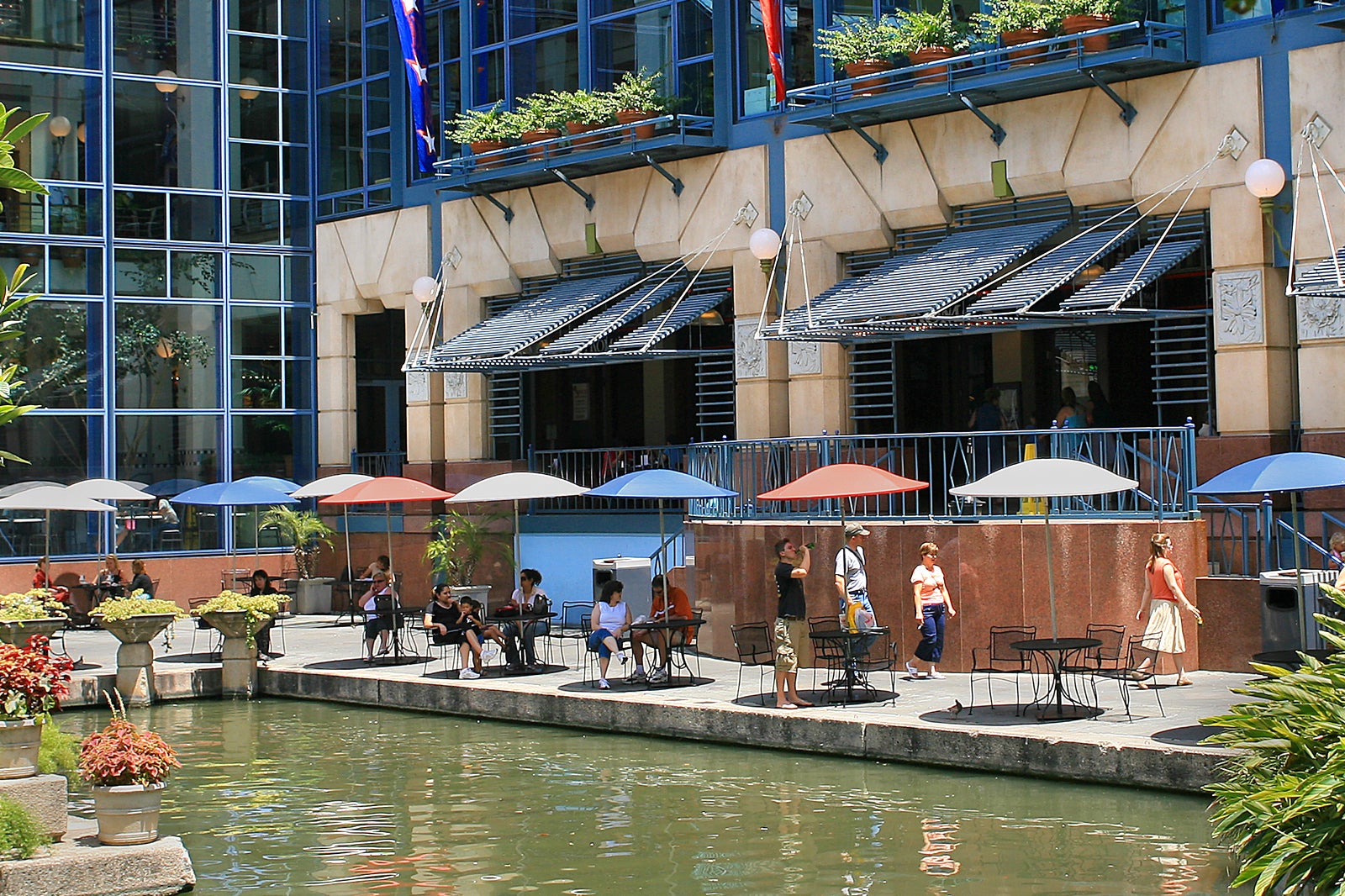 A brief history of Shops at Rivercenter
When the main complex opened back in 1988, it was known by San Antonians as Rivercenter Mall. It was part of Downtown San Antonio's redevelopment plan, covering part of the River Walk and the Rivercenter Lagoon.
The building at the corner of Commerce Street, however, has a history tracing way back to 1867. It began with Jewish merchant Julius Joske, who successfully established a dry goods business. His enterprise grew rapidly, eventually requiring a larger building. This corner spot further expanded and later came to be known as Joske's Building.
Boasting a Spanish Colonial Revival style, Joske's became the largest store southwest of the Mississippi and still continued to expand well after the turn of the century. The landmark St. Joseph's Catholic Church resisted purchase, so the developers built around it from 1945 to 1953.
Upscale American department store chain Dillard's bought the building in 1987, occupying it until 2008. Then, Ashkenazy Acquisition Corporation acquired, revitalised, and integrated it with Rivercenter Mall. It opened with more than a hundred retail stores, Macy's multiple restaurants, IMAX and AMC Theaters, and the 38-story, 1,001-room Marriott Rivercenter.
What are the highlights of Shops at Rivercenter?
The historic former Joske's Building is now home to the 35,000-sq-ft Dave & Buster's sports bar and arcade, which is family-friendly and offers a sports-bar-style setting with arcade games and American food. It also houses the colourful IT'SUGAR Rivercenter candy store where you can find classic and oversized sweet treats as well as merchandise.
The main complex houses the Rivercenter Lagoon, the mall's elegant outdoor central court and focal point for those who enjoy both the mall and the River Walk. It hosts live music performances regularly and it's where you can see barges cruising along the San Antonio River and doing their U-turns.
Margaritaville Restaurant San Antonio facing East Commerce Street is a go-to for upbeat vibes with a range of cocktails and classic comfort food. High-end sports-bar chain Yard House occupies the glass-walled and atrium-like upper section overlooking the Lagoon. It has a huge menu of New American fare, along with a great selection of local and international beers on tap.
Other great spots to hit for when you're feeling peckish at Shops at Rivercenter include a Hooters and the roomy and elegant Maria Mia's Mexican Bistro, which has a riverside patio where you can sip your cocktails with a view. For a pleasantly filling meal, you can try Fogo de Chão Brazilian Steakhouse's extensive salad bar and all-you-can-eat meat offers.
For shopping, you have 4 floors to browse, with everything from Disney merchandise to designer clothes such as Victoria's Secret to concessions offering snacks and Texan souvenirs. This mall has grown and evolved with the times to offer up-to-date store selections. For fun and entertainment, there's an IMAX cinema and a Legoland Discovery Center attached to the complex.
Good to know about Shops at Rivercenter
Even if you don't have shopping or dining in mind, Shops at Rivercenter offers a great time out along the River Walk and you can enjoy free live music at the Lagoon over the weekends, usually from 5 pm to 8 pm.
Shops at Rivercenter is an easy 6-minute stroll from Downtown San Antonio via North Alamo Street and Alamo Plaza. The shopping complex seamlessly connects to the San Antonio Marriott Rivercenter. It also connects to multiple parking garages.
Shops at Rivercenter in San Antonio
Location: 849 E Commerce St, San Antonio, TX 78205, USA
Open: Monday–Thursday from 11 am to 7 pm, Friday–Saturday from 11 am to 8 pm, Sunday from noon to 6 pm
Phone: +1 210-225-0000
Back to top